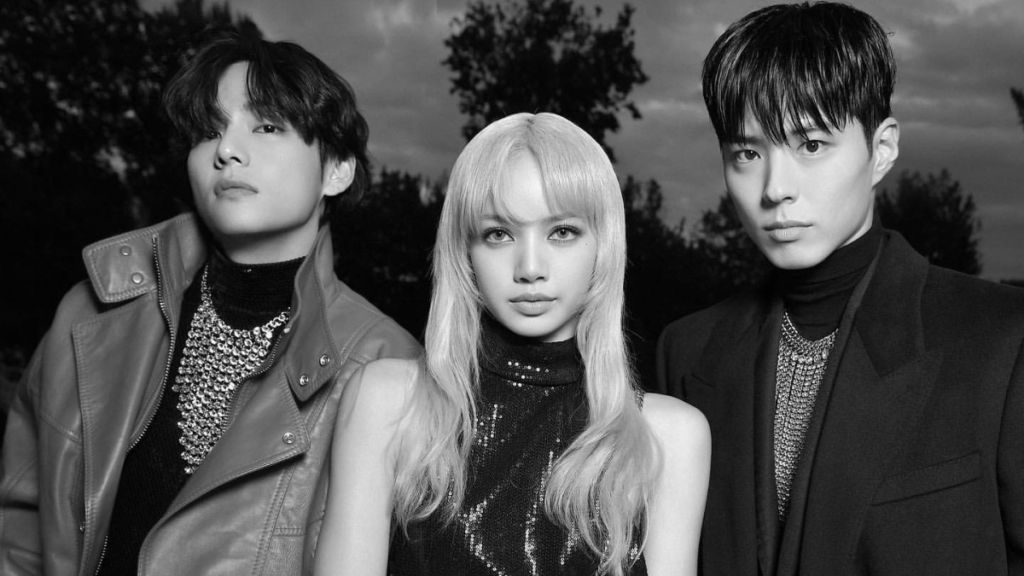 French fashion house CELINE made its awaited comeback to the official calendar of Paris Fashion Week on June 26. In its first in-person event since the onset of the COVID-19 pandemic, the brand raised high expectations for the stellar list of attendants. In addition to a runway that checked all the boxes of Hedi Slimane's enticing aesthetics, pop culture icon Lisa, actors Eddie Redmayne and Park Bo-Gum, and BTS member V commanded attention, sitting front row at the show.
CELINE's Official Return to Paris
Due to the COVID-19 pandemic, Hedi Slimane, CELINE's Artistic Director, turned to fashion films to showcase his past collections. From Renaissance castles to the French Riviera, Slimane staged his shows in the most spectacular places in past seasons. Equally impressive was the list of stars he tapped to model on the runway, with the likes of supermodel Kaia Gerber and Global Ambassador Lisa fronting his shows. It is no wonder that the unveiling of CELINE HOMME's Summer 2023 collection became an anticipated affair.
For his official comeback to Parisian runways—amidst Men's Paris Fashion Week—Slimane picked Europe's largest museum of contemporary art, Palais de Tokyo, as the location. Suitably, the designer's latest effort was titled "DYSFUNCTIONAL BAUHAUS." The runway, which opened up with the designer's signature light show, was packed with retro vibes and references to rock stardom. Sequined pieces, oversized jackets with metallic embellishments and fringes, as well as a bold color palette stood out throughout the show.
Scene-Stealing Front Row
Naturally, one of the most talked-about shows in Paris brought together an exclusive VIP list for the front row. Among others, South Korean stars V and Park Bo-Gum exclusively flew in for the event. Both dressed in looks from Slimane's past collection for CELINE HOMME, the celebrities caused havoc with their appearance at avenue du Président-Wilson. Other notable stars present at the event were actors Eddie Redmayne, Thomas Brodie-Sangster, and Diana Silvers.
CELINE's MVP
Meanwhile, CELINE's brand ambassador and BLACKPINK member, Lisa stunned dressed in a summer-friendly black look. Sporting a sequined top and tailored shorts, the singer set Palais de Tokyo on fire at her arrival. Lisa, who has become a permanent fixture at Slimane's shows—whether as a model or a VIP guest—flaunted her fashion darling status as she reunited with other front-row regulars.
It couldn't be otherwise. No stranger to the politics of fashion shows, Lisa has established herself as one of CELINE's most recognized faces. The K-pop superstar is not only the first Asian celebrity to be selected for CELINE's "Essentiels" campaign, but she is also CELINE's first official ambassador under Slimane's helm. Likewise, Lisa has continuously set new milestones with the French brand, including her catwalk debut on CELINE's runways.
CELINE and K-pop
Since CELINE's overhaul in 2018 by the hand of Hedi Slimane, the fashion brand has experienced important growth. Shifting to an Asia-focused strategy, CELINE has seen a rise in notoriety, particularly in the world of K-pop. Featured on music videos, magazine editorials and even the Instagram feeds of our favorite stars, CELINE is thriving internationally.
With Asia as a key region to CELINE's expansion and the brand's return to the official calendar of Paris Fashion Week, fashion lovers and fans can expect more exciting associations between CELINE and Asian stars.
Want to read more about the brand? Find out why everyone in K-pop is wearing CELINE here.