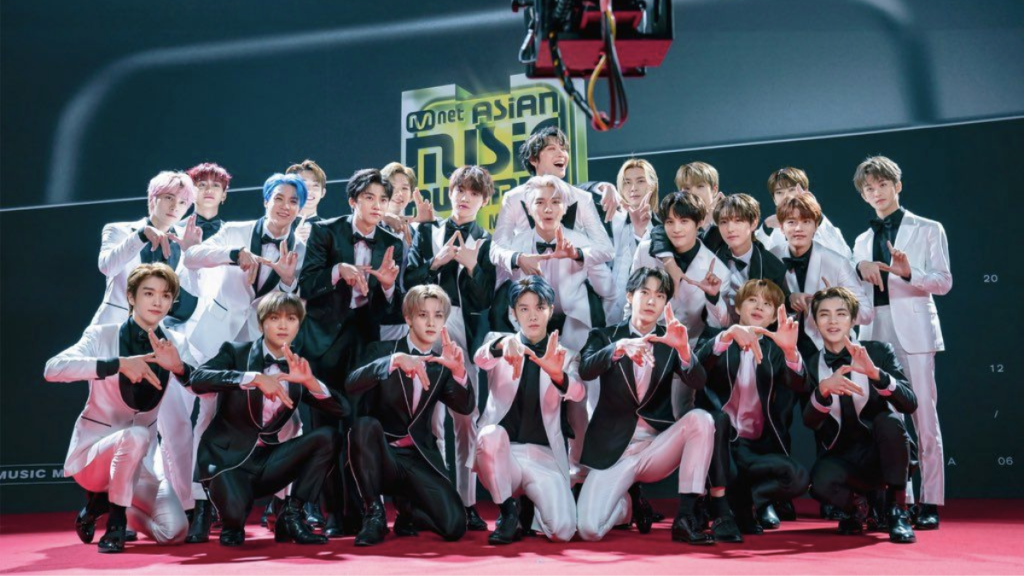 December 6, 2020 in Seoul, South Korea marked the 21st annual Mnet Asian Music Awards (MAMA), largely considered to be the biggest awards show in K-Pop. The awards show had many idols in attendance, and among them twenty-six were SM Entertainment idols. The 23-member worldwide group NCT, Taemin from SHINee, and the legendary K-Pop soloist BoA were all in attendance and delivered outstanding performances.
Taemin opened the show with a stunning compilation performance of his solo songs "Criminal," "Heaven," and "IDEA:理想"—his most recent release. The performance was beautiful, featuring a remix of "IDEA:理想" and a show stopping ending of him standing with a giant, purple train emblazoned with a dragon hanging from the ceiling. He was acknowledged later in the night with the Favorite Dance Performance, Male Solo Award for "Criminal," his lead single released in September for the first half of his two-album project Never Gonna Dance Again.
As Taemin opened the show, the other SM artists in attendance helped to close it out, winning awards throughout the night as well.
NCT took home several awards, including Favorite Male Group and Worldwide Fans' Choice Top 10. These achievements display the amazing growth both NCT and their fans, NCTzens, have undergone. Under the NCT subunits, WayV also took home the Favorite Asian Artist Award, once again displaying their ability to connect with an Asian audience coming from different countries throughout Eastern Asia. WayV were the only SM artists in attendance at last year's MAMA, taking home a Best New Asian Artist Award.
Aside from winning several awards, NCT performed a twenty-three minute set featuring high-octane performances of "Turn Back Time," "Ridin'," "Kick It," and "Resonance," as well as an emotional and tear-jerking performance of a rearranged version of "From Home"—the multilingual track from the NCT 2020 album Resonance.
Following these amazing performances, their senior and K-Pop legend, BoA, performed her iconic song "No.1," her newest release "Better," and her song "Only One" featuring Taemin as a dancer in a paired dance. She celebrated her twentieth year as an idol this year, and was honored with the Inspired Achievement Award and cover performances from artists including (G)I-DLE and Winter from SM's new girl group æspa.
One SM artist who was not in attendance, but still won the Best Male Artist Award was Byun Baekhyun, one of the main vocalists of EXO with an extremely successful solo career as well. He had an extremely successful year with the release of "Candy" and his EP Delight, which was the first album by a solo artist in Korea to sell over one million albums in nineteen years. Both his abundant talent and charting success led him to his win, and we can possibly hope for performances from him and EXO as a whole in the future.
Taemin, BoA, and NCT's presence at MAMA this year was of great significance, as no SM Entertainment artists have attended MAMA since 2017, excluding WayV's appearance at the 2019 MAMA's last year. With great success and tremendous performances, we can hope to see NCT and their fellow label mates again at the MAMA's in coming years with exciting performances and greater success to come.
All photos and videos courtesy of Mnet.
---
NCT dan Artis SM yang lain Wow di Anugerah Muzik Mnet Asia 2020
Written by : Sarah Bathke | @randomfandomme
Translated by : Yuni | @SUNFLWRSY_
Disember 6, 2020 di Seoul, Korea Selatan menandakan Anugerah Muzik Mnet Asia (MAMA) ke-21, yang secara besarnya dianggap sebagai pertunjukan anugerah terbesar K-Pop. Pertunjukan anugerah tersebut mempunyai ramai idols yang hadir, dan diantara mereka 26 orang adalah idols daripada SM Entertainment. 23 orang kumpulan worldwide NCT, Taemin dari Shinee dan solois K-Pop lagenda BoA semuanya hadir dan menyampaikan persembahan yang luar biasa.
Taemin membuka pertunjukan tersebut dengan kompilasi persembahan memukau lagu-lagu solonya "Criminal", "Heaven", dan "IDEA:理想" ー keluaran terbarunya. Persembahan tersebut indah, menampilkan remix "IDEA:理想" dan pertunjukan menghentikan akhir dengan dia berdiri bersama dengan dia berdiri bersama dengan kereta api ungu yang dihiasi dengan naga tergantung dari siling. Malam itu dia kemudiannya diakui dengan Anugerah Persembahan Tarian Kegemaran, Anugerah Solois Lelaki untuk "Criminal", single utama yang dikeluarkan pada bulan September untuk separuh pertama projek dua-albumnya, Never Gonna Dance Again.
Setelah Taemin membuka pertunjukan tersebut, artis-artis lain SM yang hadir membantu menutupnya, memenangi anugerah sepanjang malam juga.
NCT membawa pulang beberapa anugerah termasuklah Anugerah Kumpulan Lelaki Kegemaran dan Anugerah Top 10 Pilihan Peminat Antarabangsa. Pencapaian ini menunjukkan pertumbuhan luar biasa kedua-duanya NCT dan peminat mereka, NCTzens, telah menjalani. Dibawah subunits NCT, WayV juga membawa pulang Anugerah Artis Asia Kegemaran, sekali lagi menunjukkan kebolehan mereka untuk berhubung dengan penonton Asia yang datang dari pelbagai negara di seluruh Asia Timur. WayV merupakan satu-satunya artis SM yang hadir pada MAMA tahun lepas, membawa pulang Anugerah Artis Asia Baharu Terbaik.
Selain daripada memenangi beberapa anugerah, NCT membuat persembahan selama dua puluh tiga minit yang menampilkan persembahan oktan tinggi seperti "Turn Back Time", "Ridin", "Kick It" dan "Resonance" serta persembahan emosional yang mengeluarkan air mata dari versi yang telah disusun semula "From Home" ー lagu pelbagai bahasa dari album NCT 2020 Resonance.
Berikutan persembahan-persembahan luar biasa ini, senior mereka dan lagenda K-Pop, BoA, mempersembahkan lagu ikonik "No.1", lagu keluaran terbaharunya "Better" dan lagunya "Only One" menampilkan Taemin sebagai penari untuk tarian berpasangan. Dia meraikan tahun kedua puluhnya sebagai seorang idol pada tahun ini, dan diberi penghormatan dengan Anugerah Pencapaian Terinspirasi dan persembahan cover dari artis-artis termasuklah (G)I-DLE dan Winter dari kumpulan perempuan baharu SM, æspa.
Satu artis SM yang tidak hadir tetapi tetap menerima Anugerah Artis Lelaki Terbaik adalah Byun Baekhyun, salah seorang daripada vokalis utama EXO dengan kerjaya solo yang sangat berjaya. Dia mendapat tahun yang sangat berjaya dengan keluaran "Candy" dan EP Delight-nya yang merupakan album pertama oleh artis solo di Korea yang menjual lebih satu juta album selama sembilan belas tahun. Kedua-dua bakatnya yang melimpah dan kejayaan yang menaik membawanya kepada kemenangannya, dan kita mungkin dapat mengharapkan persembahan daripadanya dan EXO secara keseluruhannya pada masa akan datang.
Kehadiran Taemin, BoA dan NCT di MAMA tahun ini sangat penting kerana tidak ada artis SM Entertainment yang menghadiri MAMA sejak 2017, tidak termasuk penampilan WayV pada MAMA 2019 tahun lalu. Dengan kejayaan besar dan persembahan-persembahan yang luar biasa, kita dapat berharap untuk melihat NCT dan rakan-rakan label mereka lagi di MAMA pada tahun-tahun akan datang dengan persembahan-persembahan menarik dan kejayaan yang lebih besar mendatang.
Semua gambar adalah milik Mnet