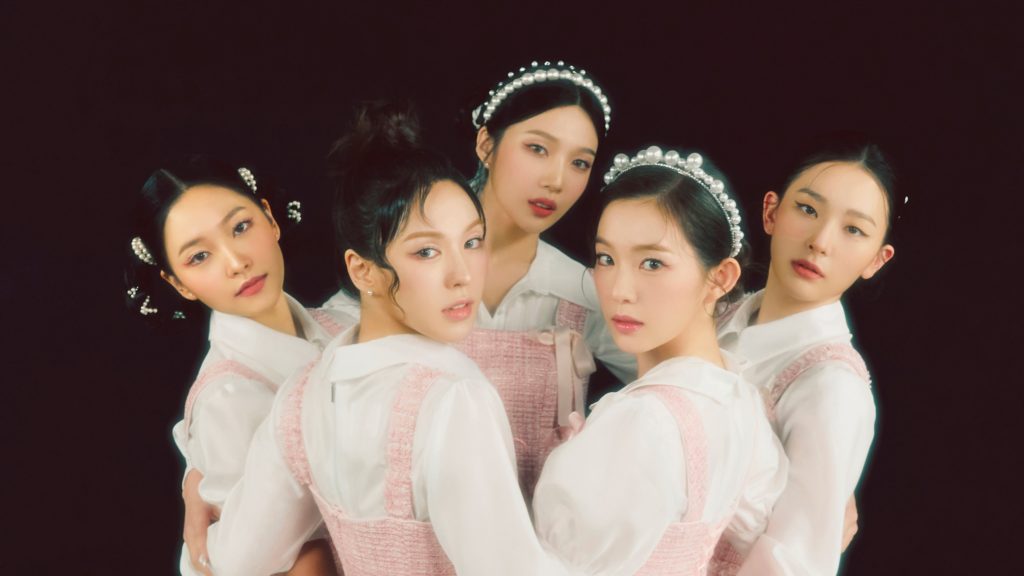 If there was a phrase to capture Red Velvet it would be "predictably unpredictable"— a seemingly paradoxical statement, yet true in every sense. The five-member K-pop girl group's concept revolves around the idea of mystery and duality. Or, red and velvet, and flamboyant or subtle (in a Red Velvet way). Their latest mini-album, The ReVe Festival 2022 – Feel My Rhythm, is no exception. In six songs, Red Velvet deliver a diverse album mixed with tracks that highlight their strengths and versatility as artists.
Anticipation for Red Velvet's latest album was at an all-time high. In less than a week, Red Velvet sold over 400,000 copies of their latest release. This, however, is not surprising because the album had over half million pre-orders— their record to date. Additionally, they topped the iTunes chart in over 30 countries, and swept Korean charts.
"We're always doing something different so I think the anticipation of what concept we'll showcase and how we'll please the eyes and ears of the audience is one of the main reasons why we receive so much love," Seulgi said to describe their consistent hype during their press conference.
And, as Seulgi said, Red Velvet did do something different.
Creating A New Rhythm
Originally described as a song reminiscent of their 2019 hit "Psycho," "Feel My Rhythm" is so much more than that. (Though, it should be noted that it aligns with the group's "velvet" side more so than their "red" personas.) Based on the clever musical references and ballerina aesthetic teasers, one might predict that the song has a natural, elegant feel. However, these expectations are subverted quickly when you listen to the song.
Sampling Bach's "Air On The G String," "Feel My Rhythm" is a manifestation of time travel and convergence as it combines baroque music with modern trap beats. The exclusively baroque feel of the song is interrupted by Joy's "Red Velvet" name drop. Once the song switches up, Irene welcomes a more modern feel with pop vocals. The pre-chorus winds down a bit allowing the chorus to shine. Red Velvet's vocal harmonies are exemplified by the combination of bass and "Air" instrumentation. This flow is interrupted by synths, which progress the song to the next verse. This part has a more classically K-pop feel with raps and pop vocals. The percussion noises ring in one's mind—possibly a call back to their first teaser with the girl on the desk. 
The light atmosphere of Bach's song creates a sense of freedom. It is fitting for the lyrics, which ask listeners to live in the moment and use their imagination. Seulgi referred to the concept as "imagination travel," which "kick-starts a new beginning that lifts you up with excitement, as spring does."
An Artistic Music Video
The aspect of time is also explored in the music video. There are plenty of references famous art pieces and other familiar imagery. On the whole, "Feel My Rhythm" has a nostalgic and hazy feel that is perfectly captured in the video.
Additionally, they create a sense of limitless drive and grandiose through their constantly changing sets. Red Velvet capture their "spring queen" vibe through flowery imagery and shots "outside." Compared to their usual vibrant color schemes, the video has more muted pastel colors and aesthetics, with puffy dresses, ruffles, and mini skirts.
"Personally, I think sight and smell are especially important in spring. Our music video stimulates these two senses and is reminiscent of the scent of flowers, with colorful visuals that satisfy the eyes," Wendy said. "Also, spring reminds us of the start of something new, so it will be a season of a new beginning for Red Velvet as well."
Even with a spring atmosphere, Red Velvet alludes to their familiar darker personas. Channeling their classy velvet side, Red Velvet replace the colorful aesthetic with dark colors and intense biblical imagery. A prime example is when Yeri sprouts black wings and Seulgi adorns a crown of thorns (Black Mamba, who?) after encountering a giant strawberry—possibly forbidden fruit. Perhaps, their invitation to "Feel My Rhythm" is a toned-down form of seduction, urging listeners to let go and join them.
Revving Up Excitement
Following their main event, Red Velvet maintains the spring queen vibe with refreshing tracks that pump up listeners. The second song on the EP is "Rainbow Halo," which has a unique R&B dance atmosphere. The upbeat and funky nature of the song almost makes it feel like it belongs in a video game. Here, the quintet sings about a love that has many colors like a rainbow.
Red Velvet changes up the pace with "Beg For Me." With a clearly more sensual undertone, the song shifts the more light mood established by the previous tracks. "Beg For Me" is a mix of pop and old school vibes. Red Velvet boast their ability to try new genres, using chic and controlled chanting that gives off "girl boss" energy.
Next is the retro pop song,"BAMBOLEO." The natural band instrumentation coupled with Red Velvet's seamless harmonies, make for a catchy "BAMBOLEO" chorus. This joint effort is juxtaposed by their individual moments where they get to flex their vocals.
Closing With R&B
Red Velvet conclude their festival with slower, welcoming songs. First, comes "Good, Bad, Ugly." This track references the famous saying, most notably from Forrest Gump, "Life is a box of chocolates." The quintet repeats this line to demonstrate the unpredictable nature of life. Throughout the song, Red Velvet invites listeners to enjoy the moment instead of getting lost in negative emotions. Their angelic vocals give the song an ethereal feel.
The first ReVe Festival of 2022 concludes with "In My Dreams," a slow R&B ballad. It is a hopeful romance song about wanting a happy ending with your partner. They yearn for reciprocation with the heart wrenching lyrics, "In my dreams you love me back." The overall mood of the ballad is a combination of weightless and emotional. It almost feels like a Disney song with its dreamy atmosphere. However, the combination of Red Velvet's harmonies over the trap beats are a reminder that it is uniquely Red Velvet.
A Path To A New Kind Of Queendom
In 2021, Red Velvet returned as a full-group with their Queendom and a title track of the same name. While Queendom marked a reunion for the group, The Reve Festival 2022 – Feel My Rhythm redefines who Red Velvet are and what their goals are. In the press conference, Joy said, "[We are] 'Spring Queens' this time, but with each new release, we hope to become Queens of all seasons."
2022's version of the ReVe Festival, is the start of a greater project with more music to come. Expanding out of their typical "Summer Queen" image, Red Velvet are eager to flaunt more of their colors.
"This is our first ReVe Festival album of the year and we are planning on releasing many more in the future," Irene said. "I only wish we can all be healthy so that we can create many memories with ReVeluvs together."
Want more on Red Velvet? Read up on the music video's references to art here.