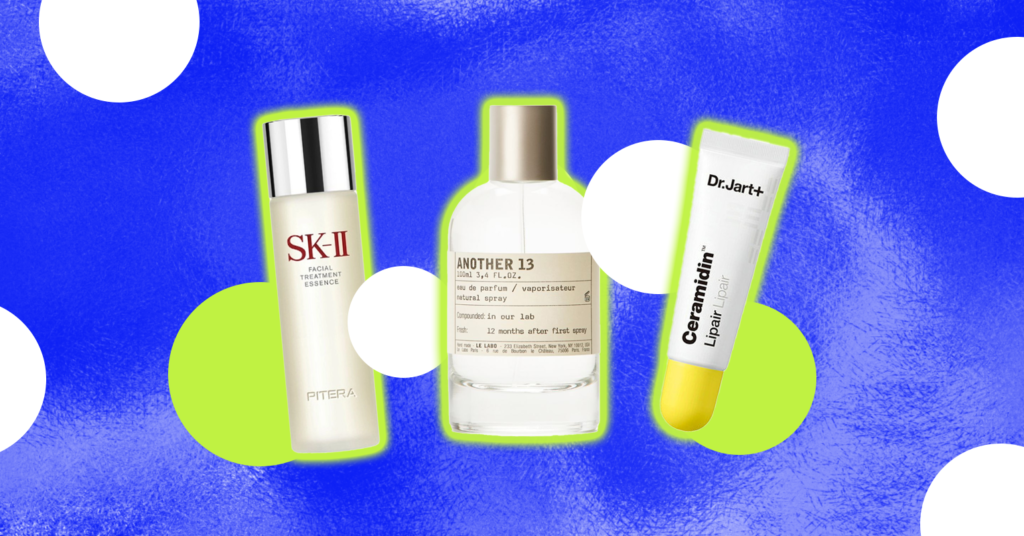 I totally get it; as fans, we want everything our idols have. Maybe it's the parasocial relationship, maybe it's the fear of missing out (FOMO). Whatever it is, listicles like these are so fun to read and they're helpful too! Now let's see, what should I add to my cart…
Jaemin
Blistex lip-care solutions Medicated Lip Ointment 
Seoul is known to have a very dry climate, even during the warmer months of the year. This means hydration and moisturization are very important, particularly the lips, which tend to get chapped easily from cold weather.
In a bubble message in July 2020, Jaemin let fans in on his regular lip balm he uses to keep his already dry lips from drying out further and cracking. He sent a picture of Blistex's Medicated Lip Ointment and recommended fans try it out! He applies it once before he goes to sleep, once when he wakes up and in between schedules too.  
And of course, in true Nana fashion, he also mentioned he thought about Seasonies as he was applying the balm before bed and wanted to let us know about it. He's the sweetest!
Taeyong
SK-II Facial Treatment Essence
Airports have strict regulations about the volume of liquids passengers can bring onto planes and many of us have gotten items confiscated due to said rule. Alas, idols are no exception either.
Last year, as NCT 127 was going through airport security, Taeyong was stopped by officers when his bag came out from the scanner. Turns out, he had liquid in his bag that was more than 100ml—the SK-II Facial Treatment Essence! When the photos of this encounter were released, czennie on Twitter felt bad seeing Taeyong look on in disdain as his expensive toner was taken away.
Taeyong certainly had all the right to be distraught; the SK-II Facial Treatment Essence is a luxurious toner that balances the skin's pH and sebum secretion so oily and dry areas are properly moisturized. It is also rich in vitamins, amino acids, and minerals to give you a clear and glowing complexion. No wonder Taeyong's skin always looks amazing…
Nature Republic California Aloe Fresh Powdery Sun Stick 
Sun protection is a MUST in everybody's daily routine. The sun's harmful UV rays cause faster aging, which means things like wrinkles, sun-spots, and saggy skin will hit you way quicker if you don't take the necessary precautions. So, it should come as no surprise that K-Pop idols take their sunscreen seriously. 
In the behind the scene video of SuperM's "Jopping" music video, Taeyong was seen using the Nature Republic Sun Stick, applying it liberally and putting it even on his ears. The details matter! This is especially important as they were filming in the Dubai desert, where the sun hits hard.
In an exciting turn of events, NCT 127 is now the face of Nature Republic! The sun stick itself is pretty amazing. It keeps you protected from the sun while offering a finish that isn't sticky nor drying. It's easy to touch up too (if you don't wear base makeup), since it is a pocket-sized stick.
Jaehyun
Kiehl's Calendula Herbal Extract Alcohol-Free Toner
It is a known fact in NCity that Jaehyun has immaculate skin. Almost every member has commented he was blessed by the gods with little to no physical flaws. Remember when Johnny pinched Jaehyun's cheek and called it "ddeok skin" during an episode on Johnny's Communication Center? He was essentially saying Jaehyun's skin is smooth and bouncy like rice cake, which is called ddeok (떡) in Korean.
Even though Doyoung said in an episode of NCTzens Would Like This Too that "no matter how much we try, we will never get skin like his", we can still attempt and hope for the best! T.T
In both his 24-hour relay cam video and mini staycation in a hotel video, Jaehyun shows us his skincare routine and unsurprisingly, it features very few products. One of the most noticeable products is the Kiehl's Calendula Herbal Extract Alcohol-Free Toner. The famed product soothes, refreshes and balances troubled skin.
As if our dimpled prince couldn't get any more princely, Jaehyun also smells good.
In the second episode of NCT 127's High School Baseball Team series, the members were all supposed to reveal items they would put in their locker. Unsurprisingly, Jaehyun pulled out one of the most expensive perfumes on the market, Tom Ford's White Suede. He spritzed it for the members to have a whiff and most of them mentioned that it "smells light".
Mr. Tom Ford himself describes White Suede as "wild, charming and irresistible. An addictive musk creation captures the primal essence of leather and suede, sending a powerful message of raw desire." Why does this sound like a description of Jaehyun himself…?
The key notes of the fragrance are suede, saffron and musk. The addictive pull of leather and suede is channeled through an elegant musk-derived composition. Musk's primal intensity is harmonized with saffron and thyme, heightened with velvety rose and warm amber. Warm, supple and sensual, a perfume with an irresistible expression of raw desire.
Even though it's traditionally a women's eau de parfum, the scent is considered unisex by many. It's probably the leather!
Jungwoo
Another product revealed from NCT 127's High School Baseball Team series is lovely Jungwoo's scent of choice. He took it out Byredo's Unnamed, a 2020 Valentine's Day release from the European luxury brand. The members described the scent as fresh, which is just so Jungwoo. He's known to give off a "fresh" feeling, which is why everyone says that Jungwoo can be in an advertisement for Sprite or Pocari Sweat.
The unique point of this perfume is the absence of a perfume name or named key notes. All it has is "an immaculate label, the promise of a story to write as your own. A blank page upon which your feelings may flow".
Talk about a unique marketing strategy…
Doyoung
Doyoung doing hour-long V-Lives on his birthday to interact with fans? Never failing to keep NCTzens in mind all the time, Doyoung held a birthday V-Live this year and chilled with us as he sang and talked to us. Wholesome, heart-warming, and so adorable.
A fan asked what his scent diffuser smells like and he said that it smells powdery, like most of the cologne he uses. Doyoung then proceeds to let us in on his favorite cologne at the time; the Le Labo AnOther 13.
Le Labo was commissioned by AnOther Magazine to work on an exclusive scent. The result of the creative collaboration between Le Labo and Jefferson Hack, editor-in-chief of AnOther Magazine is AnOther 13, a hypnotizing and unique scent.
It's composed of ambroxan, a synthetic animal musk, and twelve other ingredients such as jasmine, moss, and ambrette seeds absolute, giving it spike and shine. The blend of these ingredients makes this an addictive and dirty potion.
Haechan
As mentioned in Jaemin's recommendation, Seoul suffers a cold and bitter winter, biting and harsh. I have to repeat myself again: a good lip balm is absolutely essential.
For our resident sunshine's lip balm, Haechan was spotted last December with the Dr.Jart+ Cermidin Lipair—a fragrance-free, hyaluronic acid, paraben-free, sulphate-free lip balm in a squeezy tube.
The 5 types of hyaluronic acid, camellia oil, and safflower oil combine their powers to nourish, moisturize and plump the lip. It also soothes irritation. The gel texture makes it non-sticky and since it's in a squeezy tube, it's very easy to apply.
Thumbnail: NCT 127, @untruee