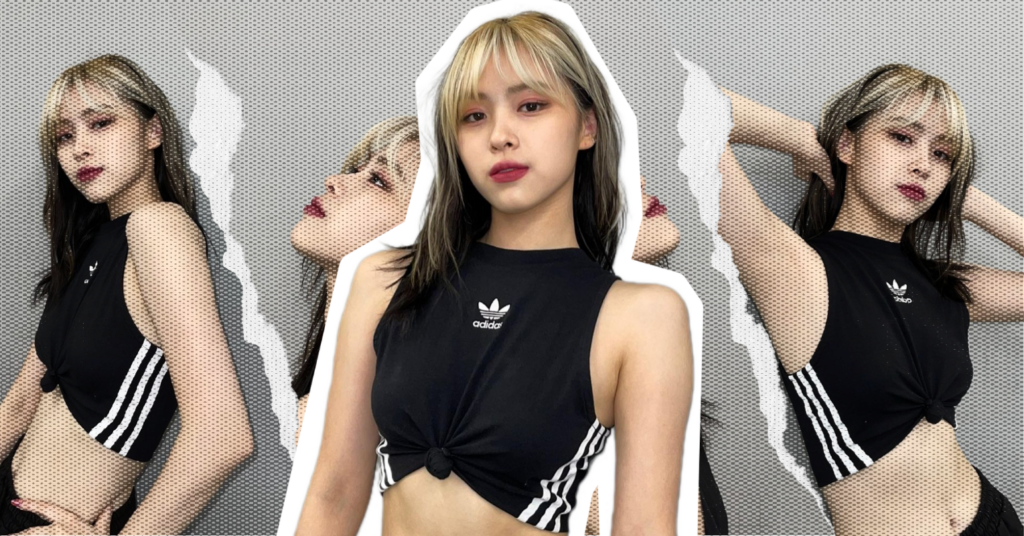 ITZY's center and main rapper Shin Ryujin is the epitome of girl crush: deep voice, shameless flirting, and captivating on-stage expressions. From her first on-screen appearance as j-hope's dance partner in the "Love Yourself Highlight Reel" video to ITZY's most recent comeback, Ryujin has established herself as one of K-pop's most charming fourth-generation performers.
In the seventh installment of our "Core" series — where EnVi breaks down the fashion and beauty of our favorite celebrities — we take a look at Ryujin's style and what makes her the ultimate girl crush.
THE FASHION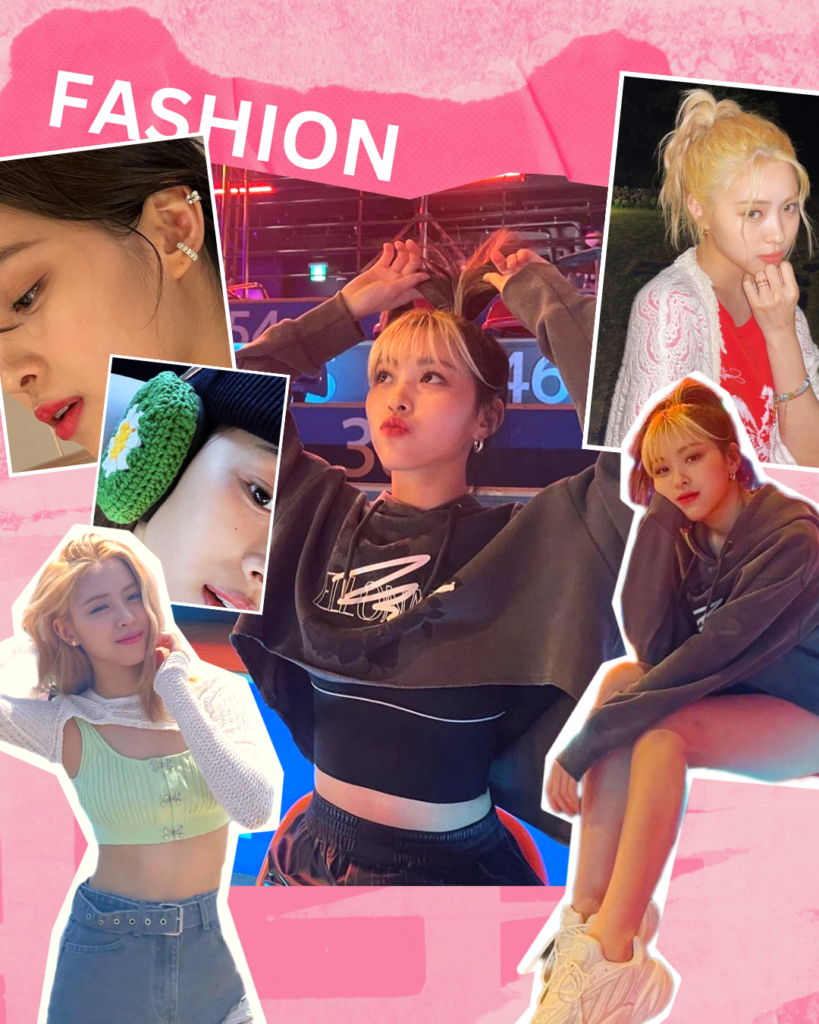 Core Aesthetics
Through her diverse performance roster, Ryujin has worn it all — from tailored pinstripe suits to bejeweled crowns. Her on-stage styling varies depending on the concept, but she often sports high-waisted skirts, shorts, and pants that accentuate her waistline and make her legs look longer. Though ITZY's concept strays from hyper-femininity, Ryujin's outfits are usually less feminine than even those of her group members, who wear skirts and dresses more frequently. Rather than always adhering to conventionally feminine pieces, Ryujin's approach to fashion seems to be less gendered. Her looks tend to complement her strong, sharp dancing. One of her most frequented silhouettes is the fitted crop top and baggy bottom combination.
Off-stage, Ryujin is a fan of comfortable clothing. ITZY's official Instagram is speckled with off-the-clock pictures of the idol in cozy cardigans, big hoodies, and a lot of sleeveless tops. The casual ensembles resemble normcore, with elements of both skatercore and soft girl seamlessly incorporated into her wardrobe. Combined with Ryujin's effortless charisma, her outfits never fail to make MIDZY — ITZY's fanbase — swoon.
The Color Palette
Considering that she always seems to be showing off a new concept, Ryujin's identity as a fashion consumer could be better described as exploratory. On and off stage, she has dabbled in essentially every color, ranging from royal purple to pastel green. However, her personal style leans towards the soft and neutral shades often associated with the normcore and softie aesthetics, with pops of bright color thrown in every once in a while. The rapper also appears comfortable pairing almost anything with a classic pair of blue, black, or white denim shorts and completing her looks with sneakers.
The Brands
When considering the various public appearances, performances, and official events that ITZY takes part in, Ryujin has gotten the opportunity to sample pieces from a wide variety of brands. However, when given the reins, Ryujin has shown a liking for a particular set of labels that complement her comfortable, yet simultaneously edgy, style. Since her pre-debut appearance on the 2017 survival competition show MixNine, Ryujin has frequented pieces from Adidas. From caps to leggings, the brand's athleticwear provides the perfect attire to fit Ryujin's self-described comfort-first style. Plus, it doesn't hurt that ITZY has collaborated with Adidas in previous campaigns.
Other brands that Ryujin sports often — partly thanks to her associations with them through ITZY — include Burberry, Louis Vuitton, and Charles & Keith. ITZY has relied on high fashion and streetwear brands alike in music videos, performances, and promotional content, including magazine photoshoots and collection campaigns. In terms of footwear, Ryujin boasts an impressive collection. Fans have noted that the idol appears to favor shoes by Golden Goose.
The Accessories
Fans of ITZY will agree that a staple in Ryujin's outfits is a hat of any sort. From beanies to caps and even fuzzy hats, the idol shows no shortage of love for all variations of the classic accessory. She's been seen wearing hats from Know Wave, Obey, and Saint James, among other brands. The easy-to-style piece only furthers Ryujin's effortless look, boosting her relatable, girl-next-door vibes.
Additionally, other accessorizing picks are earrings, ear cuffs, and studs. By layering several types of ear jewelry, Ryujin creates a small, glittering mosaic to accompany even the simplest of looks. Earrings, which can sometimes be a subtle detail, tend to elevate an outfit or complement a particular theme. For example, during ITZY's "LOCO" promotions, Ryujin accompanied a varsity jacket with a pair of silver heart earrings and a chain choker to support the comeback's spunky concept.
THE BEAUTY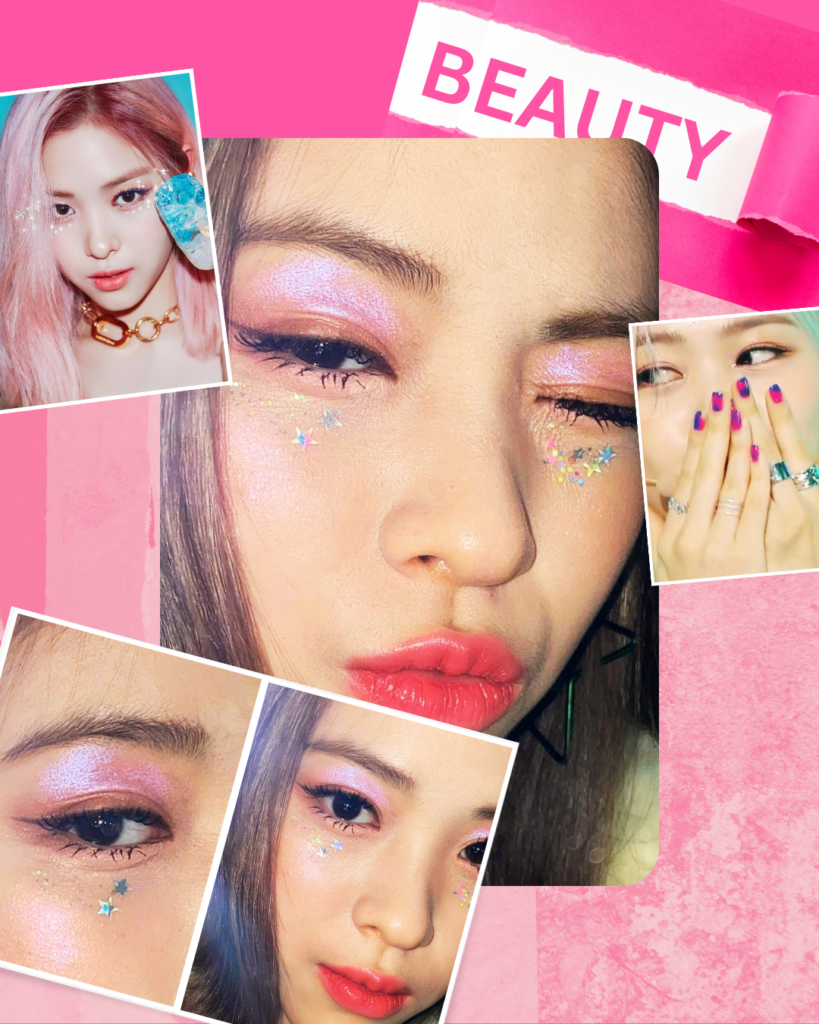 The Makeup
Ryujin's makeup is ever-changing to match ITZY's concept and her personal preferences. Glitter-infused looks are a classic theme throughout her various eyeshadow-and-liner combinations. Whether subtly ingrained in her eyeshadow or applied as stick-on stars, the sparkly material is essential in Ryujn's on-stage beauty routine.
Meanwhile, off-stage Ryujin has shared makeup looks she has created herself. In contrast with the work of ITZY's makeup artists, Ryujin's own attempts at doing her makeup result in softer, more natural looks. The idol is known to comfortably upload content and participate in makeup-and filter-free live streams, embracing her everyday look.
The Hair
From blonde-turned-pink highlights in "Dalla Dalla" to a dusty grey bob in "Cheshire," Ryujin has pulled off various hairstyles throughout her four-year tenure with ITZY. The idol has experimented extensively with hair dye — bubblegum pink in "ICY," orange in "In the Morning," midnight blue in "WANNABE," and even duo-toned dye in "LOCO" — and expressed that it has taken a toll on her hair's health. Regardless of its color, Ryujin's hair has always been relatively short in length, typically framing the idol's face or hovering slightly above her collarbones.
The Skin
Enviably smooth, impossibly glowy skin is the norm for K-pop idols. Amidst the many idols sharing complicated skincare routines and recommending various products with fans, Ryujin is highly praised for being one of K-pop's more relatable figures. She constantly uploads pictures that show her natural skin texture, blemishes, and even facial hair to ITZY's social media accounts. Her straightforward and honest approach to social media is refreshing and empowering, reminding viewers that beauty comes in various forms and that not even K-pop idols are airbrushed in real life.
Fittingly, then, Ryujin does not promote an overly complicated skincare routine. Fellow ITZY members Yeji, Lia, Chaeryeong, and Yuna have teasingly pointed out that Ryujin's skincare consists of "sometimes" washing her face. Ryujin herself has confirmed that she keeps things simple — her go-to skincare tip is to hydrate sufficiently.
The Nails
When she's not promoting or filming with ITZY, Ryujin tends to keep her nail art simple and practical with a clean, no-polish manicure or short, round monochromatic nails. On the other hand, when participating in her K-pop idol activities — video shoots, music show performances, promotional campaigns — her nails are given the full star treatment. Depending on the concept she's embracing, Ryujin's nails range from long, sharp, and metallic to short, square, and multicolored.
One ongoing trend fans have noticed is that Ryujin always seems to lose at least one of her nails during ITZY's promotions. Starting as early as her appearance on MixNine, fans jokingly realized that part of Ryujin's personal brand seems to be sporting a one-nail-missing look. The coincidental pattern has developed inadvertently to become one of the fandom's inside jokes.
Ryujin's approach to fashion and beauty reflects the relatable, down-to-earth personality she displays during live streams and interactions with fans. From calling out industry double standards and stereotypes to sharing unconventional (and unfiltered) personal advice, Ryujin continues to push the expectations people have set for K-pop idols. More than a flawless celebrity on screen, Ryujin's real personality draws fans from all over the world.
Want to read more about ITZY? Read about the group's first campaign for Charles & Keith here!