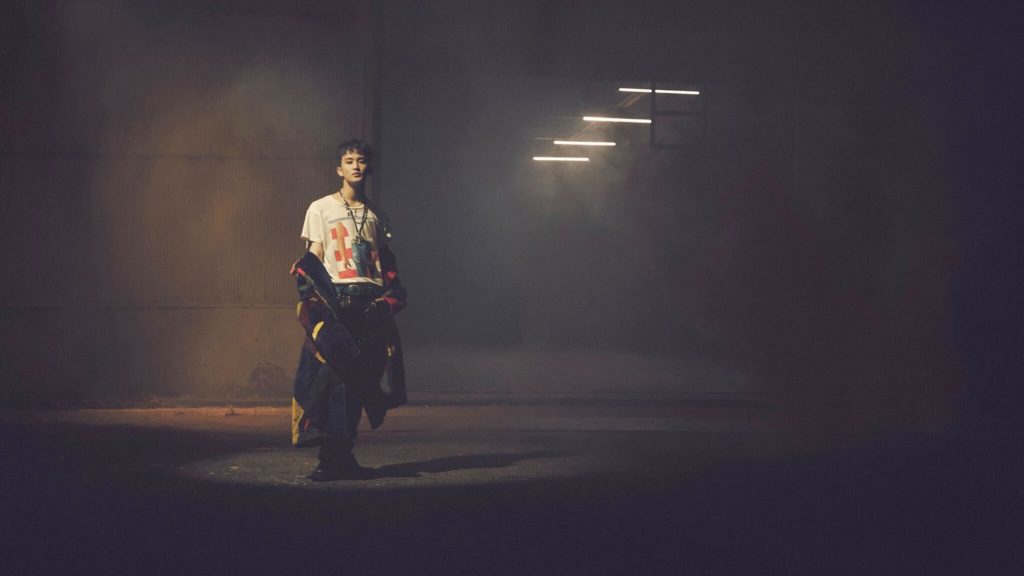 "Molo" is almost here! On January 28, SM Entertainment announced that NCT's Mark would be the first member to release a song with NCT LAB, a subsection of SM STATION. NCT LAB will consist of solo songs, self-composed songs, and unit songs by the NCT members. Mark's first solo project, "Child," will be released on all streaming platforms on February 4. Teasers for the upcoming track have been released in preparation for the release.
Mark Shines Bright
On January 31, NCT's Twitter account released the second set of Mark's teaser photos for his SM STATION, "Child." For this teaser concept, the main focus was a mixture of up-close and full-body photo shots of Mark in what appeared to be an alleyway. As Mark stood in the center of the alley at night, the street lights and brick walls around him gave off an industrial vibe with the lights making his tracksuit sparkle.
For the second set of teasers, we saw up close shots of Mark displaying his visuals and studded eyebrow piercing. The filter provided a haze that is mysteriously alluring. As lights shone down on the artist, hues of blue, purple, and orange reflected off of him. The neon orange open sign complimented the edgy underground scene.
On February 1, another round of teasers were released. Mark is pictured in what seems to be an empty warehouse. The minimal amount of light casted a shadow as smoke roamed around the light, and added to the grungy feel of the concept. With the spotlight shining down on the upcoming soloist, the multicolored jacket and intricate necklaces popped.
Music Video Sneak Peak of "Child"
NCT's Twitter account released the music video teaser for "Child" on February 2. The video opened up to Mark running through an alleyway, and was seen wearing the same outfit from his first set of teasers. The sound of heavy drums and faint strums of electric guitar filled the audio, as the clip transitioned to Mark sitting on an orange couch. In this video teaser, a group of people were running towards Mark as he ran past various buildings. As for the song, we got a snippet of the track, with Mark showcasing his vocals. The teaser ended with a close up of Mark, wearing the outfit from his second set of teasers.
A Moment of Excitement
After all of the teasers for "Child" released, the energy and anticipation for the track and music video grew quickly. NCTzens, fans of NCT, went to Twitter to voice their excitement for "Child" by commenting on NCT's Twitter page, and left lots of praise for Mark.
What's Next?
Mark's first solo project, "Child," will be released on all streaming platforms on February 4. With about seven years in the industry, the artist's multiple talents will shine throughout the alternative/hip-hop track. NCT LAB will bring out a new side of NCT, and we cannot wait to see what is coming next! If you'd like to read EnVi's article on the first set of teasers for "Child," click here!
Want more Mark Lee? Check out our "The History of Iconic Mark Lee Solos and Collaborations" here!