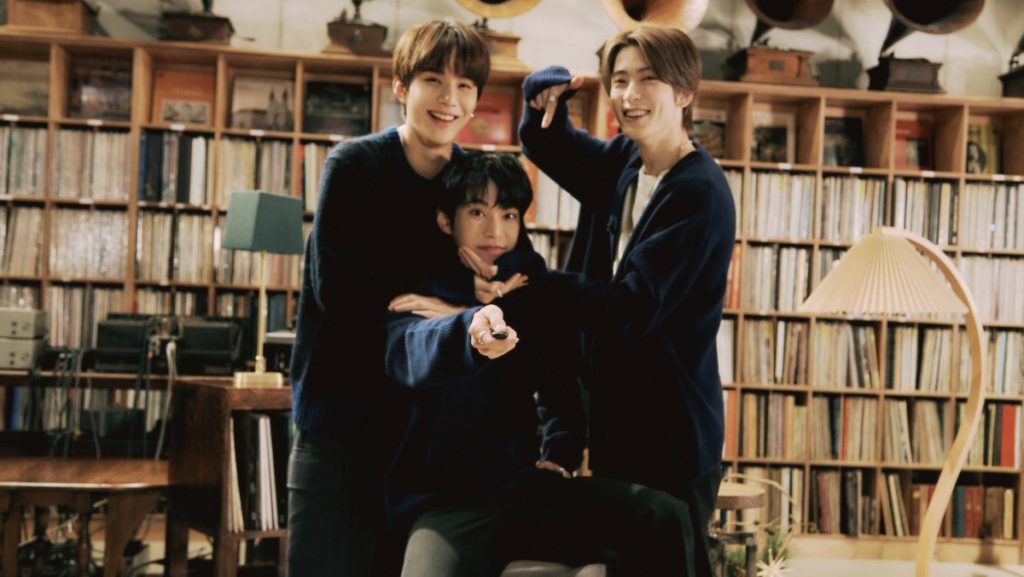 To celebrate the festive season, NCT's Doyoung, Jaehyun, and Jungwoo sprung a special gift on NCTzens, their fans, on December 23. Announced on social media the day before its release, the Christmas carol medley was met with great excitement and enthusiasm from fans, who couldn't wait to feast their eyes and ears on this unexpected present.
Christmas Classics
The music video opens to Jaehyun rifling through a shelf full of records, as if searching for the perfect festive accompaniment. He doesn't have to look far, though, as he himself soon provides the ultimate soundtrack alongside Doyoung and Jungwoo. Divided into three parts, the 6 minute and 40 second medley will leave you swaddled in all the warmth and joy of Christmas.
The trio kicks the medley off with "It's Beginning to Look a Lot Like Christmas," a veritable Christmas classic. Perched on stools and donning cozy sweaters, they launch into a bright and buoyant rendition of the carol – refreshing and invigorating.
As Jaehyun transitions into "The Christmas Song," listeners get the first taste of the singers' seldom heard lower registers. In this cover, they show off their vocal range and skills with velvety tones and harmonies.
Beyond just a simple greeting, "to the world" extends to Christmas covers as well. The trio close off their medley with the Girls' Generation-TTS classic "Dear Santa." Doyoung, Jaehyun, and Jungwoo express lyrics laced with fervent yearning in their emotive singing, layering their harmonies with vocal runs and high notes.
Throughout the medley, each vocalist gets a chance to shine in their solo parts, and even when their voices blend together their unique vocal colors shine through. Fans couldn't get enough of the sweet harmonies, flocking to Twitter to rain praises on the singers.
A Perfect Formula
This isn't the first time Doyoung, Jaehyun, and Jungwoo – dubbed DoJaeJung – have performed together to a wildly positive response. In NCT 127's recent "NEO CITY : SEOUL – The LINK⁺" concert, the trio premiered a special performance of the unreleased song "Can We Go Back." The sultry number showed off their vocals, and the artful silhouette dances left fans begging for more.
Ring in the New Year
From Christmas cheer to new year bells, DoJaeJung still have lots up their sleeves before the year ends. Fans who can't get enough of this trio can look forward to seeing their special stage at the "MBC Gayo Daejejeon" on 30 December. 
Want to celebrate an even merrier Neo Christmas? Check out our round-up of NCT Christmas songs and covers here!