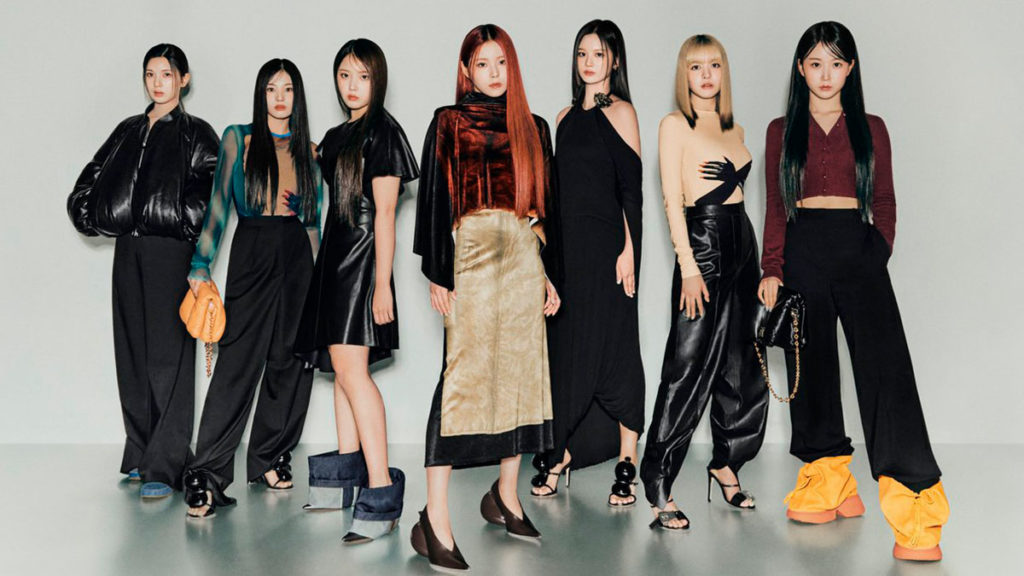 Stars from Asia-Pacific continue to take over the fashion world! Following a myriad of new associations between celebs from the APAC region and fashion brands, the Spanish luxury brand LOEWE announced the appointment of K-pop group NMIXX and Chinese actress Tang Wei as brand ambassadors. 
LOEWE's Global Ambassadors
So far, 2022 has been a year of consolidation for Asian stars in the fashion industry. From ambassadorships to modeling gigs, these celebrities are accumulating impressive titles and accolades. The latest ones to join the list of household names securing fashion relevance are K-pop group NMIXX and actress Tang Wei. On September 29, the LVMH-owned fashion house, LOEWE took to social media to welcome both acts as global ambassadors.
In the posts, the seven members of NMIXX and Tang Wei are portrayed wearing pieces from LOEWE's Fall-Winter 2022 collection, including the avant-garde Balloon sandals and Glove print tops, as well as the iconic trompe l'eoil denim boots that have been making the rounds among fashionistas.
Tang Wei
Award-winning actress Tang Wei is no stranger to fashion fame and she's certainly not a new collaborator for LOEWE. The Chinese star has previously participated in the brand's Pre-Fall 2022 campaign alongside the likes of Kaia Gerber, Hyuna, and Sir Anthony Hopkins.
Regarding her appointment as brand ambassador, LOEWE's creative director Jonathan Anderson commented, "It's a pleasure to welcome Tang Wei to the LOEWE family. Having worked together for our recent pre-collection campaign with Juergen Teller, I'm really looking forward to continuing this exciting collaboration."
NMIXX
Meanwhile, K-pop group NMIXX have steadily made a name for themselves since their debut in February 2022. Hits like "O.O" and "DICE" have received plenty of attention worldwide. However, with seven members—Lily, Haewon, Sullyoon, Jinni, Bae, Jiwoo, and Kyujin—that have continuously proven their Spanish language chops, the girl group is especially well-loved in Latin America and Spain.
Their appointment as brand ambassadors of a Spanish fashion house doesn't only seem suitable but also marks the first time LOEWE selects a whole group to represent them. NMIXX shared their thoughts on the "honor" through a press release. "We're excited to have the opportunity to bring an NMIXX twist to luxury fashion. We can't wait to dive into the LOEWE world and discover more about the house's unique point of view on craft and culture," they stated. 
An Association To Look Forward To
The news of NMIXX and Tang Wei's new partnership with LOEWE comes only days ahead of the brand's Spring Summer 2023 show at Paris Fashion Week. Celebrated for the innovative energy that creative director Jonathan Anderson has introduced, LOEWE is undoubtedly one of the most popular fashion houses in the world and one to keep an eye on, whether for their boundary-pushing designs or their army of influential ambassadors. 

Interested in more fashion coverage? Check out Korean brand EENK's first solo fashion show in Paris here.