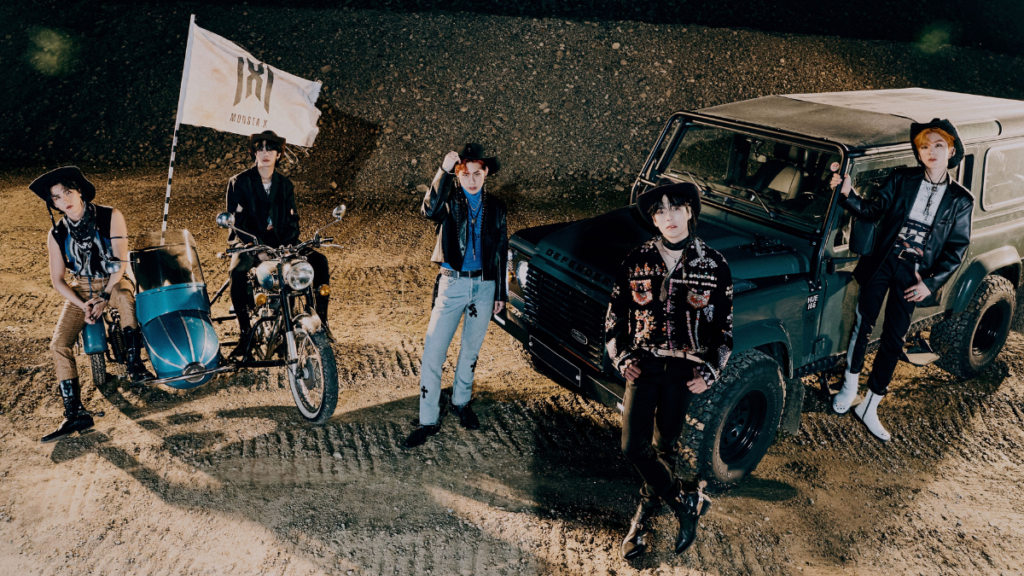 Monsta X has been taking the music world by storm after the release of their single "One Day." Continuing on that momentum, the group released their tenth mini-album, No Limit, on November 19 at 2 PM KST. This album marks a turning point for Monsta X with themes of forging a new path.
Rush Hour
The title track of the album, "Rush Hour," holds true to the signature Monsta X sound with strong instrumentals paired with powerful vocals and rap. The track begins with an ominous whistle as we see the five members in a deserted area with a western cowboy theme. The heavy bass and addicting whistle throughout the chaotic music video draws attention to the theme of creating a new era. With the lyrics "Push it to the limit / Hit it like you are going to break it, yeah / Rush it to the finish / Hit it until the end, yeah (Let's go) /Push with double the power," Monsta X uses the chaos to deliver a message to create a new path and trail-blaze forward to reach your goals. 
The central message of the song sets the tone for the album. It draws parallels to Monsta X's identity and the chaotic-ness and traffic of rush hour is a representation of the music industry today. The members have always stood their ground and walked their own path in the industry. In the music video, the off-road driving is symbolizing their steps towards ambitious goals with the never-ending competitive society that is defined as hanging on by thread from a high place. 
No Limit to Monsta X's Power and Love
The intensity from the title track continues in the next three tracks of the album, "Autobahn," "Ride with U," and "Got me in chains." With upbeat tempos, heavy bass, drums, and an electric sound, the tracks stay true to Monsta X's signature. Nothing less should be expected with Joohoney and I.M credited on every track of the mini-album. 
The final three tracks, "Just Love," "Mercy," and "I got love" are more toned down but continue to highlight the impressive vocal range and addictive rap of Monsta X. Hyungwon notably self-produced "Mercy," showing his musical capabilities with the goosebump-inducing track. 
Monsta X dedicated several tracks to their loyal fans, MONBEBE. Throughout the album, the members give thanks to their fans and express their longing to see fans in person soon despite being physically apart for so long due to the pandemic. I.M's self produced track, "Just love," encapsulates these feelings with the lyrics, "Don't be anxious / I'm by your side / I love you as always / Just as painful days will come / There will also be happy days."
More to Come From Monsta X
Though their tenth mini-album just released, Monsta X still has much more in store for fans. On December 10 the group will release their second all-English album, The Dreaming. They will also be performing at the iHeartRadio Jingle Ball in Philadelphia, PA, Washington, D.C., Atlanta, GA, and Miami, FL. After that, they will kick-off their headline world tour in New York City on January 29, 2022. 
On December 9 & 11, our brand-new film <MONSTA X : THE DREAMING> is coming to cinemas worldwide. Tickets go on sale on November 4 at 7pm ET. Visit https://t.co/GGS1nR5XpU for more information!#MONSTAX #MONSTA_X#몬스타엑스 #THEDREAMING#ONEDAY #MONSTAXINCINEMAS#MONSTAXMOVIE pic.twitter.com/4ypJzUFPVJ

— 몬스타엑스_MONSTA X (@OfficialMonstaX) October 28, 2021
📢
2022 MONSTA X WORLD TOUR IN US/CANADA 새로운 일정 안내#몬스타엑스#MONSTAX #MONSTA_X pic.twitter.com/dtJKZeI9gN

— 몬스타엑스_MONSTA X (@OfficialMonstaX) May 24, 2021
Stream No Limit on Spotify and Apple Music and follow Monsta X on Twitter to keep up with the latest updates! 
Want more Monsta X? Check out our coverage of their trailer for their upcoming movie, MONSTA X: THE DREAMING here!
Thumbnail courtesy of Starship Entertainment.