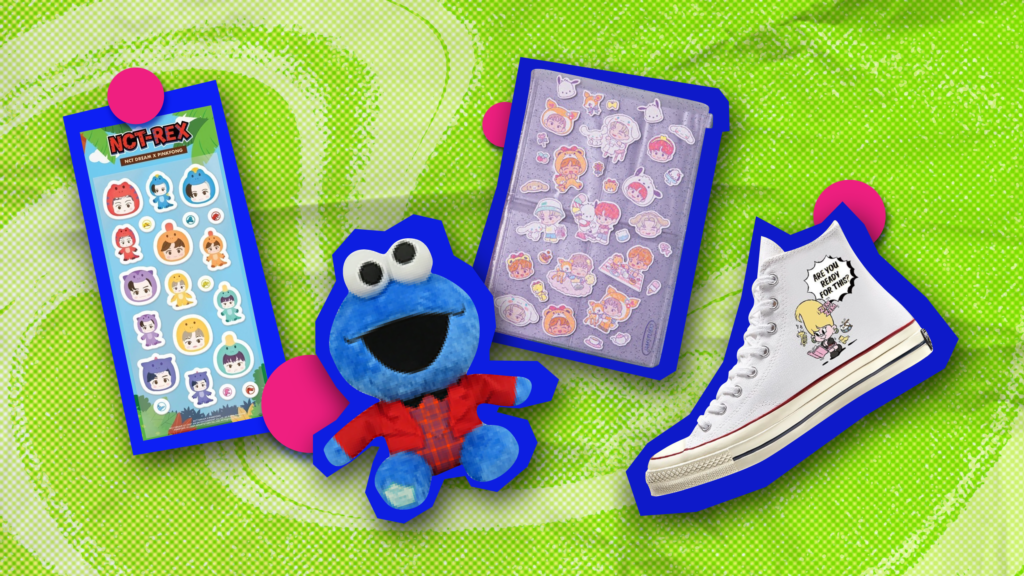 Across the years, K-pop acts have joined forces with brands across toys, education, and entertainment for adorable merchandise (or merch for short) collections. Whether it's long-term projects like BTS' BT21 or short-term exclusives from SHINee and Sesame Street, these items capture the attention of fans across the world. EnVi looks at some of the cutest merch collaborations between K-pop idols and popular characters from clothing to collectibles.
NCT x SANRIO TOWN
On June 13, NCT's label, SM teased the collaboration between the global group and the company behind Hello Kitty, My Melody, and Cinnamaroll. Sanrio Korea later revealed artwork of NCT Town, a town where cartoon versions of each member live alongside existing Sanrio characters. Before the characters' identities were confirmed, fans eagerly guessed the matching Sanrio characters through clues, such as the members' favorite things, fandom stories, and symbols associated with specific members.
The collaboration consists of both events and products. There is a pop-up in Seongsu-dong, Seoul from June 30 to August 1, with a photo zone based on the town concept, products from the line for sale, and unreleased items on display. Visitors can complete various missions and collect stamps for sticker prizes and also collect printed messages from their favorite idols. NCT members made a stamp of their own at the pop-up by taking pictures with their Sanrio equivalents and leaving their autographs.
Products from the collaboration combine cute, collectible, and practical. NCTzens can get their hands on mousepads and a stationery line made with retailer TENBYTEN. Both cute and comfortable, multiple releases of patterned pajamas sold out quickly from the clothing retailer, SPAO. Other items include face masks, posters, decorative stands, photocard sleeves, photocards, and more.
The NCT x SANRIO TOWN collaboration garnered online attention from NCTzens and collectors, with the official Twitter account for products and events gaining over 100,000 followers in under a month. The characters were also brought to life in an animated video clip by Sanrio Korea and emoticons for KakaoTalk messaging app. Sanrio Korea also has plans for global licensing of the character art in Japan, the United States, and China.
NCT 127 x Mickey Mouse
NCT x SANRIO TOWN is not the first time NCT members have been transformed into adorable characters for merchandise. Following NCT 127's "Regular" performance at "Mickey's 90th Spectacular" in 2018, the NCT sub-unit combined forces with the Disney mouse again for Mickey Mouse-themed concert goods. The concert merchandise was for NCT 127's Japanese Arena Tour "NEO CITY : JAPAN – The Origin" in 2019 with pouches, pins, and hoodies of Mickey in the white NEO CITY costumes. NCT members have previously crossed paths with the Disney Mouse, with then-SMRookies Mark, Jeno, Haechan, Jaemin, and Jisung featuring in the cast of Mickey Mouse Club.
NCT DREAM x Pinkfong
The links between NCT DREAM and the South Korean educational brand Pinkfong date back to their performance of the viral "Baby Shark" at their 2018 DREAM SHOW. Since then, they went on to work with the brand for dinosaur-filled "Baby T-Rex," the "Dinosaurs A to Z" song, and adorable cartoon renditions of "Hot Sauce" and "Glitch Mode."
Alongside the children's version of "Hot Sauce," Pinkfong, SM Entertainment, and convenience store chain CU came together for an NCT-REX food line. Other NCT-REX products from the collaboration include note sets, key rings, and stickers, which you can still get your hands on from SM Global Shop.
Red Velvet loves GOOD LUCK TROLLS
In 2020, Red Velvet members Irene, Seulgi, Wendy, Joy, and Yeri lent their voices to the K-pop Gang in the animated musical comedy, "Trolls World Tour," performing an adorable version of "Russian Roulette" in a dance-off. In addition to voicing characters in the Trolls (2016) sequel, an exclusive product range, Red Velvet loves GOOD LUCK TROLLS was released in the same year. Matching the idols' representative colors, each illustrated troll was assigned a Red Velvet title track: Irene for "Red Flavor," Seulgi for "Zimzalabim," Wendy for "Dumb Dumb," Joy for "Peek-A-Boo," and Yeri for "Ice Cream Cake."
Products ranged from clothing and accessories to homeware and self-care. There was also a Seoul pop-up store selling dolls, stationery, photocards, and more. With clothes and accessory lines from SPAO and Converse, the collaboration gave Red Velvet fans, or Reveluvs, the opportunity to be decked out in Trolls gear from head to toe. You can still find accessories, stationery, and cushions from the Red Velvet loves GOOD LUCK TROLLS collection at the SM Global Shop.
SHINee x Sesame Street
In 2017, SHINee collaborated with the children's program, Sesame Street for their Japanese "SHINee WORLD 2017~FIVE~" tour merchandise. The outfits worn by the Sesame Street characters matched the costumes of the corresponding SHINee members: ONEW as Elmo, JONGHYUN as Big Bird, KEY as Bert, MINHO as Cookie Monster, and TAEMIN as Oscar. A limited line of sweatshirts, key chains, pouches, and phone cases was sold as part of the tour, and plushies were also available at claw machines at amusement facilities. Products from the limited line are now tricky for fans and collectors to get into their possession, with some resale prices reaching hundreds of dollars.
TWICE X Kakao Friends
In 2019, girl group TWICE collaborated with Kakao Friends for a product range drawn and designed by TWICE themselves. Originally eight characters within the South Korean mobile messaging app, KakaoTalk, Kakao Friends is an entertainment and lifestyle brand with products including electronics, accessories, clothing, and toys. TWICE's Always Together range featured cat Neo, mutant peach Apeach and lion Ryan. The collection consists of 23 beauty, living, and travel items, including hair pins, pajamas, cushions, and passport holders. You can find out more about where to find the products online and offline through the official website.
BT21: BTS x Line Friends
The BT21 characters were developed in 2017 in a collaborative project between boy band BTS and a global creative studio, LINE FRIENDS. Designed by the BTS members, there are eight main characters plus their friends and family. BT21 was the first of the FRIENDS CREATORS platform, where influential artists partner with LINE FRIENDS to make characters for products and content.
BT21's reach is now expansive, ranging from physical experiences to digital content and branded products. As well as the global online store, there are now physical stores in South Korea, Japan, China, and the USA. BT21 crossed over to culinary experiences with themed cafés in Japan and the UK. Beyond LINE FRIENDS products, there are various collaborations between BT21 and other brands. BT21 apparel, accessories, and cosmetics have been developed with brands like Anti Social Social Club and UNIQLO and beauty brands VT Cosmetics and The Crème Shop. The collaborative project also birthed a range of entertainment and digital content. The BT21 YouTube channel has 4.94 million subscribers following animated stories, music playlists, tutorials, and behind-the-scenes content with the BT21 UNIVERSE series.
Interested in more cute K-pop merch inspired by your favorite artists? Check out EnVi's Small Business Spotlight with the k.art mnl.