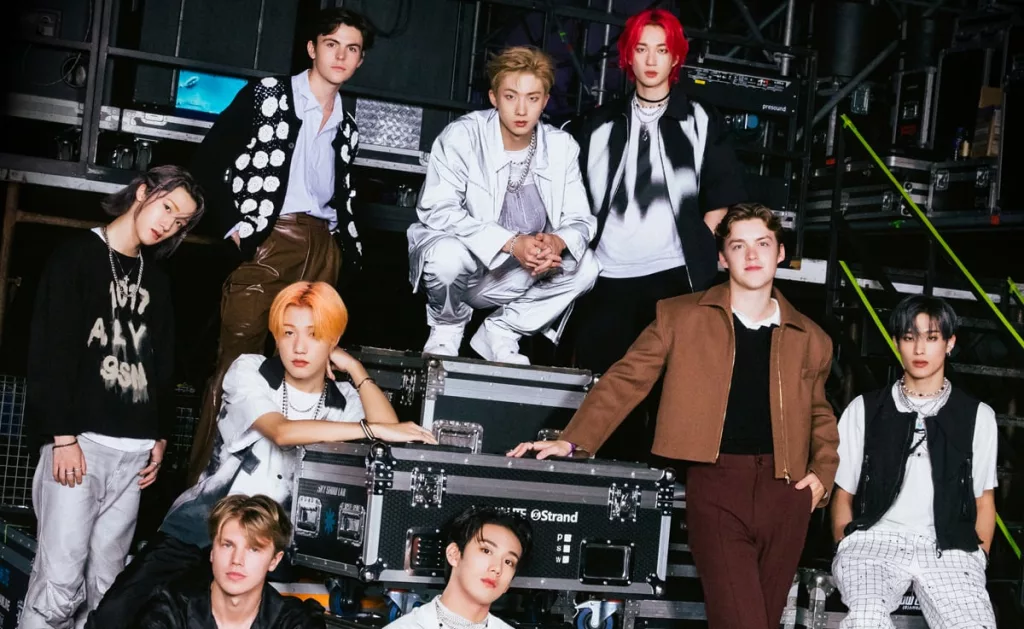 The birds are chirping, the sun is shining, and a new P1Harmony collaboration is on the horizon—spring is officially here. Following the K-pop group's second U.S. tour, which wrapped up mid-February, P1Harmony joins forces with British pop trio New Hope Club for their newest single, "Super Chic," released on April 21.
New Friends in News Places: A Timely Collaboration
In case you're unaware, the boys of P1Harmony and New Hope Club go way back, having met and bonded during 2022's Haus of Wonder Music Festival where both groups performed. New Hope Club, consisting of members Blake, George, and Reese, have gone from playing local pub gigs in Manchester to growing a devoted global fanbase, selling out headline shows from Los Angeles to New York, London to Seoul, and Tokyo—their following especially strong in Asia. In South Korea, their debut album has been certified 6x Platinum, and they have since joined HYBE's idol-to-fan social platform, WeVerse, to connect with their Korean audience.
As for P1Harmony, the six multilingual members, Keeho, Theo, Jiung, Intak, Soul, and Jongseob are K-pop's latest sensations, steadily rising to the ranks of international stardom. Boasting electrifying hip-hop tracks such as "Do It Like This" and "Back Down," as well as soothing R&B numbers like "Gotta Get Back" with Pink $weats, P1Harmony is nothing short of an unforgettable and hypnotic force. During the group's tour stop in New York this past February, New Hope Club joined in on the fun with a surprise opening set at Terminal 5 before P1Harmony took to the stage, showing this musical friendship would go beyond just TikTok and into something more concrete—and that's where "Super Chic" fits in.
"We are very excited by the release of 'Super Chic' with P1Harmony," George from New Hope Club shared in the single's press release. "This is our first-ever collaboration with a K-pop artist! Being creative with other artists has always been one of our favorite things and P1Harmony was so great to work with. We can't wait to get on stage and play this song for the first time." Jiung from P1Harmony added, "It was a lot of fun getting to work with such great artists and I'm very grateful that I made good friends out of this collaboration."
Sweet Like P1Harmony
Right on the heels of this new spring weather, "Super Chic" is a sugary sweet pop song dipped in honey and glazed with the lightest touch of groovy guitar motifs and warm melodies. It's as breezy as it is addictive, with a thirst-quenching hook that was made for lemonade stands and lounging poolside while lathering up on sunscreen. 
The track starts with New Hope Club as they list all the things that make the girl of their dreams attractive, followed by the repeated line, "She a super, super super chic" — a little tongue-in-cheek reference to Rick James' 1981 hit, "Super Freak." With P1Harmony's Theo and Jiung adding their own spark of magic to its pre-chorus (and as many tasty food references as possible), the song makes a refreshing splash into the hook, elongating the words to make for an easily swayable tune.
But although the mentions of ice cream, lemon sweetener, and cheese are all incredibly mouth-watering, it's the cheeky namedrops that make it impossible to not crack a smile. From lyrics such as, "Walks like Adriana Lima," referencing the former Victoria's Secret Angel to "Lipstick kiss like Angelina," of course, referring to Angelina Jolie, and what will probably become a fan-favorite to sing aloud, "So sweet, P1Harmony," sung by the group's vocalist Keeho.
While most of the track is in English, P1Harmony rappers Jongseob and Intak light up the thumping bridge, tackling their respective verses in Korean and adding that signature K-pop flavor with Jiung's feathery vocals smack dab in the middle. As the weather gets warmer and the sun stays out longer, you'll find "Super Chic" is a must-have for every summer playlist, with New Hope Club and P1Harmony as the brightest cherries on top.
What's Next for P1Harmony?
The single release follows the recent announcement of P1Harmony's forthcoming and first-ever Canada & Latin America headline tour, kicking off on July 9th in Vancouver, Canada, and touring Toronto, San Juan, São Paulo, and Mexico City, just to name a few. "The fact that I will perform a headline concert in my own hometown for my own show is still something I cannot believe," Keeho shared exclusively with Teen Vogue on the upcoming P1USTAGE H: P1ONEER dates in Canada. "It definitely will be a humbling and emotional show for me personally, and I'm glad that I will be able to experience that with the other members."
The dates support the band's P1USTAGE H: P1ONEER tour in North America which saw P1Harmony headline packed houses in iconic venues including MGM National Harbour in DC, where ABC News sat down with the band for their Prime Playlist series. As they gear up for the next leg of this tour, the group will continue to bring their Harmony mini-album series to life with high-energy performances and next-level charisma for their adoring P1ece (P1Harmony's fandom) overseas. Plus, if the boys' recently dyed hair colors are any indication—which they usually are—the third installment of the Harmony series may very well be on its way.
"Super Chic" is now available on Spotify and Apple Music, and be sure to follow Studio PAV on Instagram and Twitter for more information on P1Harmony's upcoming Latin America and Canada tour.
Want more P1Harmony? Check out EnVi's concert recap and review for the group's P1USTAGE H: P1ONEER in Chicago here!