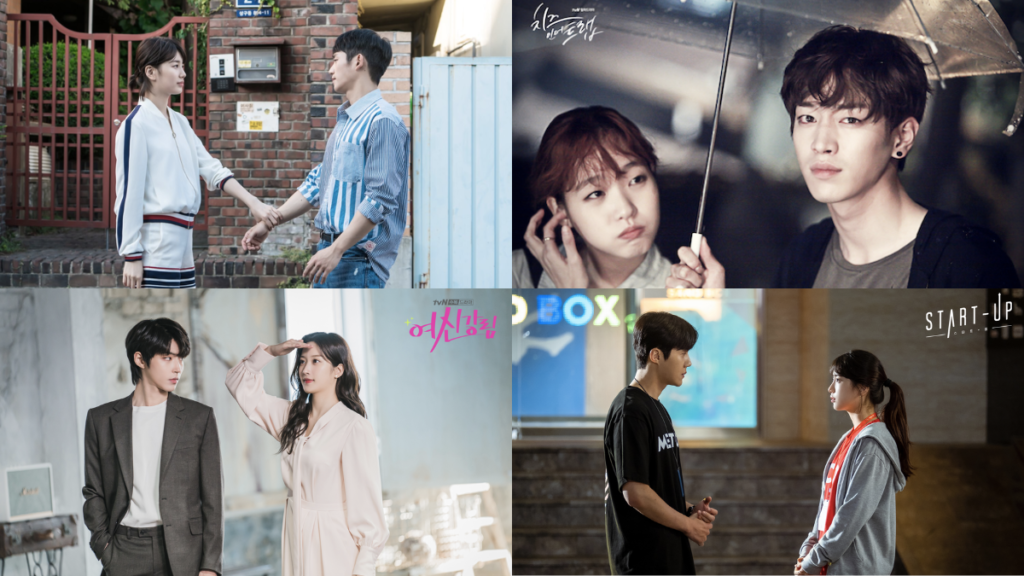 Have you ever found yourself falling in love with the second lead despite the charming main lead? You might be diagnosed with second lead syndrome! Although there's no cure for that, EnVi lists down these K-dramas to give the esteemed second leads some love and recognition for their love attempts.
Love At First Sight
Hwarang: The Poet Warrior Youth (2016)
Featuring an incredible cast, including Park Seo-joon, Park Hyung-sik, BTS member V, Choi Min-ho, and Go Ara, Hwarang (2016) is a romantic historical drama that revolves around an elite group of men during the complicated politics of the Silla Kingdom. With multiple threats for the throne, Hwarang was established to protect the crown prince and restore order by cutting through old power factions.
Caught in a love triangle alongside Moo Myung (Park Seo-joon) with feelings for Ah-ro (Go Ara), Sam Maek Jong (Park Hyung-sik) struggles to appeal to Ah-ro's love for Moo Myung. With open confessions and a desire to bring Ah-ro happiness even at the price of giving up the throne, the king-in-hiding's feelings never wavered throughout the drama. Although he was the real prince to many of us in our hearts, the drama left us feeling pitiful towards Sam Maek Jong, an innocent king that fell in love at first sight with a witty storyteller, Ah-ro.
The Tsundere
A Japanese term for a person who often acts aggressively to hide their feelings.
Cheese in the Trap (2016)
Based on author Soonkki's original webtoon, Cheese in the Trap was 2016's hot K-drama starring Kim Go-eun, Park Hae-jin, Seo Kang-joon, and Lee Sung-kyung. The romance drama features Hong Seol (Kim Go-eun), a sweet college student who discovers a secret behind the hotshot college senior — he's not who he appears to be. Manipulative with hidden sociopathic tendencies, Park as Yoo-jung has the perfect image of a rich, good-looking, athletic, and smart senior who just happens to have the means to eliminate anyone who stands in his way.
As Hong Seol diligently navigates college life with friends, she finds herself wanting to stay under the radar to avoid Yoo-jung's detection. But with her luck, Hong Seol ends up constantly encountering Yoo-jung after he suddenly decides to drop the cold front and treat her nicely. But a question arises — is his kindness real or fake? In this confusion, Seo, as resident second lead Baek In-ho, appears in the love triangle. He is the sweet-hearted rebel that cares for Hong Seol in his roundabout ways — rough yet sincere. With an endearing pet name "dog fur" that In-ho attaches to Hong Seol, his tsundere tendencies fail to mask his hidden affection for her. Teasing Hong Seol with his hot-headed personality but taking care of her after accidents, In-ho makes the competition much harder between the cool-headed and hot-headed leads.
The love triangle gets more complicated as the two male leads are revealed to have a hidden history that shattered their friendship — pitting them against each other in their one-sided loves. Hong Seol entangles herself deeper into a love triangle between Yoo-jung and In-ho with the two showing clear distaste for each other. Cheese in the Trap makes the main ship between Hong Seol and Yoo-jung harder to sail with In-ho forging his place in Hong Seol's life along with ours.
The Wingman
While You Were Sleeping (2017)
Director Oh Choong-hwan, known for Hotel Del Luna (2019), Start-Up (2020), and Big Mouth (2022), made 2017's fantastical legal drama While You Were Sleeping with a pinch of romance. In a flurry of dreams and reality, the series showcases the dynamics between Bae Suzy as reporter Nam Hong-joo, Lee Jong-suk as prosecutor Jung Jae-chan, and Jung Hae-in as police officer Han Woo-tak. The trio experience the effects of an interesting phenomenon — the ability to see the future through their dreams. Knowing that whatever they will dream of is bound to happen, the three ally together to prevent and solve crimes. Going as far as changing appearances and actions to shift the hands of fate, the trio utilizes the ability to be one step ahead to piece evidence together. As they continuously collaborate, Hong-joo and Jae-chan intertwine their fates together, adding to Woo-tak's sorrowful dreams.
The trio is a special case of second lead syndrome. While the love triangle trope typically involves two male leads fighting for the female lead, Woo-tak removes himself from the petty competition. After dreaming of a kiss between Hong-joo and Jae-chan, he chooses not to interfere with the fateful romance between his friends. Instead, he decides to encourage their romance from the sidelines. As the wingman to his shattering heart, his heartfelt character and sweet demeanor enhance the story and our love for Woo-tak.
The Secret Admirer
True Beauty (2020)
Based on author Yaongyi's original webtoon, True Beauty is 2020's hit K-drama, starring Moon Ga-young as Lim Ju-gyeong, Cha Eun-woo as Lee Su-ho, and Hwang In-youp as Han Seo-jun. Ju-gyeong's life before she discovered makeup was brutal, getting bullied for her looks and socially ostracized by family and peers. After her aesthetic transformation and transferring to a new school, pretty privilege grants her entry to the world of social "goddess" treatment. Transforming her life, she hides behind a makeup-ridden mask as she fears her "true" face getting exposed.
True Beauty divided viewers between "Team Su-ho" and "Team Seo-jun," the respective male leads. The series captures the rivalry between two starkly opposing types — the "light" type and the "dark" type. Although his appearance betrays his inner monologue, Su-ho is cold-demeanored, reserved, and socially awkward. Despite his no-frills attitude, he is sincere in his character as the first one to know Ju-kyung's secret double life and still like her for it. Meanwhile, Team Seojun has Seo-jun as our resident second lead. His way of showing affection is loud and brash. But secretly, he's easily flustered and shy. With the standard "bad boy" reputation with pierced ears and motorcycle helmets, his flirtatious method of teasing is often root to playful bickering between him and Ju-gyeong. Although the two don't work out, Seo-jun claws his way into our hearts with his bright personality.
The Secret Pen Pal
Start-Up (2021)
The Netflix series, Start-Up (2021) took rom-com fans around the world by storm in 2020. With an innovative storyline of getting rich in tech and entrepreneurship, the show is packed with excitement and thrills to keep viewers on the edge!
After getting kicked out of an orphanage at 17, Han Ji-pyeong (Kim Seon-ho) faced life's realities early, forcing him to toughen up emotionally. With just a bag of 2 million won, Ji-pyeong faced society's harsh demands — unable to rent his own place and often ignoring hunger pangs. In order to fend for himself, he struggled to convey his true feelings until he met Seo Dal-mi's grandmother, Choi Won-Deok (Kim Hae-sook). With Dal-Mi's parents going through a divorce, Dal-Mi (Bae Suzy) loses her only friend as her sister decides to leave with her mother. Now, left with just her entrepreneur dad, Dal-mi struggles to cope with loneliness until Mrs. Choi decides to ask Ji-Pyeong to be her pen pal. Under the pen name Nam Do-san, Ji-Pyeong writes love letters to Dal-mi throughout childhood to cheer her up.
At the time of the start-up competition held at the sandbox, Ji-pyeong had become a successful venture capitalist well-respected in his field. Despite this, his eyes were only set on Dal-Mi from the beginning. Wanting to hide his real identity, Ji-pyeong took on the name "Nam Do-san" after watching a math competition on TV, thinking that it would be fitting for the lover role. With the mistake of using Nam Do-san as his pen name, Ji-pyeong tirelessly tries to continue the narrative he has created between him and Dal-mi when they meet years later. As the real Nam Do-san (Nam Joo-hyuk) appears, Dal-mi gets increasingly confused about the true identity of Nam Do-san.
Interested in more K-drama content? Check out 3 Comfort Shows to Fall Into here!