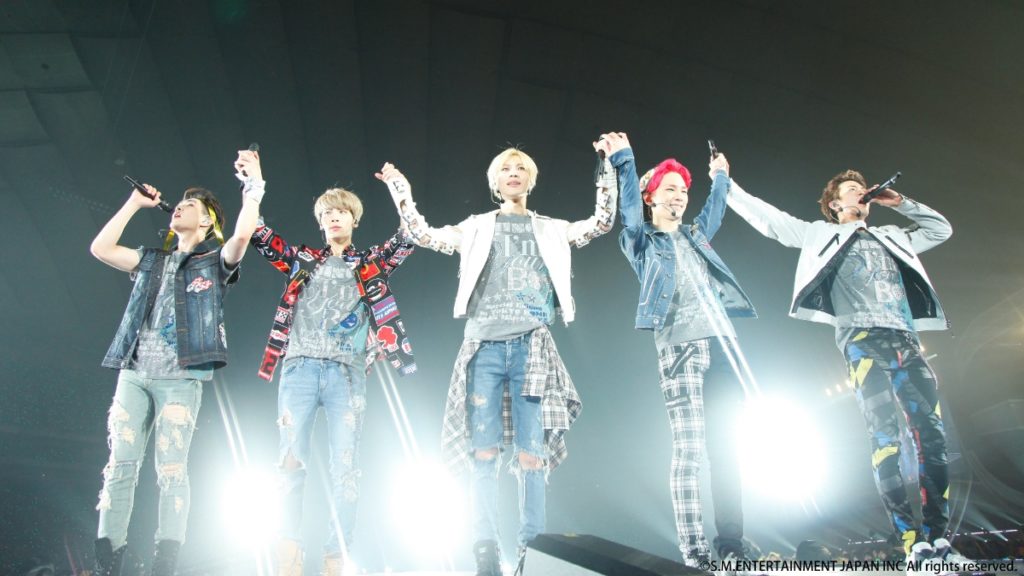 If there's one thing this month has proven, it's that there's nothing quite like a SHINee concert. That was the general sentiment across SHINee World as Thursday night brought the curtain down on the Universal Music Japan-sponsored "SHINee's Memorial Box: Replay" concert-streaming event.
On January 6, SHINee's official Japanese account announced the one-time-only restreaming of the group's Japanese arena tour DVD footage from 2012 to 2018. The clips would be available on Universal Music Japan's official YouTube channel. Dubbed "SHINee's Memorial Box 'Replay'," the event coincided with the announcement of the release of a special limited edition collection commemorating the group's 10th debut anniversary in Japan.
『SHINee's Memorial Box "Replay"』の発売を記念して、1/7(金)から1/13(木)迄の7日間連続で、日本ツアーライブ映像作品を毎夜9時から一夜限りでYouTubeプレミア公開決定🎥
SHINeeの10年間の活動を一緒に振り返りましょう💎#SHINee #SHINee_Replay

— SHINetter シャイニッター (@shinetter) January 6, 2022
Tagged #SHINee_Replay, fans across the globe were treated to seven nights of the unique brand of entertainment only SHINee can provide. Spanning from 2010's SHINee THE 1ST CONCERT IN JAPAN "SHINee WORLD"  to 2018's SHINee WORLD J presents~SHINee SPECIAL FAN EVENT, the restreaming event was a unique, once-in-a-lifetime opportunity to follow the five-piece on their journey from rookies to K-pop trailblazers in the Japanese market. 
Setting Trends, Blazing Trails
SHINee have got a long, decorated track record of starting trends, setting standards, and breaking new ground. The group saw its debut in May 2008 with members Onew, Jonghyun, Key, Minho, and Taemin and the contemporary R&B single "Replay," a song now immortalized in K-pop history. The song's dance practice video was the first to be released publicly. More than a decade later, it's hard to imagine K-pop without this signature piece of behind-the-scenes content. 
That same year, SHINee became the first (and until 2015, the only) K-pop group to achieve the now coveted "rookie grand slam", copping the Rookie of the Year award at the Melon Music Awards, the Mnet Asian Music Awards, the Golden Disc Awards, the GAON Chart Music Awards, and the Seoul Music Awards. Fourteen years, three enlistments, and five established solo careers later, SHINee have continuously proven why they're held in such high esteem, and that success goes beyond their home soil.
The "Beatles of Asia"
SHINee made their Japanese debut on June 22, 2011 with "Replay -君は僕のeverything-", a Japanese version of the group's debut single, ahead of the release of their first Japanese studio album The First. Their promotional showcase made SHINee the first Asian artists to perform at Abbey Road Studios, recording home of The Beatles, to whom they were compared by the studio's CEO: "It was the first time so many people had gathered outside the studio. I thought the Beatles had come back." 
SHINee was the first Asian artist to ever perform live in London's Abbey Road Studios which is well-known for being the studio of The Beatles & many great artists.

The concert was held by EMI Music to celebrate #SHINee's Japanese debut.#ONEW #JONGHYUN #KEY #MINHO #TAEMIN pic.twitter.com/gE2wvzothf

— Van (@integralminkey) January 15, 2022
In the years since, the quintet has released a total of five studio albums, over fourteen singles, and one compilation album, several of which were certified gold. SHINee remain one of only twelve K-pop acts to perform at Tokyo Dome and ranks third on the list of K-pop artists with the largest concert audiences in Japan, with a cumulative 2.3 million attendees over the course of 150 performances. Last August, SHINee's first Japanese EP Superstar hit No.1 on Japan's Oricon Weekly Chart, copping the coveted top spot for the fourth time since 2014's I'm Your Boy. 
Outside of group releases, Key and Taemin have a sizable Japanese discography between them, with the latter completing multiple concert tours in Japan between 2017 and 2019. 
Replay, Replay, Replay
Over the course of seven days, fans old and new witnessed some of SHINee's most iconic moments on the Japanese stage, from the now infamous remix of their 2010 hit "Lucifer" to the orchestra-accompanied rendition of "LOVE," the finale performance of the group's first ever Tokyo Dome concert in 2014. Concert setlists featured fan favorites such as "1000 Years, Always By My Side," "Picasso," and "Your Number" as well as hidden gems like "Wishful Thinking," "Seesaw," and "君のせいで (Kimi No Sei De)." 
SHINee's versatility as a group and as solo artists permeated each concert. Longtime Shawols (an abbreviation of SHINee World, SHINee's official fanclub) were quick to brag about their beloved artists' individual talents.
Memories, Old and New 
While the restreaming event featured SHINee at their best on stage, it was also a chance to look back on some of the most heartwarming moments between the group and their fans. From their first Tokyo Dome concert announcement to the pearl aqua ocean of lightsticks, they continued to grow steadily with every passing year. Older Shawols took to social media to express their gratitude for the chance to relive some of their best memories, while newer fans cherished the chance to make new ones. 
A really big thank you to UMJ. I have seen these concerts before, I will see them again. But watching them with thousands of other fans is special. It brings us all together, old and new fans joined by laughter, tears and gasps of pure joy.
It has been beautiful.#SHINee pic.twitter.com/DpedtUKera

— ImSoCurious (@ImSoCurious7) January 10, 2022
#lrt OP: "I happened to notice and started watching the premiere broadcast on YouTube (from Tokyo Dome 2014) but I fell in love from start to finish. It was the first time I've heard #SHINee songs and watched their concert.

I cried with them at the end.. 😭 +

— PięciuBłyszczącychChłopców 🐣-313 (@pieciub) January 11, 2022
hi to all my shawol moots, tonight's concert was the first shinee concert i ever watched and i'm so happy!!! 🥰🥰🥰 i only knew like 7 songs from tonight's setlist and i have yet to explore their japanese discography but i enjoyed the concert so much. shinee kings 💎💎💎💎💎

— k turtle rabbit kim 🧩 // bad love brainrot (@jisoowave) January 9, 2022
I'm really so thankful to UMJ for doing this concert restreaming, even if we can find these concerts online it is such a different feeling to treat it as an event and seeing shawols reminisce those moments together & even seeing new shawols having a chance to share the experience

— h (@inspiredace) January 10, 2022
As if last week wasn't enough fun, UMJ's got one more treat to wrap up the #SHINee_Replay event. If you're lucky enough to catch it, you'll get an exclusive behind-the-scenes glimpse into the SHINee WORLD 2017 – FIVE tour, set to be streamed live on UMJ's YouTube channel from 9 p.m. KST on Friday, January 21. Set your reminder here!
What's Next for SHINee?
SHINee are busier than ever, even with Taemin currently enlisted. Minho is currently filming for the upcoming Netflix K-drama The Fabulous, in which he is set to star opposite actress Chae Soobin. Key continues to take on the Korean variety sphere as a fixed cast member on I Live Alone and Amazing Saturday, and Onew has recently dropped hints about a potential second solo release after 2018's Voice. Meanwhile, January 23 will mark the 4th anniversary of the release of Jonghyun's posthumous album Poet | Artist.  
Onew, Key, and Minho are slated to take the stage at the 11th Gaon Chart Awards alongside SM Entertainment labelmates NCT 127 and NCT Dream, part of a lineup including Brave Girls, The Boyz, STAYC and more. The show, set to take place on January 27, will be live streamed via YouTube, KakaoTV and Melon. 
While you wait, there's a whole lot of SHINee content to catch up on. Check out Minho's latest single "Heartbreak" here and catch the adventures of Onew and his castmates on "군필돌 캠프 (Military Idols Camp)!"
Want more K-pop? Read our coverage of AB6IX's latest comeback here.