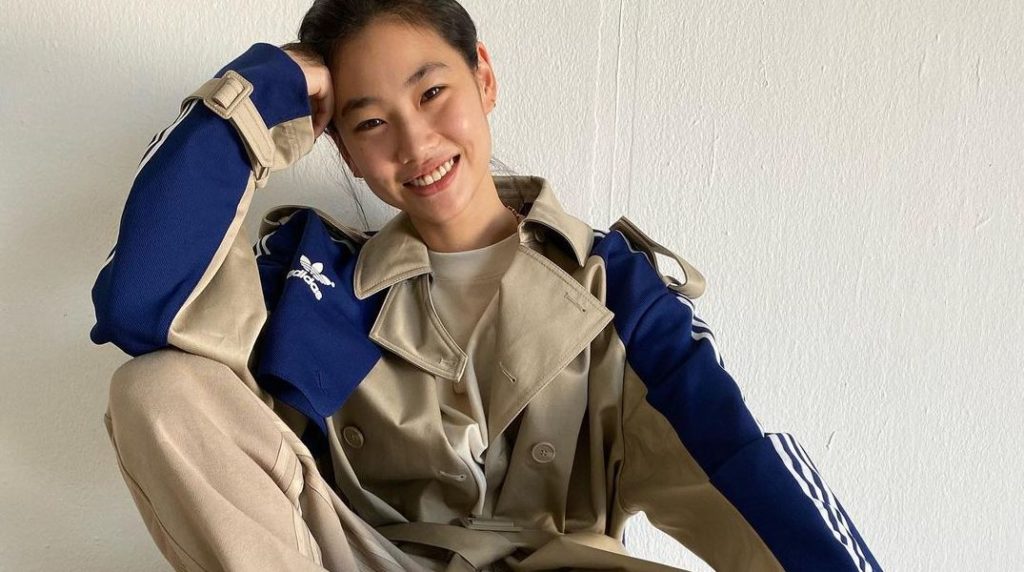 The craze for Netflix's newest original Korean drama, Squid Game, has sky-rocketed a new face into the spotlight—Jung Hoyeon. The bloody survival suspense drama was released on the platform on September 17, 2021, and has quickly become one of Netflix's biggest non-English language productions. In addition, the show's early viewership numbers have many expecting it to become Netflix's biggest series ever. 
Jung's performance as the feisty North Korean defector, Kang Saebyeok (number 067), who would do anything to reunite her family, has drawn her immense attention. It's hard to believe that this is her debut acting project with the many sides she's already shown through her dynamic character. Despite being one of the younger players in the game, she's full of guarded walls, adding to the mystery of how she ends up there.
What makes the jaded Saebyeok stand out is her resourcefulness throughout the game, accompanied by her piercing glares. She puts on a know-it-all front, but as the show goes on, the viewers realize how inexperienced she is in simple things, from children's games to establishing relationships with others. Meaning "dawn" in Korean, Saebyeok is a heartbreaking symbol of perseverance, reminding viewers that there is strength in vulnerability. 
From the Runway to the Screen 
Jung Hoyeon may be making a name for herself as an acclaimed actress nowadays, but she's been a top model in the fashion scene for a while now. She began modeling at the age of 16 without an agency backing her, attending a modeling academy to hone her skills. Her stunning sharp looks understandably turned heads, and she quickly signed a contract with ESteem Models, SM Entertainment's subsidiary model agency. 
Jung gained public exposure after her appearance on the fourth season of Korea's Next Top Model, where she placed second. She has since connected internationally with The Society Management in New York and Elite Model Management from Paris. Jung appears regularly in various magazine features, fashion shows, and advertisements globally. In addition, she's walked for big powerhouse luxury fashion brands like Louis Vuitton, Chanel, Marc Jacobs, and Fendi.
She has always had a strong desire to act, stating in an interview with models.com from 2018 that she studied English to learn acting. "My dream…It's actually acting. I love watching movies and even the music in the movies." Regarding transitioning to acting, she stated, "I just don't think that there's a limit for one person, because I heard that we couldn't even use the full potential of our brains. So there's no limit." 
She's also previously expressed her interest in exploring more action genres, admitting to enjoying Quentin Tarantino films like Kill Bill. "I love the girls fighting with really cool outfits. Since I'm a fashion model, we know the fashion industry, how to make it cool, that stuff." Little did she know that in three years, she would become the very type of actress that she had admired. 
Dedicating to the Craft
The whole process leading up to her securing the role of Saebyeok was a whirlwind. She subsequently signed with Saram Entertainment in January 2020 in search of more acting opportunities. Within a month of joining, she quickly filmed an audition tape for Squid Game after receiving the script amid New York Fashion Week. Despite the chaos, she spent most of her time going over the script, besides eating. After sending out her audition, the director wanted to meet, and the rest is history. 
In a recent interview with W Korea, Jung explained that she put a great deal of preparation into her role, once cast. She practiced and studied speaking in a North Korean accent, and watched many documentaries about North Korea. She notes that with this being her breakout role, she felt a deeper connection with the character.  "More than anything, I think I was able to accept [the character] Saebyeok without any big difficulties because I am similar to her," she said. "In 2016, I left Korea to further my modeling career overseas, and I spent a lot of time alone. At the time, the emotion that I felt the most was "loneliness"…That feeling of loneliness while trying to persevere and live isn't all that different." 
A New Dawn for the Actress
With such a fantastic debut project, many have turned to the internet searching for more content on Jung Hoyeon. Her boost in popularity is apparent across all sorts of platforms. Although nearly five years since its release, Vogue recently edited Squid Game into the title of their "Beauty Secrets" series with Jung on YouTube. Within a week of the change, the video racked up even more views, currently standing at 9.8 million, a massive increase from what it was a month ago. The video is now in the top 50 most viewed videos from Vogue's channel. 
On Instagram, her following has also seen astounding, exponential growth. Starting at 410K during the show's release,  she's now gained a total of 11.9 million followers. In addition, her friendship with superstar girl group idol Jennie from BLACKPINK has fueled more excitement. The actress recently revealed on her Instagram that the idol visited her on set and sent a coffee truck when she had been filming the show. 
View this post on Instagram
The glimpses of her down-to-earth personality quickly made her a fan-favorite on the show. From fan accounts to just general buzz over the show, viewers can't seem to get enough of her. On Twitter, Jung and her character are consistently trending, alongside Squid Game. #saebyeok even has over 843.9 million views on TikTok, inspiring users to reenact her scenes and looks on the platform. Since the show's release, social media has been full of fan art and praise dedicated to her.
Captivating the world, Jung Hoyeon's career has reached a new dawn as she steps forward into the acting realm. Until her next acting project, you can catch Jung on an upcoming guest appearance on the variety show "You Quiz on the Block." Also, don't forget to follow Hoyeon on her continued journey to stardom on Instagram!   
Curious about Netflix's latest show Squid Game? Check out everything you need to know before watching it here.
Thumbnail courtesy of @hoooooyeony on Instagram.