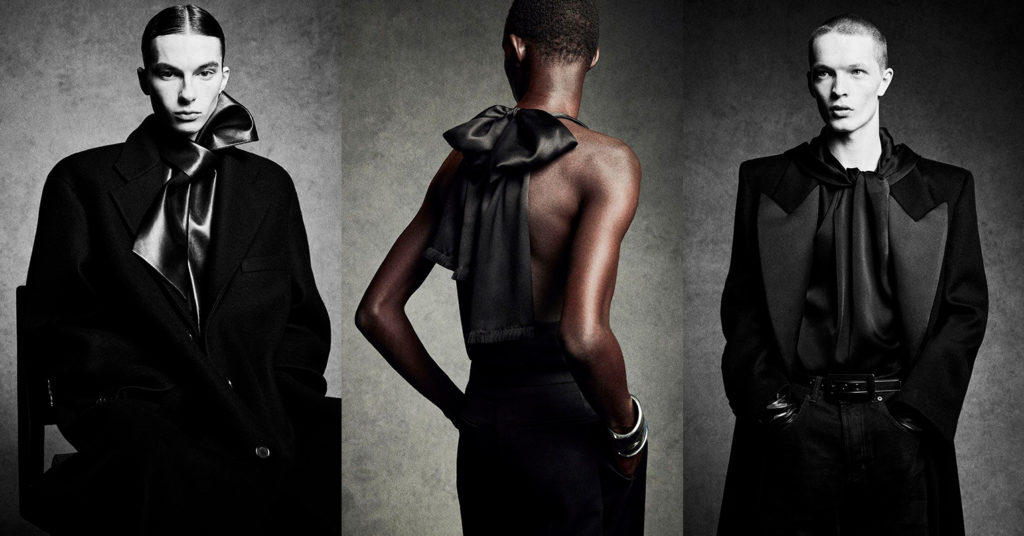 This Paris Men's Fashion Week, Saint Laurent is the name on the tip of everyone's tongue. After a six-year-long absence from the Parisian runways, its Fall Winter 2023 presentation marked the brand's return to the French city's fashion calendar. The event was a star-studded affair with Hollywood stars Jenna Ortega and Al Pacino, and Asian celebrities like NCT's Ten and SEVENTEEN's Jeonghan in attendance. Below, EnVi recapped the highlights of Saint Laurent's latest runway.
The Collection
If there's something that has characterized Anthony Vaccarello's tenure at Saint Laurent is the consistency of his designs. Loyal to the sleek, dark aesthetics he has crafted at the French house, his latest effort was a parade of refined, tailored looks. Elongated silhouettes, all-black outfits, defined shoulders, and large bows were a constant on the runway. Meanwhile, sheer shirts, draping details, and fabric choices like velvet and lurex nodded at the slightly androgynous style that has distinguished Saint Laurent since its inception.
The Set
Saint Laurent's collection unveiling took place at the historic Bourse de Commerce. The architectural masterpiece was once a place for commodities exchange but after restoration and renovation, it is now home to the Pinault collection of artworks. The building's grandiose glass roof and painted ceilings served as the ideal backdrop for Saint Laurent's anticipated return to Paris. Playing the piano in the middle of the circular stage, the celebrated French singer, actress, and Saint Laurent's longtime ambassador, Charlotte Gainsbourg was in charge of soundtracking the show.
The Return
Since the appointment of Anthony Vaccarello as creative director, Saint Laurent has opted for off-season shows in destinations such as New York, Venice, and even the deserts of Marrakech. Last season, Saint Laurent presented their Spring Summer 2023 menswear collection in the deserts of Marrakech. The collection featured a toned-down lineup of looks from the brand, an intentional choice that aligned with Vaccarello's main inspiration — his own past style. The collection also found inspiration in the brand's signature le smoking. Referencing Saint Laurent's signature design codes while putting in personal musings has always been a formula for Vaccarello, a move that was also evident in his most recent show.
The Guestlist
A brand with a long history, Saint Laurent is known for its alternative and select list of ambassadors and friends of the house. Among the most notable front-row appearances were Al Pacino and Wednesday star, Jenna Ortega, who rocked a hooded dress taken straight from Saint Laurent's FW23 women's collection. The actress channeled Wednesday chic in an all-black look highlighted by golden bangles and heavy-eyeliner makeup.
A star-studded guestlist, however, can't be complete without the star power of Asian celebrities. Saint Laurent's touch of Asian power came courtesy of K-pop stars Ten (NCT) and Jeonghan (SEVENTEEN), who stole the spotlight even before the show. Departing to Paris, Ten was already stirring buzz when he showed up at Incheon Airport carrying the brand's viral takeaway box bag along with a pair of leather-heeled boots. The fan frenzy was not any different when the singer turned up to the fashion show dressed in a sexy jumpsuit topped by a trenchcoat — all in black for a Saint Laurent effect.
Meanwhile, making his first Paris Fashion Week appearance, Jeonghan captivated the crowds clad in slim trousers, a double-breasted coat, and high heels. The singer stood out with his long hair left in soft, effortless waves. Just like Ten, Jeonghan raised high expectations even prior to his arrival at the show, making the internet go wild when he was revealed as the cover star of GQ Korea.
More To Come
In addition to Saint Laurent, brands like COMME des GARÇONS and Thom Browne are also making a comeback to the schedule of Paris Men's Fashion Week. With fashion houses directing attention to their menswear offerings, it seems like there's plenty to look forward to in the world of fashion.
Interested in learning more about what's going on in menswear this season? Read about Prada's latest show here.