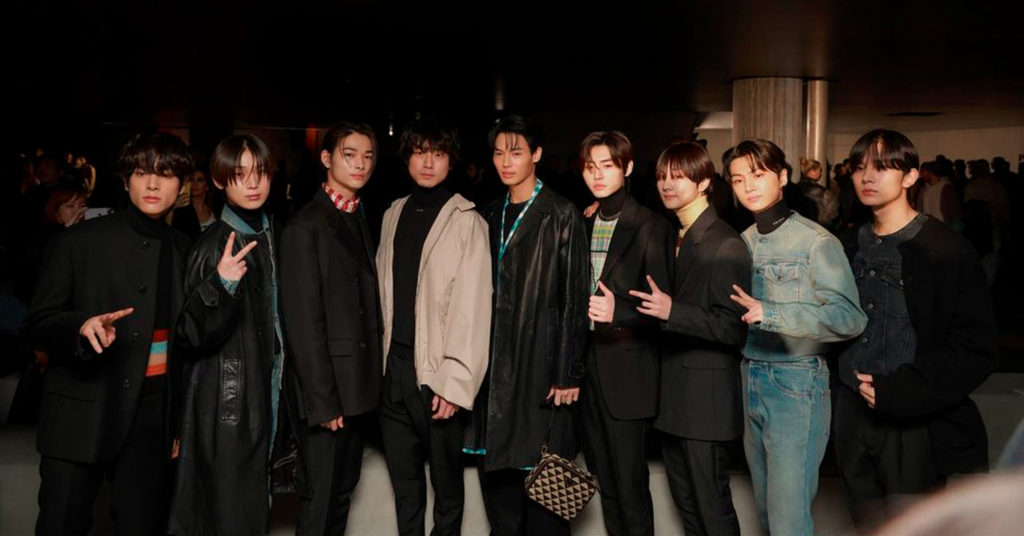 The new year has kicked off on a positive note for Milan-based fashion houses with a vibrant and star-studded Men's Fashion Week. On January 15, showing as part of the official calendar, the Italian luxury brand Prada presented its Fall Winter 2023 collection. A continuation of Raf Simons and Miuccia Prada's continuous creative dialogue, the show tapped into a strong suiting game, menswear essentials, and a show-stopper front row with Asian powerhouses to spare.
Let's Talk About Clothes
Co-creative directors Miuccia Prada and Raf Simons keep proving time after time their ability to adapt to the times. For their latest effort — titled "Let's Talk About Clothes" — the famed designers embraced the sleek, modern simplicity several fashion houses are adopting for Fall Winter 2023. The house, however, offered a youthful approach to foundational pieces, twisting their design codes and adding a utilitarian flair to tailoring classics.
Loyal to their signature aesthetics, Prada's uniform of the season consists of tailored trousers, and oversized jackets and blazers, thrown over pointy, detachable faux collars that certainly have the potential to replicate the virality of Miuccia's Miu Miu set. For the more casual, there are plenty of technical fabrics and silhouettes to choose from, including oversized bomber jackets, padded tank tops, and large coats. The runway also nodded at Raf Simons' now defuncted brand with looks that featured high-knee tops — can we call them dresses? — cardigans worn with nothing underneath and playful accessories like bags shaped after whisky bottles.
Color-wise, Prada maintained a sober playfulness with a predominantly muted palette and occasional pops of color including red, green, and aqua blue, which is shaping up as the new it color of 2023. In all, the collection was an exploration of fashion essentials, reinterpreted with the traditional, yet unconventional, Prada vision.
Let's Talk About The Front Row
As proven in recent seasons, no fashion show is complete without a stellar front row. In this day and era, in particular, no front row is complete without stars from the Asia Pacific region. At Fondazione Prada, the VIPs bringing the hype were Prada's brand ambassador and certified global heartthrob, Win Metawin, the K-pop group ENHYPEN, the Singaporean actor Desmond Tan and the Japanese actor Kentaro Sakaguchi.
The Thai superstar, Win Metawin, specifically, made waves with his second attendance at a Prada show and his first since his appointment as the Italian brand's ambassador. Well acquainted with the glam and buzz of fashion events, the actor sported a look from "Prada Choices," that included the collection's signature check pattern, a leather coat, and a Symbole bag. Just like it happened in his previous front-row appearances, the Thai star rubbed shoulders with Creative Director Miuccia Prada and other show-goers, including the seven members of ENHYPEN.
Speaking of the K-pop group, ENHYPEN made quite an impactful first showing at Milan Fashion Week, attracting crowds of fans and mingling with show regulars. The group had raised global attention since their departure to Milan and their front-row appearance certainly did not disappoint.
Meanwhile, online, the likes of Korean actors Lee Jae Wook and Seo In Guk, and K-pop star Sana invited people to tune in to the show with social media posts. Similarly, NCT member and Prada Ambassador, Jaehyun — who recently fronted the brand's SS23 global campaign — shared an Instagram post dressed in a Prada denim ensemble. As happens with any of his social media posts, Jaehyun's look caused an online frenzy and had fans anticipating the fashion show.
Let's Talk About The Future
As Patrizio Bertelli and Miuccia Prada's son, Lorenzo, is expected to take the helm of the company in the years to come, Prada is currently taking "decisive steps towards implementing the complex succession." For one thing, there have been executive appointments that are likely to bring important corporate changes. For another, experts predict a greater focus on attracting Gen Z customers and amplifying the brand's presence in countries like the US.
Nevertheless, according to the Financial Times, Prada's 2022 report — set to be released on March 17 — is expected to show the brand's significant growth in Asia. With a series of purposeful moves and associations, Prada has risen as one of the most influential fashion houses on the continent — particularly in countries like Thailand and South Korea.
The brand's undisputed commercial power has been accompanied by impactful associations, including the appointment of celebrities from the Asia Pacific region as brand ambassadors. With their own accolades and input to leveraging Prada's name, stars like Win Metawin, Song Kang, and NCT's Jaehyun have largely contributed to promoting the brand. On social media, in particular, they've racked up millions of dollars in Media Impact Value™ (MIV®).
While the year is just starting, the Italian luxury house is set to continue strengthening its global associations. With Women's Fashion Week just around the corner, fashion lovers and fans of Asian stars can look forward to more fashion, more star-studded events, and more of Prada's presence in the APAC region.
In the meantime, read everything about the brand's latest Spring Summer 2023 Global campaign, here.