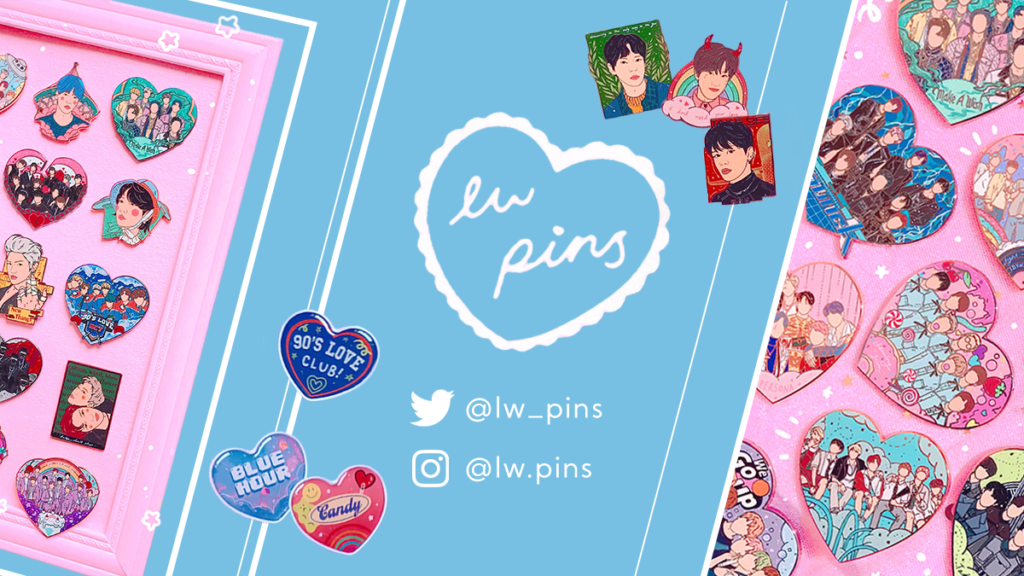 EnVi has returned with another K-pop small business spotlight! This time, we talked to Liberty, the creator and owner of LW Pins, our K-pop small business spotlight this month, to learn more about their shop and products. 
LW Pins is a UK-based online shop that sells a variety of K-pop-inspired products, such as enamel pins, art prints, acrylic pins, keychains, stickers, phone grips, and more. In 2019, LW Pins began hand-making wooden pin brooches before working on some enamel pin designs, as it had been something that they wanted to do.
"The process starts with creating the designs, choosing the material, size, plating, and Pantone colors for each design," Liberty said. "Once artwork samples have been confirmed, the pins will go into production and take around two months to finish. After the final products arrive, I'll start sorting, grading, and adding each pin onto the backing card before sending them out along with freebies to customers."
Enamel Pins Series
Their enamel pins are primarily inspired by K-pop artists, albums, songs, and music video concepts. "For me, NCT has such unique concepts that are really fun to draw and design for," said Liberty. Collecting enamel pins are fun for many fans, especially if they'd like to decorate their clothes and bags for concerts and meetups, or simply use as an accessory.
Neo Hearts Series
The "Neo Hearts" collection is a series of pins that features music videos and eras for a variety of K-pop groups. It's one of LW's best-selling series, as they have designs inspired by groups like NCT, EXO, BTS, The Boyz, and SHINee. "I think many people really like these as they include many members or full groups," Liberty said, "people can choose their favorite eras from different groups to have in their collection."
NCT / WayV Birthday Pin Series
This series has pins of all 23 NCT members, spanning different eras and music video looks. It also has been completed now. "I started the series back in October 2019, taking almost 19 months in the making with having ideas for the sketches, finished designs to physically produce them," Liberty explained. "It was so lovely seeing them come together in the months of making them."
"For my enamel pins and my art, I always wanted to show the love I have for the groups! I try to put all of my love and creativity into everything I work, on and I hope it shows to others," she stated. "My favorite product at the moment is my Taeyong's Kick It pin! I adore making anything Taeyong-related."
If any of the products or pins caught your eye, make sure to check out LW Pins on their Instagram, Twitter, and TikTok!
Interested in more features like this? Check out our previous K-pop small business spotlight here!
Thumbnail by Xana, with assets from LW Pins.