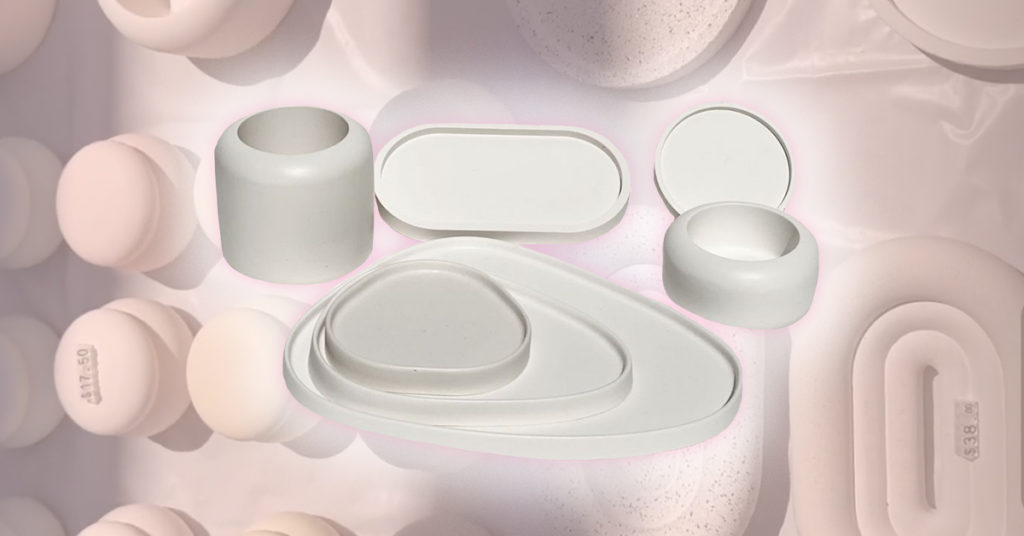 If you're looking for home decor that fits your Korean and Nordic aesthetic mix design, Canvas + Clay Studio has all the items you need.
In this Small Business Spotlight, EnVi connected with Christina Chae through email, the owner of Canvas + Clay Studio, on how her small business started and what her home and lifestyle brand in the US is all about.
What is Canvas + Clay Studio?
Canvas + Clay Studio offers handmade home decor such as decorative trinket trays, trinket jars, planters, and soap dishes. Their items are made from jesmonite, a non-toxic, water-based, and eco-friendly alternative to resins.
Christina shared the process of making their items: "It is similar to that of resin or concrete where you mix and pour the material into molds. After being poured into molds, we wait for it to harden and fully cure. From there we de-mold, sand, and seal all the products to make them water-resistant." With this tedious process, the entire production takes about three days.
Creating decor started from a DIY kit experience that Christina bought online for fun. Since then, her hobby has flourished into her own brand. Her driving force to start selling her items was a quote from Confucious: "Choose a job you love, and you will never have to work a day in your life." Upon hearing the quote, she made sure that the career choice she made would be one she genuinely enjoyed and was passionate about. This entails "crafting art, organizing, operating, and building things from the ground up."
Created With A Purpose
For Christina, starting her small business was a "leap of faith." She shared that she founded Canvas + Clay during the most difficult season of her life. "[I was] struggling with my identity and purpose. I was extremely discouraged and confused as to what career path I would choose and follow."
While making her first tray and thinking of how to use it, she remembered that she was made for a purpose and should strive to pursue it. Hence, Canvas + Clay was born with the hope to "remind people that everyone and everything has a place and is made with a purpose." Christina added, "We hope that every piece taken to a home relays the message for people to style, curate, and give meaning and purpose to their Canvas + Clay Studio piece in their spaces."
Christina truly has a passion for arts and is currently pursuing her dream to be an artist or entertainer while managing her small business. "I've always had a passion for singing, acting, and performing and aspire to share my passions and talents in the entertainment industry as a representative of Christian Asian-American women," she shared.
Our Favorite Items
All Canvas + Clay items are handmade with love and highly inspired by Korean or Nordic minimalist interiors and homes. Christina explained the inspiration behind their designs: "While some pieces may look a bit abstract or unique, they're still made with neutral tones and colors and rounded soft shapes and silhouettes to have the ability to fit right into any type of space or style of home."
Depending on their size, items range from $15 to $70. One best-seller is the Mini Pebble Jar, which is perfect to store little items like rings, studs, or trinkets.
They also have an Oval Tray that comes in small, medium, and large sizes. These trays are popular in the shop as they are "perfect for displaying and placing items that need a home such as jewelry, perfume, candles, wallets, keys, and whatever else you got lying around!"
If you like their items, you can spot them at different pop-up markets or check out their official website. Make sure to follow them on their Instagram account to be updated on their whereabouts and new item releases.
Want to explore more small businesses? Check out our recent small business spotlight with K-Universe Thrift here!