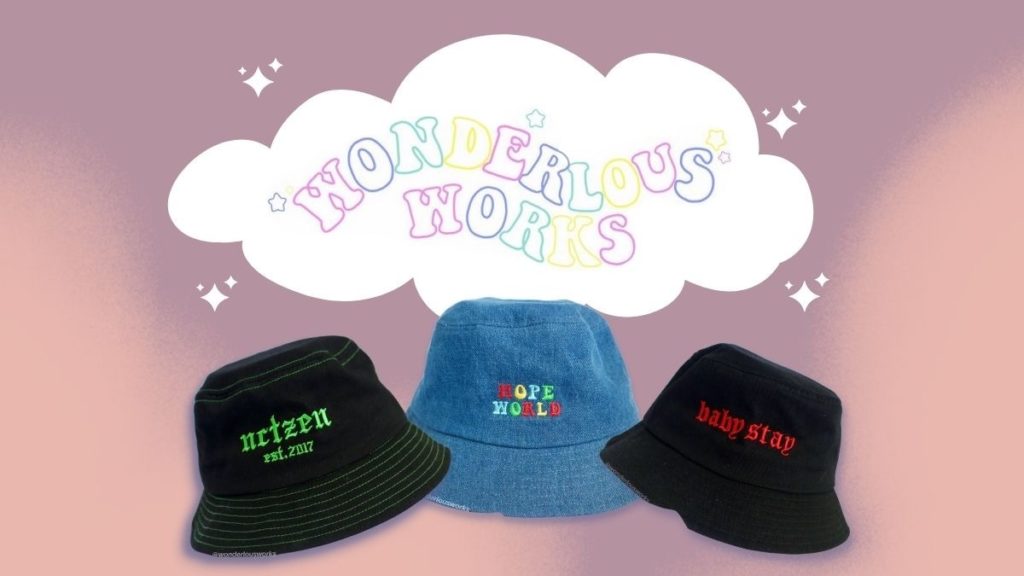 EnVi is back with another small business spotlight! This time, EnVi had the pleasure of speaking to Kayla Estana, the owner of Wonderlous Works! Known for its minimalistic designs, the small business owner shared her inspirations and the creative process behind her products, inspired by K-pop groups such as BTS, NCT, ATEEZ, BLACKPINK, and THE BOYZ.
Behind the Business
"I've always wanted to wear apparel that only K-pop stans would get, like inside jokes from an idol," Kayla shared when asked why she started to sell K-pop-related items. "This is what sparked the idea of designing my own K-pop merchandise. I wanted to create a design that I could wear daily, without making it too known that it's K-pop-related, hence why I started making minimalistic inspired products. My customers loved the idea of wearing subtle K-pop merchandise or a design with a reference that only K-pop stans would know." She also mentioned that her parents have been supportive of her business from the start.
Being a small business, it wasn't easy for Kayla to produce her products. It takes about a month or two for production, but Wonderlous Works is currently partnering with a manufacturer to create many products at once. 
Kayla also shared the issues she encountered while making their products. "Running this business has made me well aware of my errors and has allowed me to grow from them. During the first few months of running my business, I would ask others for their opinions of my designs. Let's just say they were not content with the design and told me it was not going to sell or do well." Despite these difficulties, she was able to continue managing and growing her small businesses.
Featured Products
Wonderlous Works first started with enamel pins, but their products expanded to apparel with embroidered designs. "My business is now made up of bucket hats for numerous groups with subtle designs, such as the fandom name or an iconic line or phrase. Another reason why I decided to continue my business is I knew that my products brought joy to my customers."
Their best-seller is the Hope World Denim Bucket Hat, which was inspired by J-Hope of BTS. With its vintage look and rainbow embroidery, it became an instant hit item in their shop! "It matches with a lot of outfits, and I love when customers would post on their social media wearing the hat. It truly brings me so much joy to see people wear my products in public!" Kayla expressed.
More Than Just an Item
Kayla shared a very heart-warming story with one of her customers, "She would wear my NCTzen Bucket Hat every day, as it made her happy. This definitely expanded my view, and my realization, that my products can truly have an impact on someone. If I can make people all around the world happy with my products, then I'm doing something right." 
Personal Favorites
Kayla chose the NC(Tea) Fluffy Tote Bag as her favorite item among the shop's products. "NCT is one of my top groups, and I knew I had to make my own version of an NCT merchandise." Following trends with its colors, the beige base with brown and gold embroidery could be paired up with the everyday outfits and look.
"The tea emoji was a nice addition to the design, as it added an inside joke that only NCTzens would understand. I personally love the fluffy material, which is made of 100% sherpa," Kalya said. "It definitely adds to the bag's cuteness and a twist to your style! It was a very subtle design, but every NCTzen would immediately recognize it. I wear this bag every day and pair it with all of my outfits!"
Social media has been an enormous help to Kayla as she expands her business internationally. With over 8,000 followers on Instagram and over 13,000 followers on their Tiktok, most of Kayla's products have become popular and loved through the internet. So, if you like what you see and want to make a purchase, pick up a few products from Wonderlous Works' online shop, and give them a follow on Twitter and Instagram to show your support!
Did you like this month's small business spotlight? Check out our previous feature here!
Thumbnail courtesy of Jenessa.