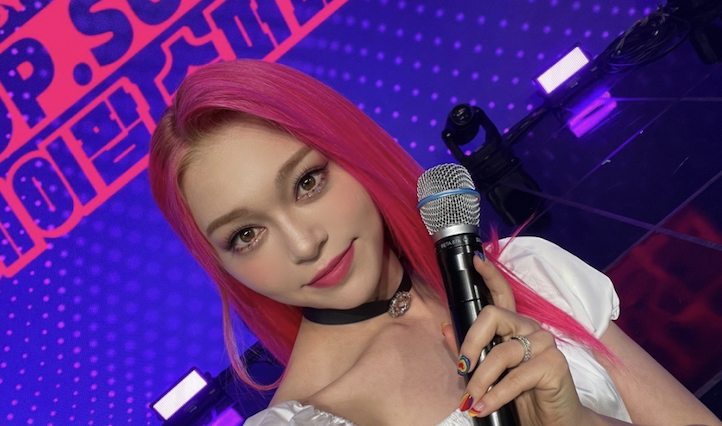 On June 19, 2021, Joy Ruckus Club and Sessions teamed up to deliver K-Pop SuperFest, the largest virtual K-pop festival in the western world. In particular, the line-up's solo artists dominated the stage with a diverse palette of performances. Let's dive in. 
A Contrast of Energy
This is a revolution! Our girl #AleXa performs at #KpopSuperfest! @AleXa_ZB

▶️ https://t.co/eDXUTual5N pic.twitter.com/PYpcF4HEez

— Joy Ruckus Club (@JoyRuckusClub) June 20, 2021
The opening act was none other than the event's co-host AleXa, who sported a vibrant pink-haired look. She set the standard for SuperFest's stage with a powerful performance of her song "Revolution," bringing a firecracker-like energy with explosive dance moves to match the song's theatricality and tempo. 
The SLAYAGE from Queen Ailee! Those vocals 🤩 #KpopSuperfest @itzailee #Ailee #에일리 pic.twitter.com/buxWstacxd

— Joy Ruckus Club (@JoyRuckusClub) June 20, 2021
After AleXa's performance, various other K-Pop groups took the stage until it was time for Korean-American soloist Ailee. She killed it with her performance of one of her earliest songs "U&I." Her powerhouse vocals did not let us down, even as she was having technical difficulties with her in-ear while performing the title track from 6th EP Loving, "Make Up Your Mind." 
Not only that, but she had actually done an entire concert the day before but still pulled through to meet her international fans through K-Pop SuperFest. Fans were deeply touched, but even moreso because she then spoke of her mother while introducing the next song, an original soundtrack for the Korean drama Goblin, "I Will Go To You Like The First Snow." Ailee said that the song affected her differently after her mother passed in February of this year because she felt it was something her mother would tell her. 
Ailee then had ample time for conversations with fans before ending with her confident "I Will Show You," and that she did.  
Rappers Take the Stage
Banger after banger from BLOO at #KpopSuperfest 🌹@realbadboyloo #BLOO #Badboyloo #블루 pic.twitter.com/COGEsrvW5M

— Joy Ruckus Club (@JoyRuckusClub) June 20, 2021
Hip-hop artist Bloo took the stage amidst a short burst of police sirens to sing an extensive set of his discography. His distinctive vocals showed through as the artist swiftly transitioned through "Ssagaji (So Rude)," "Nae Tat," and "Hennesy" without a break. As the artist casually strolled across the stage while delivering his raps effortlessly, one had to wonder how he could manage so easily. However, there was little time to do so as the rapper immediately delved into his debut song, "Drive Thru." From there, Bloo transitioned to "Drama," a mellow vocal track. "Come and kiss me" was next, his latest Bloo's released just four days ago, and "I'm the one" followed after. Finally taking a water break after having performed seven songs back-to-back, Bloo announced his last song of the set- "Downtown Baby." The artist's slicked hair and leather jacket was all too-fitting for the performance he put on.
The ever-charming P-Nation artist Jessi entered the stage with "Who Dat B," immediately showing off her charisma and radiating coolness. The set moved into "SSENUNNI," her growl and vocal prowess filling the venue. Even in an empty concert hall, Jessi provided enough energy to rev up a virtual audience as the chat overflowed with comments and support for the artist. Making the stage her own, Jessi jumped into "Gucci," basked in a fitting golden glow from the backdrop. Completely relaxed on stage, she performed her second to last and most recent song, "What Type of X," which had accrued 40 million views in two months. As Jessi repeatedly expressed she missed her fans, she eventually urged co-host AleXa onstage to dance with her for the final song. When Kevin Moon was hesitant to join, Jessi hilariously exclaimed, "Your company doesn't matter right now- it's about having fun!" The scene thus ended as Jessi performed her hit song "NUNU NANA" as Kevin and AleXa danced along on either side. 
Legendary Acts 
ON CLOUD RAIN FOREVER 🌧 #KpopSuperfest @29rain #Rain #정지훈 #비 pic.twitter.com/oW13paVG1D

— Joy Ruckus Club (@JoyRuckusClub) June 20, 2021
Rain began by performing "Why Don't We," a song featuring fellow solo-artist ChungHa. Immediately, Rain's magnetic stage presence and charm overtook the venue as he danced energetically to the song. After a short break to greet the audience, he delved into his next performance with "How to Avoid the Sun." The song opened with the sweet strings of an acoustic guitar. "I Do" was a softer song, giving off a lulling vibe alongside its steady beat. For "Love Story," the background music stopped in the later half of the song when Rain delivered a heartwarming acapella performance before he launched into an incredible high note. His exit songs on the stage were the classic and upbeat hits, "It's Raining" and "Hip Song."
The last artist to take the stage was DJ Soda. She immediately captivated the stage with her energy. Even though it was seven hours into the event at this point, DJ Soda brought with her a sense of revitalization as she immediately launched into dance-bumping song after song. Some of the tracks in her DJ set included "Lose Control" by Meduza, Beck Hill, and GOODBOYS, and "You Little Beauty" by Fisher. The bass-pumping songs elicited a feeling of excitement and dance. DJ Soda continued her reign with "Milkshake" by Kelis and Rihanna's "Disturbia." 
Closing the Festival 
With DJ Soda's performance, the festival came to an end on a high note. These solo artists presented a variety of musical genres to choose from and showed the power with which a solo artist can encapture the stage. As K-Pop SuperFest concluded this year, one can only wait excitedly for the next showcase and for another chance to see these artists. 
Want to catch up on more SuperFest content? Check out our full recap of the virtual festival here!
Thumbnail Courtesy of Brand New Music