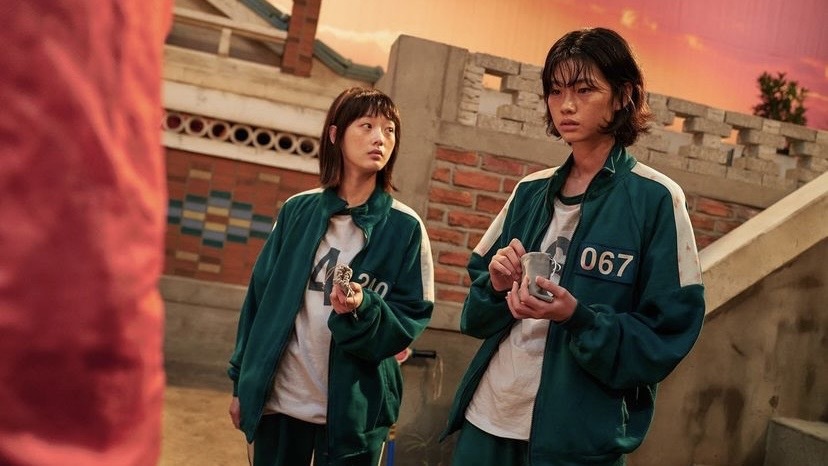 After its historic Golden Globe nominations and a record-breaking year, Netflix's original K-drama Squid Game shows no signs of slowing down. On January 12, 2022, it was announced that Squid Game nabbed four nominations at the upcoming 2022 Screen Actors Guild Awards. The ceremony is set to air on Sunday, February 27, 2022, at 8 p.m. EST/5 p.m. PST on TNT and TBS.
Another Round of Wins for the History Books
Squid Game is the first non-English-language series and first Korean series to snag nominations at the SAG Awards. In an Instagram live by Vanessa Hudgens and Rosario Dawson, it was announced the show received four nominations.
In the ensemble categories, the K-drama received a nomination for Outstanding Performance by an Ensemble in a Drama Series, and Outstanding Action Performance by a Stunt Ensemble in a Television Series.
Leading man Lee Jung-jae is nominated for Outstanding Performance by a Male Actor in a Drama Series, and breakout star Jung Hoyeon nabbed a nomination for Outstanding Performance by a Female Actor in a Drama Series.
The SAG nominations come after the series made history, yet again, with their Golden Globes nominations and O Yeong-su's landmark win.
Excitement is Abound
"I'm especially honored in that it's not only one or two lead actors that were recognized, but the entire ensemble was nominated, as well as the stunt ensemble, which is truly a great honor," director Hwang Dong-hyuk told Variety after the nomination. Also speaking to Variety, Jung Hoyeon also expressed the excitement of the cast at being nominated at the SAG Awards. "I feel empowered to be reminded of how 'together' is more precious than a solo achievement," Jung said about their ensemble nominations.
Despite being a veteran actor in the Korean entertainment world, Lee Jung-jae continues to share his excitement at making an entry into the Western market. "Being nominated at the SAG Awards, I decided to refresh my mind into thinking: I'm a newbie now! I'm a fresh new face on the scene," he told Variety.
A Ripple Effect
The world of Korean entertainment has shown they've got more top-notch content up their sleeves-and it's no longer just K-pop. Squid Game and its cast join other barrier-breaking productions making waves in Hollywood. In 2020, Bong Joon-ho's Parasite was awarded the 2020 SAG Award for best ensemble cast in a motion picture, making it the first non-English-speaking ensemble to win the award. Parasite also won the top prize at the 92nd Academy Awards. During 2021's SAG Awards ceremony, Youn Yuh-jung became the first Korean actress to win the award for best female actor in a supporting role and also received an Academy Award.
Fans and critics alike anticipate that Squid Game will also be up for the Primetime Emmy Awards, as it has been confirmed by the Television Academy that the show is eligible.
Congratulations to Squid Game and its cast and crew for its continued run of landmark nominations!