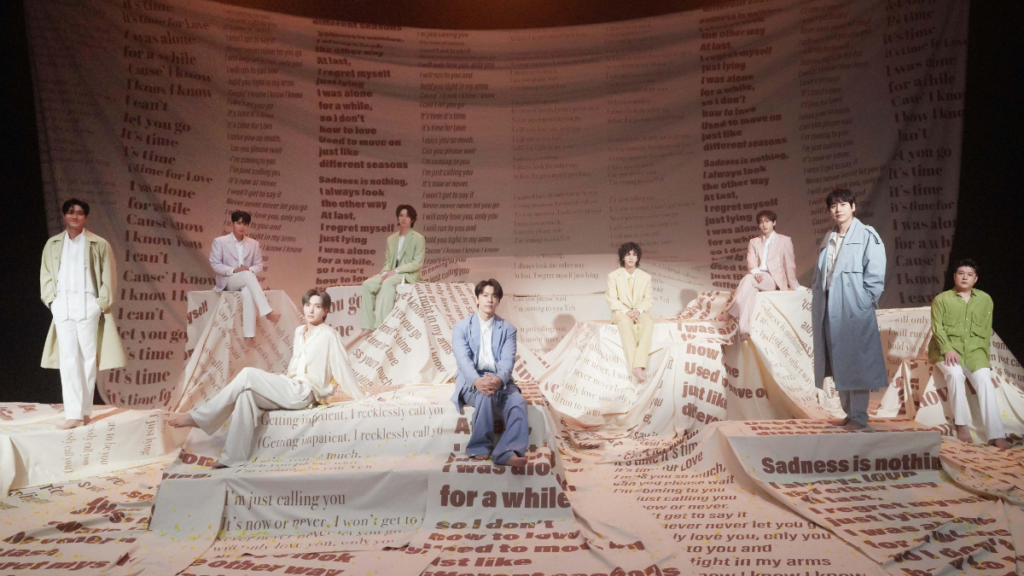 Longevity is a concept K-pop veteran group SUPER JUNIOR has attached to their name, thanks to their long-lasting career. Internationally recognized for hit songs such as "Sorry, Sorry" and "Mr. Simple," the group has spent 17 years in the industry, and by the looks of it, they're not going anywhere anytime soon. On February 28, the SM Entertainment group released the single album The Road: Winter for Spring. Here's everything we know about it.
SUPER JUNIOR On Their Road To Spring
Dubbed as the "Kings of Hallyu," and with over 30 albums under their belt, SUPER JUNIOR continues to expand their discography. In their first release of 2022, the group gifted fans with The Road: Winter for Spring, featuring two brand new singles: "Callin," and the B-side "Analogue Radio."
The main track, "Callin," is a ballad that delves into the pop-rock genre. The melancholy song was written and composed by KENZIE, the mastermind behind other SUPER JUNIOR hits like "Lo Siento" and "Devil." In the song, the group speaks about the desire to keep a love despite the repeated memories of pain. "I'm just calling you/ I think it's now or never to tell you/ never never never let you go," they sing to their lover as the sound of an acoustic guitar looms behind. Regarding the single, leader LEETEUK expressed his enthusiasm upon listening to the demo for the first time. "It had the sentiment of the singers I used to like as a boy, and our lyricist KENZIE wrote this song herself. As soon as I heard it, I thought it was an incredible song. I had a great time working on it."
The accompanying music video for "Callin," shows the group members singing their hearts out in a sun-tinged room. Clad in knitwear, classy coats, and turtlenecks, the stars show off their incredible vocals and the chemistry proper of a seasoned group. The scenes go back and forth with animated portions of a couple reuniting with the arrival of spring. It reflects the feeling member DONGHAE expects listeners to get from "Callin." He explained, "I hope you can endure this sentimental and cold winter until spring comes and welcome a warm spring with it." Likewise, LEETEUK added, "I hope you can listen to Callin' and think about your past lovers. I hope people who are in love and people who want to fall in love can feel warmth in their hearts listening to this song."
On the other hand, "Analogue Radio" is an upbeat, mid-tempo pop track accompanied by lo-fi sounds and a warm melodic drop. The song talks about the feeling of leaving things behind and merging with nature.
SUPER JUNIOR's Impressive Journey
Since their debut in 2005, SUPER JUNIOR has earned international fame across all continents. Unlocking milestone after milestone, the group became one of the acts leading the Hallyu Wave in the early 2010s. With a lineup that features not only singers but also accomplished actors, dancers, composers, and models, SUPER JUNIOR is still thriving. In 2018, the group became the first K-pop group to enter the Latin Billboard charts, with a cross-genre single collaborating with the Mexican band Reik. The group has also achieved No.1 on the Taiwanese music site KKBOX for 200 consecutive weeks, proving they're a force to be reckoned with on the global stage. In recent years, SUPER JUNIOR has continued its reign as an international phenomenon with the release of Time_Slip and The Renaissance.
Make sure to check out SUPER JUNIOR's latest release on Apple Music, Spotify, and YouTube Music.
Interested in more music coverage? Everything about Charli XCX and Seventeen's Vernon "Beg For You" Remix is here.