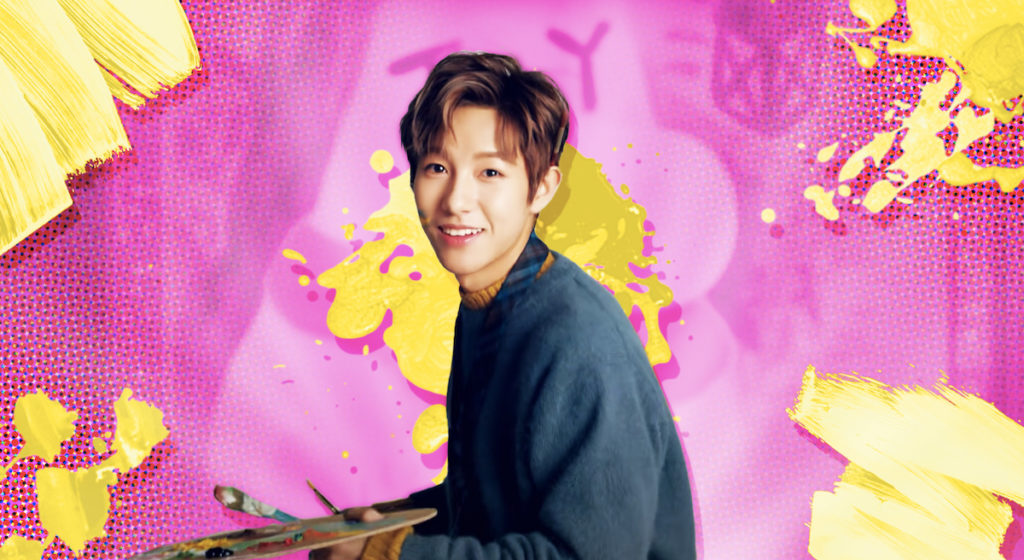 Art therapy is a professional treatment using art and creative outlets targeted at helping those who struggle with their mental health. Regardless of background – be it age, disability, or diagnosis – anyone can benefit from art therapy. It allows one to convey thoughts and feelings without words and can take many forms, from traditional drawing to digital or even video mediums.
EnVi talked to people with experience in art therapy and, taking a closer look at NCT's Renjun's experience, explores art therapy practices and how you can get involved.
What is Art Therapy?
"Art therapy is a process where art-making in and of itself is the therapeutic modality," Australian art therapist, Jess, told EnVi via direct messaging. "This means that the focus is not on the final product of your art-making, but the process." 
Many people who make art feel pressure to produce a final piece. Art therapy, however, aims to look at how you're creating and the actual subject of the art. It's not about making it perfect, it's about looking at the person behind it.
Art therapy can help those who don't always have the words to describe their experiences, including traumatic ones. It can provide a safe space to explore one's thoughts and emotions. "I have worked primarily with people living with trauma who find that their body holds their stories," said Jess. "The art allows them to process that trauma in ways that feel safe for them."
Francine, who is part of Team EnVi and a nurse in the Philippines, has facilitated art therapy and provided some first-hand insight on the process. In her experience, participants were given art materials to draw how they felt in the moment and were encouraged to share and interpret each other's work.
"Most of them scribbled about missing their families, two painted a beach and a mountain they wanted to go to after getting discharged from the facility, one drew a basketball game since that was their favorite sport. Someone made a portrait of themself crying." Francine said that the arts is what she turns to when overwhelmed and she was glad the therapy was well received by patients too.
Renjun's Experience
Art Therapy has quickly become popular all over the world and some K-pop idols, like NCT's Renjun, have discussed using Art Therapy for their well-being. On Episode 7 of variety show Boys Mental Training Camp 2, Renjun confessed experiencing difficulties when he first debuted. He explained that being in the industry at such a young age and not having the mental maturity to deal with "it [was] like placing my hand on a hot surface and it was burning hot.".
"I was struggling a lot," he revealed. "My therapist gave me good counseling which has shaped me into who I am today." Renjun mentioned that the way he went through therapy was with art therapy and that his therapist was "a very important person" in his life.
Renjun also discussed his art last year in his 24hr Relay Cam. In the video, Renjun shows fans a sketchbook bought by WayV's Ten, a fellow artist himself. The sketchbook features Renjun's "mysterious bird of blue and purple" that he imagines feeds on his dreams called "Dreamer." Later in the video, he also shows off another drawing on his iPad and begins a finger painting with NCT Dream's Jisung and Jeno.
"I'm going to use my hands. I'll simply be painting what I feel. I find this a good way to relieve some of my stress."
Destress with Art at Home
For those who may not be able to access art therapy, there are many affordable and easy avenues to explore at home. However home alternatives differ from actual Art Therapy as "art therapy can only be practiced by an individual who possesses the required training, certification, and/or state licensure."
Despite this, there's no reason why you can't destress and have fun with art in the form of watercolor painting or drawing with pencils, crayons, and chalks. Digital alternatives, such as video diaries, are also viable and can be done on your phone. Even something as simple as creating Pinterest boards can be a stress relief and allow you to express your emotions. If you're a K-Pop fan like us at EnVi, you may enjoy including your favorite idols into art by trying your hand at polco (Polaroid) decorating.
If you have a bit more time on your hands, perhaps try an art journal with relaxed sketching or free-flow markings; charcoal and pastels are great with their little precision and control, allowing you to worry less about details and look more at colors and expression. You could even consider clay, digital art, or scrapbooking for a stress-free way of creativity.
Eeman Maahood from Team EnVi shared how art as a practice helped with her mental health. "I have really bad anxiety and it got to the point where everyday I would feel like I'm having a panic attack." Eeman's counselor suggested music, breathing, reading, drawing and painting for her anxiety-inducing situations which distract her. "Being in big crowds or gatherings or even just in class, I start drawing or sketching which helps me calm down."
How Can I Find Therapy?
When looking for an art therapist, it's important to find the right person whom you feel most comfortable with and who best fits your needs.
"Engagement and connection is one of the key challenges of any therapy. It's important to acknowledge how significant the therapeutic relationship is in the therapy journey. If your therapist does not honor your communication style and needs – it will be difficult to build a safe relationship with them," Jess said.
Art therapists can be found in a number of places: hospitals, schools, private practices, psychiatric and rehabilitation facilities, community clinics, and crisis centers to name a few. For more information on art therapy, the best place to start is to speak to your local general practitioner or doctor.
You can seek private care and find more information here:
Art therapy is a great psychotherapy alternative. With art therapy, you can freely express yourself and improve your mental health. Many have found, especially during the pandemic, that their mental health has deteriorated and that they are stuck on where to find help. Art therapy provides a safe space to do something enjoyable whilst also giving the chance to heal.
Want more art articles? Check out our review of the art behind Red Velvet's "Feel My Rhythm" music video here!