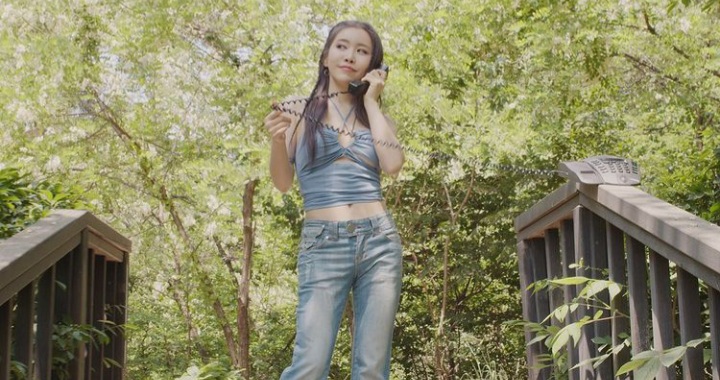 Love tends to be beautiful and consuming—and South Korean singer SURAN and rising pop star Peder Elias can tell you all about it in their latest single "Darling." The soft ballad, released on May 27, 6 PM KST, discusses the blissful emotions of being in love and diving into a relationship.
A Summer Love Song
"Darling" is a soft pop ballad with an acoustic melody and guitar sound about the captivating feelings of falling in love. In the lyrics, the two explore the intense desire to remain close to the person they love and want to make time just for them. "Darling next to you / Staring at the moon/ Wishing I could be a star / And light up the darkness above/ Just for you." Both SURAN and Peder Elias sing about wishing to stay next to their lover and create new memories even when time and the seasons change. 
The lyrics also share the uncertainty of a relationship. As the pair describes that although people change and their time together might be different, they wish to still assure their partner that they will continue daydreaming about their moments together. "Through the winds / And the changes / I'll be right there with you / Next to you." they sing.
The track has a mellow and youthful energy, including a tender instrumental mix with percussion rhythms and acoustic guitar melodies. It creates a sweet and fresh atmosphere, giving the listener a sense of walking down the streets on a summer night. The pair's vocal colors blend gracefully while highlighting each other's strengths. In contrast to SURAN's airy and soft voice, Peder Elias's vocals have a raspier and coarser tone. When combined, the duo exhibits powerful vocal chemistry adding a delicate shade to the single.
Alongside the release of the single came the music video. In the video, SURAN and Peder Elias are shown walking down the streets in their respective cities as they sing to each other over the phone.
A Surprise Collaboration
Although "Darling" is the first time SURAN and Peder Elias collaborated on a track together, the two have developed a remarkable synergy that perfectly matches their diverse styles.
Despite being involved with music from a very young age as part of the Nidarosdomens boys choir, Peder Elias dropped his first single called "Simple" on streaming platforms in 2018. Since then, the Norwegian singer has continued releasing self-composed singles such as "Good for You," "Vulture," and "Back in the game." In 2021 he released the track "Loving You Girl" featuring Hkeem. The single became a massive success in South Korea, gaining the artist a new wave of fans in the country. More recently, in April 2022, he dropped his debut full-length album Love & Loneliness. The eleven-track album includes previous singles like "Bonfire" and "Roses."
Singer and songwriter SURAN is well-known in the music scene for her distinctive vocals and diverse discography. She first debuted in 2014 as a member of the duo Lodia. However, her journey as a soloist started in 2015 with the EP Calling in Love. A year later, she featured on BTS' SUGA's track "So far away" for the rapper's mixtape project under the name of Agust D. This collaboration led to the release of the single "WINE" featuring Changmo and produced by SUGA in 2017. "WINE" gave SURAN a series of accolades such as the R&B/Soul and Hot Trend Award at the 9th Melon Music Awards and Best R&B/Soul at the 32nd Golden Disc Awards.
Since then, SURAN has released a series of singles like "Sad Pain," "Love Story" featuring Crush, and "Sunny." She has also lent her voice to several Korean drama's original soundtracks like Find Me In Your Memory and Tomorrow. In March 2022, the singer released her long-awaited EP FLYIN' PART 1. the mini-album mixes genres such as pop and R&B, showing a new side of the artist, and includes a collaboration with the rapper Dok2 for the track "Devils in the city" and NCT's Taeyong for "Diamonds."
In an interview with EnVi back in March, she opened up about the different genres she experiments with to find her style. "I put a lot of thought and effort into the music so that I can deliver content I am satisfied with," she said. "That is my biggest desire, to have my fans listen to music that I find satisfaction in."
It remains unknown whether another collaboration between SURAN and Peder Elias is coming soon. Nonetheless, is safe to save that the duo showed diverse vocals and incredible chemistry in "Darling."
You can listen to "Darling" on Spotify and Apple Music here! 
Want more? Check out SURAN's mini-album FLYIN' here!