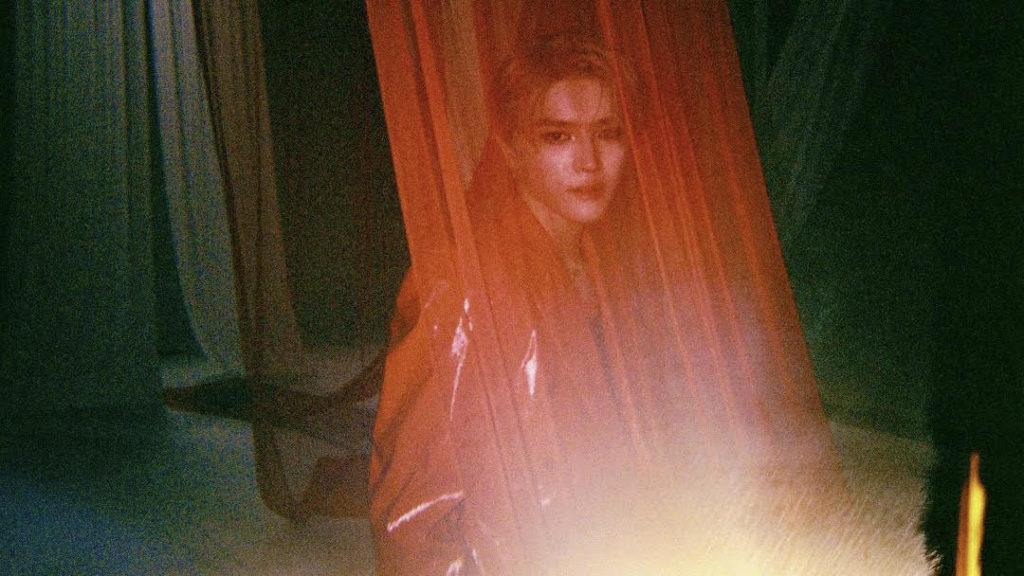 Without warning, NCT's Taeyong once again showed new sides of himself through the release of "Ghost." Debuting on his YouTube channel TY TRACK, the hypnotizing performance video was released on June 2. Following his latest release "Love Theory," Taeyong brings forward a sound that emulates a darker side to his colorful discography. The electronic-pop song is synth-heavy and brought to life with hard hitting beats that match the intensity of Taeyong's choreography. Similar to NCT songs such as "Baby Don't Like It" and "Whiplash," the lyrical contents are reminiscent of many well-loved compositions featuring Taeyong.
A Deeper Look Into The Set Of "Ghost"
Though Taeyong has stylistically experimented many times in the past, he conforms to each one seamlessly. Laying down to become the focal point of the opening sequence, Taeyong attracts the audience with his vibrant red leather suit. Juxtaposed against a blue background, he lures viewers into the performance. Changing into another look later on, Taeyong sports a shimmering top which becomes a stunning addition to the production. Put up against a heavenly background, it poses as a temptation to fans all around.
Displaying a series of illusions, a world is built between each shot to create new dynamics. With numerous sets throughout the video, Taeyong masters the ability to embrace all sorts of concepts. From intense red curtains to the gleaming white background in the following scenes, he experiments with new identities throughout. There is a consistent effort to desire the next scene as Taeyong personifies "Ghost" through each shot.
Mirroring Good and Evil
Accompanied by dancers throughout the performance, Taeyong utilizes their strengths to unfold a story. As each dancer plays a character within "Ghost" they mirror one another to illustrate both good and evil. While the imagery remains minimal, Taeyong maximizes the space with his alluring presence.
With a hard hitting choreography, "Ghost" creates balance with softer moves in between. As the whole performance plays with contrast, the dance is no exception. Utilizing his stage outfits to an advantage, Taeyong has many key points throughout the video that showcase his strengths as a performer. By incorporating his red suit into the choreography, he captures the minds of fans all around. Becoming the "killing point" of the video, Taeyong's complex floorwork drew viewers in.
Admiring Artistry With NCTzens
Fans took their reactions to social media with both humorous and heart-warming takes on the release. Twitter users spoke out about their admiration for Taeyong's artistry with an overwhelming amount of screenshots and fan edits of the performance video.
Previously catching Taeyong's attention with fan edits, Twitter user @xisualty created another stunning visual for the release. Accumulating over 1,000 likes, many fans were drawn again to her work as she enhanced "Ghost" through an alternate perspective.
With the creation of Taeyong's new YouTube channel, he has created an accessible space for all fans to engage in his solo activities. As fans spew their overwhelming support for Taeyong through each release, he touches the hearts of fans worldwide. Through Taeyong's consistent efforts to improve his passions, he proves himself to be both a performer and artist.
Want more music? Check out EnVi's list of top music releases in May here!