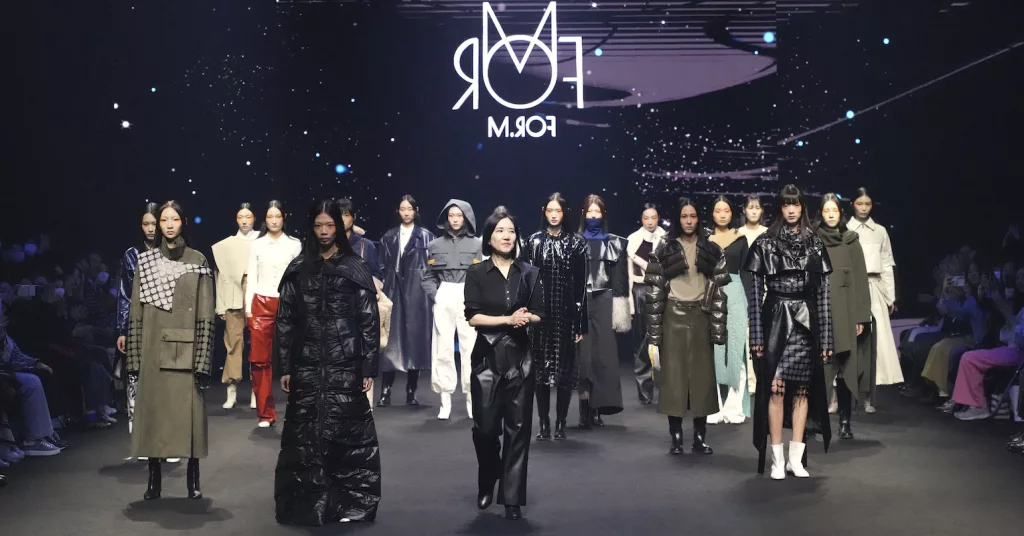 As one of the most anticipated international fashion events, Seoul Fashion Week has become a platform for Korean talent to showcase their latest creations. This year, the Fall-Winter 2023 presentations took place between March 15 and March 19, spotlighting the best of the Korean fashion scene. As the season comes to an end, EnVi rounds up the highlights and noteworthy moments from the runways. Read on to discover some of the Korean brands and designers that every fashion enthusiast should keep an eye on!
ULKIN
Led by designer Seong Dong Lee, ULKIN creates pieces that prioritize a balance between social and aesthetic value. For their FW23 presentation, the brand presented a collection titled "The Blind Spot of Safe Space," where they invite audiences to reflect and stay alert at the possible dangers consistently lurking around us — natural disasters, industrial accidents, climate change, you name it. The collection featured an upcycling technique ULKIN has introduced through their ULKIN LSD collection, which takes used workwear and waste at industrial sites to turn them into artisanal fashion. "The Blind Spot of Safe Space," featured edgy and spunky looks with touches of leather, dyed knits, and netting details.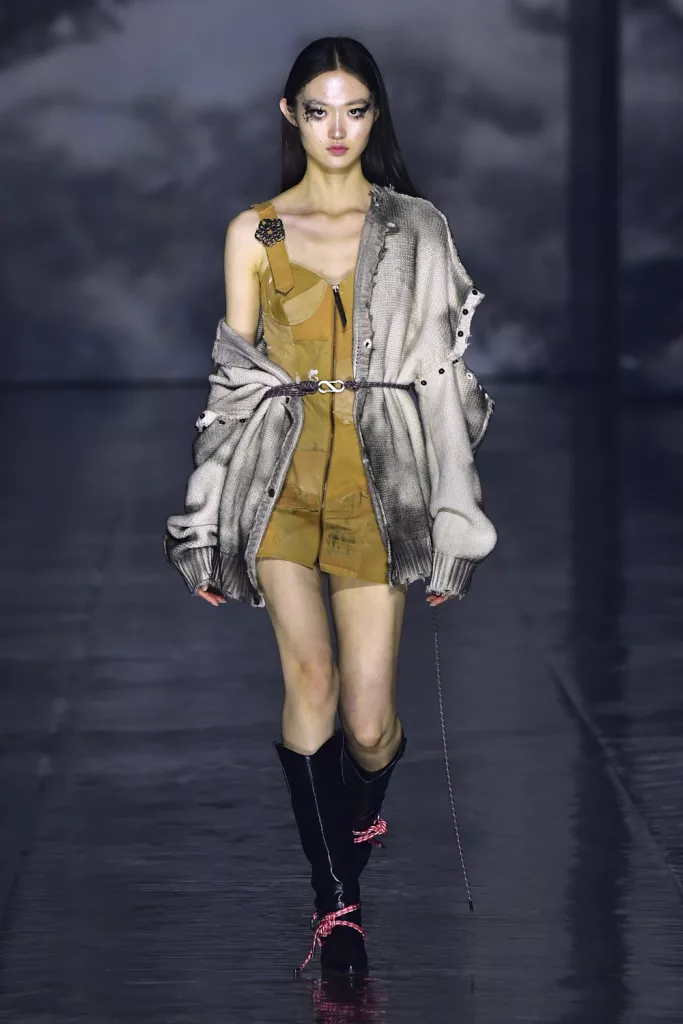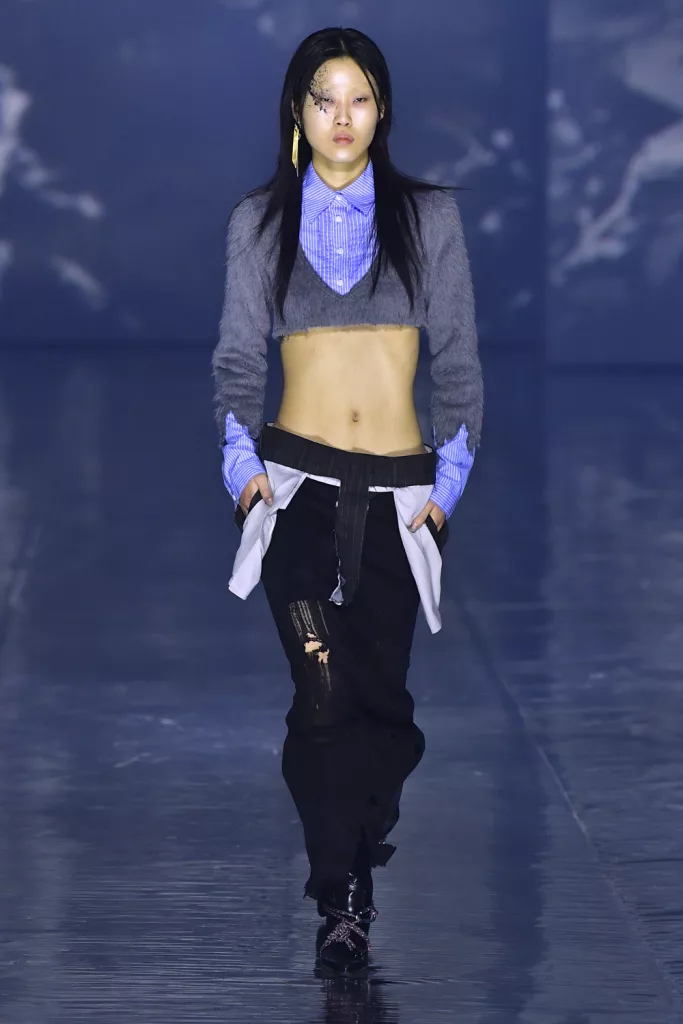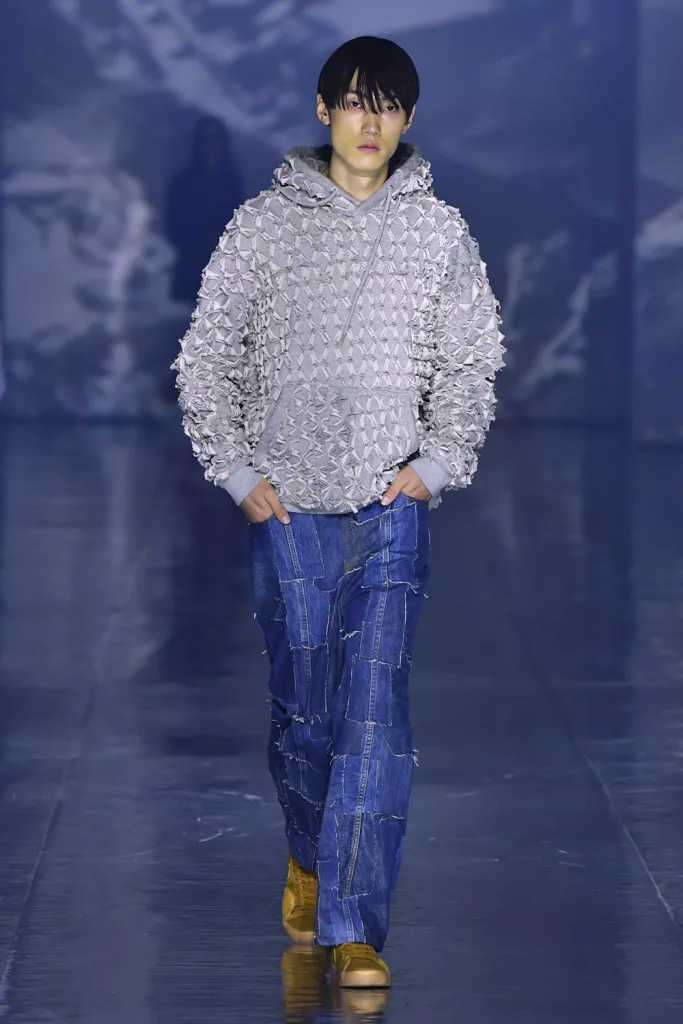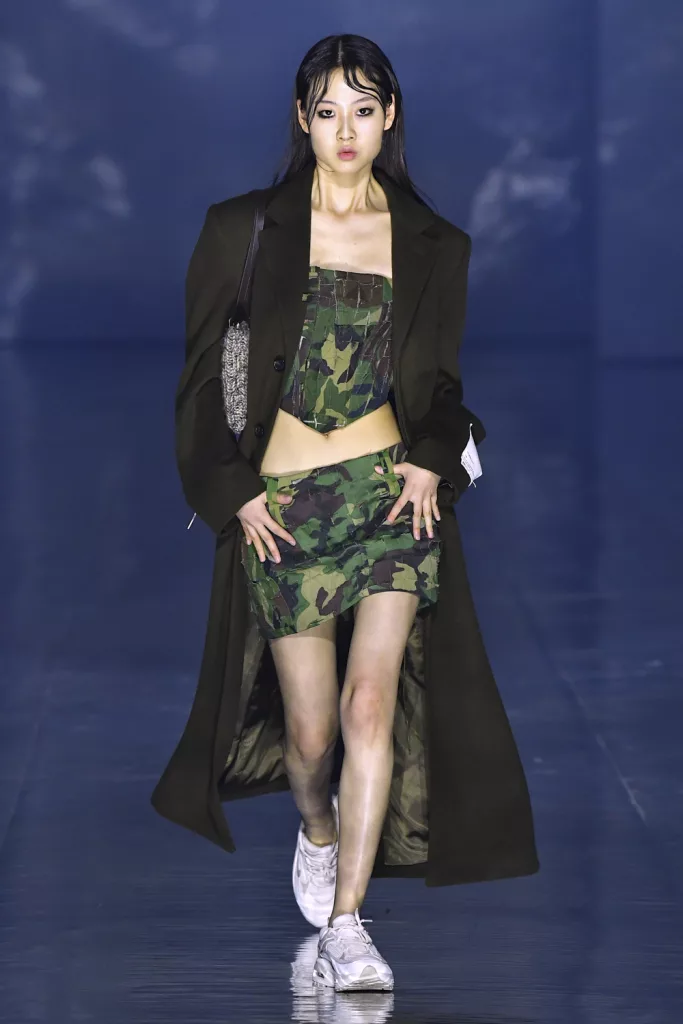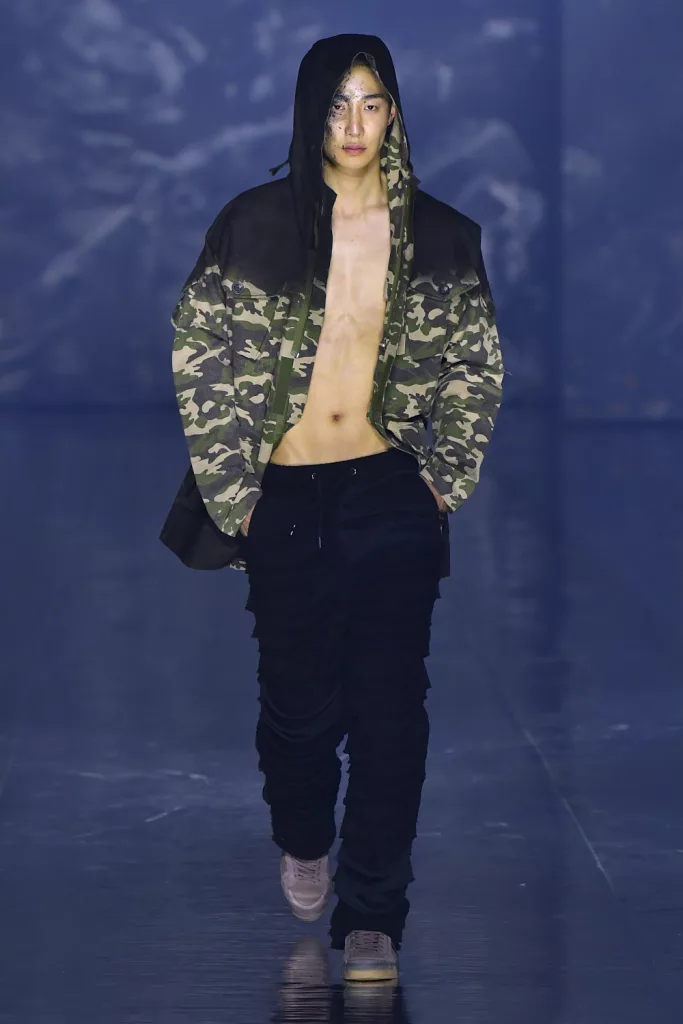 Seoul Fashion Week Fall Winter 2023. Photos courtesy of ULKIN
Miss Gee Collection
Known as the designer of the stars, Gee Chun Hee is at the helm of the ready-to-wear brand Miss Gee Collection. The designer embraces womanhood and femininity in her designs by accentuating rich detailing. However, this softness is juxtaposed with the sharp silhouettes and polished tailoring that endow a sense of strength and empowerment to her designs. Titled "Let There Be Love," the FW23 collection placed an emphasis on romanticism through material choices such as satin and chiffon. Gee played with volume in the silhouettes and featured deep square necks, complementing the looks with opulent jewelry to emphasize the collection's sophisticated mood.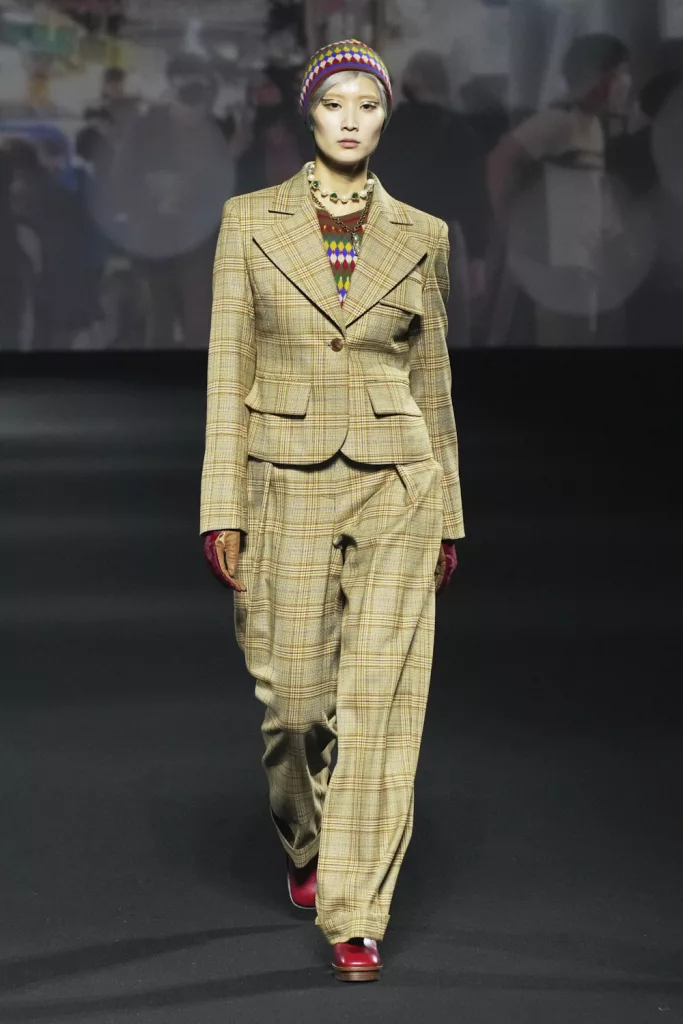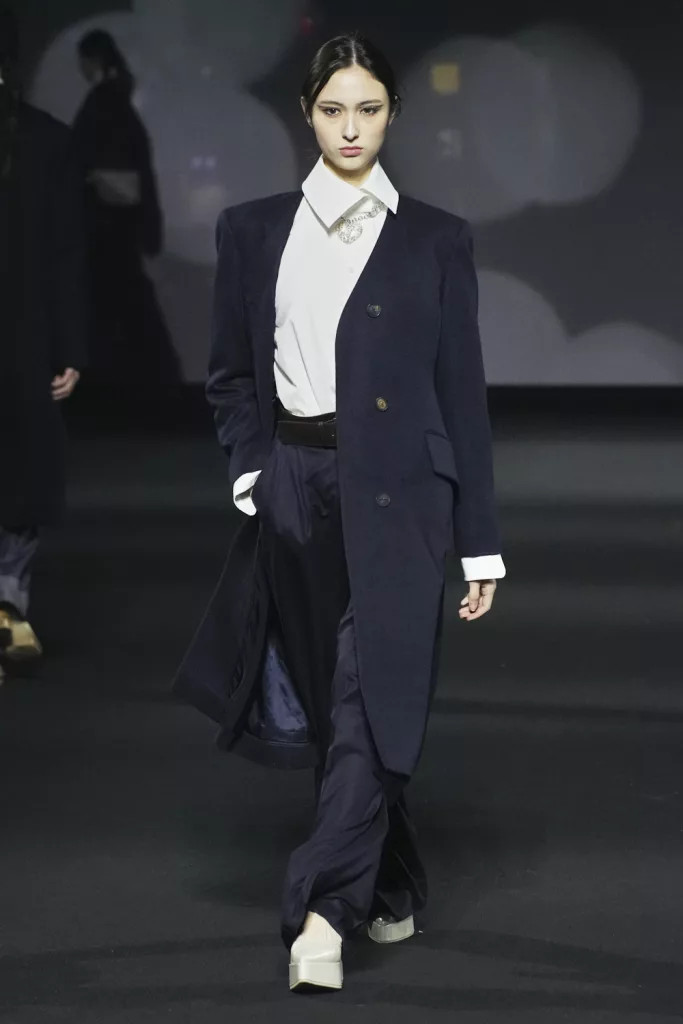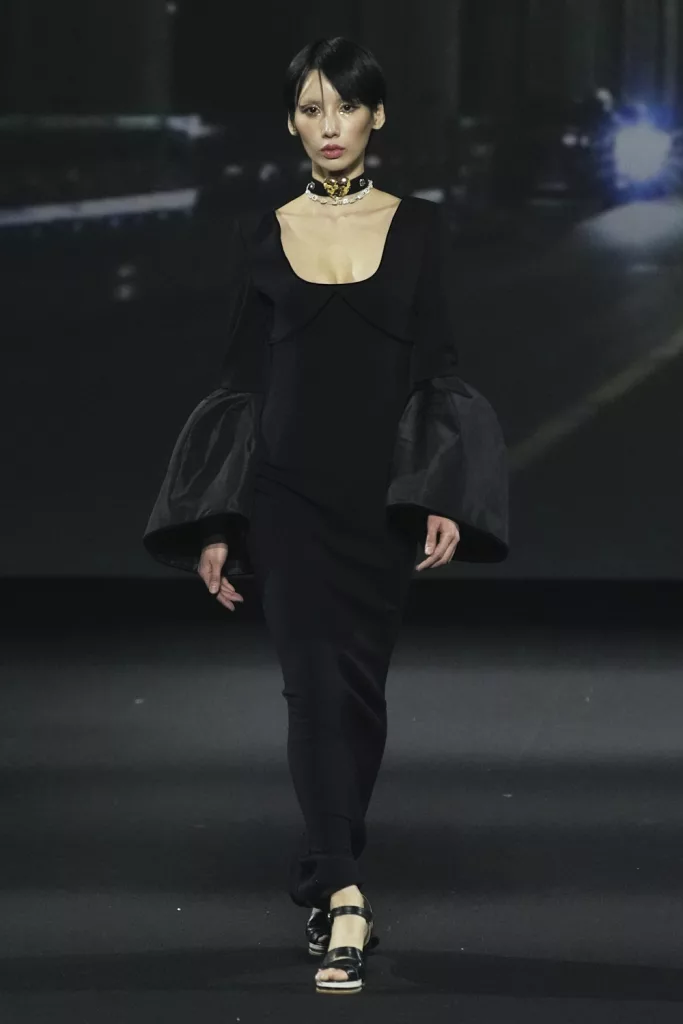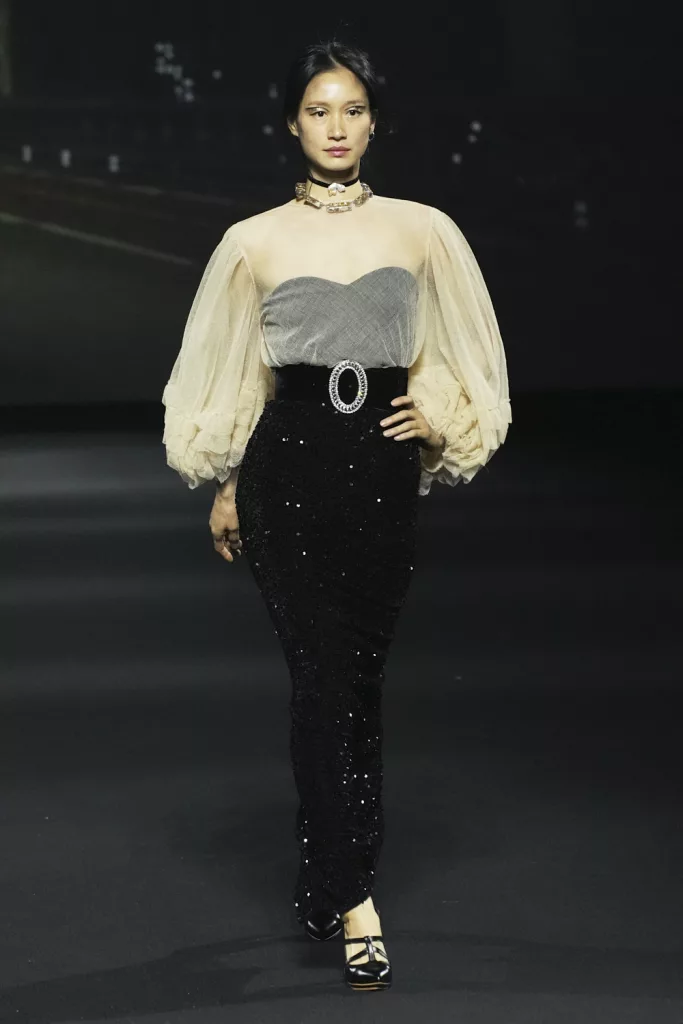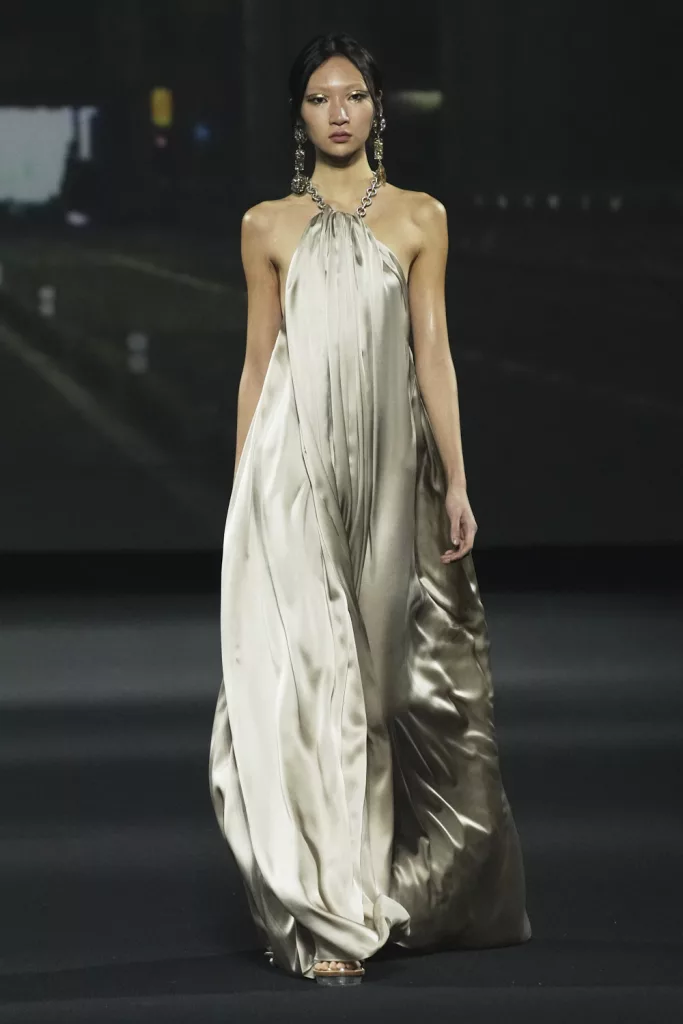 Seoul Fashion Week Fall Winter 2023. Photos courtesy of Miss Gee Collection
HOLYNUMBER7
Every season HOLYNUMBER7 creates collections based on Bible verses. Designers Kyoung Ho Choi and Hyun Heui Song believe their designs are able to spread positivity and optimism through their lighthearted designs. This season, they return with their collection titled "TALENT" based on the verse of Ephesians 4:7 that talks about the natural gifts given to humans. With a focus on how far they can embrace and explore their talents, the collection experiments with a sporty yet playful style, perfectly in tune with the youth of current times. The collection also pushes zero-waste efforts as the designers upcycled old school uniforms and reimagined them into the preppy pieces displayed on the runway.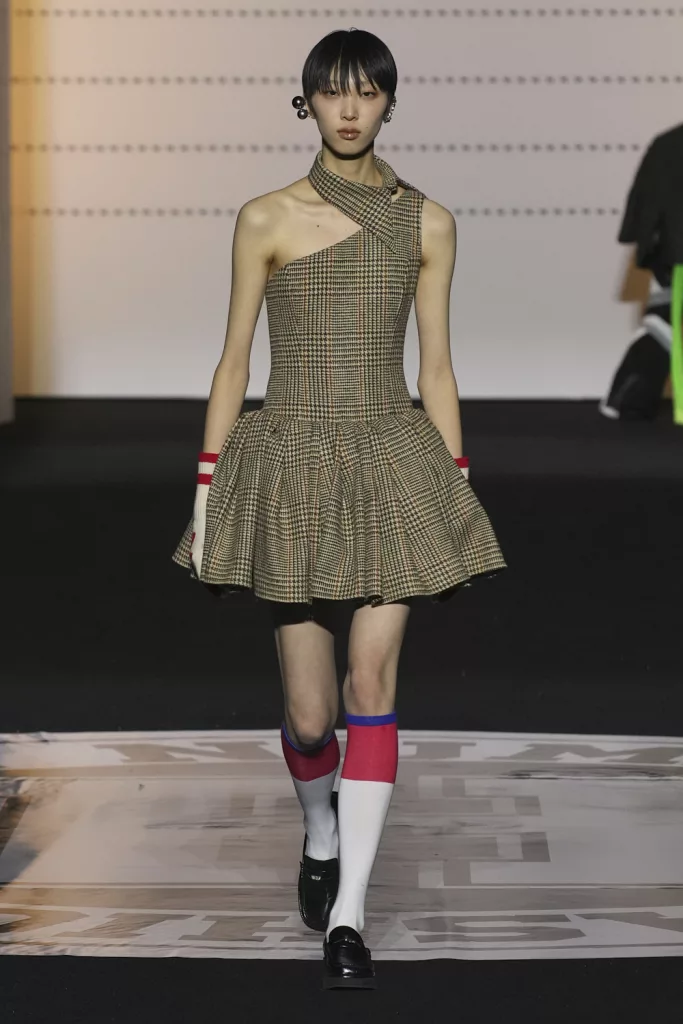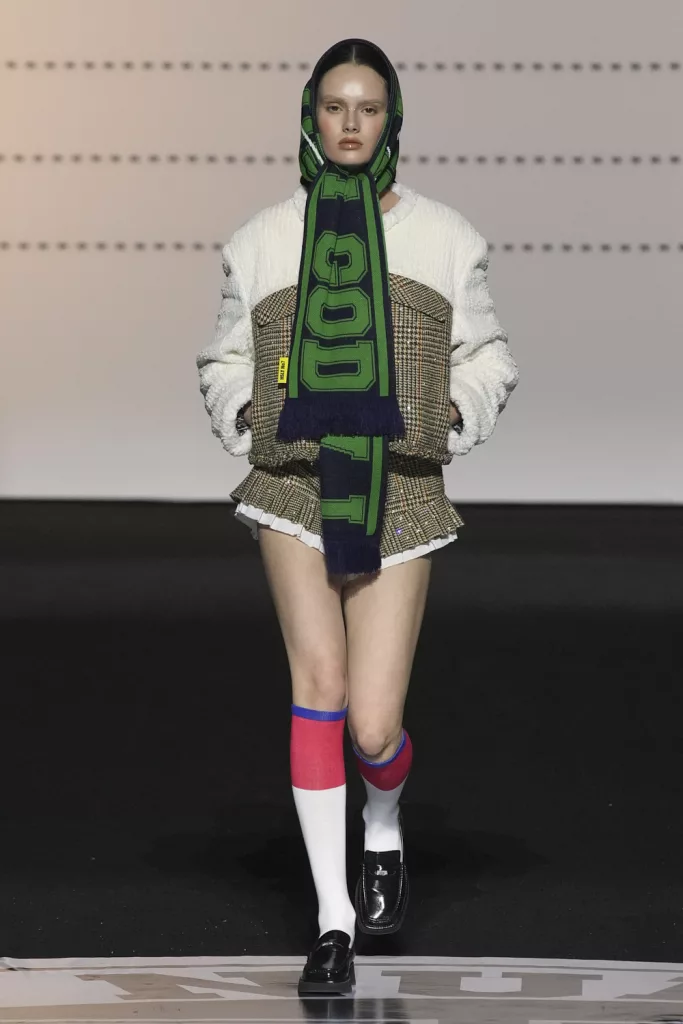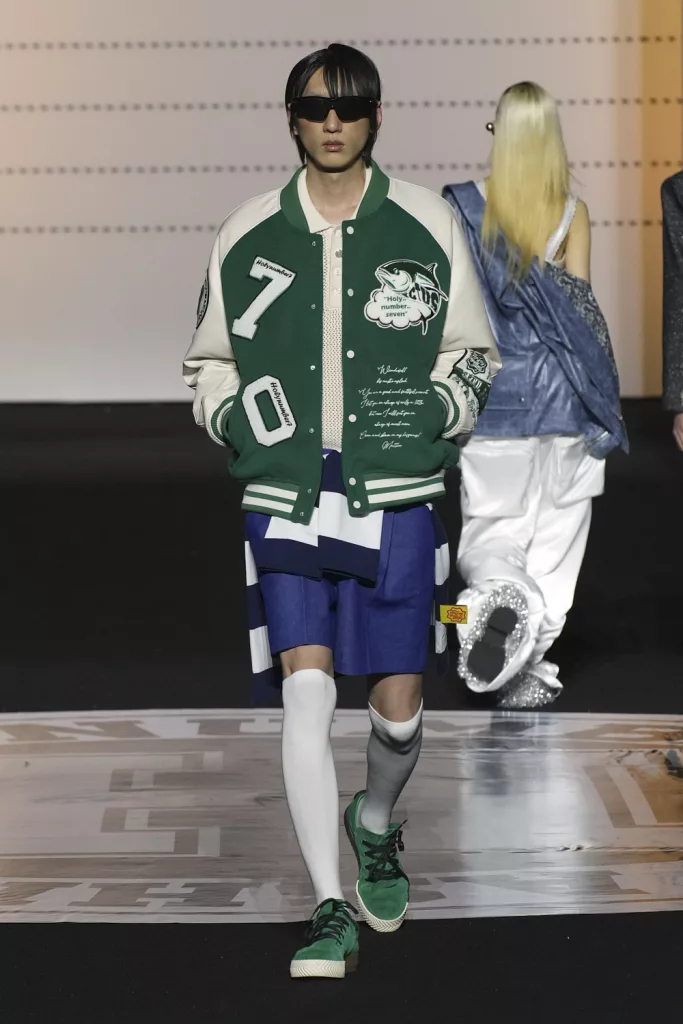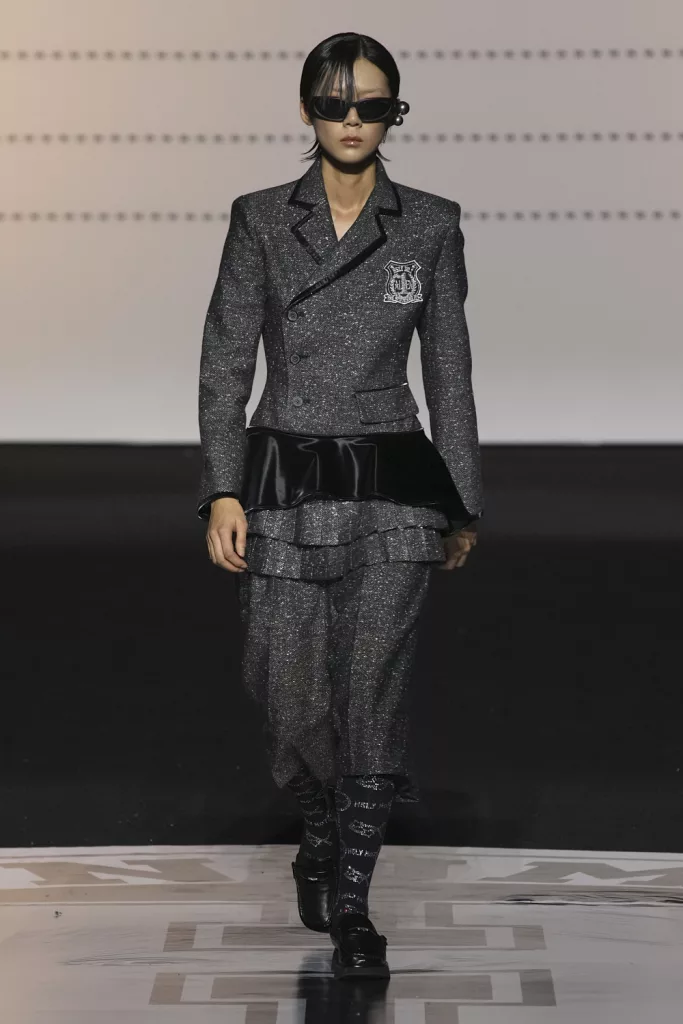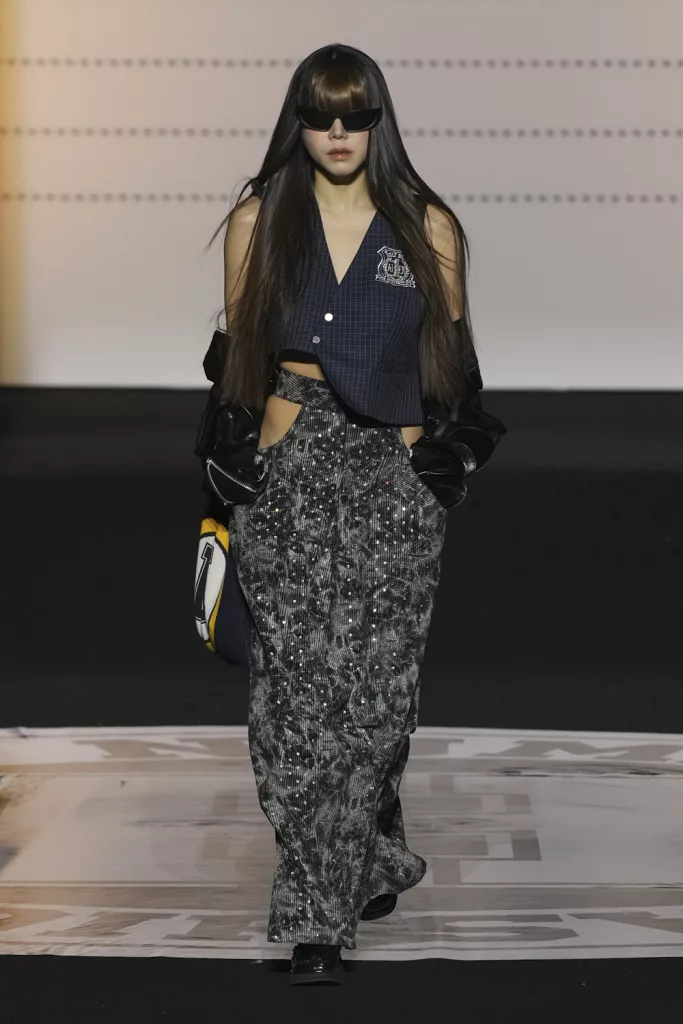 Seoul Fashion Week Fall Winter 2023. Photos courtesy of HOLYNUMBER7
JULYCOLUMN
Led by sisters Jay and Sooy Park, JULYCOLUMN is a brand that aims to dress modern and multifaceted women. Although high-end womenswear is generally linked to exclusivity, the brand's goal is to create approachable and accessible made-to-order pieces. Aesthetically, JULYCOLUMN mixes the creative directors' love for the British Arts & Crafts movement with traditional Korean disciplines and techniques. The idea of "EFFORTLESS FEMINITY" guided the brand's most recent presentation, which focused on creating contemporary classics. Designs took inspiration from traditional Korean art as well as the silhouettes of the hanbok. In fact, garments were made with Sambe fabric and textiles dyed with the ink-wash painting technique.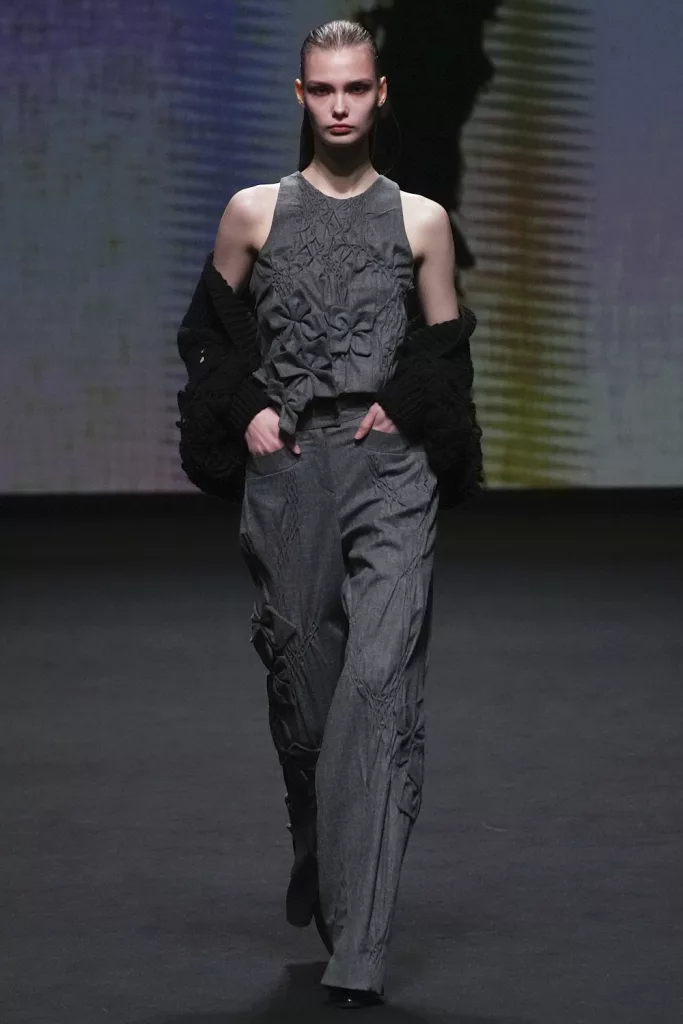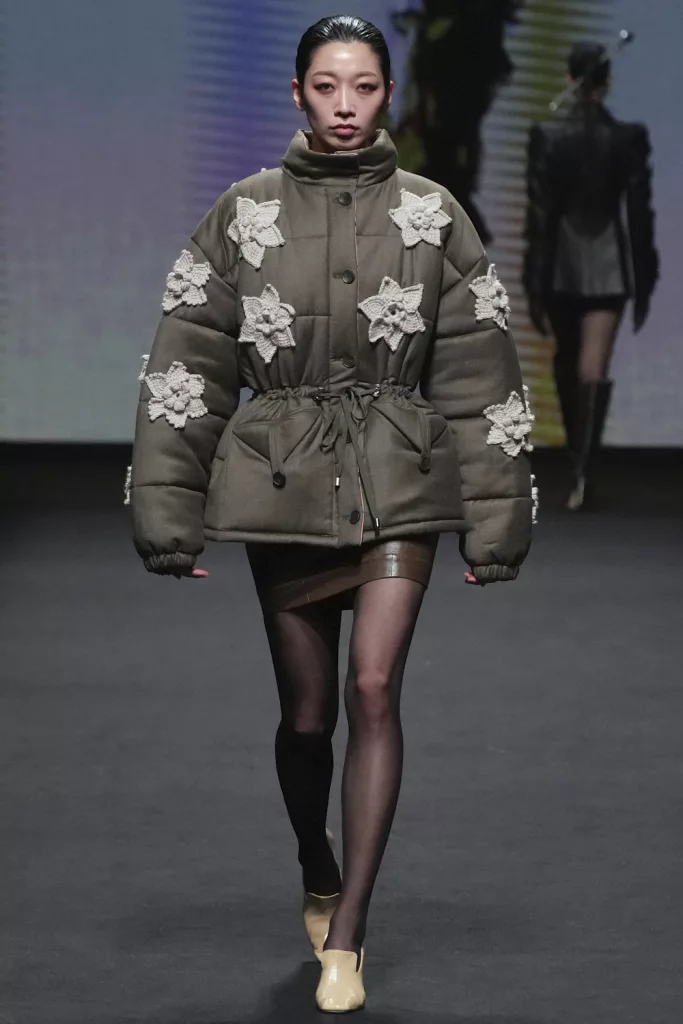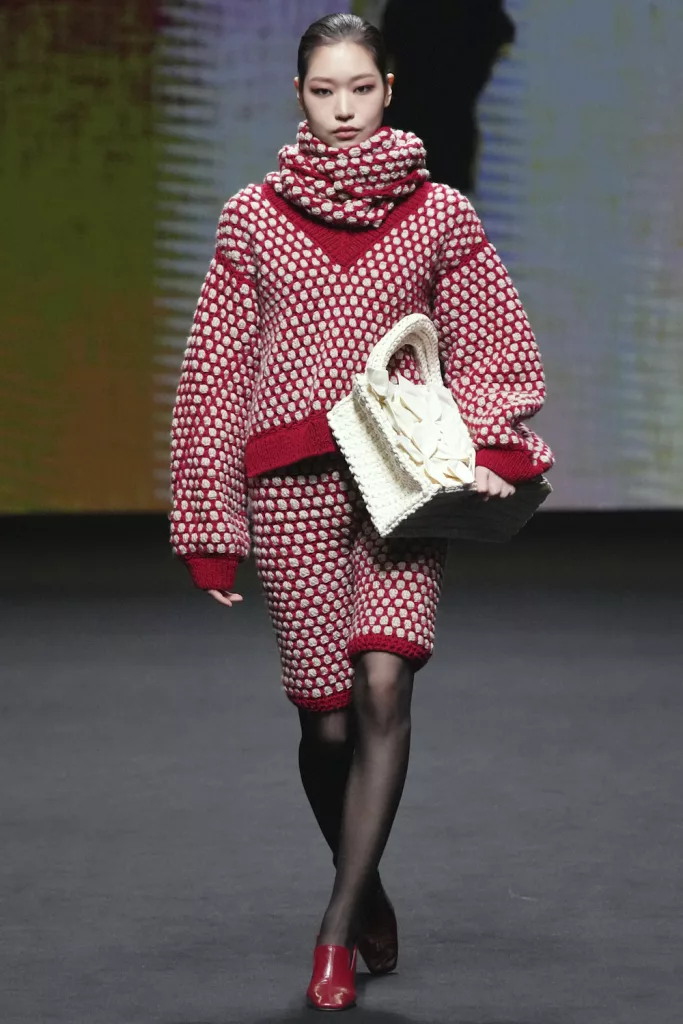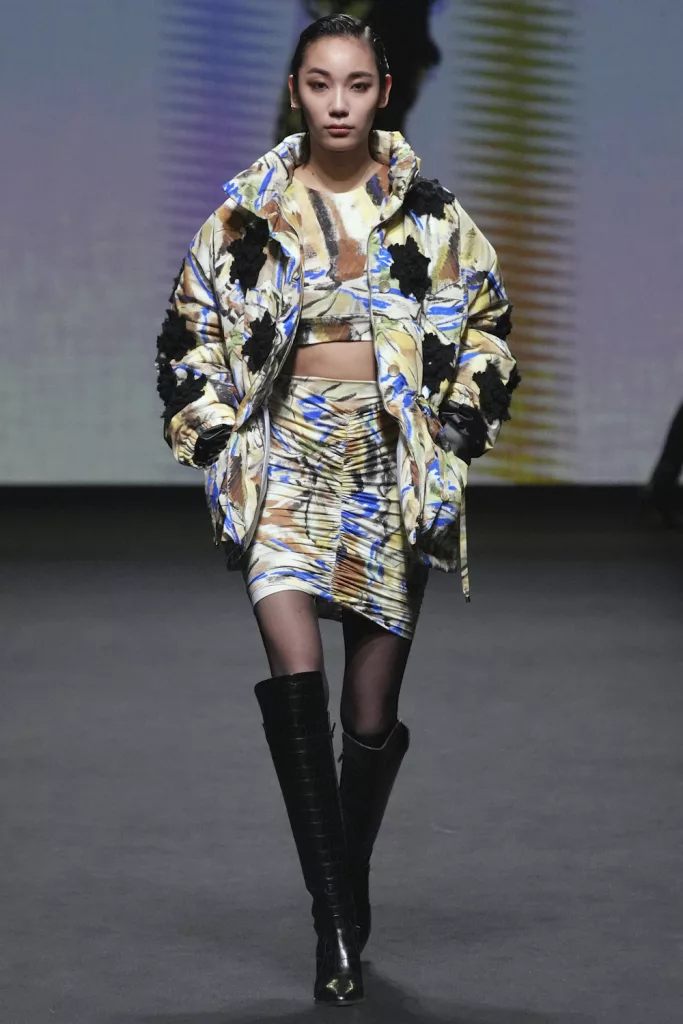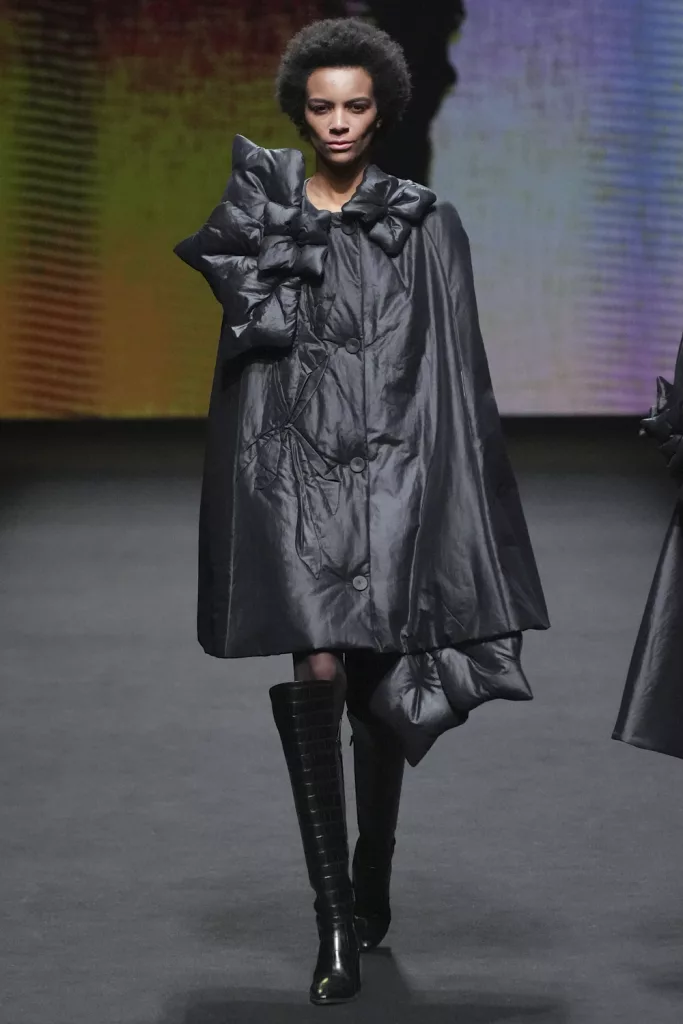 Seoul Fashion Week Fall Winter 2023. Photos courtesy of JULYCOLUMN
M.RoF
Providing a dark twist to Seoul Fashion Week was the rebel-spirited M.RoF. The name of the brand comes from the word "form" in reverse, which aptly reflects their mission of challenging traditional fashion norms and embracing the unconventional. Loyal to the brand's love for all things contemporary, the collection showcased a lineup of sleek, cutting-edge looks that played on textures through different variations of leather. Behind the collection, the brand explained, was the idea of exploring "the sense of crisis about abnormal phenomena that we have never experienced before."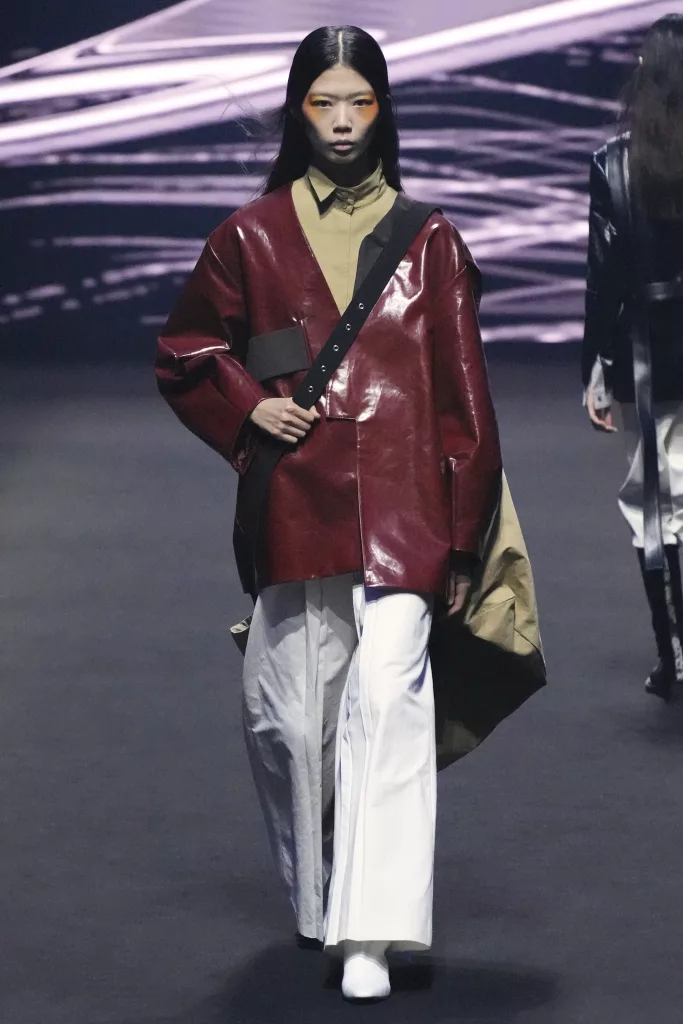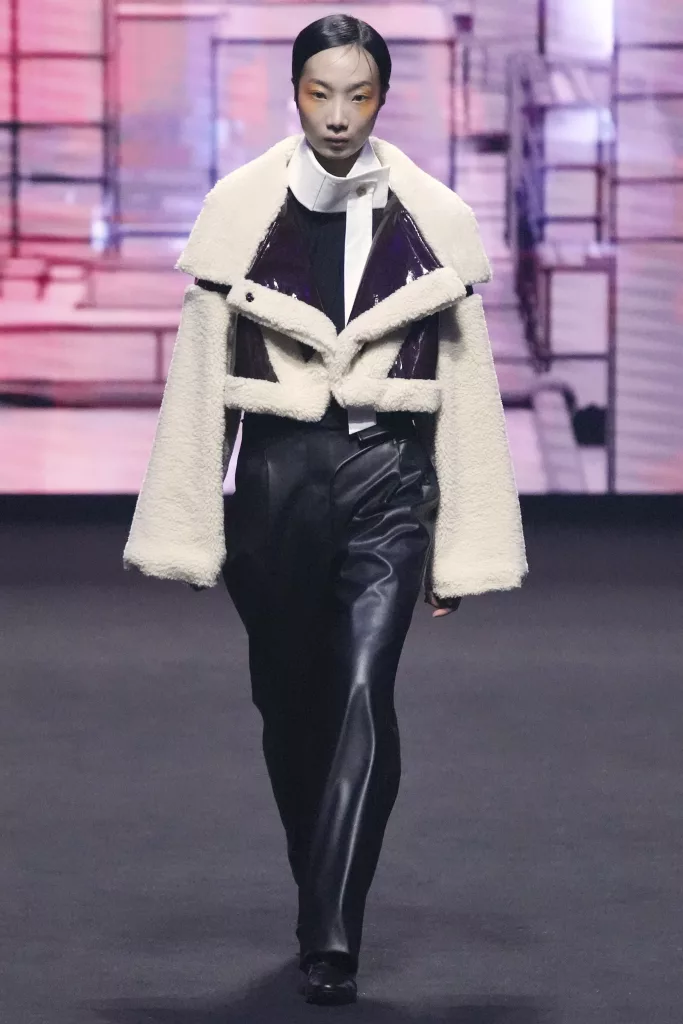 Seoul Fashion Week Fall Winter 2023. Photos courtesy of M.RoF
VEGAN TIGER
VEGAN TIGER is the first high-end vegan brand in Korea. Dedicated to advocating for cruelty-free causes, the brand refrains from using any products that exploit live resources and has committed to donating part of its profits to animal and nature conservatories. For the FW23 season, Vegan Tiger presented a collection titled "NO FURade," a sequel to their SS23 collection "Love and Peace." This collection series tells a tale of love, peace, and healing through eccentric print patterns and contrasting colors that symbolize optimism and connection.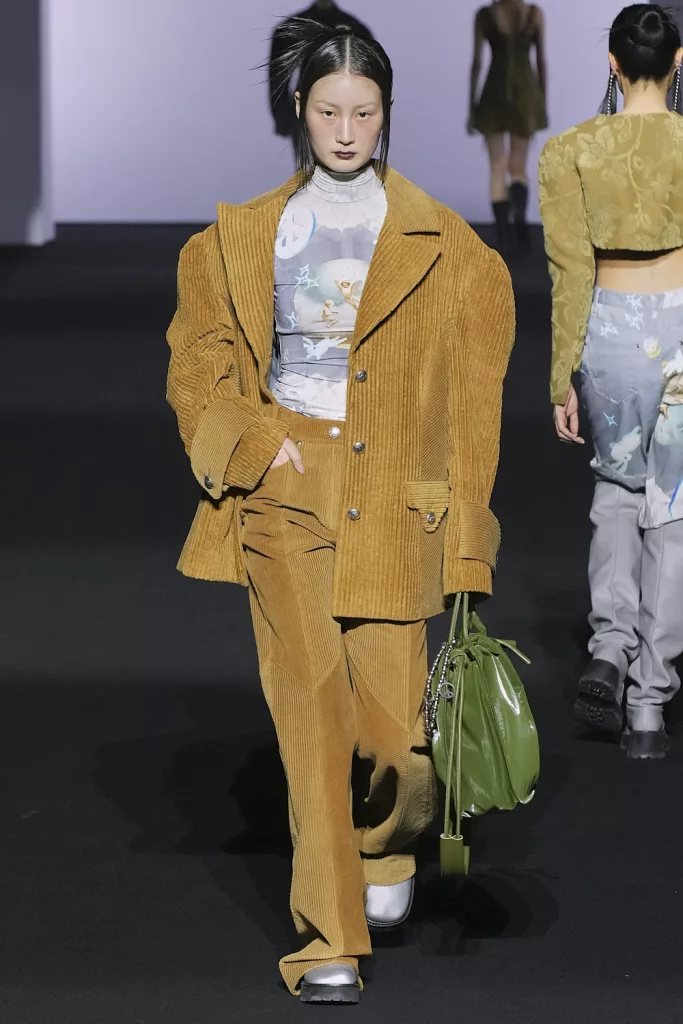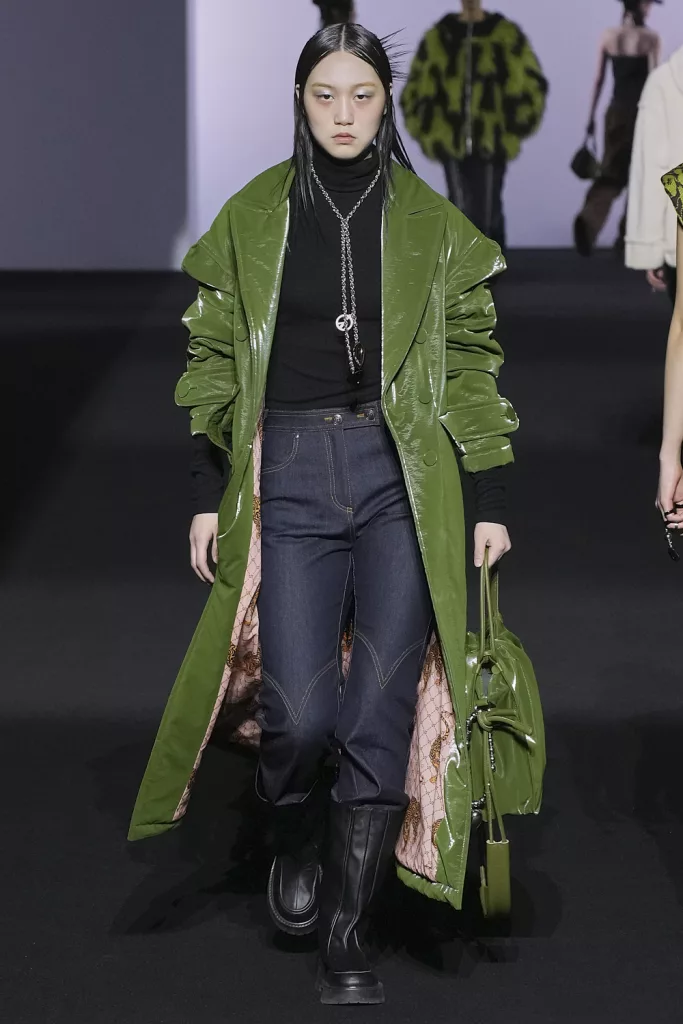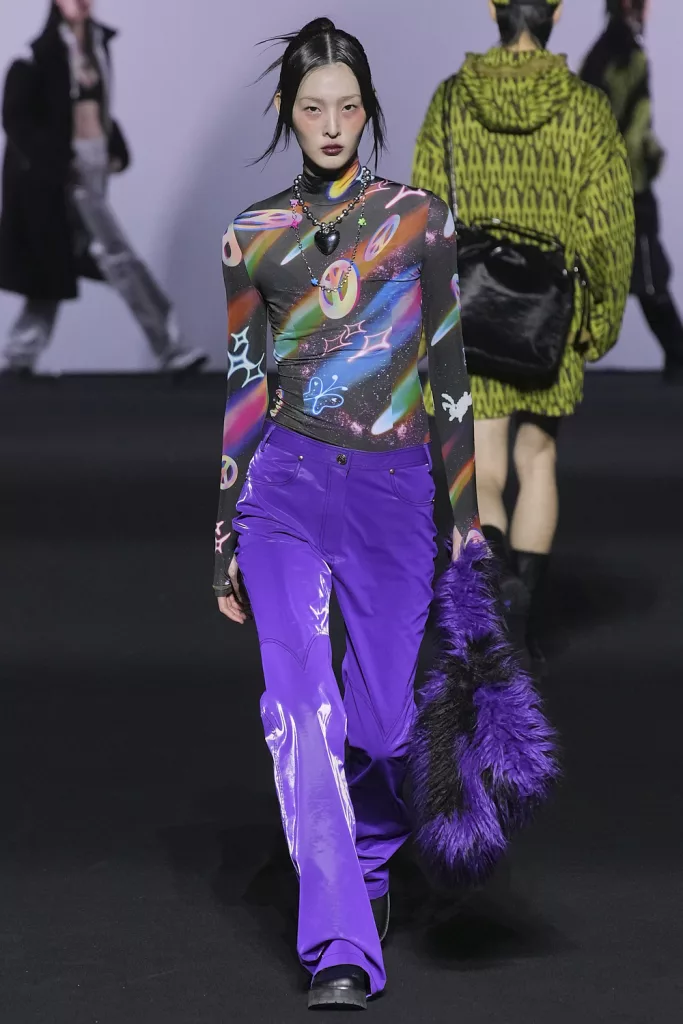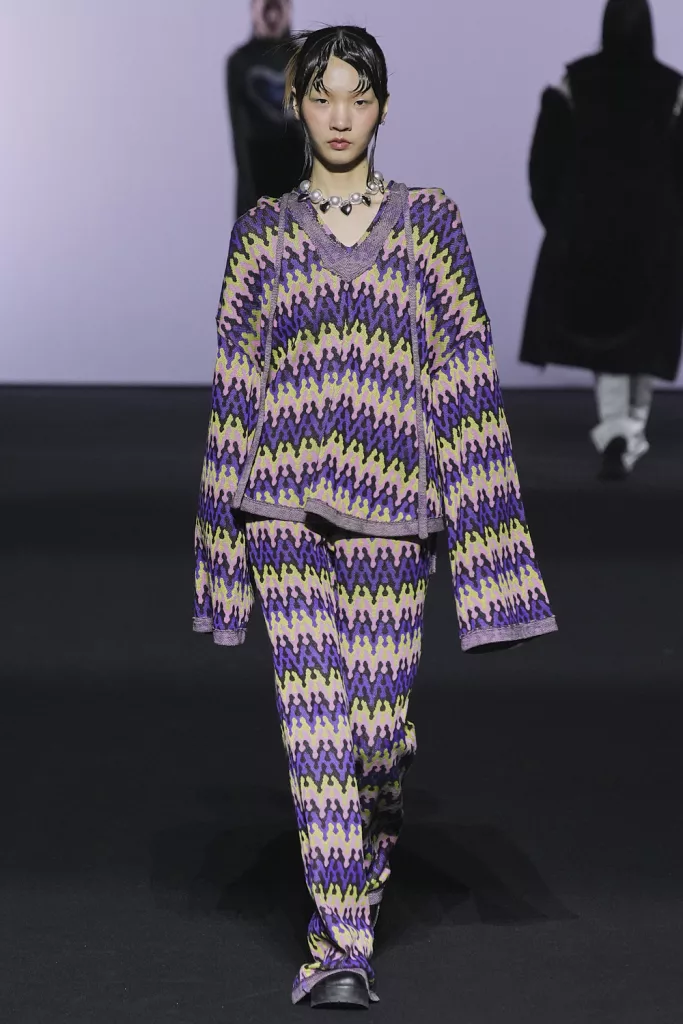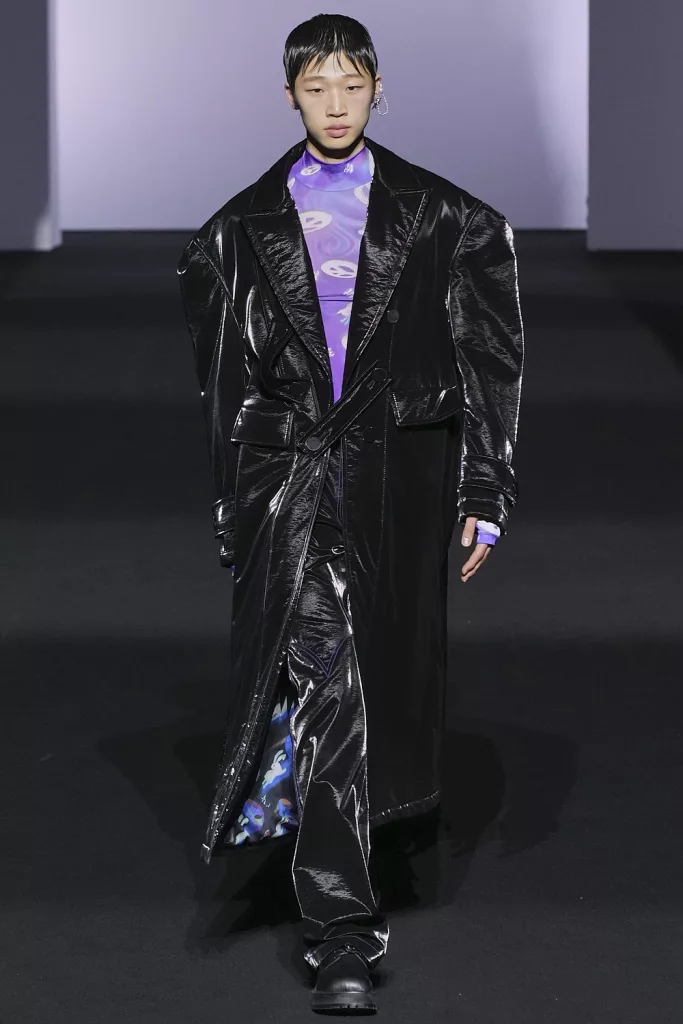 Seoul Fashion Week Fall Winter 2023. Photos courtesy of VEGAN TIGER
BIG PARK
Inspired by the globalized generation, BIG PARK is a brand that focuses on creating distinctive clothing for those with big personalities. Led by Youn Soo Park, the label often references subcultures and has a history of collaborating with artists and designers from across creative fields. For its FW23 collection, the brand revisited its archives and reimagined the designs into a plethora of edgy and whimsical statement pieces. Explaining the idea behind the collection, the creative director stated, "As the famous saying goes 'Those who do not learn history are doomed to repeat it.' I want to convey to the people solely focused on moving forward that looking back on history is an integral part of designing a better future."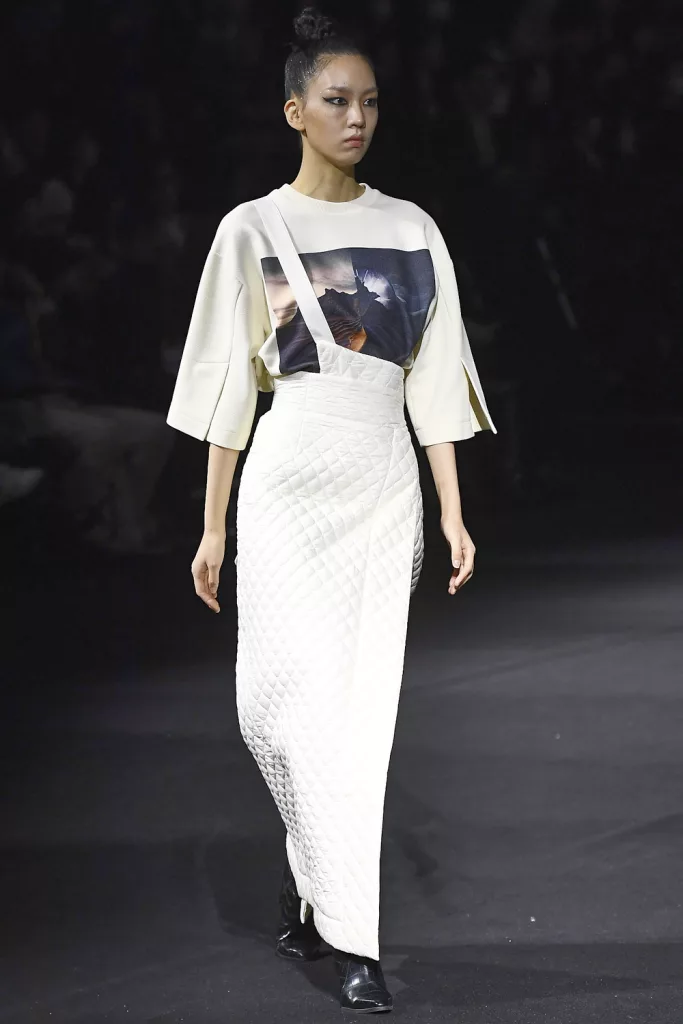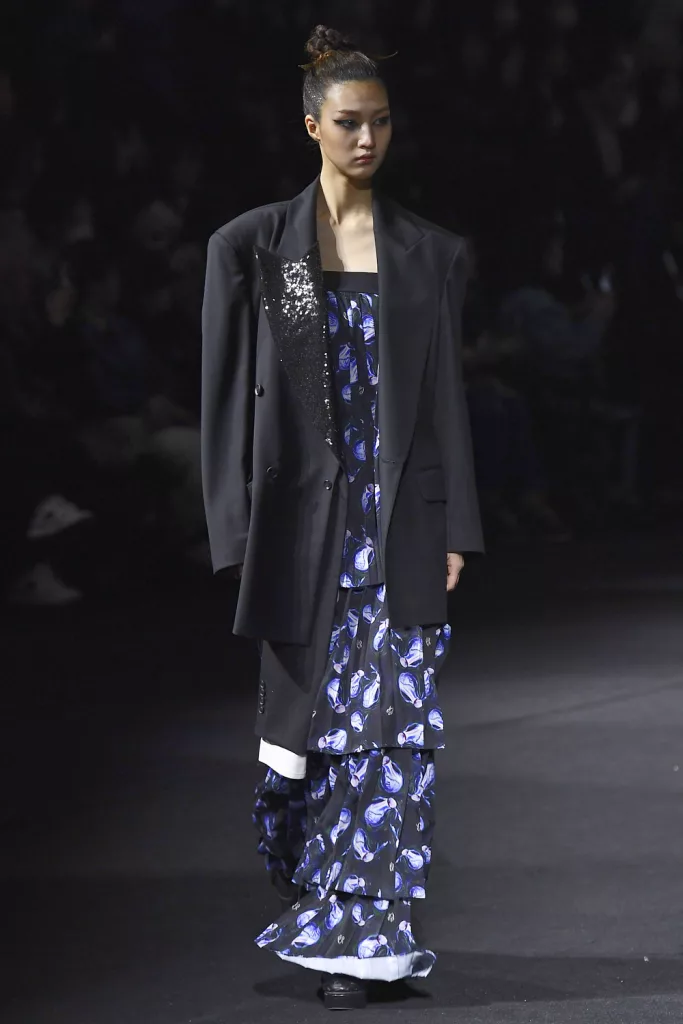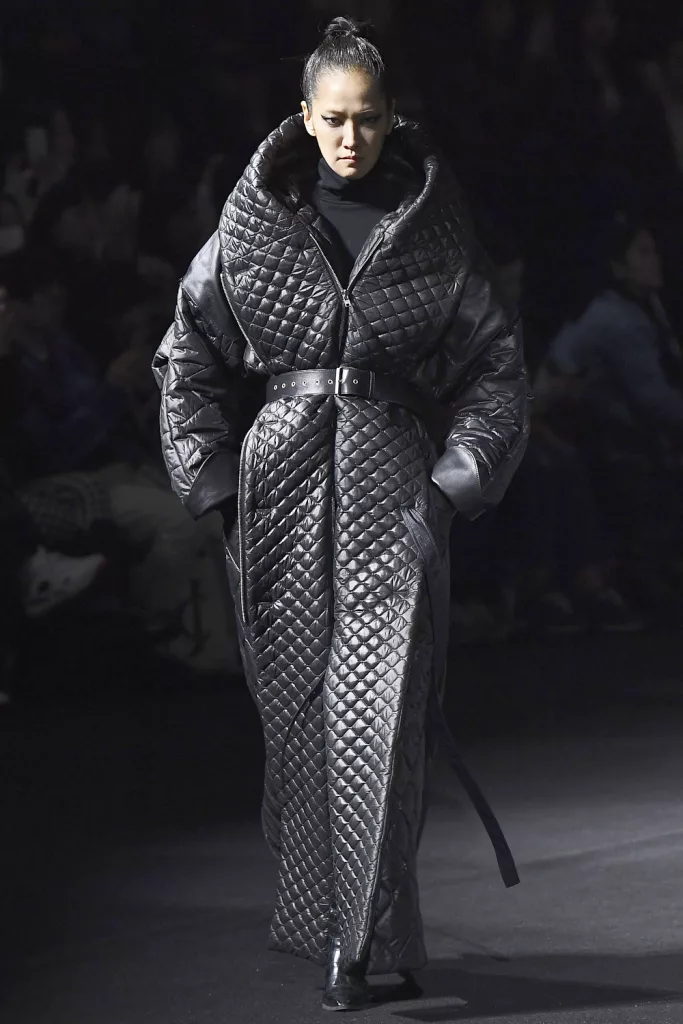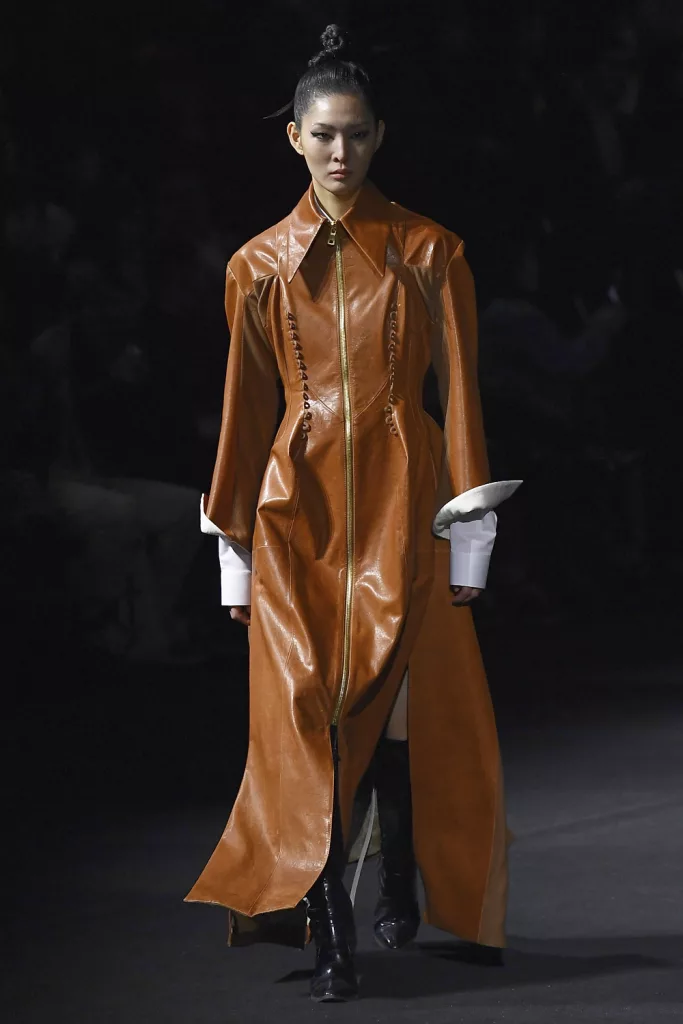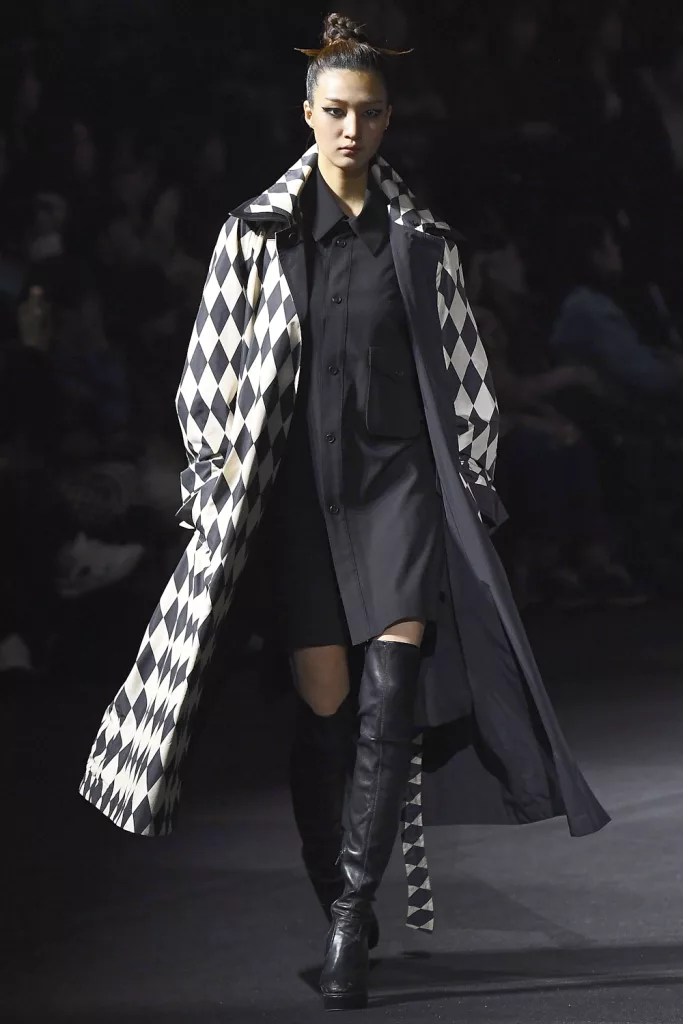 Seoul Fashion Week Fall Winter 2023. Photos courtesy of BIG PARK
Lie Sang Bong
As a veteran in the fashion industry, Lie Sang Bong and his eponymous brand always rise high expectations during Fashion Week. The designer is known for his craftsmanship and architectural designs that combine fashion and art. This season, the visionary collaborated with the Belvedere Museum in Austria to incorporate the iconic artworks of Gustav Klimt into runway pieces. The result was a memorable lineup of opulent garments that played with sharp tailoring and Klimt's rich color palettes.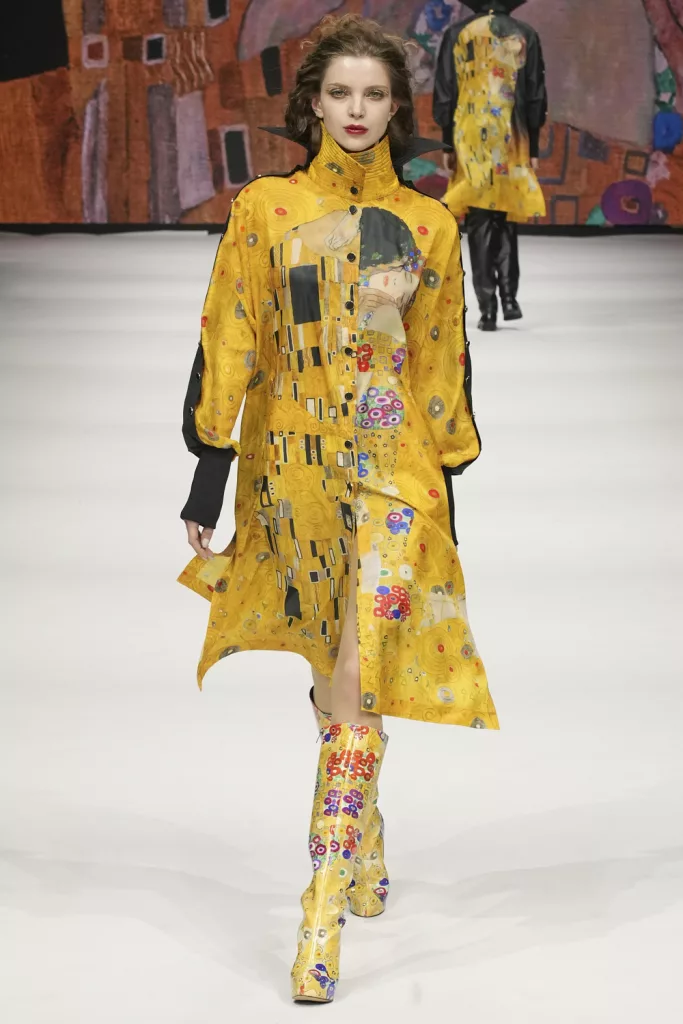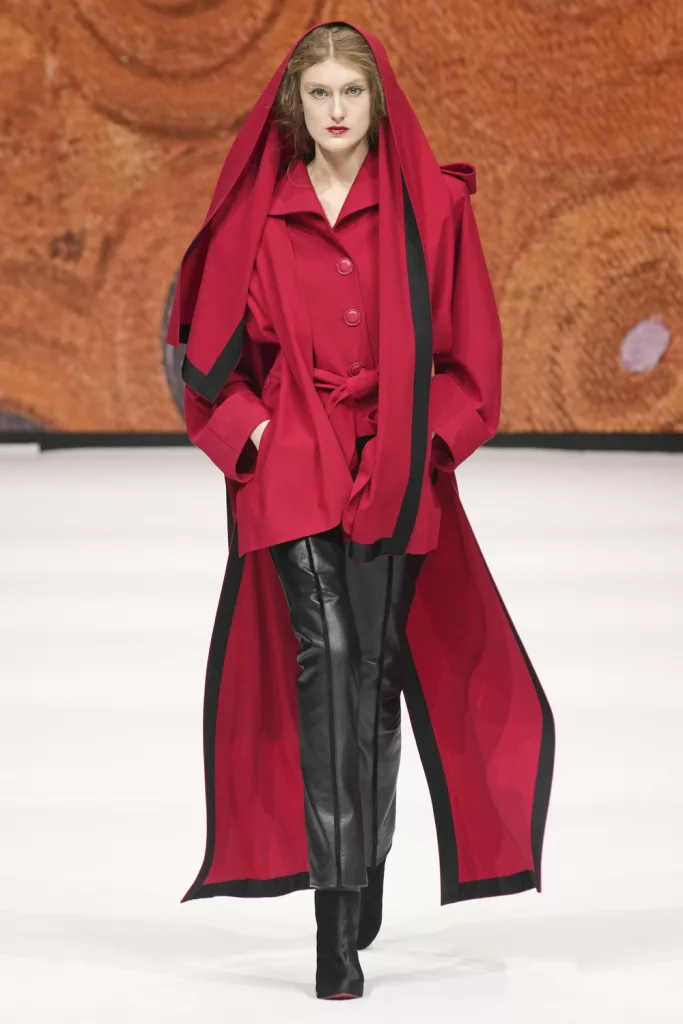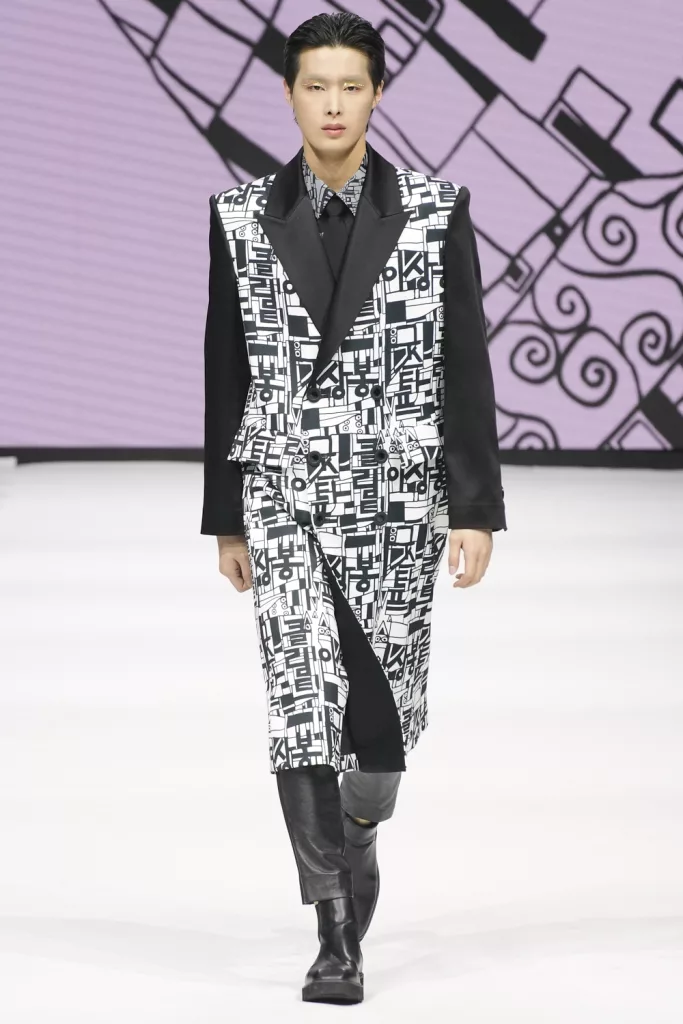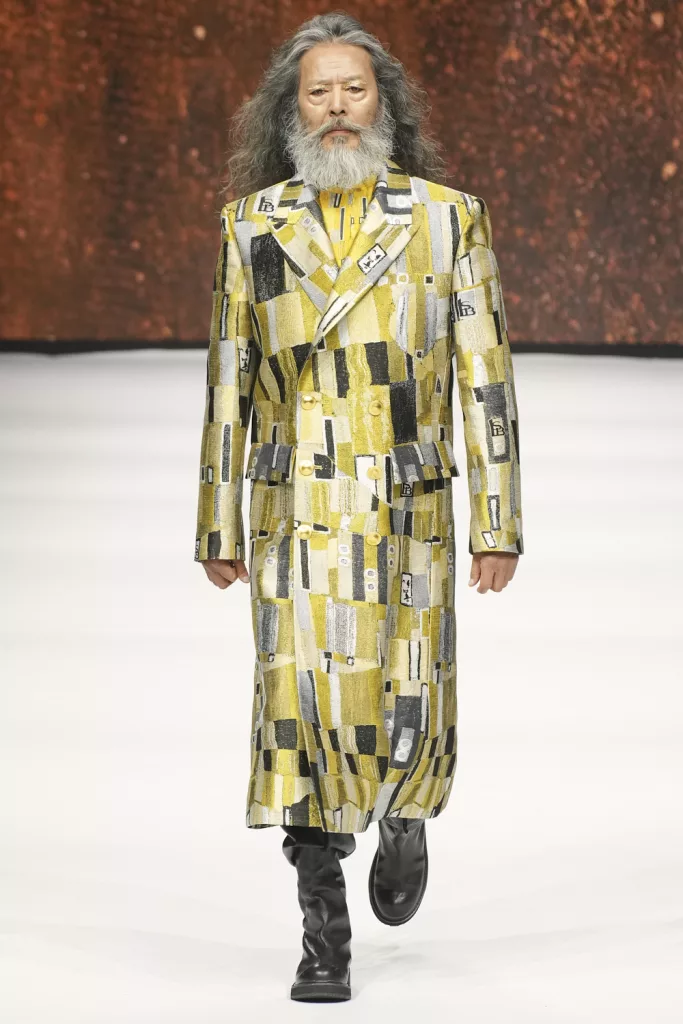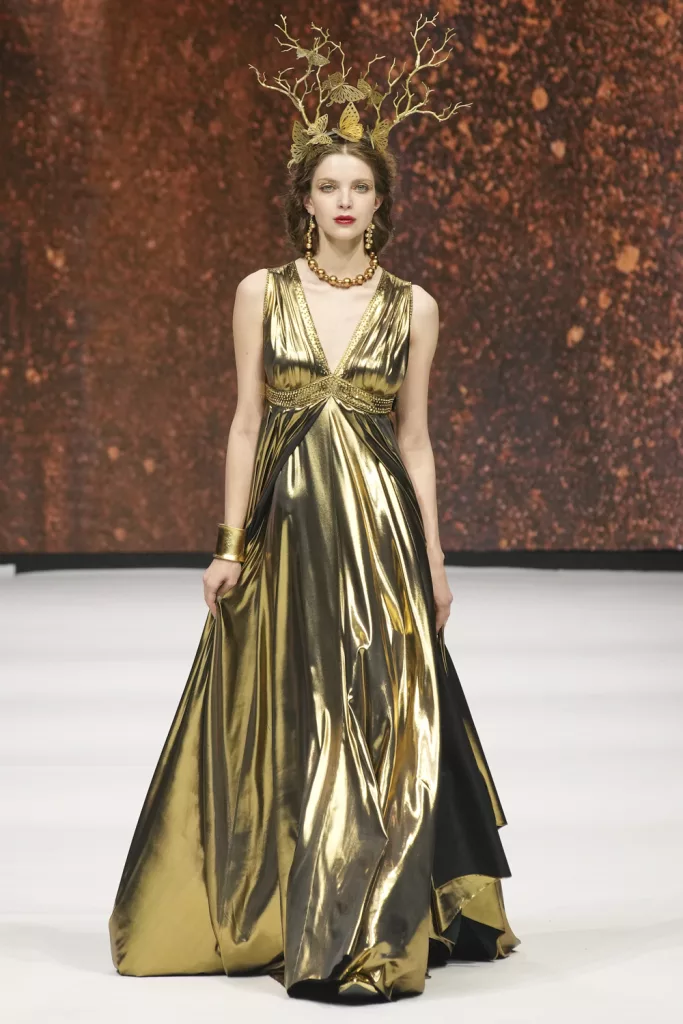 Seoul Fashion Week Fall Winter 2023. Photos courtesy of Lie Sang Bong
Since its inaugural presentation in 2000, Seoul Fashion Week has served as a platform for Korean fashion brands seeking to break into the global scene. Now organized by the Seoul Metropolitan Government, the event is looking to further consolidate the city's position as one of the most promising fashion hubs in Asia.
Want to read more about the latest Fashion Weeks? Read the highlights of Dubai Fashion Week here.