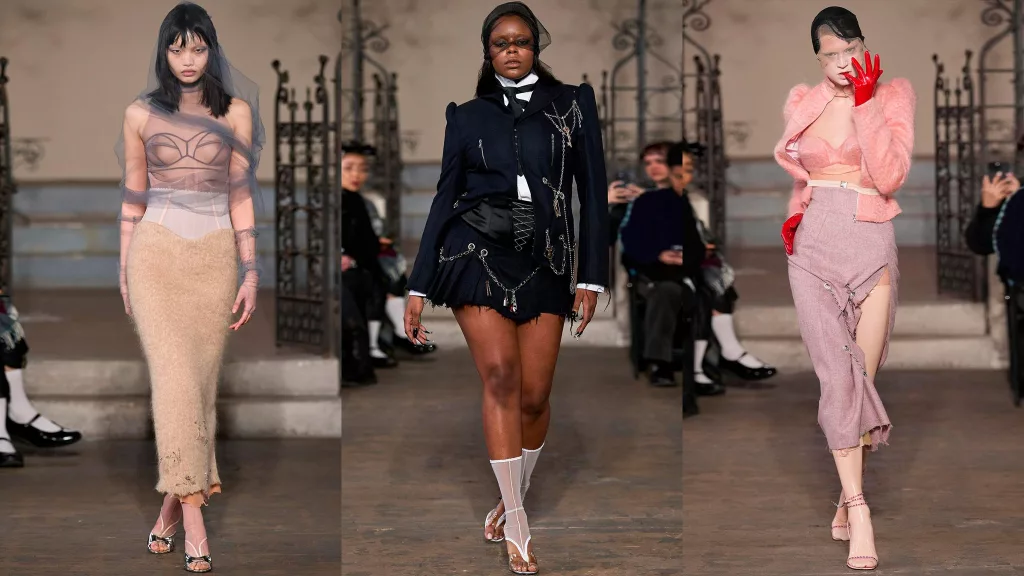 Known as the rising queen of dark fashion, Dilara Findikoglu is a London-based designer that has made waves in the fashion scene. The creative has risen to fame for her extraordinary presentations, where she turns runways into outspoken performance art. Recently, the designer wowed the crowds of London Fashion Week with her Fall Winter 2023 collection, "No Man's Territory," which was introduced in an unexpected show, filled with theatrics and emotions.
Catching Up on Findikoglu
Turkish-British designer Dilara Findikoglu pursued her studies in fashion at Central Saint Martins. Finding inspiration in Islamic mythology, and horror films, as well as industry legends such as Vivienne Westwood, Findikoglu has grown to be recognized for her structured garments with notes of deconstructivism. The designer is also known for her use of fashion as a platform to spread messages and advocate for social issues.
After consistently presenting groundbreaking collections, the young designer became a nominee for the LVMH Prize in 2017, quickly winning over the hearts of fashion icons and A-listers likes Paloma Elsesser, Doja Cat, and Bella Hadid. The latter, in particular, is a big fan of Findikoglu's designs, sporting her pieces to events like the MET Gala Afterparty. Lady Gaga also has shown support for Findikoglu, wearing a custom look, and labeling her as "the designer of the future."
Behind the Show
To set the mood for her next hoorah, Findikoglu presented her Fall Winter 2023 collection at the newly reformed Heritage and Arts Center in London's Holy Trinity Bow Church. The church was originally built in 1894 but it was refurbished in 2019 after being stagnant since 1984. Upon restoration, the location has become a community center for creative endeavors. The church-located arts center was a no-brainer set choice for a Findikoglu runway. After all, she has a well-documented tendency to create gothic and victorian-toned collections.
Always one to use her voice for change, guests to the presentation were also given a letter as show notes. In the note, the designer talked about how, as a Turkish woman herself, she felt a sense of responsibility to use her voice to help victims of the earthquakes that hit Turkey and Syria and included a QR code for guests to scan and donate to.
Just like any Dilara Findikoglu collection, "Not A Man's Territory" questions and reflects on the power women have over their own bodies. "Why men have way too much control over our bodies? What should a woman wear? How much is too much?" she asked in her show notes. "I have been trying to find answers, and I hid my own answer in my own collection." Inspired by the many cases of oppression, harassment, and misconduct throughout recent news and history, the designer visualized a character for every look she sent down the runway.
Getting to know The Characters
A familiar character that Findikoglu brought into her celebration of women's liberation was Marilyn Monroe. With the film Blonde (2022) becoming one of the most talked about topics on the internet, the designer felt outraged at how the starlet's portrayal has been warped and configured to the point where the actress herself was a victim in her own story. In Findikoglu's world, Marilyn becomes the hero, reclaiming her body as something she owns and has total control of. To visualize this, "Marilyn's Ghost" walked in dressed in a dark grey bustier with a corsetted beige skirt and a barely-there veil sweeping down her face. On the runway, she halted and pulled down her skirt to reveal just about nothing, she then kicked the clothes away before continuing her firm strut. In Findikoglu's story, only Marlyn gets to undress herself, owning this state of nude and walking away victoriously.
Inspired by the ongoing protests in Iran, Findikoglu also created looks that served as a symbol of support and respect for the women fighting for freedom. In Look 27, titled "Dance of Revolution," a model timidly walked out covered in a black shawl. She stopped at a point and raised one hand delicately before dropping the black cloth to reveal a provocative outfit complete with corsetry and chains dangling down the model's body. After unveiling the look underneath, she sauntered confidently around the runway. The designer added a harness made out of braids, as a nod to the Iranian women cutting their hair as a form of protest.
Another woman Findikoglu honored in her collection was the actress Paz de la Huerta, who became a voice in the #MeToo movement when she filed a lawsuit against Harvey Weinstein. Called the "Typical Flower," the look sported by the actress aimed to go against the stereotypes that label women as pure, untouched "flowers" instead of humans. There was also a look titled the "Dark Phoenix," where a model donned a structured black dress adorned with feathers, reminiscent of the Black Swan.
To close it all off, the designer paid tribute to Joan of Arc, who was brutally burnt to death unfairly accused of a long list of crimes, including "dressing as a man." Findikoglu challenged, "She's coming back for revenge, dressed as she wants. And she has her knives." For the closing look a model strutted into the room in an armor-like gown that featured a high neck, padded shoulders, and cinched waist. Countless victorian knives were sewn onto the base, alluding to Joan's iconic sword. The model walked fiercely, staring viciously at the audience around her, not shying away from eye contact and leaving an intense impression on the audience.
An Unforgettable Manifesto
"Not A Man's Territory" showcased Findikoglu's strengths in an elevated way. Fetishwear elements such as latex, lace, and leather reigned prominent throughout the collection and the designer continued to turn objects of restraint into garments of empowerment. Through several looks that paid homage to notable women from the past and present, she achieved a poignant but powerful presentation. However, even those unfamiliar with the stories behind the looks could feel the intense confidence and strength oozing out of every model. Likewise, as each model embodied a character, the audience could easily find the red string tying all the looks together.
With her latest collection, Dilara Findikoglu continues to advocate and support causes she believes in through unique, unexpected shows that leave the industry wondering and anticipating what next jaw-dropping presentation she'll have up her sleeve.
Want to read more fashion content? Check out EnVi's recap of GCDS's fashion show in Milan, here.