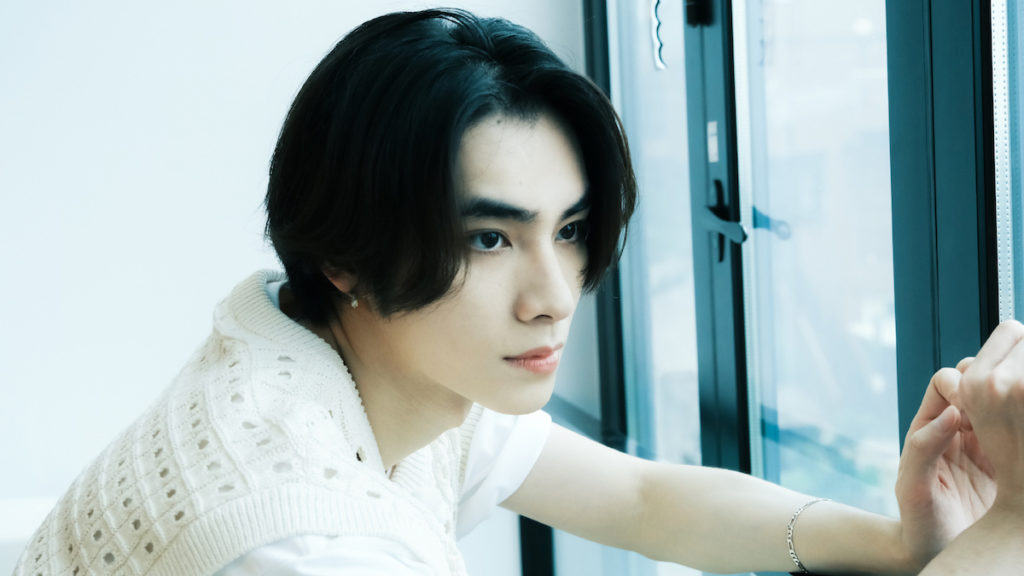 Destined for the stage from a young age, WayV's main vocalist Xiaojun has showcased his captivating vocals since his 2019 debut. Focusing on Vocal Pop throughout highschool and studying in the musical department at the Shanghai Theater Academy, Xiaojun has gained a well-rounded musical education that has transcended into his performances as an idol. 
Competing on Chinese survival show X-Fire in 2015, he presented his own compositions and captured the audience with his talents. Though eliminated from the show, he later auditioned for SM Entertainment in 2017. Within less than a year, Xiaojun made his debut as part of SM Rookies along WayV's Hendery and YangYang. Making their official group debut on January 17, 2019 with their EP The Vision, WayV dropped a Chinese version of the NCT song "Regular."
As his vocals effortlessly convey the emotions of each song, Xiaojun utilizes his theater background in his idol career. With a range of versatility and vocal tones, it is no wonder that fans have fallen for both Xiaojun and his voice. Known as Kuanggongs, Xiaojun's fans have taken their admiration to Twitter to highlight his vocals. To celebrate Xiaojun's birthday, EnVi revisits some of his best vocal moments since debut.
[PLAY V] Sam Kim – "Who Are You" Cover
In Xiaojun's first installment in WayV's Play V series where the members showcase their musical talents, he covered Sam Kim's "Who Are You." Xiaojun offers an emotional cover of the song, which was released as an OST for Guardian: The Lonely and Great God in 2016. Embracing listeners, he belts out high notes nearing the end of the song. Passionately conveying the lyrics "Even when many sunsets pass by/I won't forget you/I will cherish everything from your words to your expressions," Xiaojun captures the essence of longing solely through vocals.
[PLAY V] EXO – "For Life" Cover
Taking on a cover of EXO's song "For Life," Xiaojun surprised fans with another installment in the Play V series. Known for his clear and 'disney-like' vocals among WayZenNis (WayV's fans), Xiaojun brings forward an astounding cover of the song. Though it may have been difficult to cover his senior's song, he conquered it with ease. Bringing Xiaojun back to an empty theater, a spotlight is shined highlighting his presence within the video. With the lyrics, "Never gonna let you go/Giving you my heart and soul/I'll be with you for life," he delivers each line with perfect yearning for unconditional permanence.
Lee Mujin Service "Thinking Out Loud" Cover
Starring on Episode 15 of Lee Mujin Service, Xiaojun covered Ed Sheeran's "Thinking Out Loud." The live-content series follows singer-songwriter Lee Mujin as he features vocalists across the Korean music industry and provides memorable performances with each episode. The song's upbeat melodic tune allowed Xiaojun to experiment with a new vocal tone alongside Mujin, and his passionate live vocals easily capture listeners. With effortless vocal runs towards the end of the cover, Xiaojun does not fail to impress.
"Unbreakable Love" With NCT DREAM's Renjun
Collaborating with NCT DREAM's main vocalist Renjun, the duo surprised fans with a heart-wrenching cover of Eric Chou's "Unbreakable Love." Though Renjun begins the song, Xiaojun comes in the second half. Known for his soulful ballad covers, he encapsulates the message of the song. Melting listeners' hearts with sentimental lyrics he sings, "You give me an unbreakable love of my life/Every message from you makes my heart beat faster." The harmonies between Renjun and Xiaojun at the end of the song blend seamlessly to create a comforting space. Throughout this cover, Xiaojun's vocals are sure to relieve listeners' worries for a bit.
"Back To You" Live with WayV's Kun
Kick starting WayV's duo comebacks last summer, Kun and Xiaojun released "Back To You" with an English and Chinese version. Performing the English version on it's Live, they were accompanied with a live band to further enhance the song's emotions. Backed by light instrumentals, Xiaojun once again comes through with his impressive vocals. Enhancing Kun's soft vocal tone, Xiaojun hits every note with ease throughout the entirety of the song.
"Hate Everything" and "My Everything" 24 Relay Cam
In NCT 2020's group relay cams, Xiaojun was tasked with covering the 4-5 AM timeslot. While fighting the urge to sleep, Xiaojun engages in activities to keep himself awake. From reading to baking an oreo cake, he keeps himself entertained. Sitting outside his dorm, Xiaojun quietly covers G-Soul's "Hate Everything" and NCT U's "My Everything." Working hard to avoid waking any member, Xiaojun nonetheless delivered amazing covers of both songs. With mellow vocals, it appears as if he is warmly sending viewers to sleep as well.
NCT 2020 "Resonance" MAMA Stage
During the 2020 Mnet Asian Music Awards (MAMA), the entirety of NCT collaborated for the RESONANCE stage, where each member showcased their charms. With "Resonance" being a mash-up between each title track for the era, Xiaojun got the opportunity to shine several times throughout the performance. Gaining attention for his bridge in "Make A Wish," Xiaojun became the center of the performance following their collective dance break. With his iconic line, "Your energy it links me up/Feel this feeling now" he creates a break amidst the heavy instrumentals. Attracting many fans with this performance, Xiaojun once again draws listeners in through his alluring vocals.
[Rainbow V] Kun and Xiaojun "Red Bean" Cover
As part of WayV's "Rainbow V" series, where each member got to creatively direct their own personal projects, Kun and Xiaojun collaborated for a cover of Khalil Fong's "Red Bean." With dream-like shots of both members, this cover is sure to relax viewers. Accompanying the cover with a guitar, Xiaojun and Kun perform amidst the Seoul skyline for a nighttime cover of the song. The simplicity of the song alongside basic chord progressions draws out Xiaojun's soothing vocals.
Honorable Mentions
Though this list contains only a fraction of Xiaojun's top vocal moments, there are many honorable mentions throughout WayV's discography and solo contents. Coming in with high notes in Moonwalk, Turn Back Time, and Face To Face Xiaojun shows off his versatility through each experimental genre. Aside from ballads and title tracks, he dives into more playful songs with a cheerful vocal tone in Dream Launch, Good Time, and Let Me Love You. 
Regardless of language, Xiaojun has also shown his ability to adapt with English songs such as Love Talk (English Version), Miracle, and Bad Alive (English Version). Additionally, without failure, Xiaojun displays his strengths in NCT U songs such as Round and Round, Good Night, and Universe (Let's Play Ball).
Due to Xiaojun's versatility to adapt and experiment with vocal genres, he has proven himself to be one of NCT's best vocalists. Though WayV's future group activities are yet to be announced, WayZenNis will, without question, continue to be astounded by Xiaojun's vocals every step of the way. 
To keep up with Xiaojun's activities, be sure to follow his Instagram and Weibo, and WayV's Instagram, Twitter, and Youtube!
Interested in WayV member activities? Check out our coverage on Winwin's upcoming drama 25 Hours of Love here!