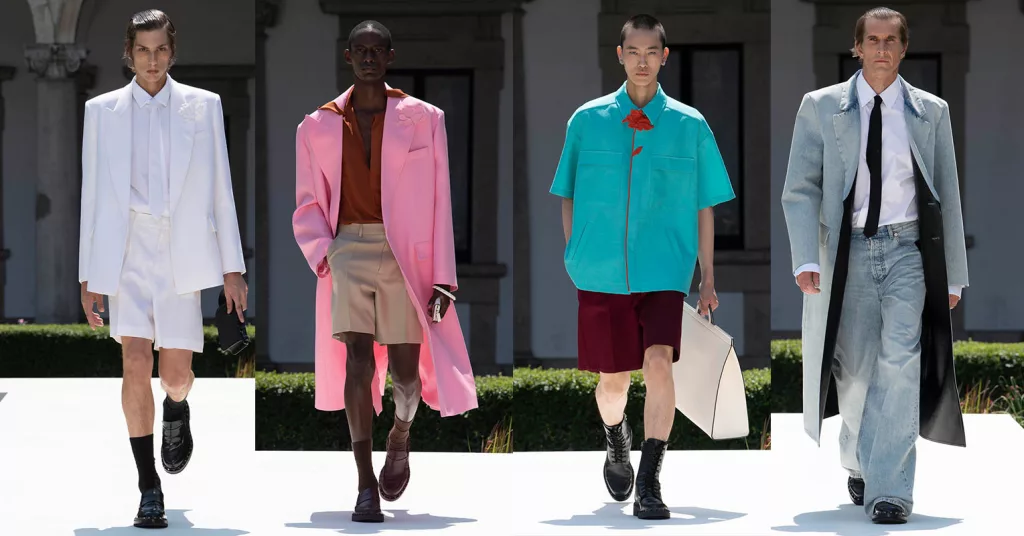 Milan Men's Fashion Week kicked off on a strong note on June 16, with Valentino unveiling its Spring Summer 2023 collection. The show challenged notions of elegance, walking the line between casual wear and formal attire. Under the guide of Creative Director Pierpaolo Piccioli, the presentation — which marked Valentino's menswear return in a separate show — welcomed a new season of men's luxury fashion.
Valentino: The Narratives
Valentino's show was held at the Università degli Studi, one of Milan's architectural heritage sites. The crisp and angular runway was set in the middle of the campus field with models entering the platform through the school hallways. As models strutted down the runway, singer and producer Labrinth stood in the center offering a performance that further enhanced the show's atmosphere. Titled "The Narratives," the collection was an explorative venture where Piccioli reconsidered men's definitions for today — "the life of men, the life of their clothes, the reality of masculinity now." The creative director looked back on the house codes and reinterpreted Valentino's values for a new generation. 
To commemorate the awaited return of the brand's menswear-focused presentations, Valentino made a donation to the Diritto Allo Studio to fund student scholarships in the next academic year. Likewise, in an eco-friendly move, the house also announced the investment in a green area in Milan's city center and its commitment to reusing materials from this presentation's runway in the future. 
The Looks
The show opened with a lineup of crisp black and white pieces that nodded at classic menswear essentials — blazers, white button-up shirts, and black ties. However, Piccioli added a few statement pieces such as a full-length black coat with a singular flower embellishment on the side. Following a selection of all-white looks, a model dressed in a hot pink outfit welcomed a new chapter of the show. In this segment, Piccioli juxtaposed pink hues with sharp and boxy menswear classics.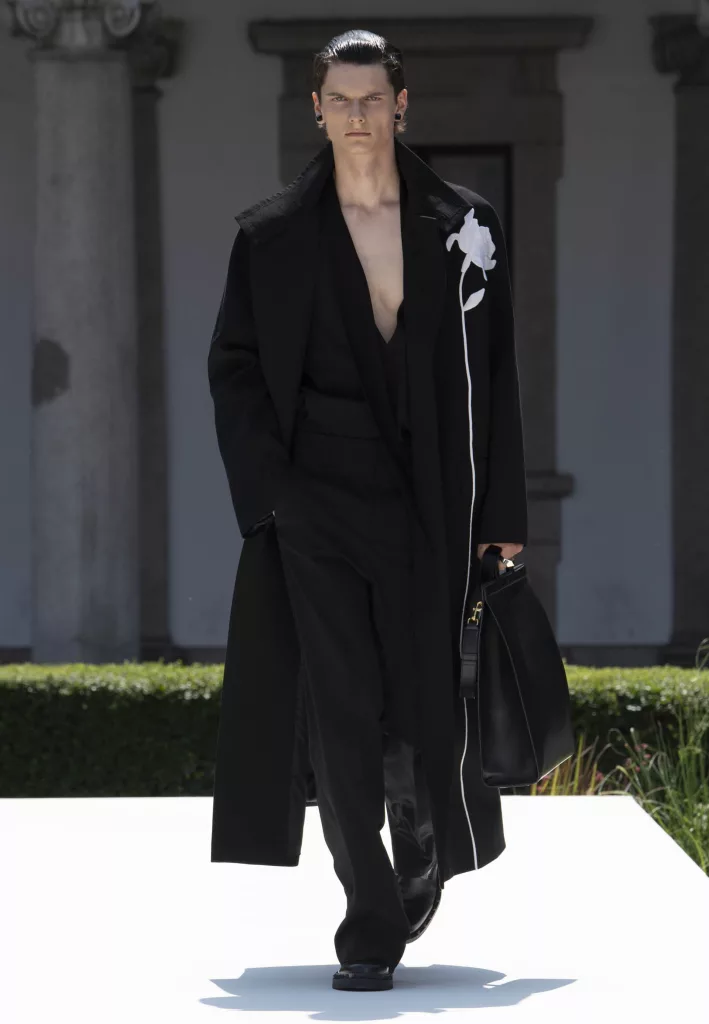 Then, the pink ensembles gradually transitioned into rich shades of green and blue, showcasing Valentino's more playful side. Scaled-up floral prints were splayed out across a contrasting color palette to bestow a sense of casual novelty to the collection. As the show came to an end, the bright saturated colors faded out into monochrome tones once again. This time, pops of denim were present. A highlight from the final looks was a long denim coat with leather lining and structured shoulders — an interesting play between a laid-back material with a formal silhouette. This exploration of blurring the lines between refined tailoring and daily wear pieces was a common theme throughout the collection.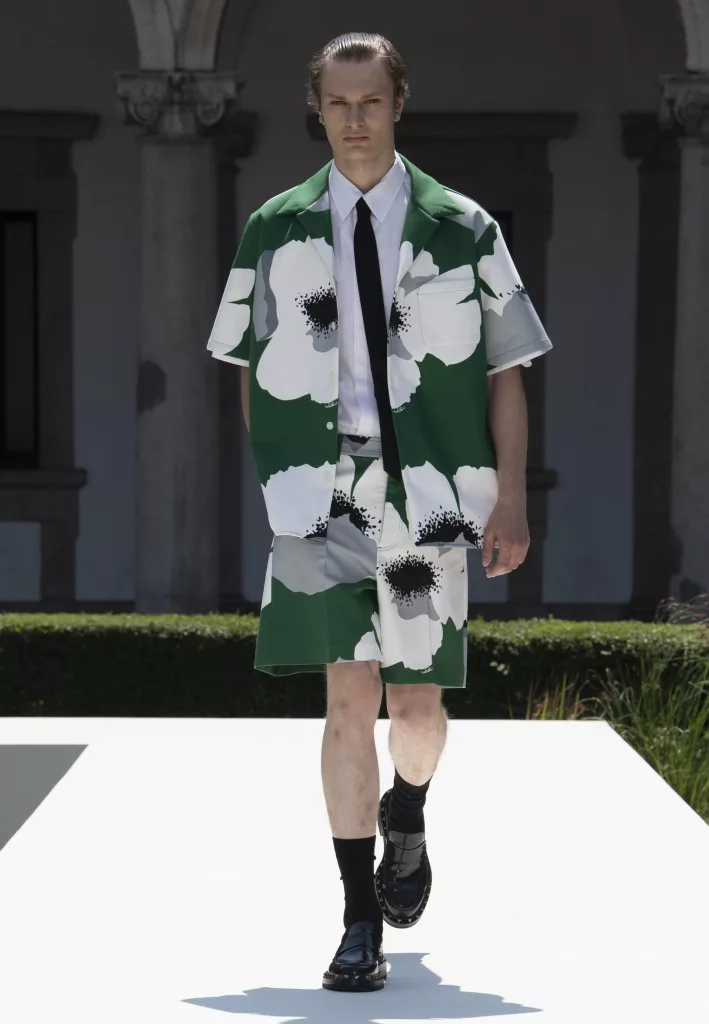 The Guests
Valentino's show welcomed Men's Fashion Week with an elite list of global attendees. Zeroing in on the fashion influence brought by Asian stars, Valentino invited guests from across the continent. Japanese model and actor Shuzo wore a chic monochromatic two-piece. Taupe trousers and a blazer of the same color were paired with a mesh shirt and pearl necklace to bring season-appropriate levity to the outfit. Similarly, Thai singer Jeff Satur adjusted to the summer weather with a pair of formal black shorts. His white collared shirt and black tie epitomized timeless charm, but the singer adapted the classic suit with a modern edge through the use of accessories — a striking white trench coat, matching statement sunglasses, and black combat boots.
Chinese actor Yang Yang, the brand's newest ambassador, made a bold entrance in a red button-up and suit jacket combo. The vivid hue has been associated with Valentino for years, most notably through the brand's extension, REDValentino. Yang Yang's take on the strong color included black suit pants and a tie featuring the Valentino "V" emblem, creating a combination worthy of any Fashion Week front row.
Adding another collection to his portfolio, Piccioli continues to showcase a novel and fun take on fine tailoring while keeping the poise and sophistication associated with Valentino. In times where masculinity has been reinterpreted and re-examined in different ways, the brand's Spring Summer 2024 collection reworked clothing conventions, proving that tailoring — once upon a time a signifier of power and success — can now be sported by anyone looking to express themselves.  
Want to read more about this season's runways? Read about Saint Laurent's Spring/Summer 24 Show here!