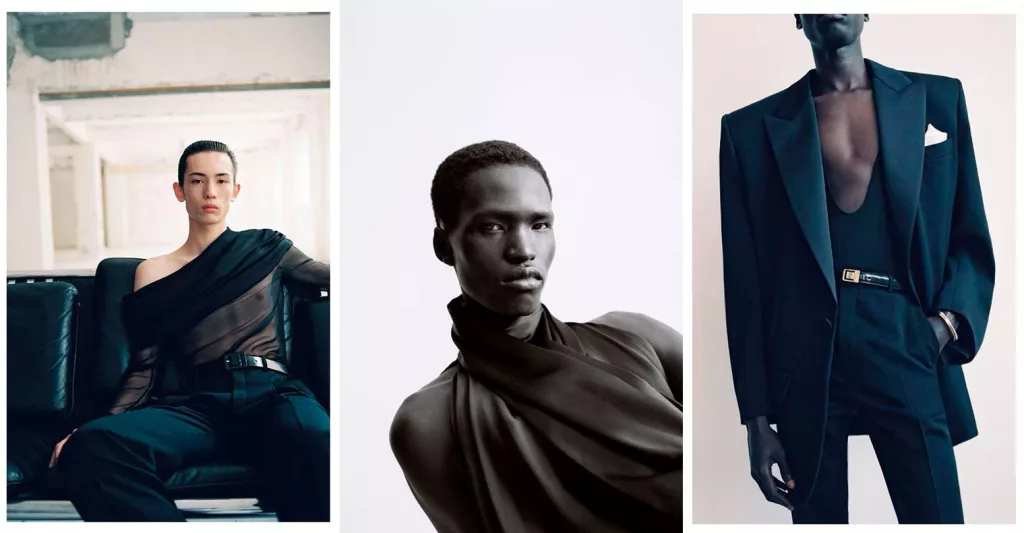 Saint Laurent took to Berlin to present its Spring Summer 2024 collection. In 2022, the French brand made a stopover in a desert in Marrakech to introduce its Spring Summer 2023 menswear collection. Then, earlier this year, the fashion house staged its menswear show at the Bourse de Commerce in Paris. Keeping this spirit of exploration alive, the brand unveiled Anthony Vaccarello's latest effort in Germany, with models that paraded down the runway wearing refinedly-tailored pieces that explored fluid masculinity.
The Set
The event took place in Berlin's Neue Nationalgalerie, a sharp architectural piece built with glass from top to bottom. The venue gives an illusion of open space with glass walls that allow visitors to see the outdoor surroundings. The building was designed by the renowned Ludwig Mies van der Rohe, one of the key pioneers of the modernist movement. In 1968, the building was conceived as a gallery to showcase 20th-century art. The museum closed in 2015 and underwent a five-year refurbishing, reopening in 2021. Although the venue is still used to hold art exhibitions, it has also been the home to the Rimowa Design Prize, as well as events organized by Giorgio Armani and Hugo Boss.
The Collection
Prior to the show, the brand teased the show's concept by posting clips of Un Chand d'Amour, a French film from the 1950s that explored the dangerous lengths people would go to for love. Fittingly, Vacarello also dropped the collection's title, "Each Man Kills the Things He Loves," another film reference that pointed to Querelle, an arthouse movie adaptation of Jean Genet's Querelle de Brest. With Vacarello diving deep into film and references that dissected and challenged the concept of masculinity, it wasn't any wonder that the collection was a play on sensual, androgynous dressing.
Backstage, Vaccarello revealed that he began developing the collection by imagining how his Fall 2023 womenswear collection would look worn by men. From that starting point, he took prominent elements from the preceding collection — exaggerated boxy shoulders juxtaposed with body-hugging bottoms, low-cut necklines, scarves draping down to the floor — and found the middle ground between office wear and nightlife-worthy pieces. Of course, the collection also featured sensuous edgy pieces that have become essential to any Vaccarello production, including see-through chiffon shirts, halter tops, and shoulder-bearing blouses.
The Highlights
The show opened with a black suit with strong padded shoulders that became a focal silhouette throughout the collection. Satin trenches and pinstripe blazers sent down the runway, all retained the same shape. In true Saint Laurent fashion, this play of proportion was explored in black and white. However, this monochromatic palette remained novel as Vaccarello toyed with textiles such as satin and chiffon. In between looks, pops of brown and earth tones also made an appearance along with leopard print pieces that added a touch of extravagance and glam-rock grandiose.
With androgyny at the core of the collection, Vaccarello explored femininity and masculinity by experimenting with various necklines. Crossed halters, sleeveless high-necks, sensual off-shoulders, and asymmetrical one-shoulders were all present throughout the show. The designer also added touches of femininity that contrasted with the rigid and sharp tailoring, bestowing fluidity to the looks.
The Guestlist
Just like every season, Saint Laurent's star-studded front row raised high expectations. One highly anticipated guest was SEVENTEEN's Jeonghan, who donned a black-two piece suit paired with a white sheer tee with a plunging neckline, paired with black heeled boots. Perfectly aligned with Vacarello's Saint Laurent, the singer oozed off elegant rockstar charm.  
Also in attendance was GOT7's Mark Tuan, who wore a floor-length maroon leather trench, straight out of the brand's Spring 2023 womenswear collection. Meanwhile, NCT's Ten sported a sheer hooded top from Fall 2023. Japanese actor, Kento Yamazaki, also continued his runway attendance streak, dressed in a sleek black velvet top with a draping V-neck, paired with black high-waist pants from the Spring 2023 menswear collection. Kiko Mizuhara made an appearance, looking effortlessly chic in an oversized velvet suit jacket with a matching pencil skirt. 
Taiwanese singer Yoga Lin and Chinese actor Joseph Zeng (Zeng Shunxi) also turned heads at the event.  Lin sported a long velvet coat over a chiffon tie shirt while Zeng posed in a structured wool coat layered atop a satin wrap shirt. Longtime friends and muses of the French Maison were also present at the event. Iris Law, Charlotte Gainsbourg, Anja Rubik, Kitty Chicha, Manu Ríos, and more graced Neue Nationalgalerie with their presence. 
"When you leave the show, I want you to have the silhouette clearly in your head," said Vaccarello tying together the show's venue with the boxy runway looks. Attuned to the French label's origins, but brimming with edgy elegance and cohesivity, Saint Laurent's Spring Summer 2024 collection was the perfect exploration of modern-day masculinity. In his latest effort for the French brand, Anthony Vaccarello proved yet again that his vision remains clear and coherent.
Interested in more fashion content? Check out the names to note from LASALLE's 2023 graduate fashion show here.