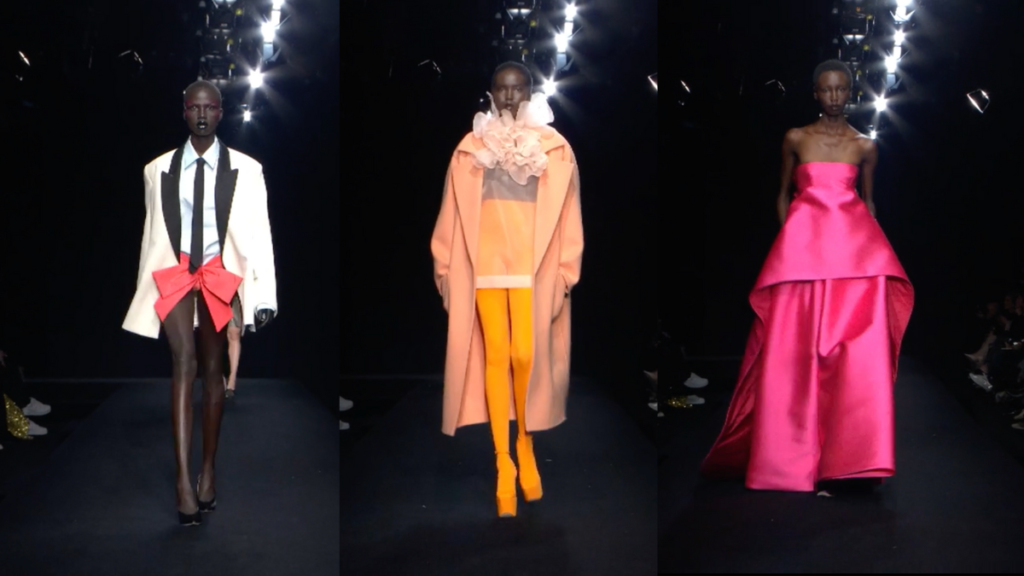 Valentino presented "Le Club Couture," its Haute Couture 2023 collection, on January 25 as part of Paris Couture Fashion Week. Creative Director Pierpaolo Piccioli, who has been with the Maison for more than 20 years, is credited with helping to skyrocket Valentino's success by modernizing the brand. In line with the collection's theme, Piccioli showed his newest creations at Paris' Bridge Club.
The Collection
As its name implies, "Le Club Couture" is an homage to the whimsical, explorative nature of club fashion. Through his use of bold colors, detailed cut-outs, and textured appliques, Piccioli juxtaposed nightlife with high fashion.
View this post on Instagram
As a brand, Valentino is no stranger to exploring bright hues in its clothing. "Le Club Couture" furthers the brand's icon status, unabashedly embracing neon pink, green, and orange. Piccioli also re-visited hot pink, Valentino's 2022 color of choice, which helped lead the reign of the barbiecore aesthetic last year. Lighter shades of pink and purple, soft neutral tones, royal blue, and classic black and white pieces furthered the collection.
With the help of bows and bedazzled shorts, "Le Club Couture" showed extensive amounts of skin — models' legs were on display as they strutted the runway in micro shorts and skirts. Tights with polka dots, jewels, and flower patterns contrasted starkly with circular cut-outs. The grandiosity of the collection was felt in its gowns, whose silhouettes and textures ranged from a form-fitting one-shoulder slit gown adorned with ruffles to a geometric approach to a mermaid silhouette in the iconic Rosso Valentino. 
The Guests
As one of fashion's most recognized brands, Valentino's clientele includes A-list celebrities from every branch of stardom. Guests at the showing of "Le Club Couture" arrived in on-theme Valentino pieces, living up to the visual prowess associated with Couture Week. 
Law Roach, Mohammed Al Turki, Sofia Carson, Araya A. Hargate and Marina Ruy Barbosa attend the Valentino Haute Couture. pic.twitter.com/9KbtA4ijpC

— @21metgala (@21metgala) January 25, 2023
Actress Anne Hathaway, whose presence in the fashion industry has been increasingly acknowledged over the past few years, shined in a glimmering leopard print mini dress and matching tights. To complete the monochromatic look, Hathaway wore leopard print heels and carried a leopard print clutch.
Anne Hathaway attends the Valentino Haute Couture. pic.twitter.com/U8UGOB2Sp0

— @21metgala (@21metgala) January 25, 2023
SUGA of K-pop group BTS, whose Valentino ambassadorship was announced this month, made an appearance dressed in a monochromatic terracotta ensemble. Keeping the look simple by limiting accessorizing to a necklace, SUGA's outfit was clean, sophisticated, and fitting of the global superstar's Paris Fashion Week debut.
Suga attends the Valentino Haute Couture. pic.twitter.com/paCGTBg3PO

— @21metgala (@21metgala) January 25, 2023
Multi-talented rapper Doja Cat has been present at several shows this week — her innovative approach to fashion and beauty has been receiving major attention. For Valentino's showing of "Le Club Couture," Doja Cat opted for an all-black, playfully skin-baring look: an oversized, floor-length coat on top of a black mini skirt and bralette set paired with a gleaming, bejewelled hand-shaped handbag.
Doja Cat attends the Valentino Haute Couture. pic.twitter.com/clq9UqtZCp

— @21metgala (@21metgala) January 25, 2023
Valentino's humanistic approach to modern consumers, under the guidance of Pierpaolo Piccili, has pushed the Maison to the forefront of fashion's trends. The label's Haute Couture 2023 collection is another innovative and buzz-worthy line. 
Want to see more of Couture Fashion Week? Read about Miss Sohee's debut at Paris Couture Week here!