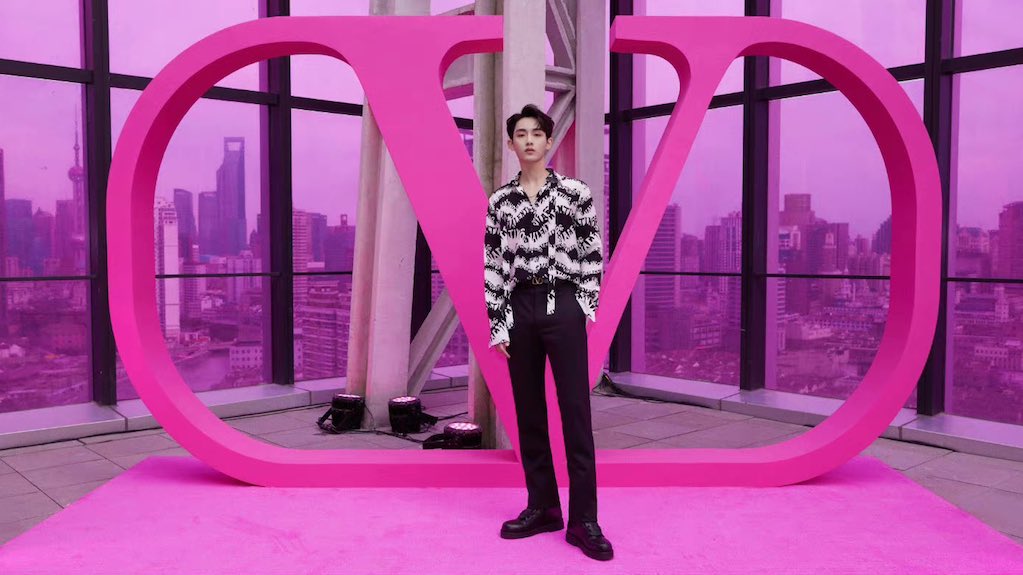 We might be getting ahead of ourselves, but evidence suggests that pink is the color of the season. Italian fashion house Valentino is never one to fall behind the trends, so they painted their latest Fall-Winter collection all pink. Though the show took place amidst Paris Fashion Week, Asian stars turned up remotely to the event. Among the international names were Korean actress Son Yejin—Valentino's brand ambassador—and newest house friend, WinWin.
Valentino's Pink PP
On March 6, fashion brand Valentino presented its Fall-Winter 2022 collection in Paris. Amply titled "Pink PP"—the PP stands for Pierpaolo Piccioli—the runway opened up with a moving statement that reminded all the attendants of the "privilege of freedom." As one might expect from its name, Valentino's collection was an ode to pink. Traditional craftsmanship embraced modernity, through tailored pieces mixed with flowy fabrics, sequins, and platform boots.
Leading up to the unveiling of "Pink PP," it was revealed that Valentino had partnered up with artist and novelist Douglas Coupland, who created a collectible invitation dedicated to the color pink. With phrases of the likes of "I MISS MY PRE-INTERNET BRAIN" or "MODERNITY IS ETERNAL," the show's invitation consisted of a pencil, booklet, and a manifesto created by Coupland.
Valentino Goes to Asia
While Valentino's show in Paris counted with the presence of stars such as Zendaya, Vanessa Hudgens, and Maluma, the brand also took "Pink PP"—digitally—to Shanghai. The Italian house recreated a first row for their VIP guests and invited internauts to join the livestream of the show. Celebrities like rapper Tizzy T, actor Patrick Shih, and singer Kyra Z were in attendance. On the other hand, to celebrate the collection reveal, Korean brand ambassador Son Yejin also posted a picture with her "Pink PP" invitation on Instagram.
Valentino's New Friend
Embracing his growing friendship with Valentino, Chinese superstar WinWin stole the spotlight at the brand's Shanghai event. Dressed in a black and white ensemble, the NCT and WayV member stepped out on the pink carpet looking confident. For the occasion, the singer wore a silk shirt with the Waves Valentino pattern, a print from the brand's 1970 archive, combined with black skinny pants. WinWin accessorized minimally wearing a VLogo Signature belt.
This is not the first time the star attended one of the Valentino events. In fact, the singer and actor has previously partnered with the Italian brand for a fashion film promoting "Tiger 1967," with brand ambassador, Lay. Likewise, WinWin has ​​repped many of the house's pieces at events and red carpets.
WinWin's Fashion Endeavors
Pretty much, any move WinWin makes is worthy of a headline. However, in the past year, the singer has steadily made a name for himself in the fashion industry. ​​A VIP at several fashion gatherings, the star has risen as a sought-after endorser of brands such as LOEWE, Louis Vuitton, and CELINE. WinWin has also fronted fashion magazines and lent his image for fashion campaigns. In his role as Longines' official ambassador, earlier this year the idol offered a sneak peek of his acting skills by starring in a short film for the Lunar New Year. Like we've previously stated, "If fashion is the name of the game, WinWin keeps winning!"
Interested in more WinWin coverage? Recap WinWin's fashion activities in 2021 here and read everything about his upcoming acting debut here.