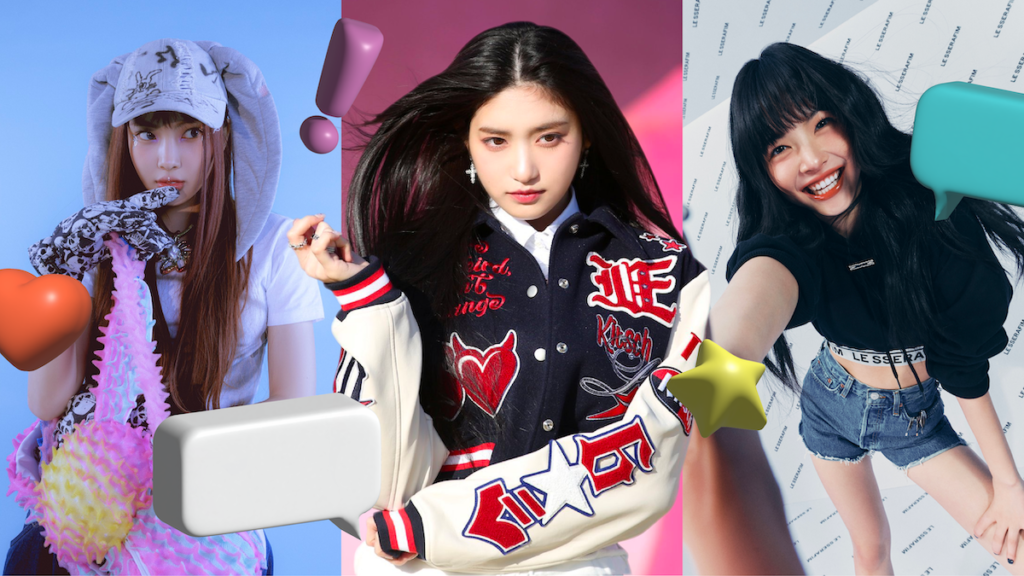 Gen Z this and Gen Z that! What does it even mean to be from Generation Z anyway? Besides being born between the late 1990s and the early 2010s, there are a great number of features that set this vibrant generational group apart. EnVi is here to break down some of the most defining characteristics of Gen Z with the help of iconic moments from K-pop idols that will have you saying, "That's so Gen Z!"
Maknaes on Top
One thing that's sure to make Gen Z idols stand out is their average age. The generation is said to have started in 1997. Recently, we've seen a surge of idols born in the latter half of the 2000s making up a good chunk of Gen Z. In particular, the maknaes, or youngest members, of top fourth-generation girl groups IVE, NewJeans, and LE SSERAFIM have been the center of attention for their ages, among other star qualities. IVE's Leeseo was born in 2007, NewJeans' Hyein in 2008, and LE SSERAFIM's Eunchae in 2006.
While these idols are young in both age and seniority, they've been making big waves in the K-pop scene. Hyein is the youngest ambassador of the luxury brand Louis Vuitton, while Eunchae is an MC for KBS' music show Music Bank. Leeseo has also begun high school at the renowned performing arts academy Hanlim Multi Art School, all while embarking on fan concerts with fellow IVE members. Because of their youth, only time will tell how much more success these Gen Z idols and their same-aged peers will reap in the near future.
Open Minds
Gen Z is known for being quite outspoken about different social issues, and the idols from this generation are no different from their peers. By speaking out and bringing awareness to important societal issues, the latest generation of idols proudly uses their platforms to speak up for what they believe in. Their actions have sparked healthier and more honest conversations, both with their fans and across the entertainment industry as well.
Yunjin of LE SSERAFIM
LE SSERAFIM's Yunjin said it best in a video that teased her debut: she "want[s] to change the idol industry." The 21-year-old vocalist is seen by fans as an ideal Gen Z idol due to her support for the LGBTQ+ community. Her self-composed song "I ≠ DOLL" has also allowed her to share her experiences with fans and honest opinions on the idol industry. Through her self-written lyrics, she rejects being commodified and succumbing to unrealistic standards from toxic fans. 
Kevin of THE BOYZ
Taking pride in his fan-given title of "mental health keeper," Kevin of THE BOYZ is one of many Gen Z idols actively working to dismantle the negative stigma surrounding mental health. Aside from bringing great joy to fans with his sense of humor, creative art skills, and pleasant vocals, Kevin utilizes his prominent social media presence to discuss emotional and mental well-being with fans. According to the British Columbia Schizophrenia Society, "sharing experiences online helps form a sense of community…providing comfort in the shared understanding and empathy of mental health struggles." This idea is seen through fans who find great solace in Kevin's openness about the subject. Perhaps one of the most heartfelt pieces of advice he shared was over a live video stream when he told fans, "It's okay to be in a state where you feel not well. It's okay to feel sad. It's okay to cry. There's nothing wrong with that. We're all human." Through his supportive nature and honest statements, Kevin is a great example of how Gen Z strives to make the world a safe space where people can prioritize mental health. 
Vernon of SEVENTEEN
After dropping out of school in eighth grade, Vernon of SEVENTEEN went on to become a successful rapper, singer, songwriter, producer, and – of course – idol in a renowned K-pop group. From creating introspective tracks, such as "Kidult" and "Black Eye," music is just the beginning of understanding the layers that contribute to his accepting nature. Besides being a living example that anyone can follow their dreams and succeed, he also brings comfort to his fans by speaking out on important topics. In a 2019 interview for Yahoo Entertainment's BUILD series, a fan told SEVENTEEN that the LGBTQ+ community finds love and support through the group's music. Vernon responded by saying, "​​I hope we can make a better place together, for everybody, for all equal rights," which resonated with CARATs, SEVENTEEN's fans, everywhere. He continued to share his empathetic demeanor with the world by joining Mindset by DIVE Studios, where he had his own limited podcast series. This allowed him to open up about his own personal mindset while also sharing motivational advice, truly highlighting his open-mindedness.
For The Meme Of It All
Across borders, Gen Z has created contemporary internet slang, otherwise known as "memes." The term itself was introduced in 1976 by Richard Dawkins in relation to science, but since then, the cultural importance of memes has taken on a variety of forms. Whether it be an idea, skill, phrase, or photo, it coincides with a trait synonymous with Gen Z internet culture. According to Forbes, "unlike other generations, the last dark decades weren't just experiences, but fully integrated – defining how millions now feel, sense and communicate." Rewriting the dictionary one meme at a time, Gen Z effectively shares messages that transcend language barriers with just photos. As the culture evolves with current internet slang and humor, one thing remains consistent – Gen Z will not slow down their usage of memes anytime soon.
Ningning of aespa
Aespa's Ningning has become the face of memes for Gen Z fans across K-pop spaces on social media. Since her debut, she has gone viral for her carefree nature and "meme-able" moments during group promotional activities. Particularly, her expressions during "Next Level" radio shows provided reaction meme content. In fact, other idols such as NCT's Jisung were seen re-enacting the expression on fancalls. Additionally, making a cameo with SNSD's Hyoyeon for Boa's "Forgive Me" challenge, Ningning went viral for her acting skills. Sporting sunglasses and being held back by Hyoyeon, she became yet another meme amongst fans. Her expressions across SNS platforms have become popular amongst fans as well. Denying MYs, fans of aespa, comments with a firm "no" to the viral question "Ningning will you marry me?" on Instagram Live and providing entertaining responses to Q&As, she represents the blunt nature of Gen Z.  
Beomgyu of TOMORROW X TOGETHER
One of the most amusing facets of Gen Z's meme culture and humor is its playfully snarky nature. Beomgyu of TOMORROW X TOGETHER is delightfully boisterous and admirably blunt. The group's visual is always seen cracking jokes, oftentimes becoming an icon for fan reactions. But it is his expressive demeanor that leaves MOAs, the fans of TXT, looking forward to more content from the group. From silly TikToks to falling asleep everywhere to just being relatable, Beomgyu radiates the bold yet humorous energy of Gen Z. MOAs have even gone as far to declare him as "the most relatable Gen Z idol," supporting their claim with an array of content from live streams, interviews, and interactions with fans on Weverse. It is Beomgyu's relatability that truly allows fans who are also a part of Gen Z to recognize the comedic qualities of their generational group within his actions.
Keeho of P1Harmony
"Meme-material" among Gen Z idols cannot go without mentioning P1Harmony's Keeho. Growing up in Canada, the idol has not shied away from becoming an icon of popular internet culture. Alongside his outstanding vocals, he also remains representative of Gen Z meme culture. Seen lip-syncing to popular songs such as "Have Mercy" by Chloe Bailey and "Beauty and a Beat" by Justin Bieber and Nicki Minaj, Keeho has shown his chaotic nature to both P1ECE's, fans of P1Harmony, and K-pop fans alike. Appealing to the masses, his humorous responses on Weverse are guaranteed to make Gen Z laugh. User 뭉뭉 posted last year, "KEEHO SEND HELP I'M SOLVING [A] MATH PROBLEM," to which he responded, "You are definitely asking the wrong person!!!" Not just a one-time occurrence, Keeho continues to embody the humorous aspects of Gen Z.  
Fashion Forward
When it comes to fashion, Gen Z wears their heart on their sleeves. They understand the importance of conscious consumerism, choosing ethically sourced clothing, and supporting small businesses. With environmental issues like fashion overconsumption, Gen Z looks toward a sustainable future by including second-hand clothes and versatile basics in their wardrobe. Gen Z aligns themselves with brands of similar social values, supporting those who use their platform to create a better, more inclusive tomorrow.
Hongjoong of ATEEZ
For ATEEZ's leader Hongjoong, artistic innovation is the essence of his style. Hongjoong is known for his reformed fashion, transforming basic clothing items and accessories into personalized statement pieces. In the creative process, he pulls inspiration from ATEEZ's music, often incorporating their song lyrics and group concepts in the designs. He sends personal messages in his pieces as well, with the phrase, "NO 1 LIKE ME," appearing frequently in his designs. Since ATEEZ's rookie days, Hongjoong has shared his love for reforming to his fans by exhibiting his work on social media. Expressing his desire to one day open his own clothing brand, the multi-faceted leader has big dreams to conquer the fashion industry.
Jungkook of BTS
Aligning with the more open-minded social values that Gen Z holds, Jungkook of BTS is another fashion icon aware of the social impact he can make while sporting new looks. In 2019, he was recognized, along with the rest of BTS, as part of Vanity Fair's Best-Dressed list, where he gave readers his own fashion insight. The K-pop star said great style is "wearing anything you like, regardless of gender." Since then, Jungkook has gone on to wear countless unisex clothing pieces from brands that support the LGBTQ+ community to those that focus on genderless clothing. 
But clothing is just the beginning of Jungkook challenging societal gender norms. Rather than going for stereotypical "masculine" scents, the singer opts more for floral and sweet scents when it comes to perfumes. ELLE KOREA even cited him as an example to support that fragrances are, in fact, genderless. But his new hairstyle is the latest trend that has fans falling for the pop star – a voluptuous wolf cut. L'Officiel deemed the viral hairstyle as "non-binary" and that it "celebrates androgyny," something quite fitting with his previous support for gender neutrality in fashion. Continuing to push the envelope with every aspect of his fashion sense, Jungkook refuses to be bound by gendered stereotypes.
Social Butterflies
Gen Z more than ever values a sense of community. According to a senior Stanford researcher, this highly sociable generation goes out of their way to uplift others and make connections across barriers. And while Gen Z is the generation of tech-savviness, it's still widely agreed that the best way to communicate is face-to-face. In true Gen Z fashion, you can't stop these idols from socializing no matter the environment.
Felix of Stray Kids
Stray Kids' Felix seems to make friends everywhere he goes, as seen by his interactions with idols across many groups like NCT DREAM's Chenle, TOMORROW X TOGETHER's Yeonjun, and ENHYPEN's Jake. In an interview with NME, Stray Kids' leader Bang Chan noted that he and Felix "take care" of each other, especially when the two were trainees before debut. Like many Gen Z who build supportive environments, Felix passes that same care to anyone he meets. The group's resident sunshine is known to brighten a room by sharing homemade brownies in music show waiting rooms and even during the highly competitive survival show Kingdom: Legendary War (2021).
Shotaro of SM Entertainment
Former NCT member Shotaro also has a magnetic personality and is quick to open up in new settings. The dancer often seeks out in-person connections, and according to Hendery of WayV, has no problem "just showing up" to hang out and strengthen his bonds with members of NCT. With barely three years in the industry, Shotaro has made himself a familiar face amongst other groups. Fans have spotted the performer with his signature smile having playful conversations with Stray Kids' Han, P1Harmony's Jongseob and members of ATEEZ at the 2022 Idol Star Athletics Championships. Fans will have many more interactions to look forward to as Shotaro redebuts in SM Entertainment's anticipated boy group. 
A Bit of Everything
So who is Generation Z after all? Gen Z is made up of the go-getters, the self-starters, the fashion-conscious, the open-minded, the humorous, and the sociable. Generation Z continues to break the mold crafted by previous generations to make way for a world they want to see, and they are a force to be reckoned with. The next time you interact with someone from the vivacious generational group, you may recognize characteristics that set them apart and think to yourself, "That's so Gen Z!"
Want more Gen Z idols? Learn about boy group THE NEW SIX here!