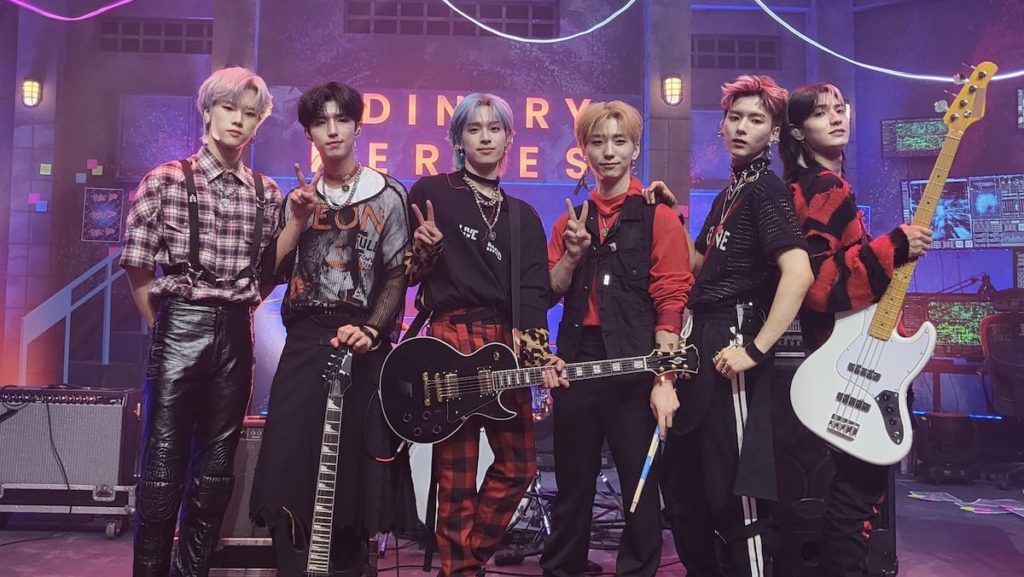 Xdinary Heroes returned for the first time since their debut on July 20 with their first EP Hello, world!. Testing new waters and exploring their range, the rookie rockers took on the world of rock and have started to establish their place.
Hello, world!
When Xdinary Heroes debuted in December 2021 with "Happy Death Day," nobody knew what to expect. Day6, their company seniors, had experimented with different types of rock for years, and Xdinary Heroes' debut was no different. Combining bright visuals and a rebellious rock sound with a creepy edge, their debut left a strong impression. After promoting for several months, however, the band went quiet.
Returning in April 2022 with a new logo and the promise of a comeback, Xdinary Heroes began building hype for their first comeback and newest EP Hello, world!. Posting practice updates and lots of selfies, the rookie band shared with fans and newcomers alike the build-up to their comeback.
Xdinary Spies
Though "Happy Death Day" featured more distorted vocals and seemingly EDM inspired elements, "Test Me" returns to a more traditional rock sound, but with a heroic twist. The music video centers around the members hijacking a virtual battle of the bands competition to get rid of a hacker who rigged the competition. As members sneak around like super spies, it's hard to miss the Mission: Impossible musical influences in the track. With the funky bassline and echoing guitars backing up the vocals, the track becomes a rock-action theme song for the band.
Though the title song itself was already very different, the visuals of "Test Me" took inspiration from other branches of rock not featured in "Happy Death Day." Throughout the music video, Gun-il, Jungsu, Gaon, O.de, Jun Han, and Jooyeon switch between different styles as if they're in rocker disguises. When in their hideout, their outfits are grungier, featuring aspects of punk and some emo aesthetics. In a train, they're in red jumpsuits (one reference among many to rock legends throughout the video), and when on the virtual stage their outfits seem to be glam-rock inspired.
With new musical and stylistic influences in their first comeback, Xdinary Heroes have shown a new side in their young career. Though "Test Me" alone shows their growth, the complete EP adds new dimensions and direction to the young rockers.
Rebellious B-sides
The b-sides on Hello, world! have a clear through line that makes the EP come together as a cohesive work. "Knock Out" shares the same thematic vibe of a heist with "Test Me," making a seamless transition into the rest of the EP. And while "Sucker Punch" doesn't feel like a part of the Xdinary Heroes Heist Universe, it connects to "Knock Out" both in title and teen rebellion vibes. One notable feature in "Sucker Punch" is that it sounds like a modern rendition of a pop-punk song from the aughts. Reminiscent of many iconic pop-punk songs of the time, it even features the iconic "na na na's" often used in those songs.
On the latter half of the EP, the songs are vastly different from where the album started, but the transitions flow so well it's hard to notice. "Strawberry Cake" continues the pop-punk/pop-rock sound of the aughts heard in "Sucker Punch." With a shocking hook converse to the soft visuals of imagining "strawberry cake," this song has it all, including a gritty guitar breakdown at the ending.
Aside from the "Test Me – Inst.," "Pirates" closes out the EP. The marching beat, short horn blasts, and Pirates of the Caribbean-esque harpsichord ensure that the listener knows it's almost time to say goodbye to the world that Xdinary Heroes have created in Hello, world!. Like a rebel pirate leaving a port, the track encourages listeners to be pirates themselves. Whether a pirate or an extraordinary hero, the message of rebellion flows strongly throughout Hello, world!.
Making Everyone Heroes
With their debut and first comeback under their belt, Xdinary Heroes are off to a flying start. Through venturing into different styles of rock, they've already grown in a short amount of time. Notably, every song on Hello, world! features writing credits of several members, with every member contributing to the album. With members involved in the creative process from such an early stage in their careers, Xdinary Heroes are sure to continue growing.
At the end of each music video, Xdinary Heroes remind viewers of their message that "WE ARE ALL HEROES." Taking inspiration from other legendary music scores, bands, and styles, Xdinary Heroes are making their own way as heroes in the canon of rock bands—both in South Korea and internationally.
Xdinary Heroes' first EP Hello, world! is available on all streaming platforms and can be found on Spotify and Apple Music.
Interested in reading more about rock and roll? Read our article about the genre's roots here!