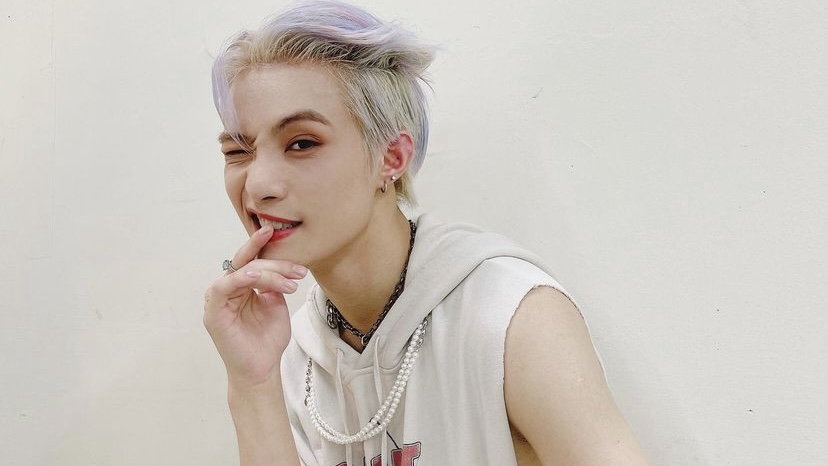 Even though WayV have been dormant as a group, that does not mean that each member hasn't been busy. In August, YangYang debuted in the duo WayV TEN & YANGYANG with the refreshing pop song "Low Low." He also teamed up with headwear brand ANEMONE to create his own ANEMONE x YangYang cap. In his most recent post on Instagram and Weibo, the WayV rapper flaunted the collaboration hat with a simple collection of images showing off his outfit of the day, OOTD. He invited fans to do the same with his caption, "#OOTDwithYY SHOW ME YOUR OOTD." 
View this post on Instagram
Teasing the #OOTD Challenge
YangYang initially shared that he was going to have a challenge on August 17. In a fun set of images, YangYang displayed his collaboration cap on his own head and then on WayV's youngest cat, Leon. He wrote, "Looking forward to all ur fire outfits #OOTDwithYY."  He also hashtagged the post as "coming_soon." 
View this post on Instagram
Now, after a month and a half, he has finally opened his social media challenge, promoting his collaboration with ANEMONE. For this challenge, fans must create their own look using his cap. He will then select the ten trendiest looks among the submissions.  
The #YangYangPrint
In the behind-the-scenes video, YangYang explained the inspiration behind his design. He enjoys street style and hip hop and wanted to marry that with a more vintage look. Hence why his cap is denim with minor accents.  
YangYang's take on street style is very apparent in his photos he posted for the OOTD challenge. He donned his denim cap with a simple white shirt, grey hoodie, and black ripped jeans. He topped off his look with a pop of color using his blue NIKE x Travis Scott Air Jordans. 
While the look is not overtly flashy, it stands out as part of YangYang's lowkey style. In many of his posts, the WayV rapper can be seen adorning oversized shirts and hoodies. YangYang has even joked that he has so many hoodies that he can open an exhibition for them on Weibo. He is also known to be a sneakerhead, owning up to his shoe obsession on multiple occasions. 
Dipping His Toes In Fashion
From Vogue Korea to MAPS and LEON Young China Magazine, YangYang has been featured in various photoshoots with WayV. The group was also ambassadors for SKECHERS sneakers. 
However, YangYang's first solo appearance came earlier this year. In February, the young rapper made his presence known in the fashion realm with a cameo in the Jarret Showcase at New York Fashion Week. 
View this post on Instagram
Then, in March, YangYang, along with WayV members Ten, Hendery, Kun, and Xiaojun, attended the Insert Fashion Awards. The group performed their title track "Kick Back" and announced nominees for the "Fashionable Youth" award.
YangYang's collaboration with ANEMONE marks YangYang's next move. 
The Fan Challenge Takes Off
After YangYang's post, fans began filling the hashtag with images of themselves with and without the cap. The hashtag has over 500 posts on Instagram.
View this post on Instagram
When the challenge was first announced in August, YangYang received support from some of his members. Ten wore the cap on a short dance video with his dancing to their duo debut song, "Low Low." 
[OFFICIAL/VIDEO] 210819 #TEN's Instagram story update

"LOWLOW x YANGYANG HAT#OOTDwithYY"

Watch full video: https://t.co/5E1u5o9Tb5#NCT #WayVhttps://t.co/NMfQmMWGIvpic.twitter.com/H22oDeIc6i

— SM_NCT (@SM_NCT_BACKUP) August 19, 2021
NCT Renjun also shared photos of himself wearing the hate on LYSN's bubble messenger. He asked fans to give YangYang's cap some love with the hashtag.
WayZenNi and NCTzen Put on their Detective Hats
While some fans took this as an opportunity to show off their style, others found the timing suspicious. His fellow NCT member and '00 liner, Shotaro, also posted a video boasting his outfits for the week. 
OOTD with Yangyang and now OOTW with shotaro 👀👀👀👀

— Z e n.◡̈ (@jaeedimples) October 2, 2021
00' line for nct u is for sure bc this #OOTD of shotaro and yangyang is clicking. so even if it doesn't make sense i will make it make sense!! 00' is coming, do u hear me🗣!!!

— cheli🐰 (@nanathesnowball) October 2, 2021
ootd with yangyang and ootw with shotaro….. 00line unit pic.twitter.com/SmrwMN2KWH

— vria (@nkmflix) October 2, 2021
What's YangYang Keeping on the 'Low Low'?
Maybe fans are blinded by their excitement for NCT and WayV's future endeavors, or perhaps YangYang's presence is teasing future promotions. Regardless YangYang will do something fans will love.  
Fans love to see YangYang expanding his reach, so this new project is a win for everyone.
Want more WayV? Read up on Hendery's first solo PlayV, "Wukong," here.
Thumbnail courtesy of SM Entertainment.