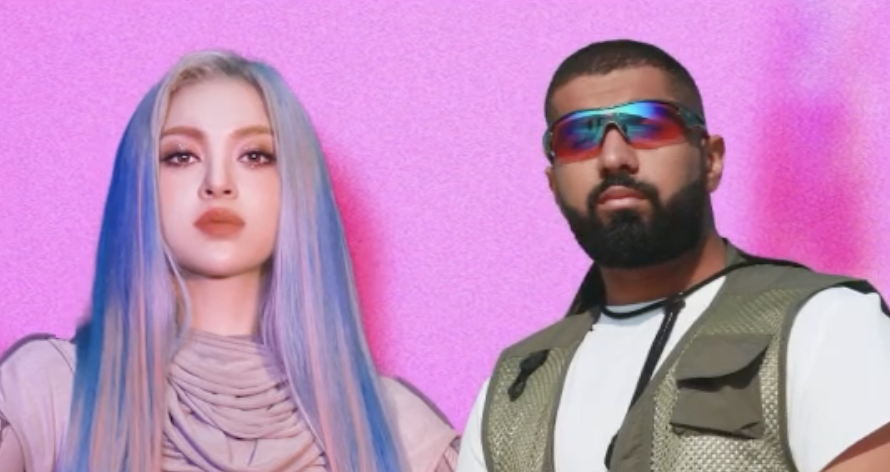 Though the need to stay at home to fight COVID-19 has made us feel worlds apart, we also realized how much music unites us. K-pop idol AleXa and Khaleeji artist Bader AlShuaibi have come together to remind us of this with their track "Is It On." The track is part of Spotify's RADAR series, launched to recognize up-and-coming artists. Both AleXa and Bader have been selected as distinguished artists for Radar Korea and Radar Middle East and North Africa (MENA) playlists respectively. 
"Is It On"
In total, this unique collaboration pulls from seven different cultures. The summer song is carried by the reggaeton flow, originating from the blending of West Indian and Latin cultures in Panama. The song also features rap verses from both Korean-American AleXa and Kuwaiti-Saudi Bader, inspired by the genre created by Black American culture. The duo sing lyrics in Korean, English, and Arabic. Within three minutes and 44 seconds, this cross-continental collaboration pulls inspiration from these influences with distinctive features of K-pop and Middle Eastern music. 
This one-of-a-kind release has the power to not only introduce audiences to these promising young artists, but also to regional genres of music. It prompts a cultural exchange of art that has been proven to have promising results. As listeners in the MENA regions continue to sing along to Korean lyrics throughout the last few years, K-pop artists and producers continue to feature distinctive sounds from the region in their music. Some of the biggest hits of K-pop have been inspired by Southwest Asian and North African (SWANA) sounds from vocals to beats to instrumentals. 
East to Mid-East
In fact, AleXa's very own "Bomb" is similar to South Asian and SWANA popular music. Other recent examples include Monsta X's "Follow" which mirrors halay, traditional folk dance music of the Anatolia region, the strings and beats of Pentagon's "Zoom Up," and Mamamoo's "AYA," complete with the thematic music video. However, MENA-infused music has been a trend in K-pop for quite some time now, often used by YG Entertainment who produced hits with SWANA elements like "Fire" by 2NE1 in 2010 and "Boombayah" by Blackpink in 2016. 
Taking the influence a step further, some groups have even sung in Arabic themselves. 3YE covered the songs "Taj" and "Slay" by Moroccon singer Manal. B.I.G. have done covers as well, but they have also released their own songs "Hello Hello (Arabic Version)" and "Illusion (Arabic Version)." 
Bringing together creatives from each side, "Is it On" has shown the power of a K-pop and SWANA collaboration. AleXa's pop-centric vocals and flow showcase the talent that comes from the K-pop industry, while Bader's deep and rhythmic voice highlights the style of the Middle East. Crossing over, AleXa sounded like a natural singing "li li li" throughout the chorus, a familiar sound to SWANA listeners, having grown up hearing the vocalizations in many popular songs from the region. Bader ventured into new territory himself with his smooth rapping, fitting the K-pop style of the song. 
Both AleXa and Bader's "Is it On" and "Echo" from Eric Nam, Armaan Malik, and DJ KSHMR, display the diversity of the continent. As K-pop continues to expand globally, highlighting these artists opens many possibilities for the music industry to become more receptive to the East and its unique sounds.
Looking for more collaborations? Check out this article about Ben&Ben's collaboration with YoungK of Day6.
Thumbnail Courtesy of  Spotify