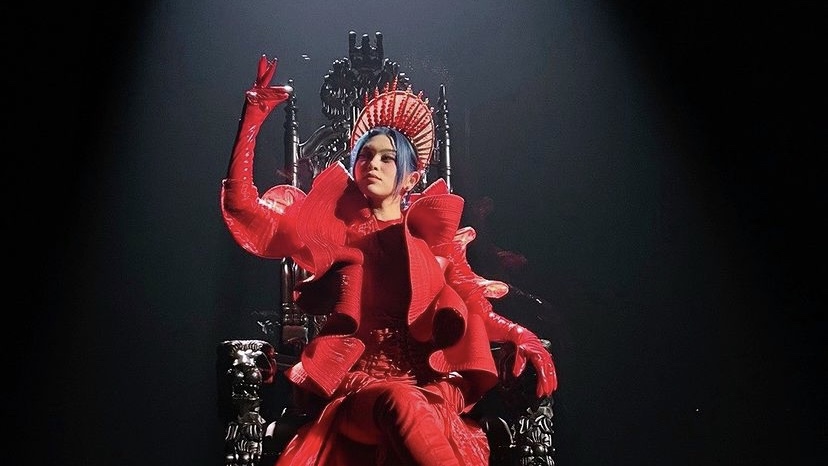 On Monday, May 9, K-pop solo act AleXa made history. Born Alexandra Christine Schneiderman, the Tulsa-native spent the last few months as a contestant representing Oklahoma on NBC's latest competition show, American Song Contest, inspired by Eurovision. AleXa became the first-ever winner in the contest with her latest single "Wonderland," which is now the "Best Original Song."
AleXa's Wonderland
AleXa initially announced her participation in the show on March 3. Since then, she has performed "Wonderland" on national television thrice: American Song Contest's week one stage, semifinals, and finale. Co-written by Albin Nordqvist, Andreas Carlsson, Cazzi Opeia, Ellen Berg, and Bekuh BOOM, "Wonderland" was AleXa's qualifying entry into American Song Contest. It discusses the mixed emotions involved in developing feelings for someone. With each stage, the Korean-American singer brought a unique performance characterizing the entanglement described in the lyrics of her dance-pop single—each stage a new level of intensity and grandiosity.
In her last iteration, she stole the show as she was lowered onto the stage on an all-red throne, adorning matching flamboyant strap-y attire. She flaunted her skills not only in representing Oklahoma, but also K-pop—electrifying hair, intense EDM production, multi-language lyrics, and all. Her live vocals and experienced dancing highlighted "Wonderland" as an anthem worthy of gaining the "Best Original Song" status.
While her on-stage persona is confident and powerful, AleXa's down-to-earth character comes out when she's not performing. After the results were announced, the singer took the stage with tears of joy. Her humble personality showed through as she thanked her staff, hosts, other participants, and those who experienced the journey with her.
This display of humility is not surprising. Prior to her final stage, AleXa gained much support from her friends and peers, including photographer David Suh, K-pop reactor JRE, KARD's Big Matthew, and more.
Making Waves in K-pop
While this was her US television debut, AleXa is not new to the camera. Even before her stint on Mnet's competition show Produce 48 in 2018, the former K-pop cover dancer gained her own mini reality show called LEGENDARY: Making of A K-pop Star after winning Soompi and CUBE Entertainment's Rising Legends talent competition. Through the show, she got a taste of the idol life by releasing a song and filming a music video.
Her past experiences only helped her gain traction for her debut in 2019, where she adopted the name AleXa to go with her action-packed mythology. In her fictional universe, AleXa is an A.I. android in a post-apocalyptic society. Her fandom, called A.I. Troopers,​​ is also part of this lore.
Though she has steadily been gaining traction and building her fanbase, she undoubtedly made waves in K-pop even before joining the song contest. In fact, AleXa was the first K-pop artist to host a fan meeting in the metaverse last fall. She was dedicated not only to creating an immersive experience through lore, but she has also taken a lead in bridging K-pop and the metaverse. Last year, she also had the opportunity to perform the national anthem for the Los Angeles Dodgers.
What's Next For The "Xtra" Singer?
AleXa's "Best Original Song" title is a huge accomplishment as she competed against people from 55 other states and territories, and she is already on her way to making more waves.
Thanks to her win, she will become the first female Korean act to perform at the Billboard Music Awards and the second K-pop artist ever to accomplish this. Additionally, "Wonderland" will be played on iHeartRadio stations.
Both K-pop fans and A.I. Troopers alike are looking forward to her upcoming historic stage on Sunday, May 15!
Want more on AleXa? Read our interview with her here.