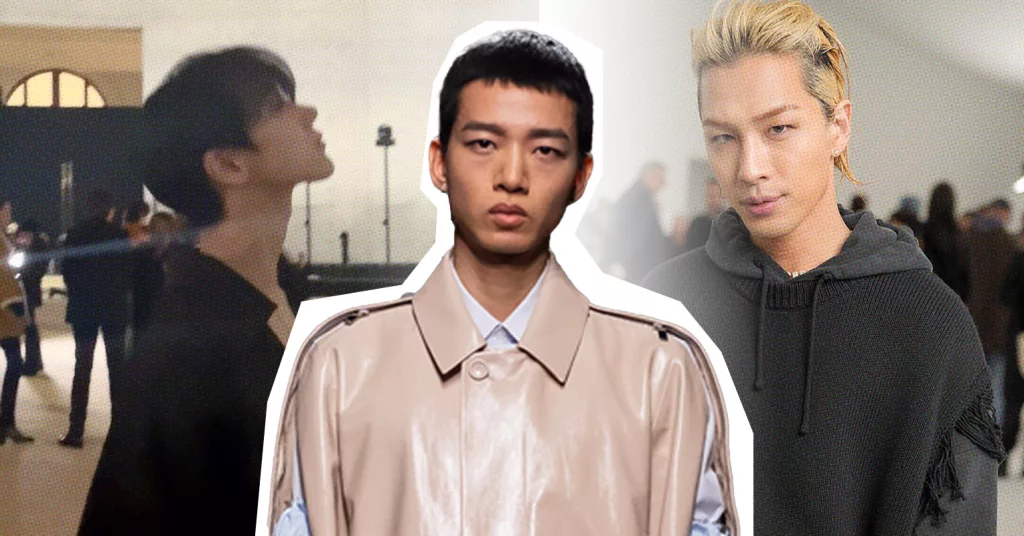 Men's Fashion Week kicked off the 2023 fashion cycle with show-stopping garments and impressive beauty trends on the runways and front rows. Attendees to shows, in particular, received global attention with their viral appearances. In cities like Paris and Milan, NCT's Ten, BIGBANG's Taeyang, and plenty of other household names joined star-studded VIP sections, dressed in their best and pioneering upcoming fashion and beauty trends. EnVi rounded up some of the most prominent beauty trends as spotted on Men's Fashion Week
Tousled Hair is the New Black
K-pop idols are making waves in the world of fashion and the most recent menswear season had no shortage of star power. To the delight of many, NCT's Ten and SEVENTEEN's Jeonghan attended Saint Laurent's Fall Winter 2023 show. Hailing from the world of K-pop, both celebrities are never ones to shy away from trying out new hairstyles and they accompanied their all-black outfits with trendy but effortless takes on hair styling.
To enhance a sexy deep V-neck jumpsuit, Ten sported natural, dewy makeup framed by a tousled, modern fringe. On the other hand, Jeonghan wore a more traditional fit with a double-breasted coat, glowy makeup, and long flowy hair. Through varied styling, this was a moment that let the versatility of the fashion house shine. Both idols proved that anyone can rock a tousled fringe to take their look from basic to red-carpet-ready.
Sunglasses are the New Makeup
The new mantra for celebrities and models at Men's Fashion Week was, "no makeup, only sunglasses." Overall, natural makeup was a mainstay all over the runways and front rows during fashion season but some of the attendees switched it up with a pair of shades. For example, Colombian reggaeton star, J Balvin, was spotted at the LOEWE menswear show wearing a pair of bold shield sunglasses with modern thick temples.
Meanwhile, Usher made an appearance at the AMI menswear show in an eye-catching, funky outfit: an oversized cream suit, a bandana, and a pair of large, transparent aviators. The R&B legend also attended the Louis Vuitton menswear show dressed in a coat adorned by a colorful Louis Vuitton logo belt and large, black sunglasses. This trend of barely-there makeup and statement glasses was seen all over the catwalks of brands such as Saint Laurent and Louis Vuitton.
Cropped Hair is the New "Clean Guy" Trend
In stark contrast to celebrities' flowy, tousled manes, models allowed their outfits to shine with minimalist hairstyles. This clean look was achieved in different ways. Crew cuts, slick middle parts, and dramatic side parts were all over the major fashion shows in Milan and Paris. To name a few, this clean, modern hairstyle was spotted at Saint Laurent, LOEWE, and Dior Men.
Slicked-back Will Never Go Out of Style
Slicked-back hair doesn't seem to ever go out of style on the runways. This season, brands like Gucci and Ludovic de Saint Sernin presented a spin on the classic hairstyle with longish hair effortlessly combed backward.
On the front row, Givenchy's newest global ambassador, Taeyang, appeared at Givenchy's menswear show in a grunge-inspired distressed hoodie and faded black jeans to match. The K-pop star's outfit was highlighted by his platinum blonde hair slicked back with a few strands going astray to give his hair a more lived-in feel. Altogether, this look embodied the edgy but unique style that Taeyang has been known for over the past decade.
The Trend Round-up
Men's Fashion Week was a great representation of where beauty is headed in 2023. Many of the trends are modern reconfigurations of popular looks from the early 2000s and the 1980s and offer easy-to-incorporate solutions to everyday style. Don't be afraid to try out these rising trends, from the tousled fringe to the pair of statement shades, and channel your favorite celebrities and models.
Want to read more about what's trending in fashion and beauty? Check out how luxury beauty has become a new territory to conquer for Asian celebrities here.