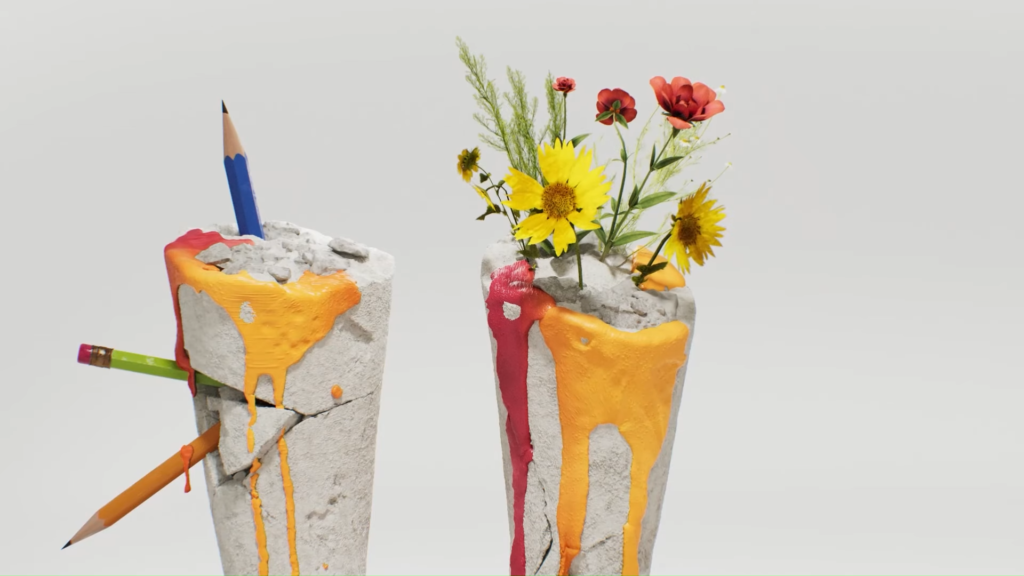 BIG Naughty returns with a new release. Collaborating with eaJ, the Korean hip-hop artist goes to "STAB" the hearts of listeners around the world. The single, along with its music video, made its appearance on November 18, 2021.
Six months after releasing his debut album Bucket List, BIG Naughty is back with a new single sure to "stab" you in the heart. Featuring eaJ, also known as Jae from DAY6, the single is a familiar yet new venture for both artists in their sounds. 
Different Paths to the Same Destination
BIG Naughty — an 18-year-old rapper and singer — was discovered on season 8 of the Korean hip-hop survival show Show Me The Money in 2019. Soon, he signed with H1GHR Music after the show ended. Building a following for his unique vocals in his sing-rap style, he continued to display his versatility as an artist on the company compilation albums Red Tape and Blue Tape released in 2020. Releasing his debut solo album Bucket List with an impressive line-up of artists, BIG Naughty began to establish his individual identity in the ever-growing Korean hip-hop world. 
eaJ is on a similar yet different journey as a fresh soloist. Debuting in the band DAY6 in 2015, eaJ has been releasing new projects and getting solo opportunities. "STAB" is the newest addition to these ventures, following his first appearance as a solo artist at 88Rising's Head In The Clouds Festival. With this newest feature on "STAB," eaJ continues to expand his portfolio and identity as a solo artist.
Going Back to "STAB"
"STAB" is a departure from what BIG Naughty has released so far. Compared to his previous releases, it takes a more angsty route. This may be due in part to his new collaboration with producer dress, who produced "STAB." Opening with a low and distorted trumpet motif, "STAB" continues with a distorted band sound throughout the song. The piano, trumpets, occasional strings, and pounding drums drive the song forward in perfect harmony. The syncopated drums create the feeling of running towards — or away from — something, and that's mirrored in the music video with BIG Naughty constantly running.
The lyrics paint a different picture from the exhilarating feeling of the sound. It is clear from the start that this song is about pain in a romantic relationship, with BIG Naughty opening the song with "What is love that my eyes are filled with tears." The chorus paints this picture perfectly. In it, BIG Naughty and eaJ nearly scream the words "I want you to stab right in my leg. Don't let me go back again to you oh." eaJ's verse, filled with his signature soaring high notes, drives home the pain he and BIG Naughty feel. He sings: "You never ever meant for us dead but the pain from your anger is stuck in my head." 
This guy is amazing in the booth. Stoked to drop this one with him!!! https://t.co/pYziOG04ou

— eaJ (@eaJPark) November 15, 2021
Next on the Bucket List
With the release of "STAB," BIG Naughty and eaJ are ready to take the next steps. It's safe to say that a new project from BIG Naughty is on the horizon. eaJ has plans to release his first full-length solo project soon in early 2022. "STAB" brings a new level of anticipation for that project.
It's also easy to hope for more collaborations between the two. Luckily for fans, they have every intention of working together again. In an Instagram live shortly after the release, BIG Naughty asked of eaJ "Promise me we'll work together again in the future," to which eaJ enthusiastically replied "I'm a man of my word. If you ask me, [I'll do] any kind of song." With new projects ahead for both of them and the release of "STAB," BIG Naughty and eaJ are ready to "stab" their way forward into everyone's hearts. Listen to "STAB" on Apple Music or Spotify!
Want to know more about eaJ? Check out our piece covering his set at Head In The Clouds!