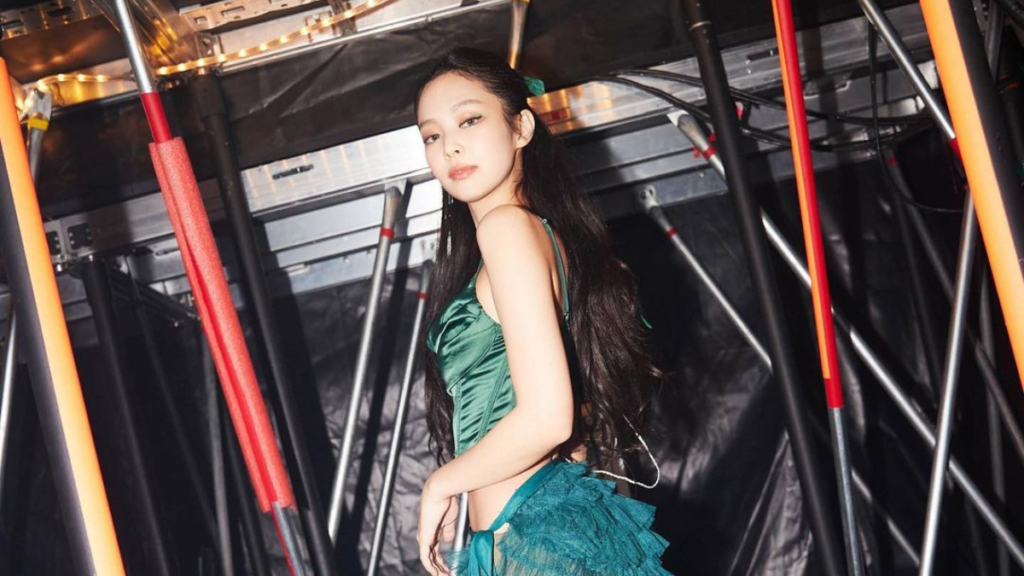 BLACKPINK's Jennie is a renowned fashion icon, admired for her sense of style and versatile looks. During the group's ongoing Born Pink tour, the idol is once again demonstrating her ability to reinvent trends. On November 14, the singer took to Instagram to share photos of a dark green ensemble that bridges athleisure and fashion, adding her spin to the balletcore craze.
Emerald Green Elegance
Jennie debuted the green outfit at BLACKPINK's show in Hamilton. The star paired a cropped corset top with a tulle wrap mini skirt and matching hair bow. The outfit's inspiration was evident in her leg warmers and bedazzled Mary Janes that hinted at the aesthetics associated with ballet gear. Jennie and her team spared no detail — even her eyelids were decorated with green graphic eyeliner.
Balletcore Inspirations
As its name implies, balletcore is a fashion trend drawing inspiration from the graceful art of ballet. Think soft colors, tulle skirts and tights, ballet flats and slippers, boleros, and loose-fitting sweaters. It's a feminine, cozy trend, perfect for any casual occasion.
Since BLACKPINK's first Born Pink show in Seoul, Jennie has worn balletcore-inspired outfits during her solo stage, where she performs an unreleased song. The general structure is a sleeveless crop top, a tulle wrap mini skirt, leg warmers, and Mary Jane shoes. It's a feminine, simple combination that reflects the nature of her performance.
Previous iterations of the look have featured similar clothing items in different colors, preserving the silhouette while creating slightly different moods. So far, we've seen red, glimmering silver, lavender lace, and blue velvet ensembles accessorized with leg warmers and short heels. The outfits complement Jennie's performance, showing her charm and flowing along with her movements.
BLACKPINK's Born Pink tour is not Jennie's first time experimenting with ballet aesthetics. During the promotions of the single "Pink Venom," Jennie and her group mates tackled the trend adding their own edgy twist with custom Mugler and La Cage fits.
As the group continues to perform around the world on their biggest tour yet, we can't wait to see more of Jennie's personal take on balletcore.
Want to read more BLACKPINK content? Check out how the group shined in Diana Couture.