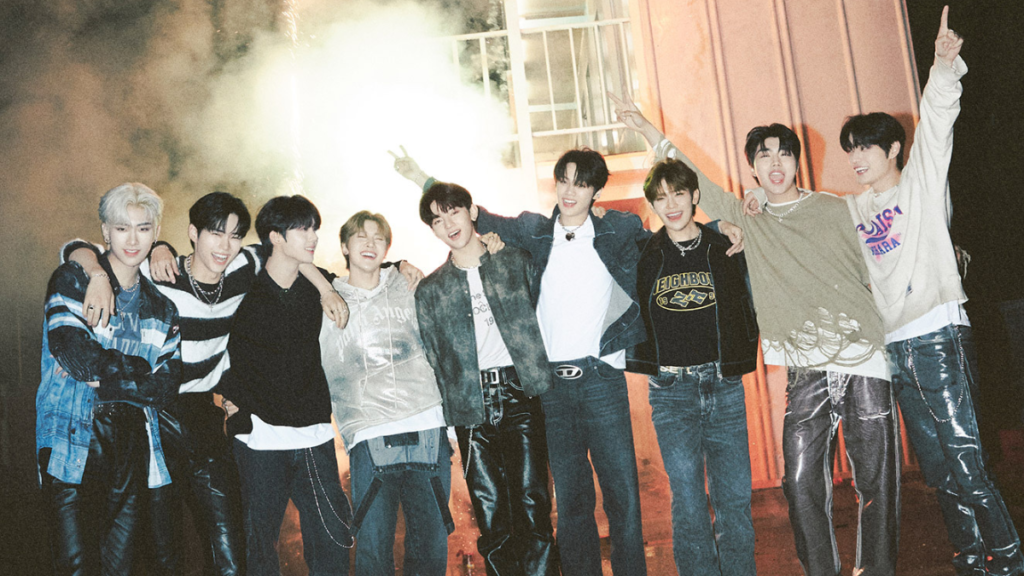 Three months following the finale of the Mnet idol survival show Boys Planet, ZEROBASEONE (ZB1) released their first mini-album titled YOUTH IN THE SHADE on July 10, 2023. Promoting under WAKEONE Entertainment, they are set for a two-and-a-half year contract under their respective companies. With six new songs emulating a bright, teen summer concept, the nine-member lineup kickstarted the fifth generation of K-pop.
Within a week into their debut, they achieved the fifth highest first-week sales in Hanteo history. Hanteo Chart has reported their debut album sold over 1 million copies within the first week. On July 18, the group achieved their first win on SBS' The Show. Moreover, this makes ZEROBASEONE the first K-pop band to have their debut album achieve the "million-seller status." Their title track "In Bloom" has also surpassed 3.55 million total streams on Spotify. It is also rising in popularity across social media platforms. 
New Kids on the Block
ZEROBASEONE is the final group formed by Mnet survival show Boys Planet. The group consists of nine members hailing from South Korea, China, and Canada. As nine members go from "zero to one," the group name signals a "glorious beginning" for them.
The group received a good amount of attention pre-debut because Boys Planet made history as the first Korean survival show to have a foreign center. Yuehua Entertainment's Zhang Hao won first place. This gave him a solo song on the album as well as the "killing parts" for their debut title track. Notably, trainees from Yuehua Entertainment make up half the group, with Korean members Kim Gyuvin and Han Yujin, as well as Chinese member Ricky.
Survival group regulars WAKEONE Entertainment (home to soloist and former IZ*ONE member Jo Yuri and Kep1er member Kim Chaehyun) and MNH Entertainment (former company of soloist and I.O.I alumnus Chungha) also get represented through Kim Taerae and Korean-Canadian Seok Matthew. Members Kim Jiwoong, Sung Hanbin, and Park Gunwook are also no strangers to the entertainment industry. They've been former idols, backup dancers, and survival show contestants respectively.
Back To A Youth Concept 
Released at the start of summer, ZEROBASEONE exudes the season in their various concept photos. From casual, darkly lit atmospheric headshots, to dream-like portraits, their concept captures the meaning of their album title YOUTH IN THE SHADE. The first track on the album "Back to ZEROBASE" opens with warm, ethereal instrumentals that build tension as the group steps into stardom. Repeating the question, "Is It Real?" they embark on their youth journeys.
With the hardships the members faced on the Mnet survival show, their determination to debut shines through this album. Though the album covers various genres throughout its six tracks, each song showcases the members strengths in various ways. In an interview with Vanity Teen, each member offered their insight to their favorite tracks on the album. Resonating with their title track "In Bloom" Kim Jiwoong said, "Everyone struggles at some point in life, but if you don't give up and keep dedicating yourself until the end, flowers will eventually bloom." 
Our Season of Hits
YOUTH IN THE SHADE marks ZEROBASEONE's plunge into the idol industry and the start of K-pop's fifth generation. Thus, there's a significant shift in their music compared to their fourth generation seniors. While fourth generation boy groups are known for their dark concepts, ZEROBASEONE brings fresh, dreamy tunes that capture the pure feelings of youth.
Title track "In Bloom" encapsulates this vision best through a smooth modern pop dance melody with drum and bass beats. The boys sing about their determination to run toward their fans, ZE_ROSE, as they currently are, regardless of their imperfections and limitations. They are also able to express their desire to grow and bloom into the best versions of themselves in their two-and-a-half year stint as a group.
Their third track on the album "New Kidz on the Block" takes listeners through their drive to the top. With hip-hop influences and bouncy instrumentals, the tune introduces ZEROBASEONE to the industry. Stepping out into the idol space amidst the unknown, they reassure themselves, "We're going straight to the top / Vibes that cannot be hidden / We're the New Kidz on the Block / Hello, rookies."
B-sides "And I" and "Our Season" continue the fresh and youthful vibe set by the first half of the mini-album. "And I" fuses pop, R&B, and funk in a tune that croons of a young boy's romantic feelings blooming. "Our Season" is an energetic pop song perfect for the summer that promises comfort and support.
Last but not least on the album track is center Zhang Hao's solo song "Always." While this is an individual effort, "Always" stays true to the heights and warmth of YOUTH IN THE SHADE. Through this song, he expresses utmost gratitude to his fans and vows to stick by them as he always has been.
Be The One with ZEROBASEONE
ZEROBASEONE is slated to hold their first concert in August at Gocheok Sky Dome, according to local media reports. When asked about the details of the event WAKEONE Entertainment said, "After [ZB1's] debut, we are preparing an event where the band can meet ZE_ROSE." There is much anticipation for upcoming group appearances with their domestic and international fan bases alike. The group is set to perform at KCON this August 18-20 in Los Angeles alongside other groups.
Stay in the loop with ZEROBASEONE by following their accounts on Twitter, Instagram, TikTok, and Youtube.  
Want to keep up with the latest boy group releases? Be sure to check out our coverage on the Filipino boy group Alamat here.