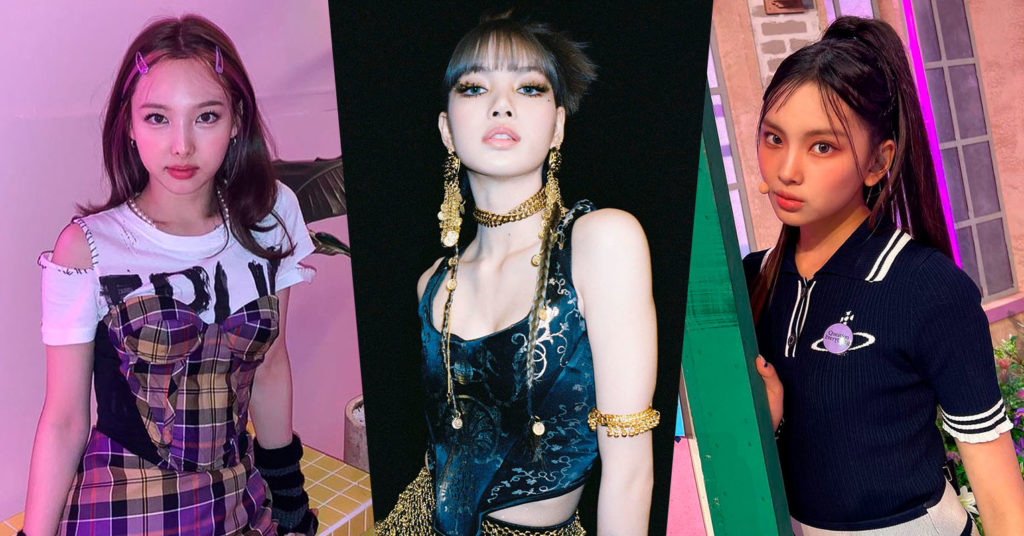 Fashion lost one of its most influential figures on December 29, 2022. Nicknamed the "Godmother of Punk," Dame Vivienne Westwood was a visionary that revolutionized fashion. In her bold and rebellious designs, she brought London's underground punk scene to the forefront of fashion and turned it into one of the most influential music genres. But beyond aesthetics, Westwood was a lifelong activist who, in the tradition of the punk subculture, used fashion as a tool to advocate for political issues like climate change and nuclear disarmament.
Through the years, Vivienne Westwood's designs have been a part of iconic moments and have carved a place for themselves in fashion, music, and pop culture history. In honor of her life and legacy, EnVi rounded up some of our favorite ways K-pop stars have worn Vivienne Westwood and her brands' timeless creations. 
Somi – "Dumb Dumb" 
Queen of the preppy "high teen" aesthetic, soloist Somi wore a Vivienne Westwood set in her "Dumb Dumb" music video teaser, a look that's become synonymous with the song itself. Somi's blonde hair and tartan ensemble made her look like the main character of a 90's high school movie and that's no coincidence. Despite the undeniable modernity of Somi's two-piece, the ensemble is actually a vintage selection from Vivienne Westwood's FW 1998 collection — a testament to the designer's timeless sensibilities.
The designer played a huge part in transforming tartan from a Scottish relic to a universal emblem of coolness. With her signature red hair and affinity for tartan, she often looked toward her Northern compatriots for inspiration. Westwood's designs, especially her seminal "Harris Tweed" FW 1987 collection, helped revive the Scottish textile industry, launching a decades-long symbiotic relationship between the house and local tartan artisans.  
View this post on Instagram
BLACKPINK's Jennie and Rosé – "Lovesick Girls"
While BLACKPINK's Jennie is famously a Chanel girl, the singer's unique charisma shined through a Vivienne Westwood dress, worn for a performance of "Lovesick Girls." The mid-knee length piece was shortened to compliment the singer's frame and the knit material and collar maintained a preppy vibe. Meanwhile, an orb emblem stitched into the right chest ostensibly reminded that despite any appearances of propriety, Westwood is still the house of punk rock. In a similar vein, Rosé was dressed in a warm-toned argyle set for the song's music video.
While tartan is arguably the designer's most iconic print, argyle is still an important part of Vivienne Westwood's history. For instance, her FW 1993 collection contributed to an Anglomania craze, a transgressive fashion movement that took emblems of the British upper class, like tartan or argyle, away from the upper echelons and to the people. It was a survey of British history, both celebratory and critical. Westwood later launched a diffusion line, appropriately titled Anglomania, echoing the democratizing spirit of the collection. 
TWICE'S Nayeon – "The Feels" 
For the accompanying music video of their first-ever English track, "The Feels," TWICE looked toward American "high teen" films for inspiration. Archetypal motifs associated with American high school peppered the visual word of the pop anthem: Cheerleading uniforms, prom dresses, and of course, lots and lots of tartan prints. One stand-out look from the video was from Nayeon, who wore a purple and yellow Vivienne Westwood corset with a matching skirt. If Somi's blue set is summer, Nayeon's is fall incarnate — spooky, dark, and a little sexy.
To complete the look, she also wore a Relief Bas choker, another iconic Vivienne Westwood pastiche piece that pays a tongue-in-cheek tribute to British high society. The necklace is a string of pearls, a salient marker of wealth, but in true Westwood fashion, the delicate symbol is broken up by the designer's famous crystal orb, her way of sticking it to the upper class — with a flourish. Ironically enough, the choker went viral on TikTok, aided by the burgeoning popularity of Regencycore aesthetics and celebrity advocates like Dua Lipa. 
View this post on Instagram
NewJeans – "Hype Boy" Performance 
Since their debut in July 2022, the super-rookie powerhouse, NewJeans, has made a splash in the K-pop scene not only for their artistry but because of their impeccable sense of style. Take as an example their impressive debut stage for "Hype Boy," where the five members wore head-to-toe Westwood golfwear. Each member sported different variations of miniskirts and smart tops, maintaining a cohesive group aesthetic and sticking to the same concept and color palette. It seems appropriate one of the biggest names in K-pop this year could honor — unwittingly so — some of the brand's most subdued designs in a now-iconic performance.
Lisa – "LALISA"
Thai icon Lisa Manobal brought out the best of her style game for the music video of her solo debut, "LALISA." And though sporting archive items is now the trend du jour, back in 2021, K-pop stars were just testing the waters of vintage styling. As a fashionista ahead of her times, Lisa wore a rare corset from Vivienne Westwood's SS 1992 collection and anticipated the corsetry trend that thrived in 2022  — partly with the contribution of celebs such as Bella Hadid. But long before Vivienne Westwood's corsets were popularized by the It-Girls of our times, the British designer provoked a stylistic revolution when she introduced the piece — originally considered an undergarment — as outerwear, in her legendary "Time Machine" FW 1988 collection. It was, however, in her 1990 collection, "Portrait," that Westwood cemented corsetry as one of the signatures of her style repertoire. Needless to say, corsets are today one of the most coveted pieces from her brand — just the right amount of rebellious, glamorous, and empowering.
View this post on Instagram
Irene – "Queendom" 
For their first comeback in years, Red Velvet wowed audiences with their looks in "Queendom." True to the track's title, the members looked opulent and regal, in particular Irene, who wore a denim Vivienne Westwood set. She paired the Spencer Jacket, an indigo zip-up corset that came from the brand's SS21 collection, with an asymmetrical skirt. For finishing touches, giant pearls adorned her neck to give the look an extra royal touch.
BLACKPINK's Lisa and Rosé on the Red Carpet
For lovers of fashion and pop culture, Carrie Bradshaw's wedding dress in Sex and the City (2008) is perhaps Vivienne Westwood's most iconic bridal creation. However, BLACKPINK's members Lisa and Rosé posed serious competition to Sarah Jessica Parker when they sported Westwood's bridal designs to the red carpet. In 2022, the BLACKPINK singers attended high jewelry events clad in gowns from Westwood's Bridal Made-to-Order Collection. In Seoul, Lisa rocked the "Camille" dress — featuring a satin corset with draped details in the skirt — to the Bulgari Aurora Awards. Meanwhile, Rosé took the Freiya gown, which included draping and a floor-sweeping skirt, to Tiffany & Co.'s BOTANICA launch. Both dresses incorporated key elements of Vivienne Westwood's work. Namely, the corseted bodices, the large, voluminous skirts and the gathered, draped details, all seen in collections such as "Café Society" Spring 1994 and "Anglomania" Fall 1993. 
View this post on Instagram
From veteran "It-Girls" to stylish rookies, K-pop girls of all genres and groups have been spotted wearing and loving Vivienne Westwood's creations. The designer's contributions to fashion are innumerable and her legacy will continue to inspire the world of fashion and music. 
Want more content in the world of fashion? Check out some of the best looks by Asian celebrities, according to EnVi's editors and writers.