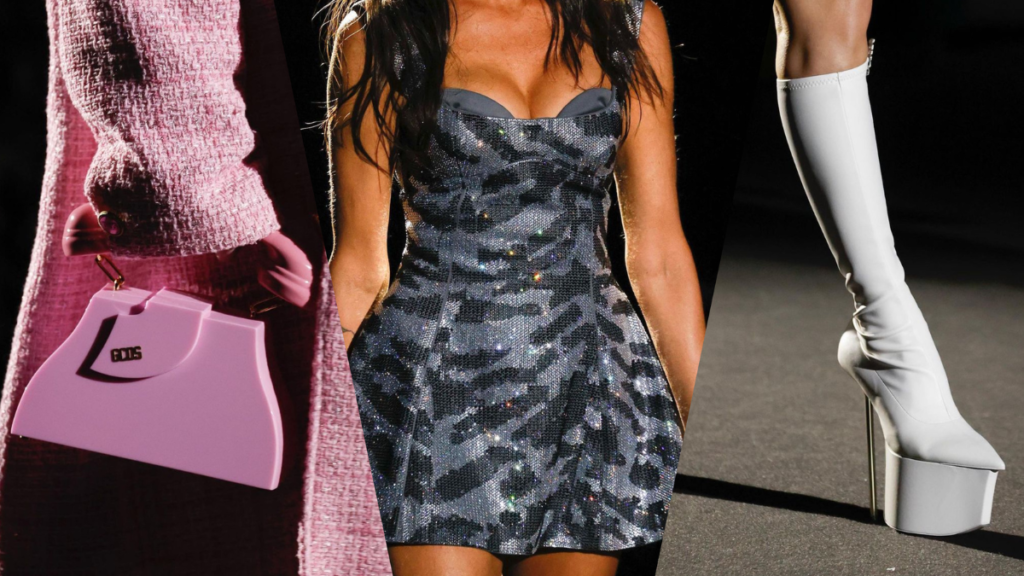 Milan-based fashion brand, GCDS, presented its Fall Winter 2023 Collection at Milan Fashion Week on February 23.  With invitations decorated with custom Victor Castillo illustrations to cat-themed teasers, the entire event revolved around an unexpected source of inspiration: creative director Giuliano Calza's own cat, Kittho. 
The Collection
GCDS' show opened against the slightly unnerving imagery of Kittho's glowing eyes, stark against the dimly lit runway. From the start, bright yellows and pinks were introduced alongside neutral tones typically expected in fall and winter. 
The FW23 Collection walks the line between formal attire and nightlife couture, transitioning from button-up shirts and ties to mini-dresses and sequins. Cinched waists and tailored suits give the collection a sophisticated feel, with timeless pinstripe fabric featured in a number of pieces. 
On the other hand, gravity-defying heel-less heels, metallic knee-high boots, and rotary phone-shaped purses bring a taste of GCDS' playful nature. New variations of its shark-tooth heel, a bedazzled Kittho clutch, and transparent accessories are the epitome of playful exploration. Additionally, Calza put his own spin on the recent chrome trend, introducing tops, bottoms, and accessories with metallic detailing.
The Audience
As per usual, the GCDS guest list included major names. Dua Lipa attended wearing a floor-length lace dress, opting for a bright red handbag for a pop of color. Dixie Damelio, another friend of Calza's, was also sitting in the front row, marking this her first attendance at a GCDS runway show. Dressed in head-to-toe yellow denim, Bella Thorne branded herself "sexy SpongeBob" in a pre-show interview.
At its core, GCDS is a brand that constantly pushes the limits of creativity. While it carries a wide range of typical products, like ready-to-wear clothing, purses, and accessories, it distinguishes itself through innovative designs that uniquely adapt trends and an unabashedly fun approach to fashion. With his latest release, Calza has once again overcome conventionality to create a cohesive, boundary-transcending collection.
Keeping up with Milan Fashion Week? Read about Diesel's Fall Winter 2023 Collection here!