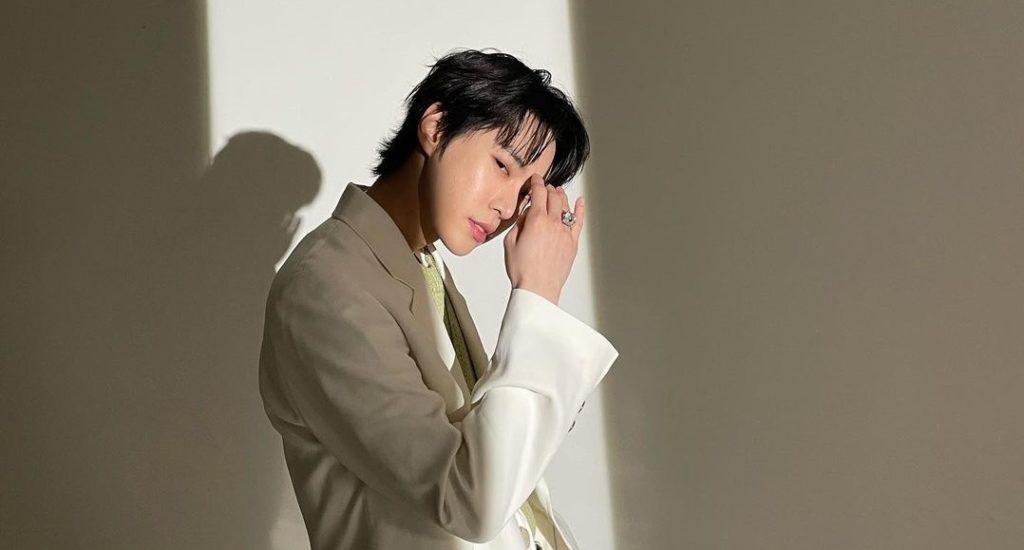 Amid record-breaking comebacks, a surprising fashion world takeover, and solo activities, 2021 has turned into one of the most successful years for NCT and its 23 members. In particular, the group's vocalist, Doyoung has been under the limelight with anticipated acting debuts and music collaborations. The singer has undoubtedly made 2021 his year by kicking off his acting career and expanding across fields. Adding to a long list of achievements, on August 22, he also became an award-winning actor at the 2021 Seoul Webfest.
Cafe Midnight Season 3–The Curious Stalker
At the beginning of the year, Doyoung made his small screen debut on the third installment of the web drama Cafe Midnight: The Curious Stalker. As part of the main cast, Doyoung played Son Ji Woo, a high school student who is given the chance to look into the future. On his first acting gig, Doyoung captured the hearts of viewers with a sweet story about teenage struggles and family love. Additionally, Doyoung lent his voice to sing "Night Air," the OST of the drama. 
NCT Doyoung's drama "Cafe Midnight Season 3 – The Curious Stalker" will be released for the first time on February 19th! ?#도영 #DOYOUNG #심야카페 #Cafe_Midnight #NCT #NCT127 @NCTsmtown @NCTsmtown_127 pic.twitter.com/NRGuyp9JGZ

— SMTOWN USA (@SMTOWN_USA) February 18, 2021
Award Nomination 
Prior to his musical debut in the EMK production, "Marie Antoinette," Doyoung landed his first nomination for an acting award. In July, the nominations for the Seoul Webfest Awards 2021 were revealed. Alongside other 14 talented artists, Doyoung was listed in the Best Actor category. Actors like Joe Folau (Brutal Lives), Kyle Card (The Benza), and Rudi Baker (Paramedics) were among the international nominees. Meanwhile, Cafe Midnight Season 3 – The Curious Stalker was nominated in three categories: Branded Series, Best Director, and Best Web Series.
Doyoung, Best Actor
In a continuation of this career-defining year, on the last day of the 2021 Seoul Webfest, Doyoung —figuratively— took home one of the two awards for Best Actor. The second prize went to Joe Folau for his performance in the New Zealand web series, Brutal Lives.
Doyoung won the Best Actor award for 2021's Seoul Webfest for his performance in Cafe Midnight! So proud! ?#심야카페 #DOYOUNG #도영 pic.twitter.com/C2Q833eXiH

— ⚜️ (@kdyactor) August 22, 2021
In a world where social media reigns supreme, fans immediately found out about the news, taking to the internet to congratulate the idol on this massive achievement. 
seoul webfest seoul webfest
2020 2021
best actor best actor
na jaemin kim doyoung
(han daegang) (son jiwoo) pic.twitter.com/4uGETBZhkb

— lhc (@nahyuckst) August 22, 2021
CONGRATULATIONS BEST ACTOR DOYOUNG! #도영 #DOYOUNG #CafeMidnight3#DOYOUNG #NCT_DOYOUNG #NCT도영 #도영 #ドヨン #NCT_도영 pic.twitter.com/7jXlYZEdFz

— give pretty bunny a kiss (@pnkblsks) August 22, 2021
oh are you talking about best actor doyoung? this is best actor doyoung pic.twitter.com/ClSbUs7O07

— give pretty bunny a kiss (@pnkblsks) August 22, 2021
Best Actor Award ? proud of you Doyoung ??? pic.twitter.com/2OigXyVxdR

— ? (@jaecyongie) August 22, 2021
omw to update doyoung's wikipedia page to add his best actor award ?‍? pic.twitter.com/bHpxL2vbPl

— ً (@dymilf) August 21, 2021
It's Doyoung's World And We Are Just Living In It
Doyoung, who's scheduled to participate in NCT 127's comeback in September, has been active as a musical actor. Taking the role of Hans Axel von Fersen, the idol received positive reviews from critics and theater-goers on his debut. In addition to his acting forays, the vocalist of NCT recently participated in the single "Maniac," a music collaboration with fellow member, Haechan, produced by Ryan Jhun. 
Praised by industry professionals and loved by fans, Doyoung's meteoric rise is just starting. As the singer continues to challenge himself across different fields, it appears inevitable that he will also continue to grow his star power and add new milestones to his career. 
Gear up for the upcoming NCT 127 comeback by checking out our coverage for the first teaser–"Who is STICKER?" here.
Thumbnail courtesy of @do0_nct.