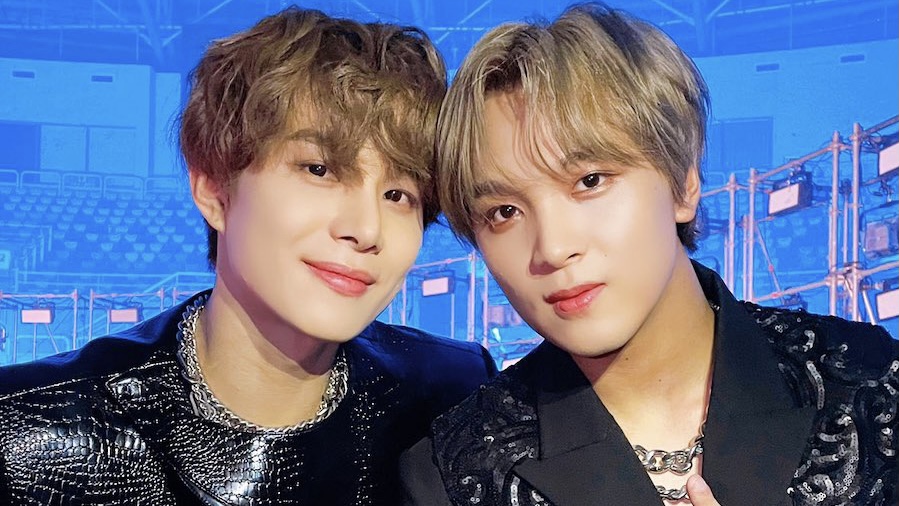 In the past weeks, NCT 127 has turned into the talk of Twitter with the news of a forthcoming album. The Korean boy group already boasts a strong social media presence — Twitter stats prove NCT is the second most mentioned K-pop group on the platform. However, on August 20 (KST), NCT 127's Instagram activity broke the internet. Other than a brand-new logo and elements that hint at a college-inspired concept, the group also stoked fan excitement with the launch of Jungwoo's and Haechan's Instagram accounts. 
jungwoo and haechan instagram profile photo: pic.twitter.com/noSs9iMrTA

— ⋆α ًe l s y α prójen ! ❄️? 127 BACK‼️ (@markcityneo) August 20, 2021
Jungwoo And Haechan Join Instagram
Building up to NCT 127's new musical release, the group's social media accounts were updated with a new logo that reads "NEO Culture Institute of Technology," and a description that loosely mentions a "Coding Crew." Yet, it was a picture of Jungwoo on the group's Instagram stories that sent fans into a frenzy as it included a mysterious username, @ncit_kimjw. Fans were quick to discover the account belonged to Jungwoo himself. With their dedication and flair for investigation, NCTzens immediately noticed that Haechan had joined Instagram too.
.@NCTsmtown_127 4 Worldwide Trends:

#1 JUNGWOO (https://t.co/oGksDY7QYf)
#3 HAECHAN (https://t.co/j0Y2Ax2YpC)
#9 #NCT127isBACK
#11 NCIT https://t.co/m3qJtrK1b1 pic.twitter.com/ye2fCFJx9c

— SMTownEngSub (@SMTownEngSub) August 20, 2021
As expected, the news had NCT 127's fandom speculating. Although the reveal of Jungwoo's and Haechan's Instagram profiles was only one of the many surprises the band prepared, fans had plenty of thoughts about the purpose of these accounts.
we're going to be seeing haechan concept photos, possibly selcas too, and other university student #haechan photos for the pre-comeback content on @/fullsun_ncit's instagram account so please do follow & encourage other sunflowers too!! 💛

— ً (@haechanfairy) August 20, 2021
NCT 127 already change their layouts on Instagram with the new highlights + Jungwoo and Haechan has already an Instagram account. Y'all! NCT 127 is really happening… pic.twitter.com/wlPglNfdDH

— ?atuyakiii || NCIT student (@neoscrackgrass) August 20, 2021
and what if they made those ig accs for jungwoo and haechan just for their concept IM GONNA SOB

— yang (@DI0RLJN) August 20, 2021
Amid celebrations and theories, both accounts amassed a million followers in no time.
haechan has an instagram account the world is healing, the pandemic will be over!!!!! pic.twitter.com/jszGUkCAv4

— ⁰⁰ mindless behavior stan account ₁₂₇ (@tyscornrows) August 20, 2021
Me at haechan's instagram account :https://t.co/VBDYqSmD86

— rex (@frappuccine0) August 20, 2021
Haechan The whole
Jungwoo Fandom
Instagram pic.twitter.com/ejkSTYUzNN

— ces (@yutaflix) August 20, 2021
.@NCTsmtown Haechan hits 1,000,000 Instagram followers in 4½ hours

🔗 https://t.co/j0Y2Ax2YpC #NCT127isBACK pic.twitter.com/bJc7dlZMMM

— SMTownEngSub (@SMTownEngSub) August 20, 2021
congrats jungwoo for reaching 1 million followers!! 🥳🥳 pic.twitter.com/uzFDVharqN

— era (@markminjpeg) August 20, 2021
NCT 127's Instagram AU
Aside from sharing the group's activities, the members of NCT 127 are very active on social media. Much-revered across platforms, now the idols seem to be using their personal accounts to immerse fans into the concept of their upcoming album. In addition to Jungwoo and Haechan joining Instagram, the rest of the group changed their profiles on the picture-sharing platform. Stating their majors and graduating class, each of the members added information that referenced their fictional college personas.
NCIT – Neo Culture Institute of Technology

Instagram profile updates

Class of 2022 Taeil
Class of 2023 Johnny, Yuta,🔜 Taeyong?
Class of 2024 Doyoung, 🔜 Jaehyun?
Class of 2025 Jungwoo Mark Haechan #NCT127 pic.twitter.com/PYYUceiN3x

— 🎀high on yuta🎀 YUTA ACTOR (@highonyuta) August 20, 2021
View this post on Instagram
View this post on Instagram
Naturally, fans took to Twitter to make conjectures and share their guesswork about NCT 127's plans for the comeback.
Taeil ncit 22, Johnny Taeyong Yuta ncit 23, Doyoung Jaehyun ncit 24, Jungwoo Mark Haechan ncit 25 on their Instagram bio.

They are grouped by age? What does it mean?

NCT 127 IS BACK#NCT127 #NCT127isBACK @NCTsmtown_127

— ¹²⁷ (@onetwochil) August 20, 2021
nct college au

— just another year in NCDC (NCIT Coding Crew) with their newest members

or, NCIT's freshies mark, haechan, & jungwoo embark on their new journey as 1st year uni students with their new older brothers from the usual chaotic coding crew https://t.co/B8BqVC22Mw

— read 📌 (@irregularcity) August 20, 2021
How do i link a coding crew/it college concept to aliens and the kwangya now pic.twitter.com/VsyqSpoLaO

— ²⁹A.NEØ👾 (@ANeoMulti) August 19, 2021
Theory: 127 goes to a technology based uni to where they created a new coding to help the æ have human emotions but the human emotions were too strong for æ causing one of them to be more powerful, rise of Black mamba, the whole æ system gets hacked leading us into kwangya

— Jessica:)) (@jesgolden) August 20, 2021
As NCT 127 prepares for the release of their third full-length album, fans can expect plenty of activity and updates from the group. Hopefully, some of the more pressing questions will be answered by NCT 127 themselves during their special LIVE broadcast "S.P.O.I.L.E.R.1.2.7," on August 24th. In the meantime, you can read some of the best reactions to NCT 127's concept reveal here.
For more about NCT 127 click here.
Thumbnail courtesy of SM Entertainment.