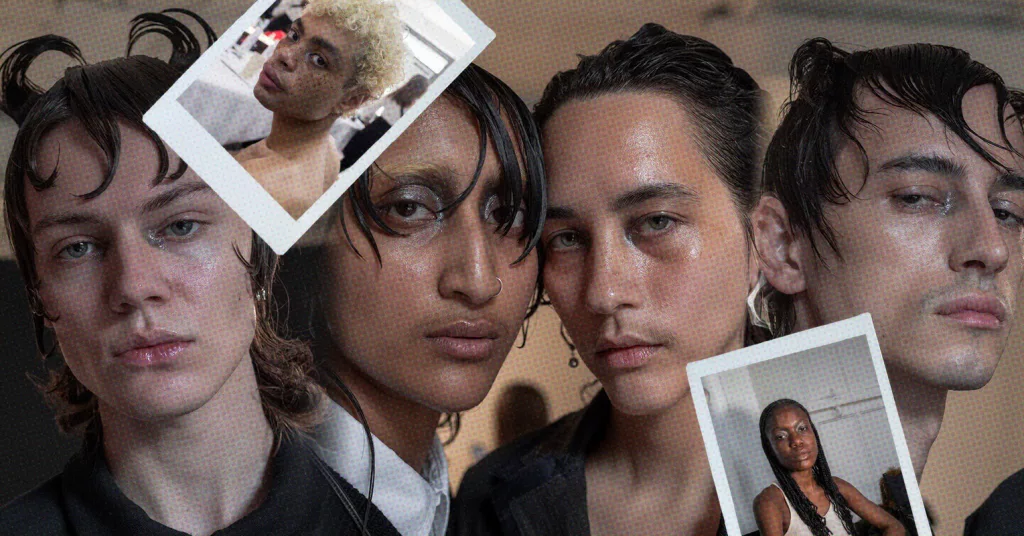 Brooklyn-based designer, Helena Eisenhart made their New York Fashion Week (NYFW) debut on February 15. Drawing inspiration from fashion as a means for reality distortion, the collection featured 15 predominantly black looks. In sync with the main theme, the runway beauty and hairstyling channeled the increasingly popular AI-infused art flooding social media. Below, take a closer look at the beauty looks in Helena Eisenhart's inaugural collection at NYFW.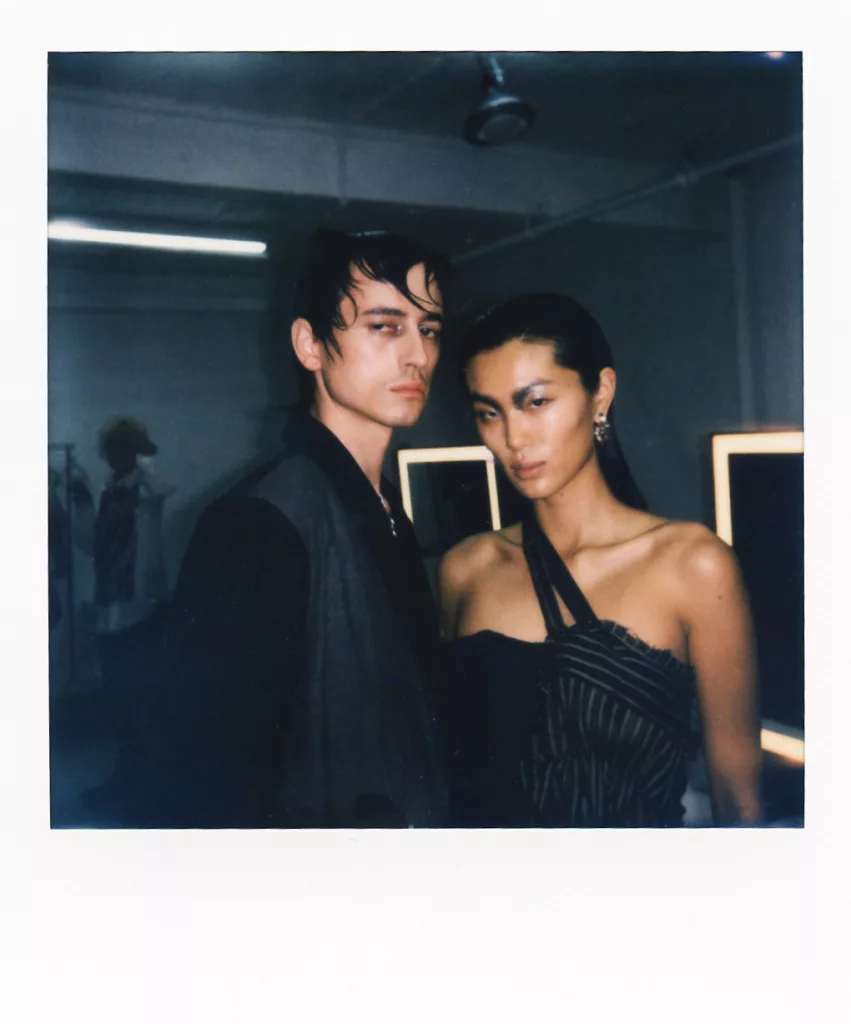 About The Brand
Founded by the eponymous artist and designer in 2015, Helena Eisenhart is a unisex fashion label based in Brooklyn. Since its inception, the brand has been synonymous with innovation and "playful experiment," combining high-end tailoring and unconventional textiles. While constructing garments with materials such as vinyl mesh screens and cassette tapes, Helena Eisenhart has carefully danced the lines of art and fashion, allowing the wearer to explore their identity and self-expression. .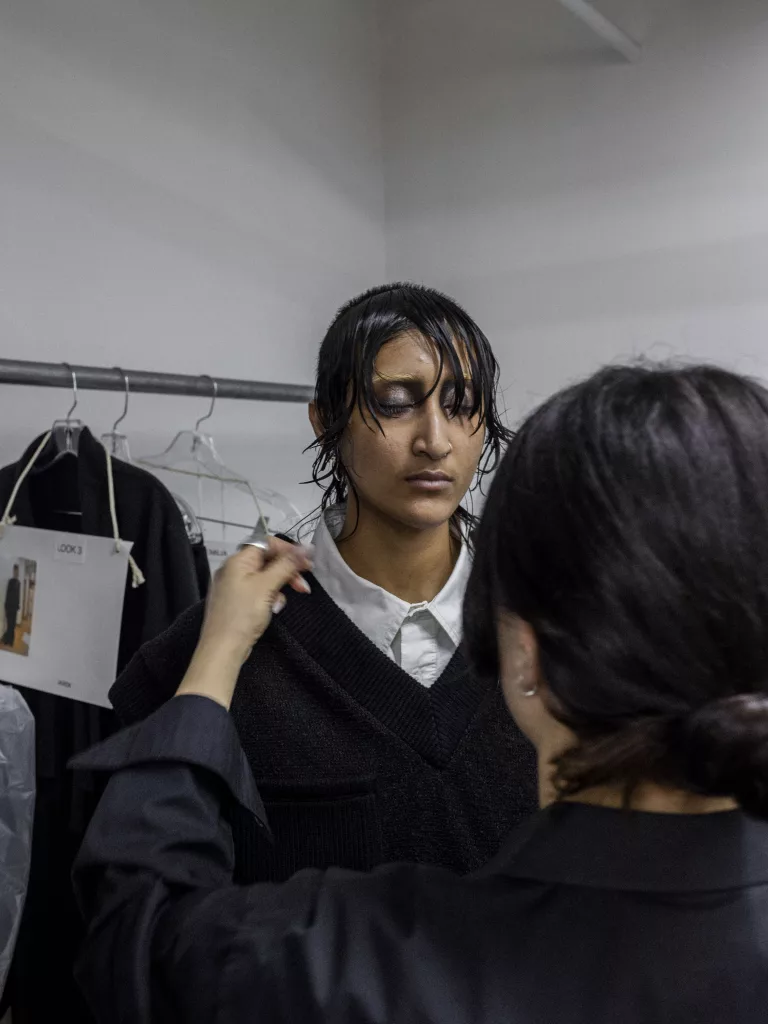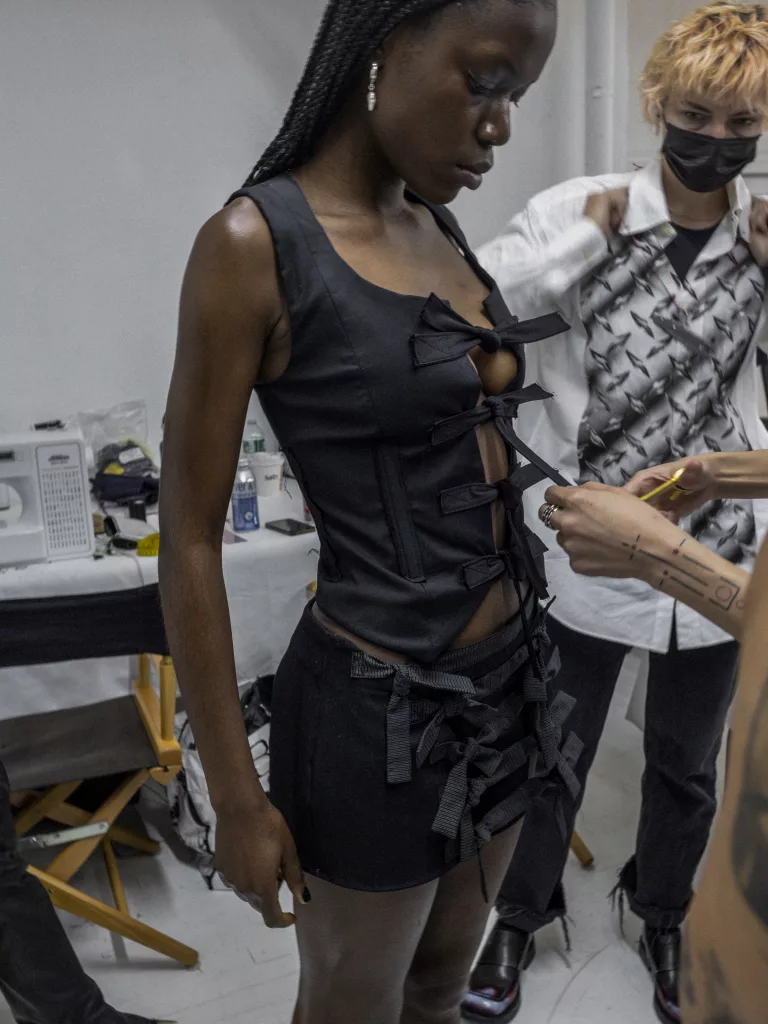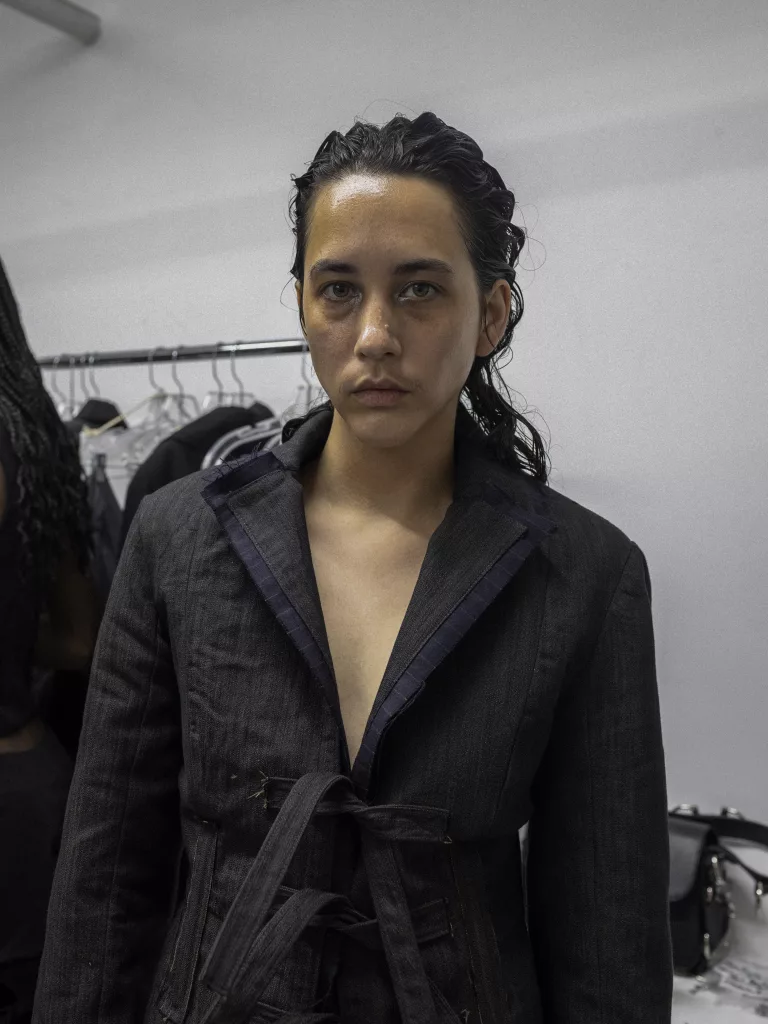 Backstage Helena Eisenhart FW23. Photography by Aleck Venegas
The Makeup
For its debut presentation at NYFW, Helena Eisenhart offered a twist on traditional runway makeup. When models made their way out onto the runway, it was a breath of fresh air: bare dewy skin and splashes of silver around the eyes complemented the dark-colored outfits. The goal of the makeup was to create artificial-intelligence-infused looks that nodded at the theme of reality distortion. Courtesy of the New York Makeup Academy lead artist, Claire Perez, the silver makeup found musing on Mathieu Kassovitz's classic, La Haine (1995), and the works of the American filmmaker, Gregg Araki.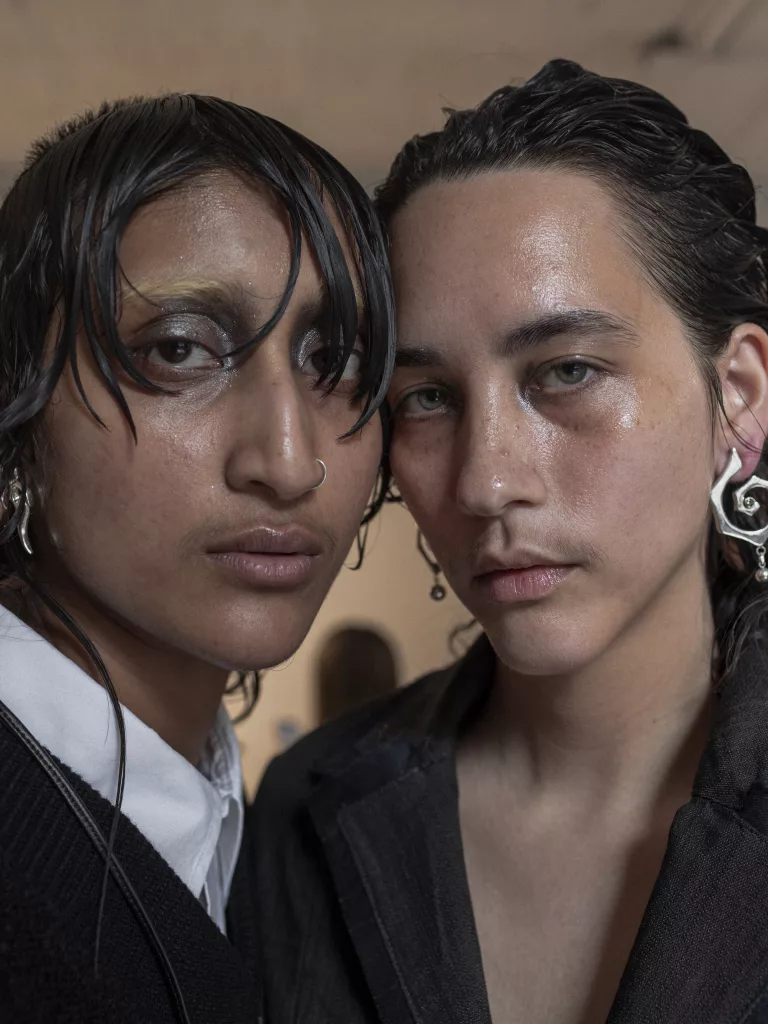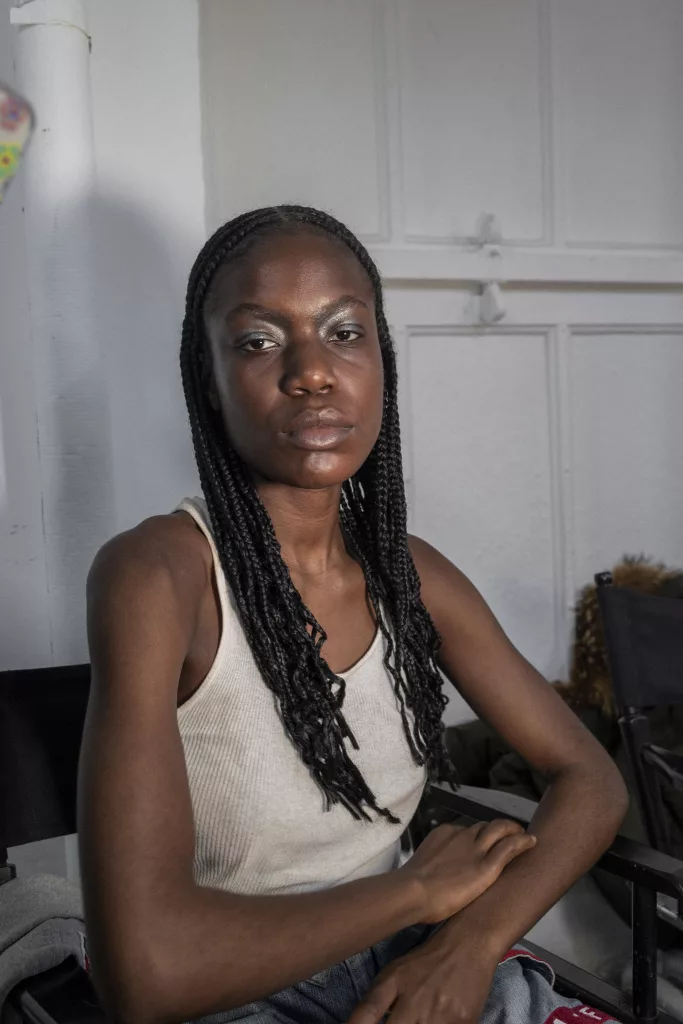 The Hair
Though avid viewers of Fashion Weeks around the globe have seen their fair share of slicked-back hair this season, the hairstyles featured on Helena Eisenhart's runway were total head-turners. Inspired by the idea that clothing can affect outward expression, the models' hair was slicked back and sculpted into horns with strands framing the face. The hairstyling — courtesy of UNITE and lead stylist Sandi Kaye — was created using gel in conjunction with UNITE's Session Max spray. For additional texture and shape, UNITE's Liquid Powder was also added to sculpt the models' hair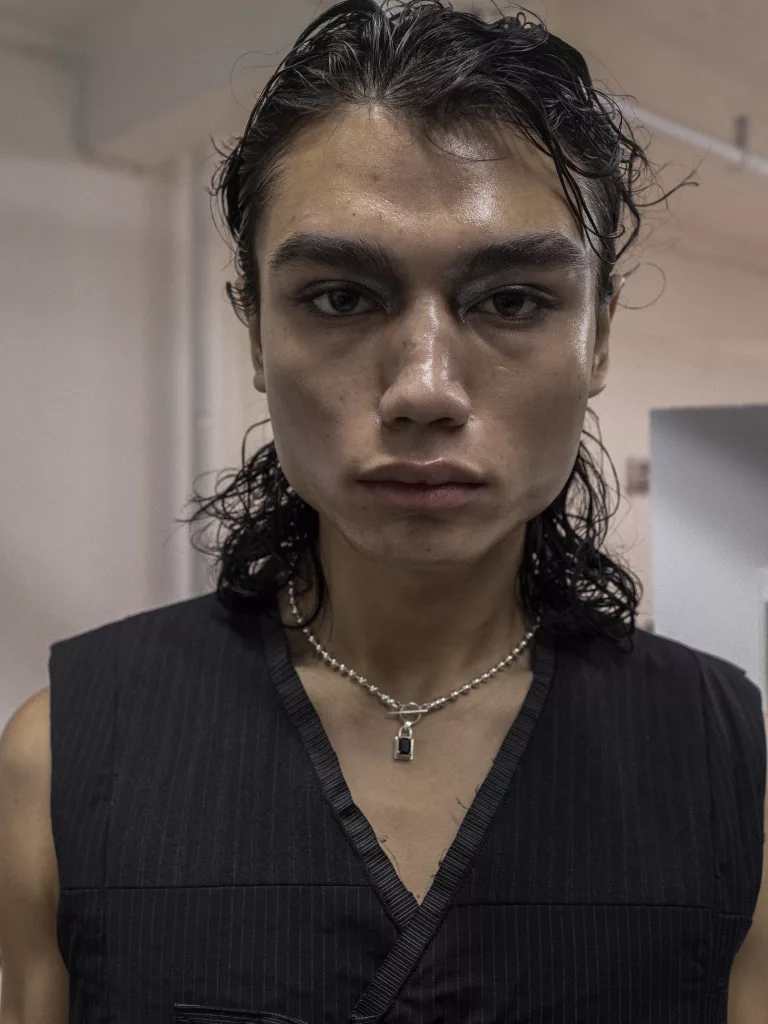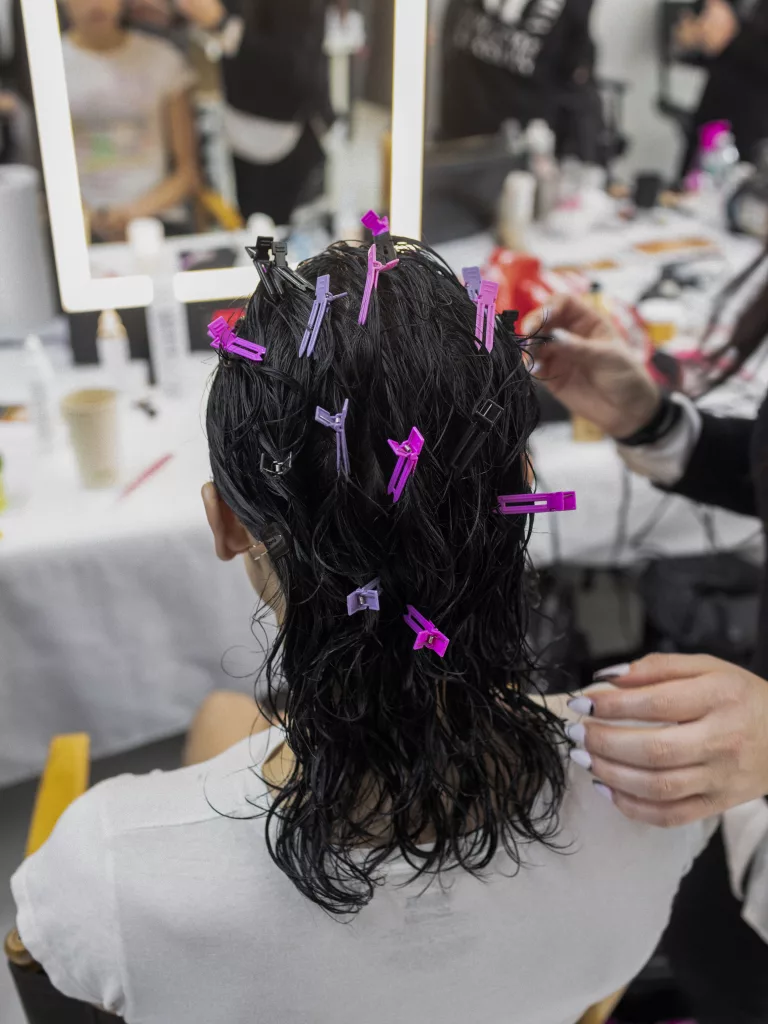 Helena Eisenhart's inaugural fashion show at NYFW serves as a taste of what the future holds on the fashion and beauty fronts. In addition to the sculpted hair and the silver swatches painted on models' faces, the presentation continued to build on Eisenhart's experimental fashion universe. With masterfully crafted looks, the Brookly-based brand invited people to reimagine new ways of approaching the items we wear daily.
Interested in more New York Fashion Week coverage? Read everything about Thom Browne's FW23 collection and its spectacle of fantasy here.