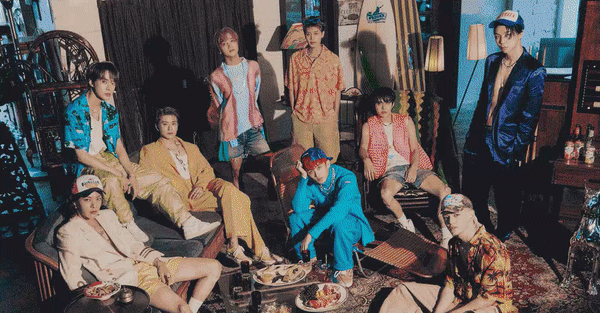 NCT 127's status as K-pop's Fashion Darlings is not up for debate. Whether individually or as a group, the superstars have become synonymous with fashion. Individually, each member flaunts his own style accolades: ambassadorships, attendance at the most exclusive events, magazine covers, you name it. As a group, Taeil, Johnny, Taeyong, Yuta, Doyoung, Jaehyun, Jungwoo, Mark, and Haechan are the epitome of versatility. Undisputed trendsetters and always ahead of their times, the boys of NCT 127 are finally delighting us with new music. And as one might expect, they're doing it in style and spearheading the trends that will dominate fashion in the seasons to come. Here's a look at how NCT 127 are introducing the latest menswear fads in their new album, 2 Baddies—from the teasers to the music video.
Blue Is My New Obsession
You might've heard of Barbiecore and neoncore—no pun intended—rising as the go-to color trends of the season. Well, if the men's Spring 2023 runways presented back in June are anything to go by, then it is very likely that cerulean and aqua blue will pose serious competition to hot pink and neon green. Spotted on the catwalks of brands such as Vetements, Willy Chavarria, Tom Ford, and even Wooyoungmi, cerulean, aqua blue, and all their iterations have been steadily taking flight in menswear since the Fall 2022 season. In the latest men's Fashion Week, however, the vibrant shade of blue found new life on the runways of Amiri, Issey Miyake, Off-White, and Ermenegildo Zegna, just to name a few.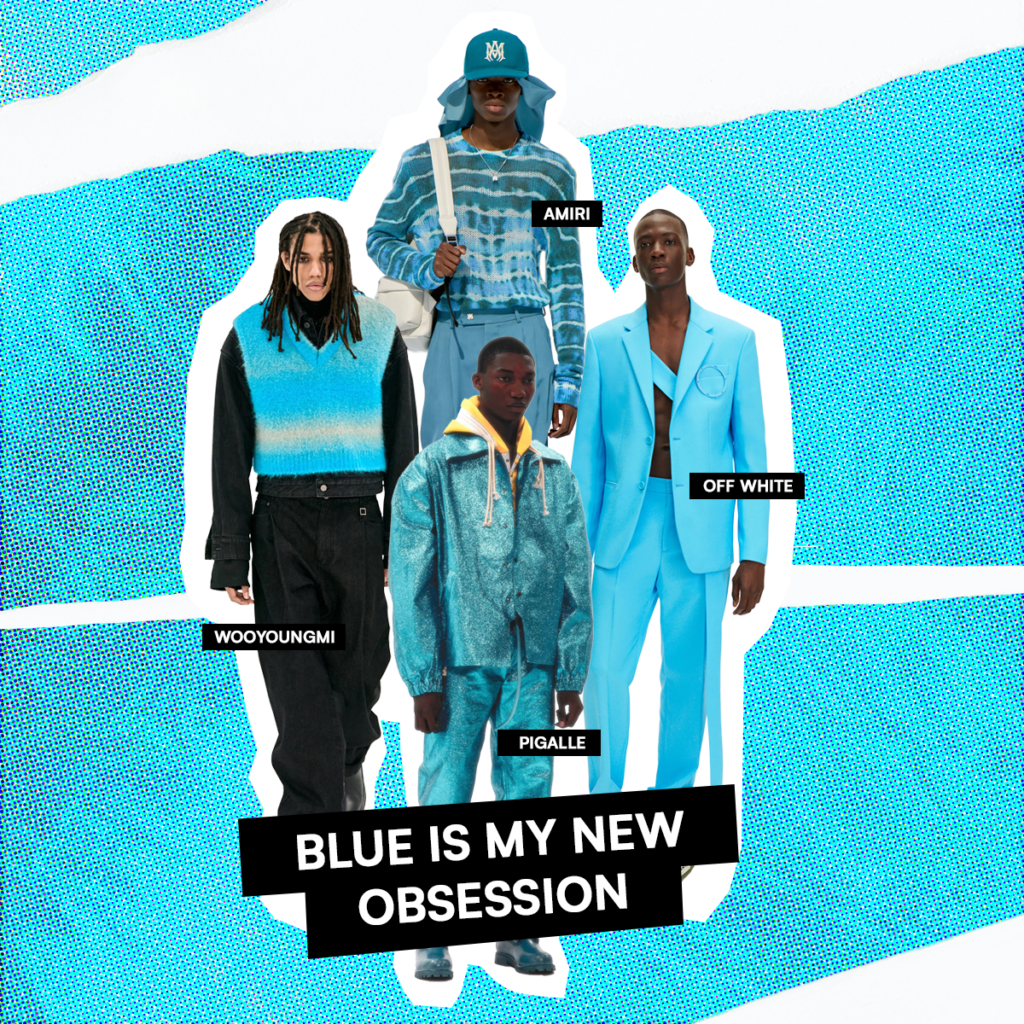 In the teasers leading to the release of "2 Baddies," the bright color makes a cameo via a knitted sweater and accessories worn by Haechan, as well as Doyoung's short sleeve shirt. But, most notably, Mark's Giardino cargo trousers and ribbed knit zip-up cardigan, both courtesy of the French brand Jacquemus, are proof that aqua blue is headlining a new color trend. Now, this particular shade of blue is undoubtedly a divisive one at the moment, but so were hot pink and neon green before taking over fashion. You might not agree, but there's a certain charm and a lot of trend forecasting skills in this outfit selection. In the words of Miranda Priestly, "that blue represents millions of dollars of countless jobs."
Bikercore and Racercore
Though many credit Spanish singer Rosalía and her album Motomami for the biker—and by extension, racer—fashion renaissance, the truth is that brands were already pushing for the style revival long before she released the internationally acclaimed album. From Chanel to Dior to Alaïa, the hard and edgy aesthetics associated with biker fashion have been slowly gaining traction in womenswear. But, in 2022, the biker and racer style—through staples like motocross jackets, racing leather gloves, and even helmets—has made a statement on the runways of Men's Fashion Week. Prime examples are brands such as Rhuigi Villaseñor's Rhude, Dries Van Noten, and Louis Vuitton. Other brands sending Formula 1-inspired looks down the catwalk are Robyn Lynch, Givenchy, and the emerging brand Lu'u Dan.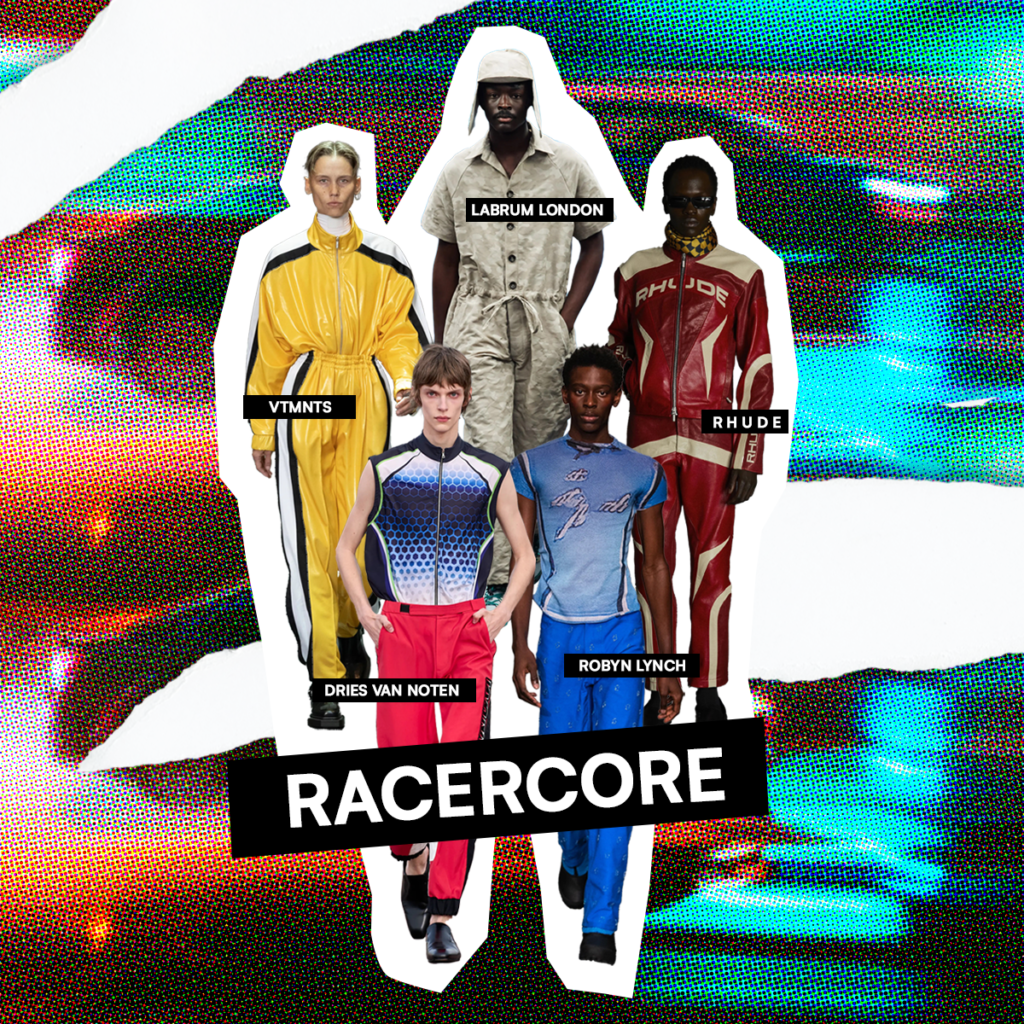 In the teaser pictures and music video for "2 Baddies," NCT 127 hone in on the trend with looks from Korean artist and photographer Cho Gi-Seok's fashion endeavor. Named KUSIKOHC, the brand takes on a conceptual and artful approach to biker and racer aesthetics. Textile experimentation, racing gear, and street-leaning silhouettes blend for an innovative and well-informed take on the trend. The assortment of looks is varied, ranging from paneled pants and quilted pieces styled as kilts to sleeveless tops and patchwork jackets. Accessories and elements like the pops of red—another rising trend—help elevate the ensembles from conceptual only to conceptual, but fashionable. It can't be otherwise. If anyone can rock the most intricate and non-conforming looks, it's definitely NCT 127.
Neo(n)core
By now, if there's a color that has grown to be intrinsically associated with NCT and their subunits, it's green. Neo pearl champagne might be the official name of the color, but broadly, any mention of neon green—and all the green spectrum falling anywhere close—sends NCT fans into a spiral of recognition and even jokes. The trendy color, however, has also been making the rounds on the international runways. Versace, Dior, and Y/Project are only some of the brands currently exploiting the bright shade and incorporating it into menswear—whether through full looks or subtle details.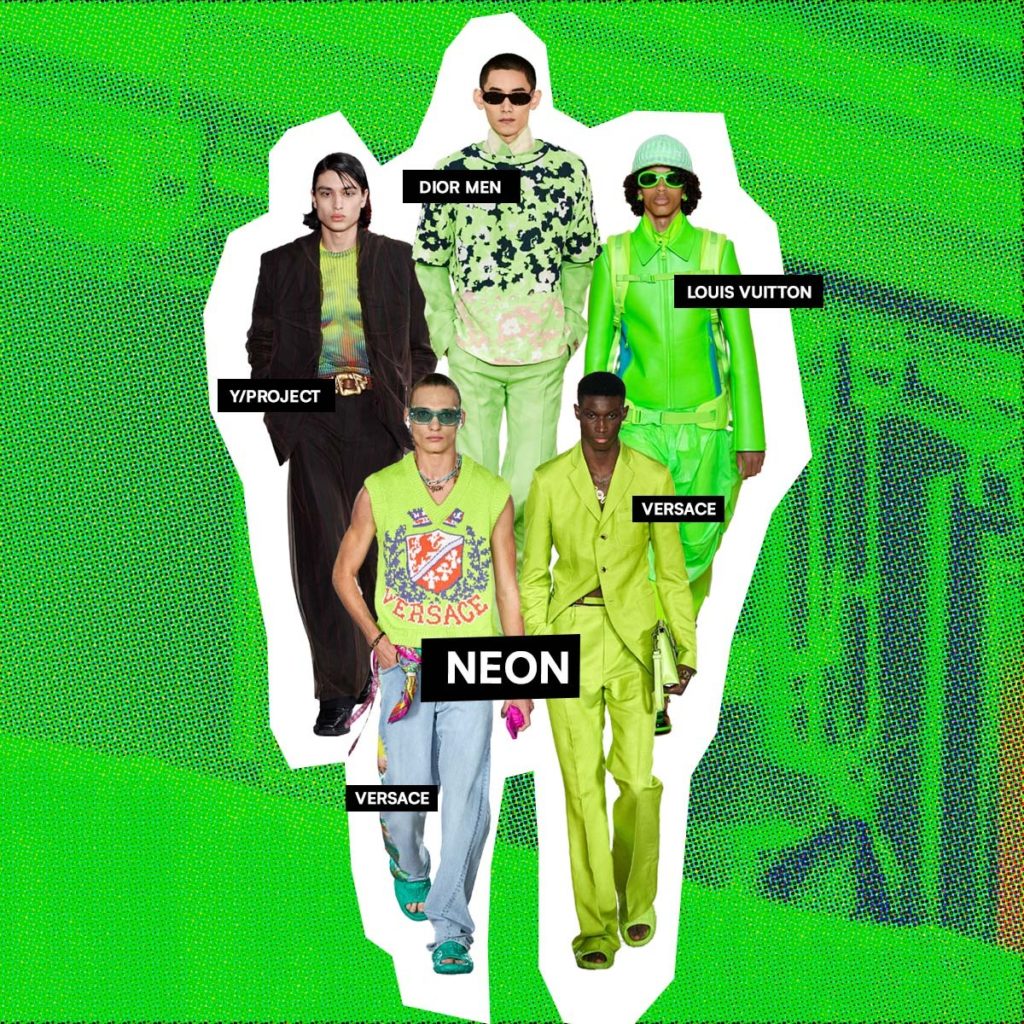 With the trend currently soaring—we saw neon green on the runways and the streets during New York Fashion Week—it is only suitable that NCT 127 jump into the highlighter green craze. The group turns the music video for "2 Baddies" into an ode to neon green, with the help of fluoro paint and items from brands like Dior and Louis Vuitton. The nine members of NCT 127, however, add their own twist to neoncore with coordinated streetwear and key accents such as beanies, jewelry, and gloves.
B/W Prints
One might argue that black and white is a mainstay, basic combination on the runways. Yet, reality suggests that after a few seasons of predominantly bright palettes, black and white prints only started to reemerge during the Fall 2022 and Spring 2023 seasons. MSGM, Louis Vuitton, Yohji Yamamoto, and Issey Miyake's Homme Plisé are some of the brands that reintroduced the trend in a range of pieces including matching sets, cargo pants, box jackets, and coats.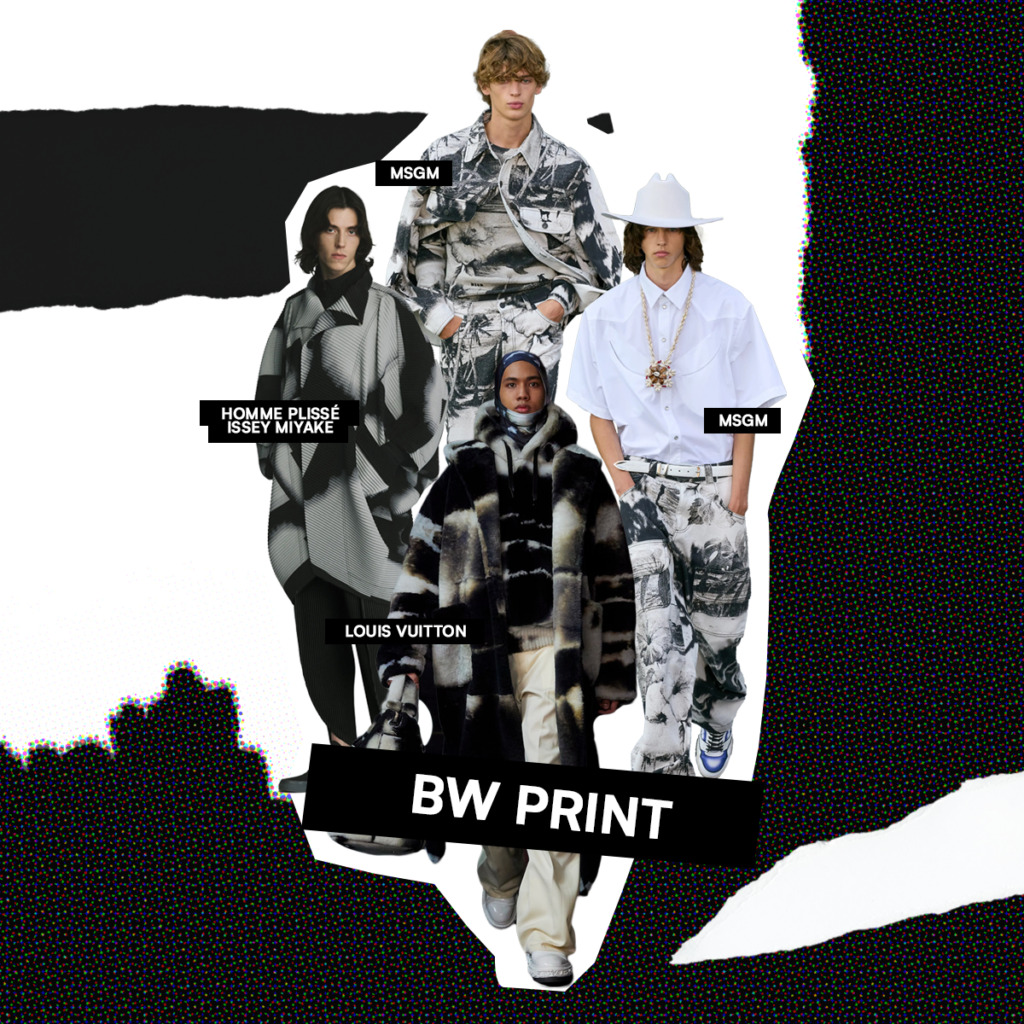 NCT 127 partake in the B/W trend in both the album teasers and the music video of their latest release. Clad in KUSIKOHC's designs, Taeyong and Taeil don quilted pants and a textured jacket, respectively. Both pieces flaunt a print that emulates burnt fabric, but that fits alongside prints such as the mottled motif shown on many runways of the European fashion capitals.
Statement Accessories
Though accessories are must-haves in every fashion collection, in recent seasons the upsurge of statement, chunky necklaces—as opposed to the subtle pearl core styles popularized around 2019 and 2020—has been evident. Bold and large chains with big ornate pendants have been introduced in the collections of brands such as Jil Sanders. Similarly, in tandem with the rise of racer and biker aesthetics, running and cycling sunglasses have turned into go-to accessories for fashion brands. The options are varied but most of them feature futuristic and architectural designs. Take as an example the styles presented in shows like Fendi, Roberto Cavalli, or Louis Vuitton.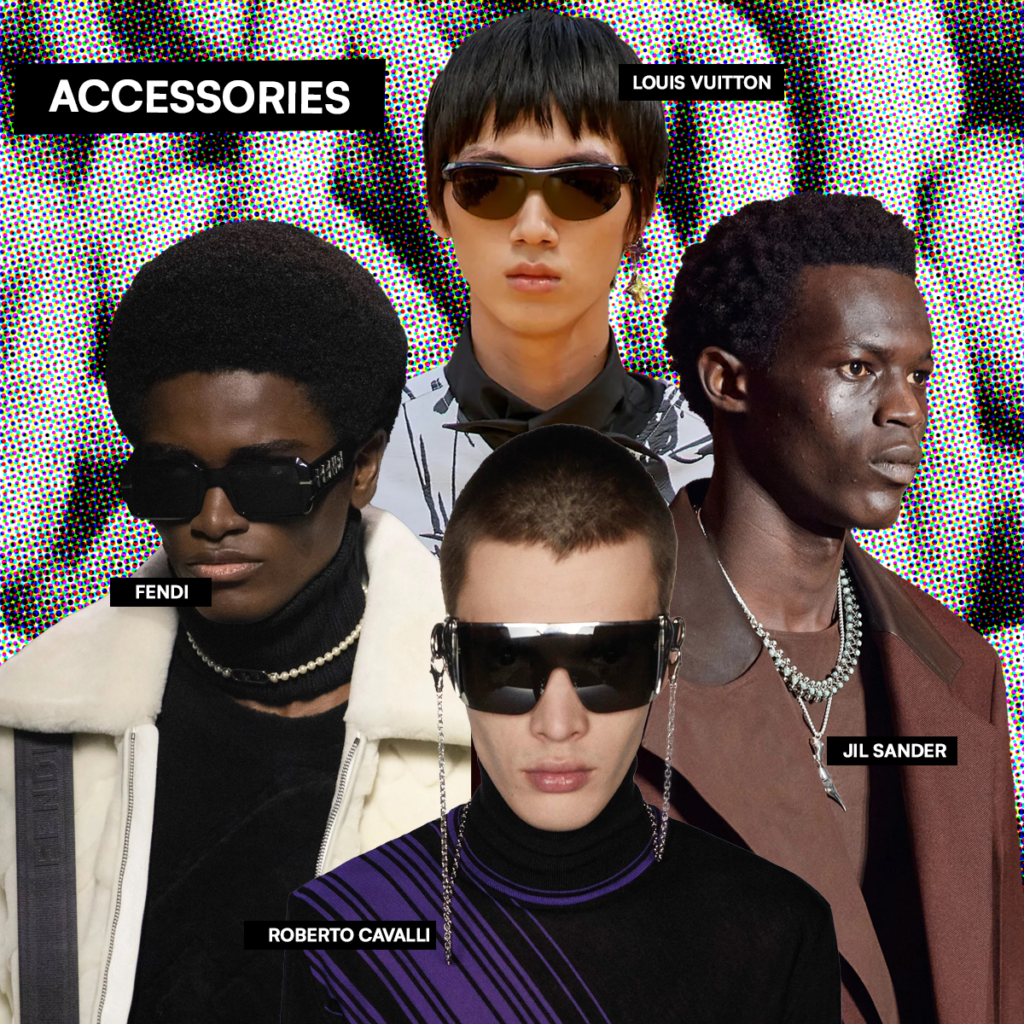 The music video of "2 Baddies" sees NCT 127 bring out their style dexterity with a galore of high fashion accessories including Cuban link chains, heavy chain bracelets, necklaces with large round pendants, silver cuffs, and chain belts. Similarly, when it comes to eyewear, whether it is through computer-generated imagery or through real designs, the members sport futuristic sunglasses. In particular, Jaehyun, Taeyong, and Doyoung, rock shield sunglasses and mirrored shades, adding their own style flair. Jaehyun, for instance, reprises the stylish finish that he sported at Prada's SS23 show, strategically placing the sunglasses on top of his head. You know, when a style formula works, it works.
Fashion Kings
With a career that spans over six years and a style portfolio that attests to their unconventional style evolution, the members of NCT 127 have staked their claim as the ultimate "Fashionistas of K-pop." Always anticipating the trends in music and fashion, the group is definitely one to watch closely. The release of their fourth album marks another sartorial chapter for the K-pop act, but they surely continue to spearhead what's to come next.
We've already said this before, but if there's a moment NCT 127 live up to the "neo" in their name, it's when they're testing their versatility and veering to the unexplored flanks of fashion. The release of 2 Baddies happens to fit the bill.
Interested in more NCT 127-related content? Find out how they became the ultimate kings of IYKYK fashion here