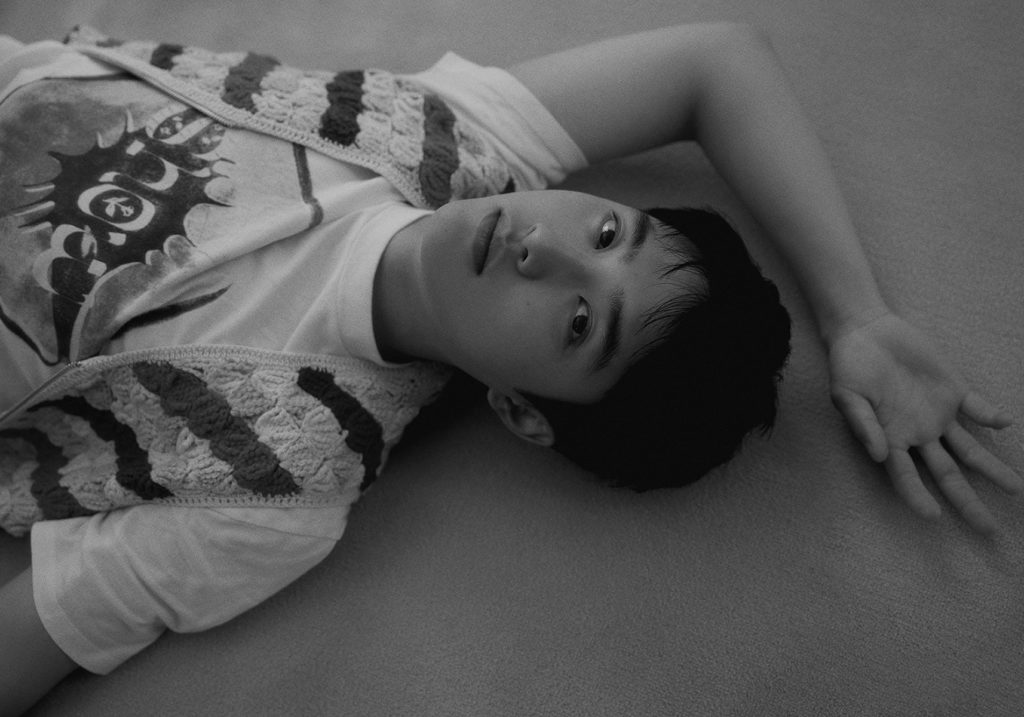 After nine illustrious years with EXO, the members' solo albums have finally been rolling in one after another. Tailored to each of their personalities, they've already tackled an impressive spectrum of styles: R&B, ballads, indie-rock, and many others. Now with one of the most anticipated solos of the group, it's finally D.O.'s time to shine in his first EP, 공감 Empathy.
The multifaceted singer and actor completed his military service in January and ended his 18-month musical hiatus with EXO's Don't Fight the Feeling in June. Only a month and a half later, D.O. returns with eight gorgeous tracks and is already setting himself apart from the rest of his members. Since EXO has run the gamut across different genres, how does Empathy fit in with the rest of the group's solo catalog? Let's break it down step-by-step. 
Spot the Difference
The beauty of EXO — both in group and solo projects — is that there's an album for everyone. As an R&B fan, you might lean towards Kai and Baekhyun. For ballads and mellow pop numbers, Chen's pretty much got it covered. Soft-rock is inevitably Suho's domain, and for more pop/hip-hop-influenced vibes, Lay's proven to do it all and so much more. But with D.O., he's managed to combine an interesting mix of styles similar to the others while still introducing fresh concepts that are unique to his skillset.
As a whole, Empathy is as light and breezy as the spring air itself. Although it's soft and utilizes many acoustic aspects, it's far from being categorized as a "ballad album." Whereas Chen's debut with April, and a Flower is reliant on emotional piano cues, Empathy's use of acoustic guitars makes the two albums starkly different. 
For example, the album's lead single, "Rose," is the first folk-driven song to be introduced into an EXO member's discography. Its distinct plucky guitar throughout instantly gives it more of a peppy feel. The Korean version showcases more of D.O.'s quirkier side but isn't as outwardly cheeky as Baekhyun's "Candy." In "Rose," he sings of love more casually than his bandmates, and it fits his shyer personality like a glove. Although in English, the lyrics are surprisingly more forward — Baekhyun would approve.
Another standout track from Empathy is "It's Love" (or 다시, 사랑이야) and the Spanish counterpart, "Si Fueras Mía." In 2014, EXO performed a cover of the popular song, "Sabor A Mí," in Mexico, and it's become a staple moment for EXO-L since then. But now, D.O. is the first EXO member to release an original Latin-based song, sung in Korean and Spanish. Is it because he knows how enamored fans are by his Spanish, or because he just wants to be inclusive? Most likely, both. If this is a style he'd like to carry over into the group releases one day, fans will be more than willing to listen.
I-Spy the Similarities
Although each member has a distinct concept and defining theme, some similarities are too hard to ignore. For D.O., that similarity finds its way in the form of jazz and R&B. One of EXO's strongest suits is its ability to embody R&B with little to no effort — from the vocal riffs to the harmonies, everything is on point. Therefore, this is one of the many reasons why fans assumed D.O. would dive head-first into R&B like Kai, Baekhyun, and Lay. But instead, he chose to sprinkle just enough of it to please his audience without sacrificing the rest of his musical desires.
Particularly, "I'm Fine" is the most "EXO" sounding song with its jazz and R&B elements resembling something you'd find on a Baekhyun album. In terms of D.O.'s past singles, it's almost a follow-up to his 2019 release, "That's okay." And while it isn't the "Tell Me (What Is Love)" vibe most were expecting, "I'm Fine" stays true to D.O. and is a great puzzle piece to the EP.
Another similarity, ironically, is the same detail that sets Empathy apart: the acoustics. As mentioned earlier, all of the eight tracks have some form of acoustic instruments used. The closest album you could find with this sound is Chen's second EP, Dear My Dear. Not only are "Amaranth" and "Hold You Tight" a perfect match with Empathy's style, but it also has a bit of jazz with "You Never Know." Lastly, although he doesn't have a full EP yet, Chanyeol's "Tomorrow" is another acoustic pop dream connecting the dots among the EXO members. You could put all of these in a playlist together, and it would be nothing but soothing melodies all the way through.
Soaring Through Spring & Summer with EXO's Main Vocals
If there were three albums to perfectly sum up spring and summer, they would be Baekhyun's Delight, Chen's April, and a Flower, and now D.O,'s Empathy. Despite having completely different shifts in tone and mood, each one is a nice contrast and compliments the warmer seasons. While Delight is a chill album made for summer parties, Empathy is the epitome of a soothing stroll or picnic in the park. And contrarily, April, and a Flower is what you'd likely put on while idly doing chores, reading a book, or meditating. 
However you like to spend a day in the sun, EXO offers an abundance of options for their diverse listeners. But for the main vocalists, it's official — the trio is complete, and D.O.'s cozy melodies are precisely what this summer needed.
공감 (Empathy) is now available on Spotify and Apple Music.
For more D.O. coverage, check out the full album review here!