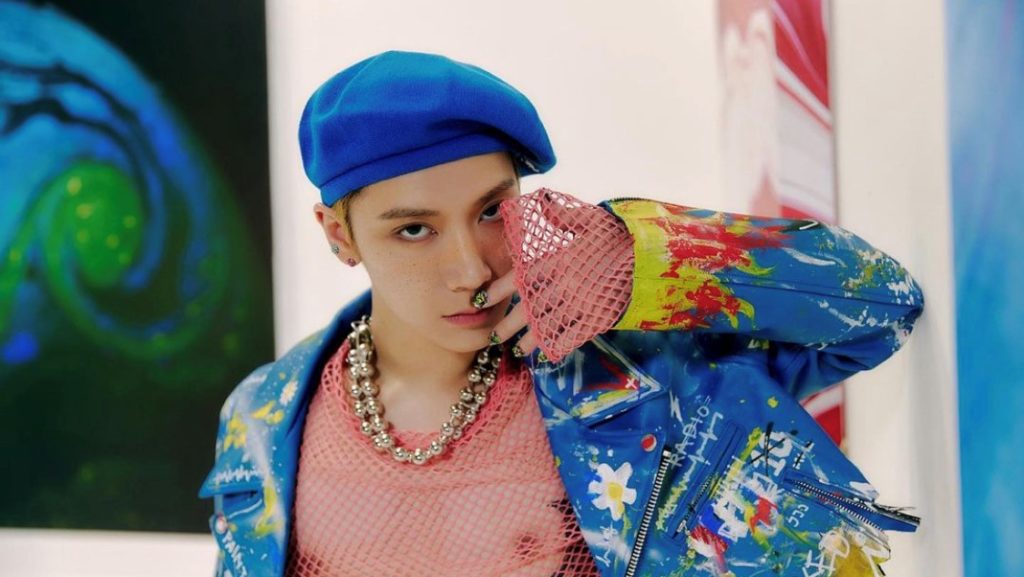 Over the last year, NCT, SuperM, and WayV member Ten has continued to make his mark as a dancer, whether it is with his groups, self-made choreography, or his solo songs. When it comes to dancing, Ten has shown versatility and creativity across a range of styles. The idol has inspired fans and non-fans worldwide with viral choreography to songs such as NCT 127's "Lemonade" and Doja Cat's "Need to Know". He has also shown his expertise as a guest judge in Street Dance of China. In honor of Ten's birthday on February 27, EnVi asked fans about their favorite Ten dance performances.
"Taki Taki"
Submitted by Kay (@bumbleBKay) and Christine (@allthingssookie)
The 2018 video, uploaded to the NCT Dance YouTube channel, follows Ten in Kenny Scharf's Super Pop Universe exhibition at Seoul's Lotte Museum. Ten fluidly dances to the global dance hit, with the vibrant pop art nodding to Ten's passion for visual arts. Christine told EnVi, "I love the outfits, the dance, and the setting. Very creative." Another fan, Kay, shared, "It shows off his talent so well! This song and location suit him."
"Own It"
Submitted by Zire (@N3O8OY)
Uploaded to Ten's Instagram account on June 20, 2021, the video shows Ten and choreographer, Sea Ni,  performing their choreography to "Own It" the 2019 collaboration between Stormzy, Ed Sheeran, and Burna Boy. The playful rehearsal is one of many examples of Ten's dance studio footage shared with fans. "This one-minute video encapsulates everything that makes Ten such a skilled and captivating dancer," Zire told EnVi. "Ten glides through the choreography, highlighting his signature fluidity and outstanding musicality," Zire expanded, "emphasizing every nuance with his shoulders, hands, hips, and footwork."
"New Heroes" + "Paint Me Naked" Stage
Submitted by Pim (@tengerine)
Ten shared a special performance when he featured as a judge on 'Street Dance of China' Season 4 in 2022. The performance starts with a "New Heroes" introduction, flowing into Ten's 2021 pop-rock solo single, "Paint Me Naked". Dressed in white, Ten, accompanied by suited backup dancers, launches into an energetic dance break before the powerful bridge and closing chorus. "Everything was so on point!" Pim explained, "Ten killed it with the costume, his live singing, his dance, his stage presence!"
WayV "Nectar" Performance
Submitted by Merlyn (@mim_merlyn)
The video shows WayV performing Nectar from NCT Resonance 2020 during the showcase of their mini-album, Kick Back. The NCT subunit brings the sensual track to life against a backdrop of smoke and flashing lights. "Wearing a fringe jacket, Ten demonstrated his outstanding stage presence during this performance," Meryln described. "His sharp and fluid dance moves full of energy, combined with his profuse charisma made "Nectar" such a memorable performance," she added.
SuperM Performance Video: TEN X TAEMIN X KAI
Submitted by Jenessa (@JoyJenessa)
In this video, three SuperM members display their dancing prowess in solo dances. Followed by his senior labelmates, Taemin and Kai, Ten starts the video dancing among shadows and spotlights. "It's like he was teasing us in the beginning by dancing fluid and grooving, but in the breakdown, Ten hits us with a bang and the tension rises up!" Jenessa told EnVi. "Not to mention, the track, "Ten on The Floor" was such a good opener to this video", Jenessa continued, "this track really embodies him and his versatility in different genres and movements."
Whether Ten is dancing in a group, a pair, or alone, fans appreciate his strong stage presence, creativity, and combination of smooth and sharp movements. We can't wait to see what dancer Ten will bring to the stage and social media. Happy Birthday, Ten!
Want to read more about Ten dancing? Take a deeper look At How Ten Captivates Fans Through Dance here!