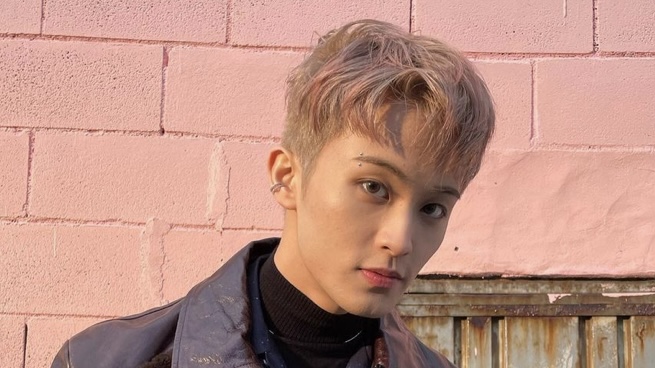 January 26 marks a year since the Canadian rapper and member of NCT and SuperM, Mark Lee, crashed Instagram when he finally joined the platform. A trip around the sun later, with 63 posts and some records under his belt, Mark continues to offer fans a feed loaded with glimpses into his life. To celebrate his Instagram anniversary, we've rounded up some of the most memorable moments of the star's prominent presence on the social networking site.
onyourm__ark. get set. go
Time flies by and before we've noticed, it's January 26 again. That means user onyourm__ark has graced the ranks of Instagram celebritydom for a year. How to forget the day Mark surprised everybody with the announcement? The superstar undoubtedly got off to a great start, making a lasting impact with his first-ever post. Captioned "get set. go," the picture shows Mark posing as though he is about to start a race. With almost three million likes as of January 25, this continues to be Mark's most-liked post on the photo-sharing platform.
Late Night Scribbling
Anyone who has followed Mark Lee's career knows that the rapper has a knack for writing. At age 22, the member of NCT is listed among the most copyrighted K-pop idols and has more than 50 songwriting credits under his name. Unsurprisingly, the star has taken his writing talent to Instagram on various occasions. In fact, in an interview, Mark revealed that sharing his writing inspired him to create his own account. "That kind of gave me courage to start Instagram in the first place, that piece of writing," he said regarding a poem titled "Late Night Scribbling" that he shared during his early days on the social media app.
Record-breaking Instagram Live
On August 2, 2021, birthday boy Mark Lee, gifted fans with a live broadcast on Instagram. The 30-minute live stream busted straight through the record previously set by Mark himself. With more than half a million people watching, Mark's broadcast became the most-watched Instagram live by any K-pop artist and one of the Instagram lives with the most viewers in 2021. Filled with filters, banter, and the appearances of his bandmates, Mark set a new milestone on his 22nd birthday.
MV Behind The Scenes
While Mark has found the perfect balance between a compelling and approachable Instagram feed—sometimes we even forget Mark is a multiple million-seller artist—the rapper never fails to show some glimpses at his celebrity life. And what better way to do it than taking his nearly eight million followers behind the scenes of NCT's music videos? We frankly, don't know.
Dior's VIP
In a year where NCT rightfully became K-pop's new "IT-Boys," Mark made his first steps into the world of luxury fashion in 2021. On June 25, in the midst of Men's Paris Fashion Week, Mark joined the likes of EXO's Sehun, Robert Pattinson, and Kate Moss as Dior's VIP. Remotely invited to the French brand's Spring/Summer 2022 show, the idol took to Instagram to share the news. In addition to his exclusive invitation, Monsieur Mark also shared a slideshow of pictures where he donned a runway look from Dior's F/W 2021 collection. J'adore!
Guitar Serenades
For die-hard fans of Mark Lee, there will never be enough content he can share on social media. However, as a rapper that constantly outdoes himself, Mark knows exactly what to do in order to surprise his loyal supporters. That was the case on January 13, 2022, when the star hosted a short, but sweet Instagram live stream serenading viewers with his guitar. He might have forgotten to record this live session, but thanks to the internet we can enjoy Mark's lovely vocals anytime.
Mark's Wardrobe Favorites
Although Mark made headlines for his first foray into the world of high fashion in 2021, the star's Instagram feed proves that he favors a more easy-going style. T-shirts, sweatpants, and hoodies are some of his go-to wardrobe staples. We, however, can't get enough of Mark's styling tips on how to wear shorts and cargo pants.
whenweshinebrighti'maLive
Just like Mark's Instagram has given a look into his personal style, the idol's witty captions and live broadcasts have also shown bits of his personality. Though there might be a long list of endearing moments, Mark's live video on October 5—which also became Jaemin's first live stream on the site—takes the cake. Despite the tech glitches, the Instagram live served as a moment to simultaneously greet his fans and showcase his close friendship with his bandmates.
Mark Lee Is Just Like Us—but With Millions of Fans
At this point, it is crystal clear that one of Mark's most charming attributes is just how relatable he is on social media. That was particularly true on his first Instagram reel, where the singer joined the Emoji Challenge simply because he was "bored." It was a good reminder that celebrities, just like the rest of us, are not immune to social media trends.
Spreading His Wings
When it comes to Mark Lee, though, his most memorable moments come when he's just being himself. Case in point, the star's post on December 7, when a picture of the idol standing against a white background sent fans into a frenzy. It might have been the poetic caption or the perfect blonde hair, but what did it for us was the underlying promise of growth. "my armspan is actually longer than my height. maybe i should spread my wings more hbu?🦋 "
Harnessing his star power to communicate with his fans, Mark has curated an entertaining online presence. From his off-duty looks to his literary genius, the rapper's posts are a true gift to fans and evidently, make him an essential follow on Instagram. If you haven't yet, It's never too late and there's no better moment to start than his IGversary!
Interested in more social media-related content? Read everything about the ZOO Challenge here.